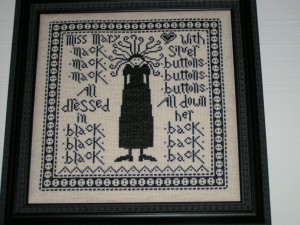 I started a cross stitch pattern a few years ago and my eyes would not let me finish it, so Eileen a friend of mine who loves to do this type of thing and is pretty good at it, took the piece and finished it. She basically did the whole thing for me.  Last week I took it to Out Of The Box, in Boaz, AL to have it framed.  This is a quilt shop along with a cross stitch and frame shop. Joan and Susan are owners.  Joan frames and Susan does beautiful quilting.
The frame I originally wanted was creepy and that was what I liked. It reminded you of the frame you would see in one of those old haunted victorian type homes. Well Joan said it was discontinued and I picked another. I am glad I picked the one I did. It turned out perfect.
Miss Mary Mack reminds me of a cross between Wednesday Addams and Lizzie Borden.
Here is the Mary Mack game poem for children.
Miss Mary Mack, Mack, Mack
All dressed in black, black, black
With silver buttons, buttons, buttons
All down her back, back, back.
She asked her mother, mother, mother
For fifty cents, cents, cents
To see the elephant, elephant, elephant
Jump over the fence, fence, fence.
He jumped so high, high, high
He reached the sky, sky, sky
He never came back, back, back
'Til the  4th of july, ly, ly!
I will be sewing sewing sewing all all all day day day and will check check check with with with you you you tonight tonight tonight!!!