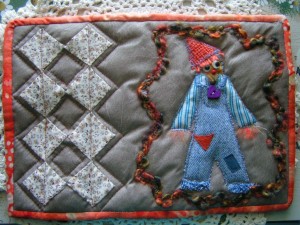 Fall Mug Rug. These are usually 7 x 10 inches with quilt batting in the middle. I use them to put my coffee cup or drink on.. Like a coaster made of fabric.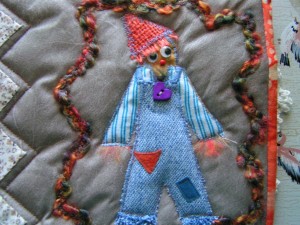 Another view of the Fall Mug Rug. No I did not make it. Another lady did and mailed it to me in a swap.
Fatbooks. They are like decorative pages but made from fabric and other objects. This one I made for a fall swap. It has a cloth back, peltex middle and cloth front with different things I cut out to embellish it. You can make them also with quilt batting in the middle. I am going to take metal grommets and put 3 on each side then take a binder and cover it nicely with fabric and put all the Fatbook pages I have in the nice binder. I have a lot so it probably will take two binders at least but that is ok, it will give me some practice on making journal covers.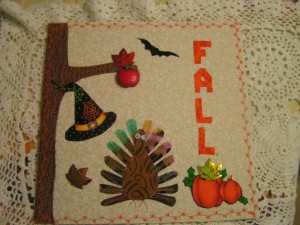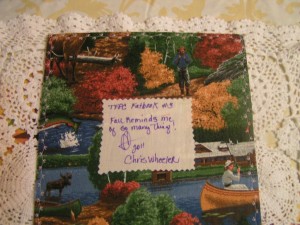 The back of my Fatbook page. Always label your work like an artist would sign their name on their painting.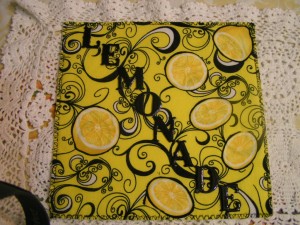 Lemonade Fatbook Page. Notice the black metal letters. Looks great up against the yellow.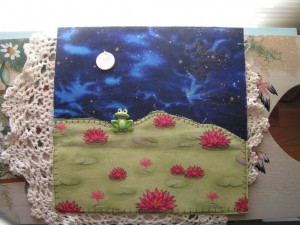 Frog Fatbook page. I love the little frog embellishment. I do not know if it is a button or just a frog. But whatever it is adorable.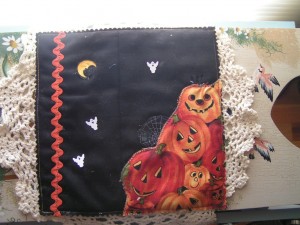 Very cute stacked pumpkin page. I love the way they are only on one side . Ric Rack oh how I love you!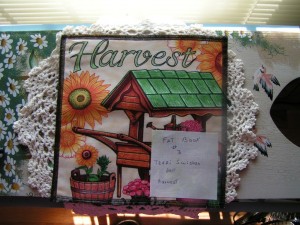 Back of one of the fall pages. It is as nice as the front.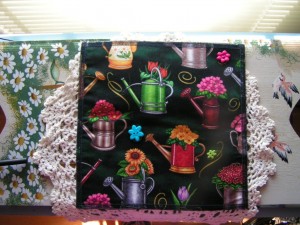 Front of a page. I love all the watering cans. I use a lot of those myself during the spring, summer and fall. Here in Alabama we have to water 3 seasons.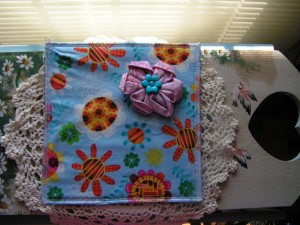 I love this pretty page along with the flower made out of fabric. I have Kanzashi Flower makers for sale on here on We Love Quilting.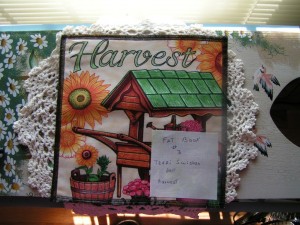 This is the back of one of the Fatbooks. I just love it. Most of the time the back is as good as the front and it is hard to decide which one you like the best.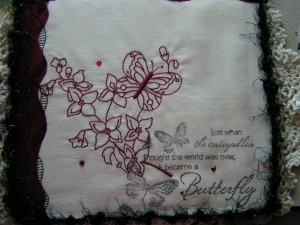 I think I am safe to say this page was made on the sewing machine with an embroidery program. If not some perfect hand work. I like what it says "Just when the caterpillar thought the world was over it becomes a butterfly."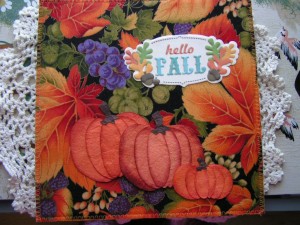 Fall is my favorite time of the year. This is a beautiful fatbook page.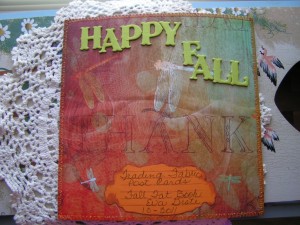 Back of the page.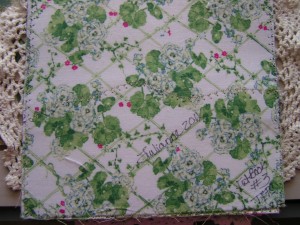 Another back of a fatbook page.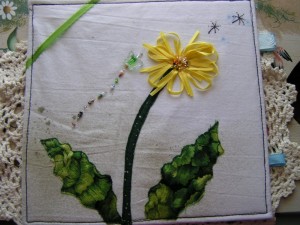 A beautiful ribbon flower .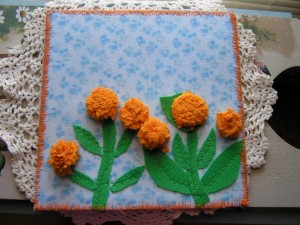 I want to say the lady that made these marigolds did so out of a ripped up t-shirt. I am not sure but I think she told me she used strips and sewed them together and trimmed. I will ask to ask again. I LOVE MARIGOLDS. I plant them every year.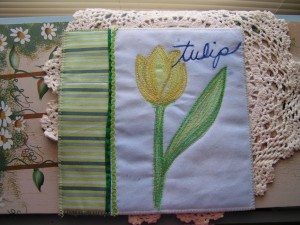 Beautiful tulip on this page.
I will post more later. Stayed tuned for my of my Fatbook pages coming real soon.
Seriously to date I have YET to receive a postcard, miniature quilt, fatbook or mug rug. They all have been awesome. We in life are all on different levels even from the most simpliest to the most elaborate they are just beautiful and to think someone made it just for me makes it even more special.