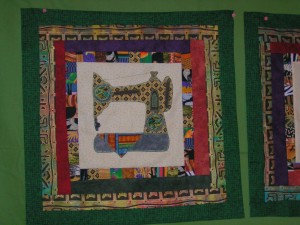 On Trading Fabric Postcards not only do we make and trade postcards we also have a miniature quilt swap going on. 
I love African fabrics! If you did not already know that you will after you read some of my blog post and look at my beautiful background Carol added for me on my sites. African Ladies Dancing was the name of my quilt and I decided to use some of the many beautiful fabrics I have on these mini swaps.  I have 3 (so far) miniature quilts to make by summer. I saw this pattern in a magazine I have and the wheels started to turn. What a great way to express what I love, beautiful African fabrics and sewing. I needed to make a miniature sewing machine quilt. Here are the pictures of one that I put together today. The other two look almost the same. I hope the people receiving them love them as much as I do. 
When I get them quilted this week I will show you the finished product.
If any of you are interested in joining in on the fun on Trading Fabric Postcards you can find us here http://groups.yahoo.com/group/TradingFabricPostCards/. We will make you feel so much like you are home that you will never want to leave!