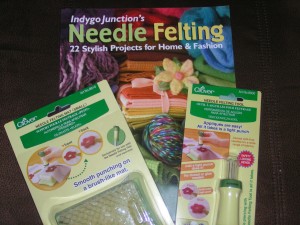 This month I am giving away a needle felting book by Indygo Junction. It is called Needle Felting, 22 stylish projects for home and fashion. It is packed full of ideas and projects for purses, clothes, pillows and just about anything you can think of.
I am including a needle felting mat and a felting tool and of course some surprises along with this book.
Here is what I would like for you to do.
1.  Leave a comment for 1 chance.  If you do not have a blog or cant do any of the below..That is ok.  You will be eligible when you leave a comment.
2.  Join here as a follower for 3 extra chances.  Just look to the right and sign up to be a follower. In the widget that says "Join This Site." It cost nothing.
3.  If you have a blog and you  blog about it I will give you 5 more chances.
4.  If you add me to your blog as one of your sites you go to I will give you 10 chances.   So if you are able to do all for that is 19 chances to win. That is a good deal I think.
Yes I will keep up with the above to make sure you get all the chances you deserve. It is the least I can do for you being so kind and cooperative.
Thank you everyone. I enjoy blogging so much and I try to have something for everyone.
THANK YOU for being a faithful reader.