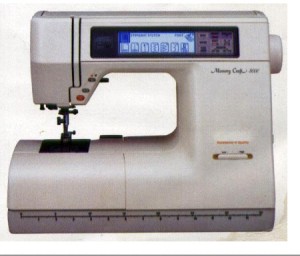 Picture this. Mustered up the energy to go to my studio and sew. We were at the beach last week and I am still tired. Got upstairs turned the TV on, phone on charge, happy as a lark..Turned on machine and it came on beautifully. Tried to change the stitch , NOTHING.. would not change.. Tried to mash all kinds of buttons..NOTHING..  so I am aggravated. I dont want my machine to go away. I need my machine.
Gary and I used to love to watch Aleene's Craft show. Tiffany, Heidi, Aleene and Sue Thornton I believe was her name from Janome were our favorites. I just drooled when Sue would demonstrate the Memory Craft 8000's.  I wanted one.  Well my 7th Anniversary was coming up and Gary said he would take me to look at the machines. We found a place that had them and went for a test drive.  I was shocked at the "sticker price."  I was equally shocked when my husband said "We will take it."
I got the machine and 15 of the disk that went with the machine and a scanner.  I floated out of the store.
 The 8000 has gotten a workout over the years. Today I went upstairs and it is sick. I don't waste prayers on football games and I am not going to waste one on a sewing machine. I do hope however it can be fixed. I have searched online and found a site which told me something to try. I am on my way now to try to recaliberate or something like that on the machine. I dont think I could do any worse.
Progress report on my baby later.  Now I have to go to work trying to save it. I have had it for 17 years. I am not ready to let it go.
HELP…………………… Sue did not cover this in her presentations!  I miss Aleene and the girls. That was one great show.