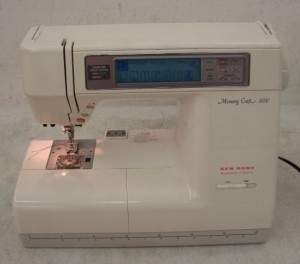 Funeral arrangements pending for the above sewing machine.
Has there every been anything in your life you just could not let go of? Well my Janome Memory Craft 8000 is it for me.
I know some are rolling their eyes but this machine has been with me for 17 years. It has been with me when I was happy singing along with the radio, when I was angry saying *%$@* up a storm when something would not work out correctly and with me when I was thinking about that special person I was putting a quilt together for and thinking about the sacrifice we made for me to have it.
Gary and I had been married 7 years and I adored Aleen Jackson . You know she had the craft show on DIY or HGTV. I cant remember which one. The lady with the  Aleen's Tacky Glue and the really sweet daughters Heidi Borchers and Tiffany Windsor. I would watch them every week and dream about a Memory Craft 8000. Sue Thornton was the lady that demonstrated the machine for Janome and she had me glued to the TV watching the show and dreaming.
Anniversary time coming up. Gary told me to get ready we were going somewhere. I got dressed and we left our little apartment where we were living and headed to Eastwood Mall area. I figured we were going to Red Lobster where we had our first date. NOPE we headed to a sewing machine store.
Went in and he asked to see one of the 8000's. I played around with it and he asked me if I liked it and of course I said yes. When the man said $5000.00. MY HEART SANK. We did not have $5000.00 to spend friviously on a sewing machine.  I pretended that it was ok that I did not really need something this elaborate. Gary looked at the man and said "we will take it." I could not believe it. I was getting my machine. I left that day with the machine, a scanner that went with it that the man gave to me and several of the embroidery disk. I did not sleep that night. I stayed up all night and sewed with my machine and tried out the embroidery cards.
Over the years and even with a new machine or two that is more updated, I still turned to my old friend. A few months ago my friend got sick. I took it to a place in Birmingham and requested it to go back to the factory. It was shipped and later returned. They no longer make the parts for this wonderful machine. This was the cadillac of the first embroidery machines. You would think somewhere someone would have what I need to keep my old friend.
The lady asked me what I was going to do with it. I told her I may cover it in mosaic pieces and make a lamp out of it. I can't visualize sending it to the dump. There is no way I will do that. It has been with me so many years that I truly am attached. SO if I can't search out and find a board for it myself then I will just let it sit in my sewing room and watch me sew with another machine that I have. Of course I will glance over at Sadie and be remembered of all the old happy memories she and I share along with a lot of secrets. 
I truly am sad!
IF ANY OF YOU CAN HELP ME SAVE SADIE'S LIFE..LET ME KNOW.. Surely somewhere out there is a part.