Today at our guild meeting, I was working on a Christmas Stack and Whack type quilt and Linda our teacher had something she wanted us to try. She took an ornament pattern and made it 90 percent larger on the copier and we paper pieced the design. It was a Santa Claus design. I know Christmas is over and this probably is not a big deal to most of you but it is to us. You see when someone mentions paper piecing and gets the pattern out we scatter like roaches when you turn the kitchen light on. We are afraid of paper piecing. WELL NO MORE!  I fell in love with it and I am going to master this technique. Linda said this was the way to get the perfect measurements and I can see why. Plus the click click click the needle makes when it goes through the paper it neat also. Enjoy this picture of Janice, Kay and myself proudly displaying our design. THANKS LINDA FOR HELPING US!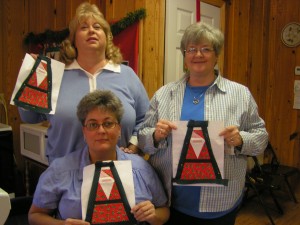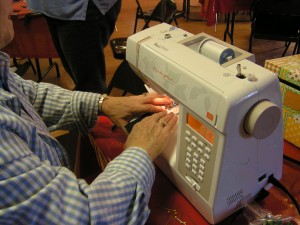 Kay Calamusa using my machine. We only had one there today because the guild's machines were packed up and taken away during December not to get in Santa's way. So I always bring mine to class anyway. Thisone I bought just  for classes. We played musical chairs today..  When the music stopped we all ran for the machine! It worked out fine. I did not mind sharing.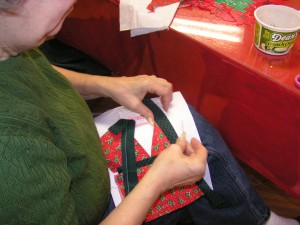 Here is Linda Wade our leader pinning the pieces for us so we could all take a finished block home!