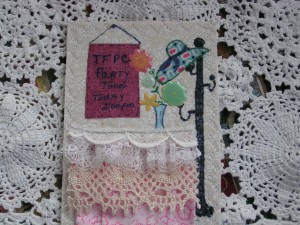 On Trading Fabric Postcards we are having a party ! Yep, a Party Swap. This is my card I made for the gathering. I just love the tablecloth.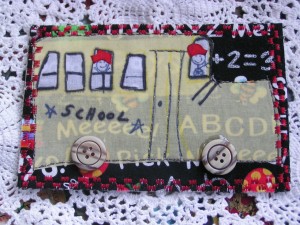 This was a School Theme Swap on TFPC. The recipients husband is named Gary and my husband is Gary so here are the two Gary's waiting on us on the school bus.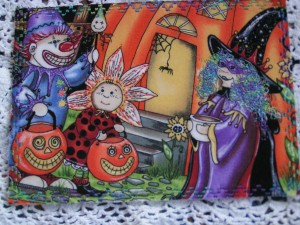 I am sending this away to someone as a surprise. I hope she likes it.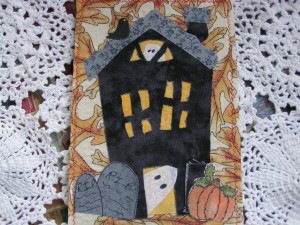 We have a lottery in Alabama, sure do but not the traditional one where you buy a ticket for  $1.00. The ladies on Trading Fabric Postcards each month sign up for the lottery and one winner is picked and that person receives ALL the cards. So it is almost as good as winning the real lottery! This is my Halloween Fall card that I am sending for the lottery.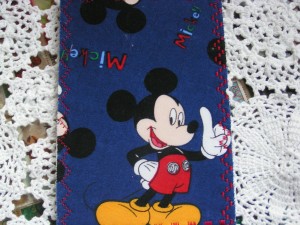 On our group Trading Fabric Postcards, we have a swap where each one of the members in the swap picks a theme for their month and all the members in the swap send that person their themed card. This month the lady picked Disney for her theme. How appropriate to send Mickey Mouse because you know you can't think of Disney without thinking Mickey! I hope she likes this card and she will receive a good many Disney themed ones this month.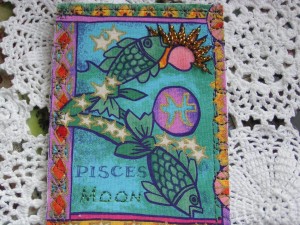 I made this card for a friend. She has a birthday this week and we are going out to lunch to celebrate. She is Carol my web master who works magic with this site. I could not do without her magic. The Wizard is what I call her.  My first beading attempt.. I tried to make the sun all bright and pretty. I will get better hopefully.