I worked today finishing some of the postcards that I had to get ready to mail out tomorrow . I hope you enjoy!  Click on the pictures to see a closeup of the work!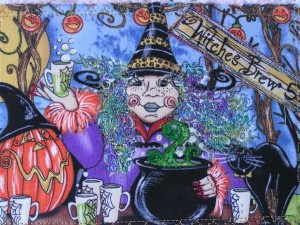 I am in a Halloween swap with two other ladies. This is one of the cards. I took my grape cluster stitch on my machine and worked it all over the hair. I thought that made great hair!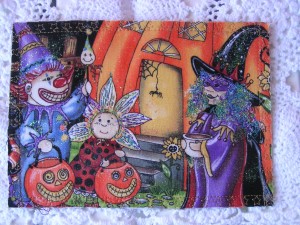 I also used the same grape cluster stitch on the hair. On my sewing machine I have this stitch that makes grapes and leaves.. I just went all over the hair.. I also stitched the flowers on the childs head!!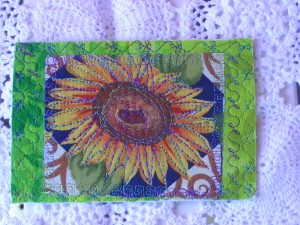 I made this for Daryl. Keeper of the Sunflowers at an Arkansas rest stop. He had some of the most beautiful flowers on the planet. He gave me some sunflower heads to dry and have seeds for this spring.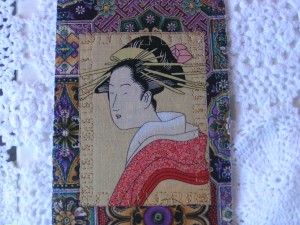 This was for one of my Trading Fabric PostCard Swaps. I bought the fabric in two places. Florida and Tennessee!! I shop all over!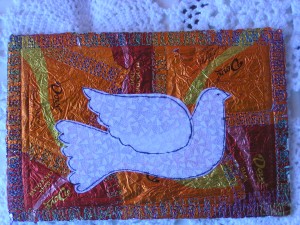 Last but not least. I met a Dove Candy representative online. She commented on a blog I had written on Dove Candy, my favorite. I made this for her.. I hope she enjoys it as much as I enjoyed eating each piece of chocolate to get the wrappers for the postcard!