These are leaving my home this week. I am in several swaps of Trading Fabric Postcards. I hope you enjoy them as much as I enjoyed making them.  You can always click on the picture for a bigger view.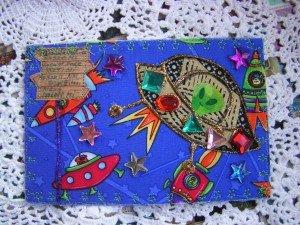 I am in a swap that the theme is Alien. I told the person in Australia that is receiving this that in my lifetime I hope I get to see a UFO besides the UFO's in my sewing room!  For all who don't know..
U n   F inished  O bjects!!!  GET IT  UFO!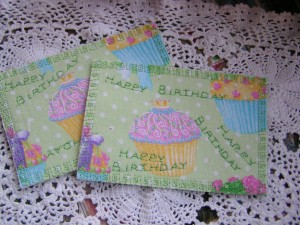 Birthday cards going to two lovely women on Trading Fabric Postcards. I do wish them a HAPPY BIRTHDAY. In our group there are really a lot of awesome ladies. We just love each other and have the best time with our cards and their work is wonderful.
This is a Hog Wild Swap. It was my first attempt at trying Irish Folding Fabric.  It was challenging. I am not really sure I have the technique down but I will get it right sooner or later. So this one you probably could say was the "guinea pig."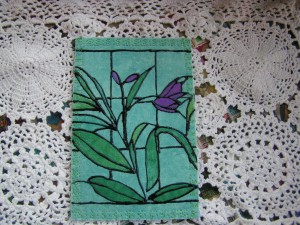 This is a Stained Glass swap. I really enjoyed making this and I went around it with dimensional paint to give it that leaded look.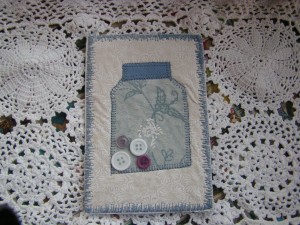 This is a swap called Button Swap.  Well it made me think of Grandma's Button Jar so I made one for my partner.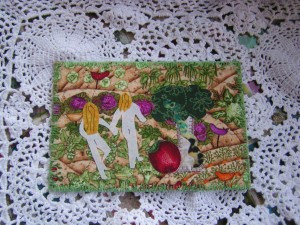 Naked Swap . We decided we would send the card naked and NOT in an envelope even if it means a big old greasy spot from the wheels on the machinery at the Post Office.  What more appropriate than to have a naked couple in a naked swap! Now don't get any ideas!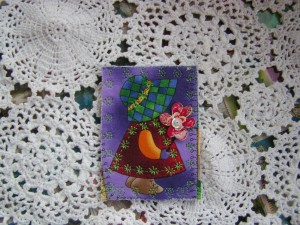 This is an Artist Trading Card 2 1/2 inches by 3 1/2 inches. It is for a swap on Trading Fabric Postcards. I love SunBonnet Sue. I even stitched stars on her dress and bonnet.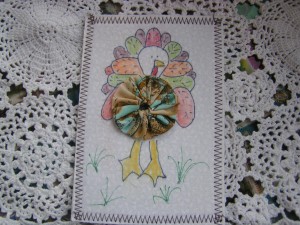 Happy Thanksgiving Swap.  I drew off and "colored" the turkey with crayons. That is what we said when I was growing up.."Where is my coloring book and colors?" I used a fabric yo yo I made with the yo yo makers from Clover that I have on www.welovequilting.com in my shop listed at the top of the page for sale.  They make it so easy to whip out these yoyo's in just a few seconds.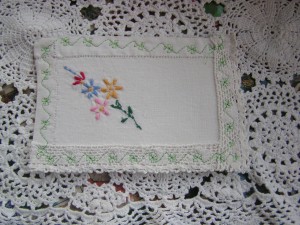 One of our ladies on Trading Fabric Postcards won the lottery, yes I guess you could call it the Alabama Lottery since the groups home is in Alabama. Well it was the lottery on the group where everyone puts their name on a list and one name is drawn out each month and that person gets a card from everyone that participates in the Lottery Swap.  This card was made from a dresser scarf that belonged to my dad's mother Hannah. If she was living she would be well over 100 years old.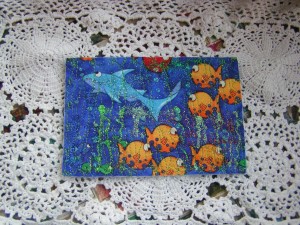 This is an Under The Sea card.  We started a group, Members Pick Them last year. Then each one that signed up was assigned a month and they picked their theme. This months person picked "Under The Sea."  I wish all the sharks in the oceans were as friendly as this one looks!