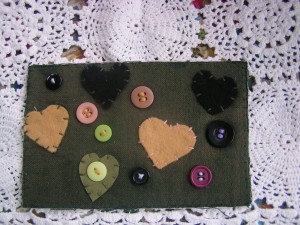 Rachel P.  Found this pillow at the thrift store and used it to make a postcard..HOW SMART! Recycle!  I love it. Primitive look that I am crazy about.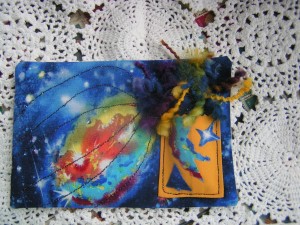 Pam M.. Alien Bad Hair Day!  It is so neat.  I have bad hair days most every day! I love it.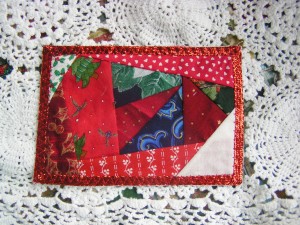 Christmas Card from Lucia.   It is so pretty. I love her scrappy look. My favorite. SCRAPPY HAPPY is usually what I am.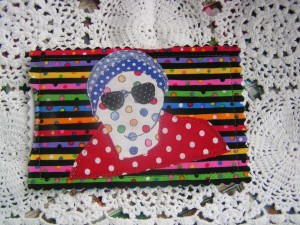 Self Portrait by Malke.  I do hope her polka dots on her face clear up real soon!!! I love this card.  She did a great job!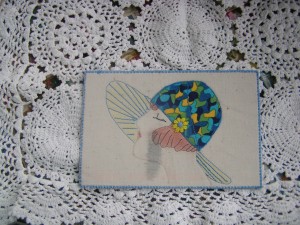 Lady with posh hat by Rosemarie. I would wear a hat if I looked this good! I love this card. Very cleverly done. The dark spot is a birthmark left by the Post Office. It is ok.. Gives it character.
Miriam sent me some beautiful autumn leaves card. It is a good thing since most leaves have fallen off my trees here and now I can enjoy this beautiful card. I love it.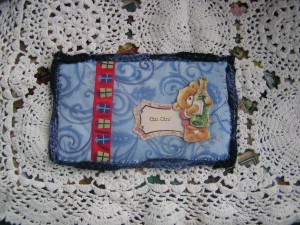 Lucia sent me this beautiful birthday card complete with a bottle of wine to enjoy. I will raise my glass to you tonight when I have a "nip."  Acclamazioni! ( Compliments of Google Translate) I barely can speak correct English much less a different language. I speak Southern Drawl!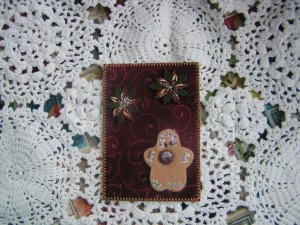 One of my favorite cookies in the world is a homemade Gingerbread Man.  I bite the left leg off first, the right leg next, the left arm , the right arm and then the head.. After that I stuff the body in my mouth and MMM MMM MMM!!  I love this card Eva, BUT I wont be eating it!