Tomorrow I will have some Postcards Made By Chris pictures. Today I only have pictures of beautiful postcards I have received. I hope you enjoy.   If any of you have any questions about joining our group just email me at SadieMaesAttic@aol.com    I will be glad to help you out anyway I can.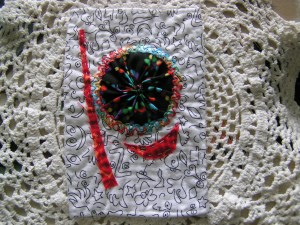 I have a confession. I received this gorgeous card from Robbin Neff. I have looked at my lists over and over and do not know Robbin!  If you are reading this please drop me a note and let me know about this card.  Not only is it beautiful and I just love the fabric Yo Yo . The card also feels great.   The stitching around the Yo Yo is wonderful! A big thank you Robbin! I hope to hear from you soon.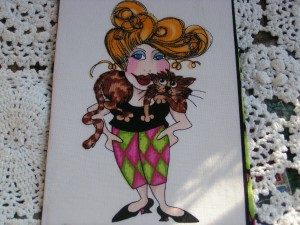 Ruthie , this is such a nice self portrait of you. I like this card very much. Those pedal pushers are all the rave are they not?  Seriously I love this card. Great job and I hope to see Dennis again in swaps. Will you tell him hello for me?  Thank you for the great card!  I am glad we are in swaps together!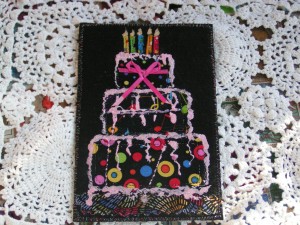 Katherine, I have one thing to say..WILL YOU MAKE MY NEXT BIRTHDAY CAKE???? This one looks so good. I love the black with all the colorful fabric. Black is a favorite color of mine.  Thank you so much for this beautiful card. I enjoy having you in the Trading Fabric Postcard Swaps.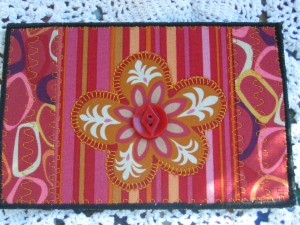 Jeanette, Thank you for sharing your mother's buttons.  I keep mine in cookie tins also. I loved this card. Beautiful and knowing about the button makes it more special. Thank you for being in the swaps with me. GREAT JOB!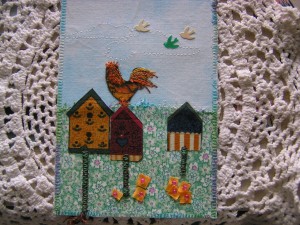 Patricia, Madame Chris thanks you so much for your card. I love the garden scene with my chicken, birdhouses and flowers. It is so beautiful. I am so glad you are in the swaps with me. Thank you again. (Patricia is from France, at first I wonderered if I should be offended being called a Madam!!! Then I found out it is Madame! I LOVE IT) Just kidding about being called a Madam!!!!  That may be interesting in its self also.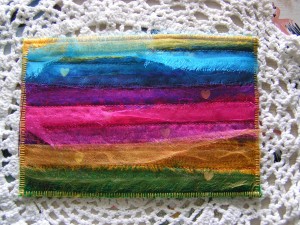 Marja, Thank you for this beautiful colorful card. I said I had a desert scene then I said NO I have a rainbow scene.. Whatever scene I absolutely love it.  It is perfect. Thank you for swapping with me.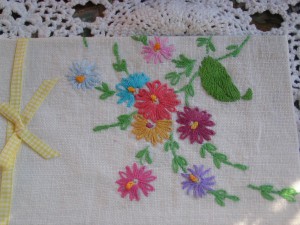 Barbara L. Did you do this or is this an old piece of linen? I absolutely love it.. I have some linen that I am getting ready to draw off some things to embroidery for postcards. It is just stunning! Thank you so much. I am glad you are in our swaps.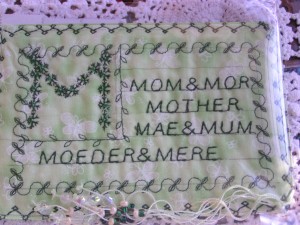 This picture does not do this card justice. It is a beautiful Mother's Day Card from Carolyn M.  Oh such wonderful stitching and to top it off…cords with beads! I just love it. One talented lady and I thank you for being in the swaps with me.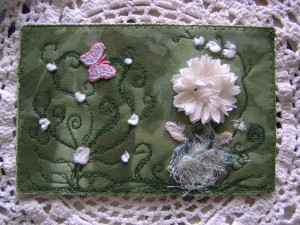 Sue B.. I received this beautiful card from you.. I have to admit.. I am as crazy about the back as I am the front. It is so beautiful. Did you dye the fabric for the back yourself? Thank you so much for the card. Oh you outdid yourself on the stitching!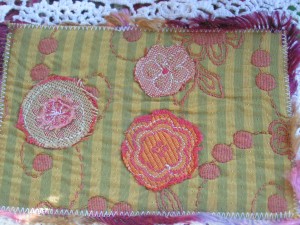 Stephanie R.  It never ceases to amaze how talented the women in Trading Fabric Postcards Group are.  I loved this card. Beautiful and you sure have a great penmanship.. Your handwriting is so neat! Thank you for being in the swaps.
I love sharing the cards I receive with the readers of this blog. I am always amazed at how creative the ladies and sometimes gentlemen are that I receive cards from. I sure hope my cards live up to their expectations. 
If anyone is interested in being a part of swaps, it is very easy. Just email me at SadieMaesAttic@aol.com and I sure will give you all the details and help you out anyway I can! We would love to have you. Just look at it this way. You will receive tiny works of art just for you.. No one else.