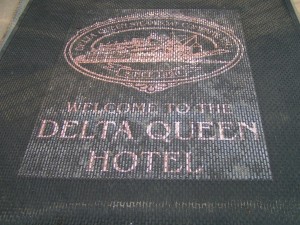 Well not exactly rolling but on a riverboat.. The Delta Queen in Chattanooga, TN. Gary decided to book us a room. We went yesterday. It was a really nice day to drive, warm and close by.
We arrived, the boat was beautiful and the people that worked there were just awesome. Our food on the ship was wonderful. This is on our list of things to do over again. Next time we will ask for Room 109!
There are a lot of pictures coming up with descriptions under some. I hope you enjoy them. If you get a chance and want to spend the night in a historical place. DELTA QUEEN IS YOUR PLACE.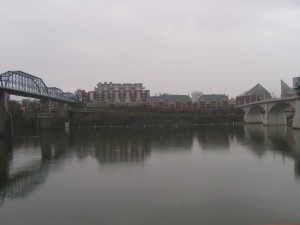 View from the 3rd deck that we were on.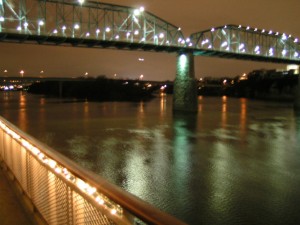 At night look toward the bridge next to us.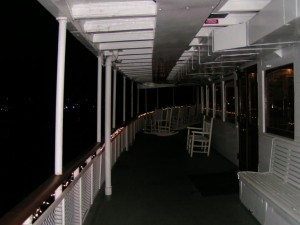 Beautiful view at night of the deck.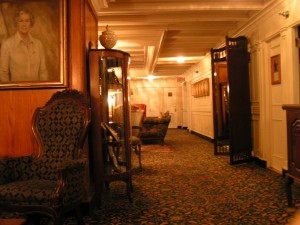 The Parlor or as I called it.. Miss Mary resides here.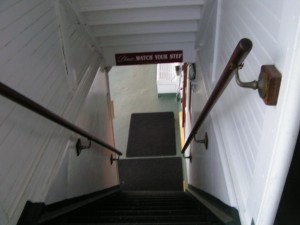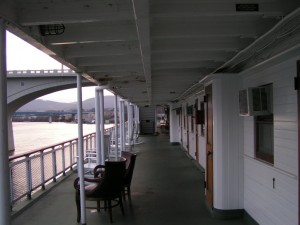 Look at the beautiful view.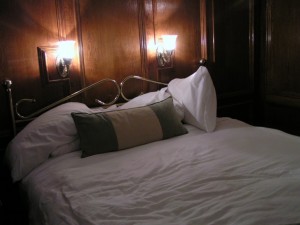 Our bed was real comfortable.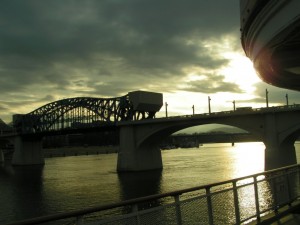 A small storm was coming but it was just gorgeous.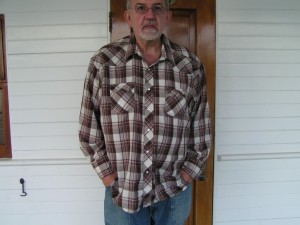 Gary is NOT fat.. But look how small the doors were.. I imagine back in the 20's the people were nowhere near the size folks are today.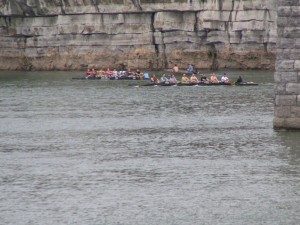 The people were rowing. I wondered if maybe it was for some college competition training. I know the coxswain on the front of the boat sure was giving major orders.  You could hear him and what he was hollering to the crew. He was very vocal.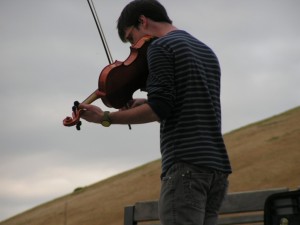 There was a hill nearby where the kids slid down on cardboard. The young man here was playing his violin for the crowds.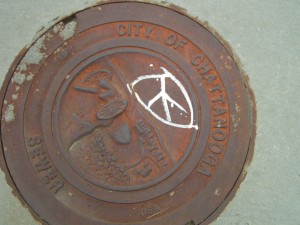 I find PEACE everywhere.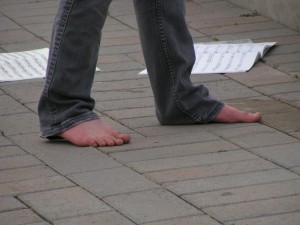 The violinist was barefoot.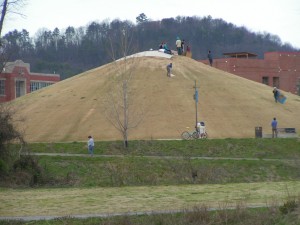 I wanted to slide down so much. But I figured in traction with a broken hip at my age would not be a good thing.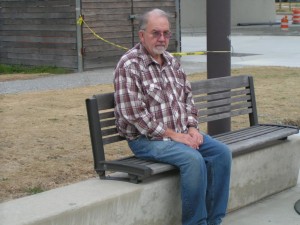 Hello, my name is Forrest, Forrest Gump. I am waiting on the bus so I can go see my Jenny!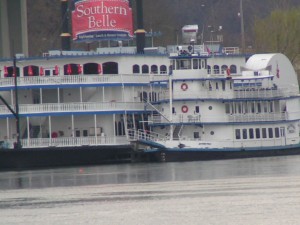 The other ship across the river. I do not think you can spend the night there. Just dinner.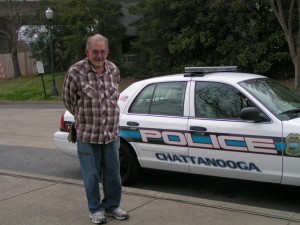 There is always a pervert lurking in the parks. No really Gary loves police cars and when I see one I always get a picture with him.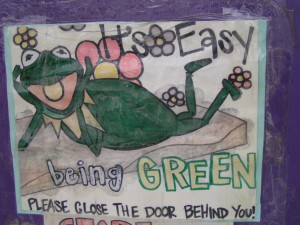 We walked a couple block over to this great little community. Neat stores and hippies.. MY KIND OF FOLKS.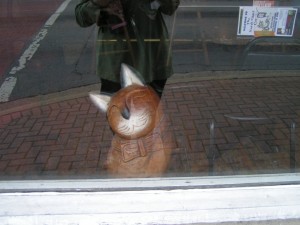 Look a cat in the window with that ghost lady I always see in my pictures!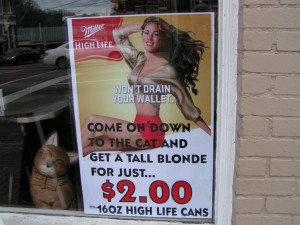 I did not tell them they could use my picture…I wish.
First I thought it said "Cathouse" and I was going to see if I could get a job! Just kidding.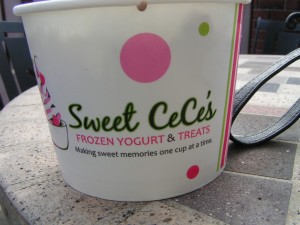 Meet CeCe…she lured us into the store.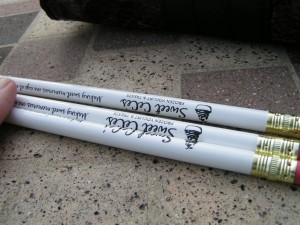 Aunt Jan you sure have been a bad influence on me.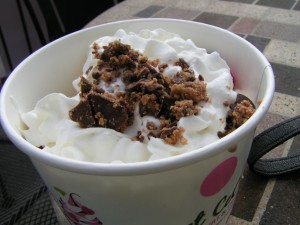 You paid by the pound. I figure tomorrow I will really pay by the pound when I get on the scales!  It sure was good.. We shared.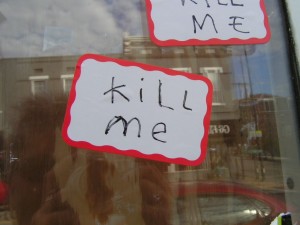 THIS WILL BE WHAT I AM SAYING TOMORROW WHEN I GET ON THE SCALES.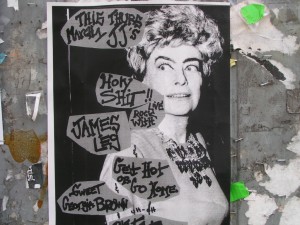 I did not know my Mommy Dearest was there.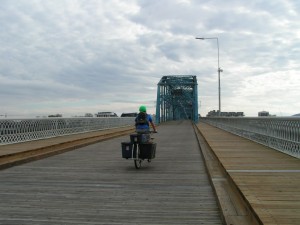 We decided to walk across the bridge. People were walking, riding their bikes, pushing strollers and police officers on bikes.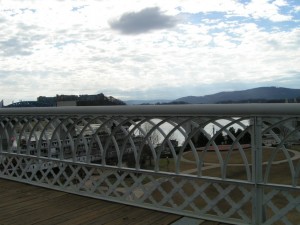 Nice view.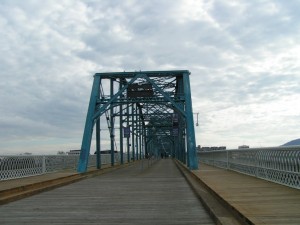 Almost to the middle of the bridge.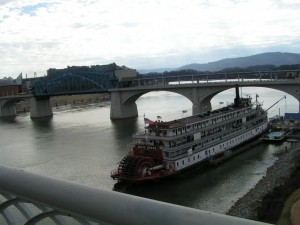 This was a far as I could go. Not even half way.  I totally forgot I am horrified, terrified, scared to no end of heights.  I had to hold my wobbly knees in order to get away from the rail and get back to the middle of the boat before I passed out. I tried so hard to go all away across. I thought I was going to have to flag one of the officers down and get him to let me ride on the handle bars of his bicycle.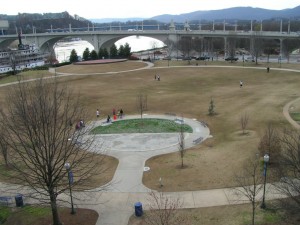 A view of the park from the bridge.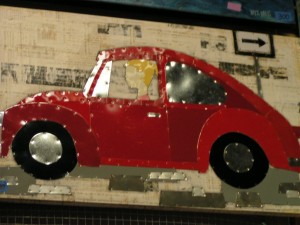 A lot of the stores had some really neat art.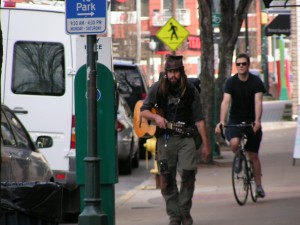 My peeps! He spoke to me. I guess he did not have a chance not to speak.. I could not take my eyes off him. It made me go back to the sixties at Avondale Park in Birmingham, AL sneaking off during the summer to the park with some older girls, playing in the little pond with the hippies while musicians played in the amphitheater. Gosh those were the days.   Kids today do not even have a clue of how to have a great good time.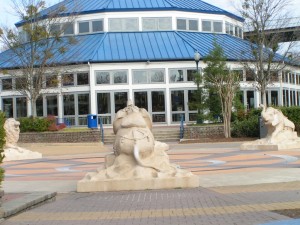 Indoor carousel. The name of the park by the boat was Coolidge Park.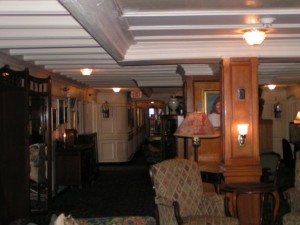 Inside the parlor of the boat.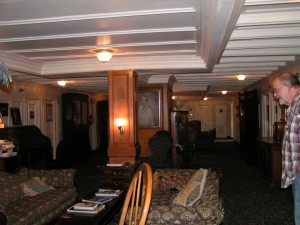 Gary looking for Mary.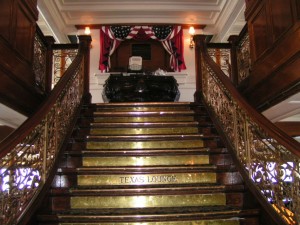 The stairway to where we had dinner. I would have taken a picture of the place where we were eating BUT Gary has this thing of taking pictures with other folks in the pictures. So I will just tell you..It was beautiful. I guess I am going to have to get one of those camera's from the spy shop that is in an ink pen. If any of you know where there is a place I can get one, let a sistah know!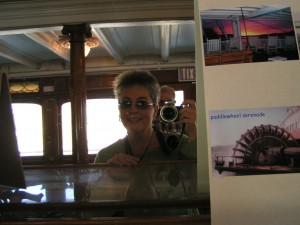 Me being silly.. As usual.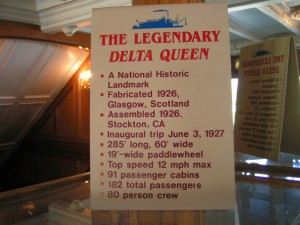 History of the ship.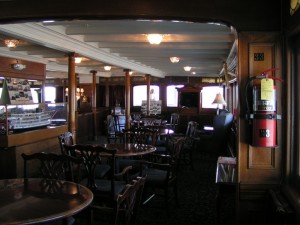 It was so beautiful.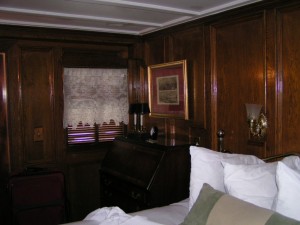 Another view of our room. It is hard to believe this time last night I was in that bed talking to my husband hoping to get a glimpse of Miss Mary. I called out her name about a zillion times.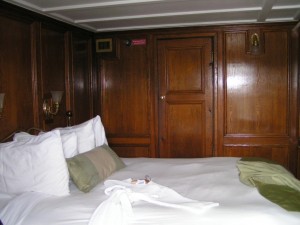 See that closet door.. I kept one eye on it in case Mary was in there.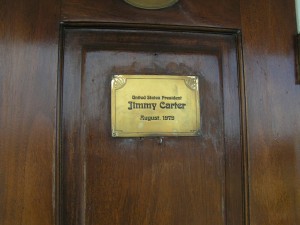 A few doors had these plaques on them. I forgot to ask the crew if that meant the people who's name on the door stayed in that room. If so I wanted to sleep in the same bed Jimmy Carter did.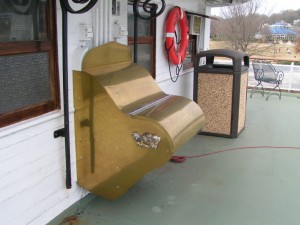 I bet a trillion dollars you can't guess what this is? Gary guessed ice maker.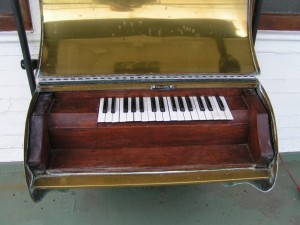 I bet none had a clue..Did you? Calliope. At the bottom of the page you will see a youtube video of how this thing works!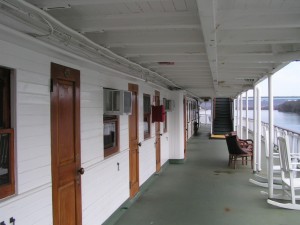 It was just so beautiful. A piece of history.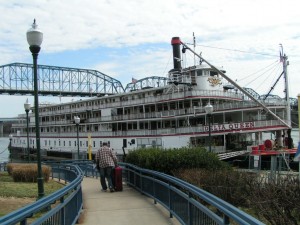 This is a beautiful ship.
I sang "Delta Dawn" more than Tonya Tucker EVER did.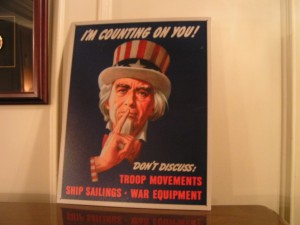 I loved this.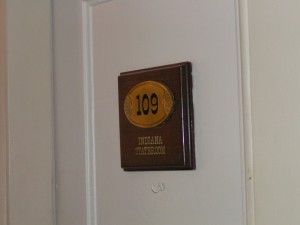 Rumor has it Mary Greene still lives here on the ship in this room. Now Miss Mary has gone on before us.. I sat outside on the settee calling her name about 2000 times to see if she would appear. As I would have though it she did not until we got home. I will admit after we got in bed and turned off the lights..I prayed she was not waiting until then to come out of my closet next to my side of the bed!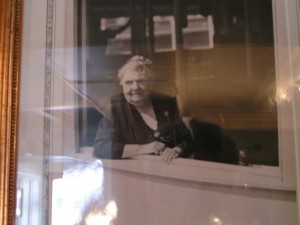 I would let her live her at my home.. of course she would have to share her time with the other ghosts that are always here doing something. We just have gotten use to them.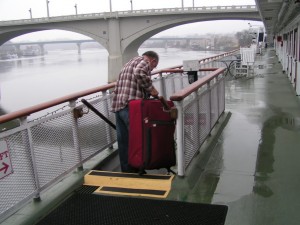 Well it is time to say goodbye to the ship, crew and Miss Mary.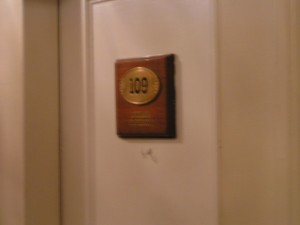 One more peek at 109.. I will be in there with Miss Mary next time.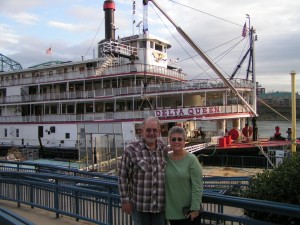 Can someone PLEASE TELL ME WHO THESE OLD FOLKS ARE??? They keep following us around EVERYWHERE WE GO!!!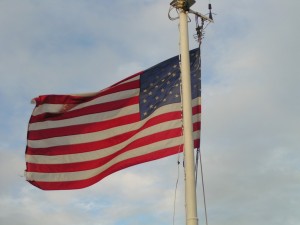 Only in America can you have this much fun! Or me.. I won't fly! We are off to the next state with another adventure!
http://www.youtube.com/watch?v=SFgqDSBba1g   Here is a youtube of somebody playing the calliope.. If you will notice the man to the left.. He is standing right in front of our room!
http://steamboats.com/museum/marygreene.html
http://www.deltaqueenhotel.net/
http://steamboats.com/museum/deltaqueenstories3.html#sally
After reading the above last article it brought something to mind that happened last night and I have proof.. I was talking to someone on Facebook about somebody outside our room moving furniture and talking and then all of a sudden we heard nothing. We still have not figured out how they could walk past our door and us not hear.. We were the only ones on the top floor.