I love the Roseanne Show. I feel like the Connor's were more like family than characters on TV. She screamed at her kids just like our Mother did. Dan worked sometimes and sometimes he did not like my Father did. The house was a wreck like ours was. Sometimes we had a rough time and was a day away from getting in trouble with the utilities, bank and such. So I can relate. Plus we had our own "Jackie" who is Aunt Janice. She took care of us and let us get by with murder like Jackie does Roseanne's kids. We adore her.
Gary and I are different than most others we know. We love old shows, In Heat Of The Night, All In The Family, The Jefferson's, Sanford and Son and one of our most favorites Roseanne.  We absolutely love the show.  I have always admired the afghan on the back of the couch. I don't crochet. Well to be honest to you I can only do two things crochet wise, dishcloths and Granny Squares for afghans. I make the squares but I don't like putting them together. I can knit and it is only dishcloths and scarves.
I got a wild idea during the winter I wanted a Rosie Afghan!! That is what I am calling it. Rosie. I sat here at night watching TV , on the computer reading newspapers and making the squares. It took me about one month to get them made.  Then I started putting it together. After one row I figured out if I did not find someone to put the squares together for me I would going to have a heck of a Granny Square washcloth collection!
Then came Kate. Kate is a family friend of ours. She stayed with my Mother in Law at night when she was alive for a while as one of her caregivers. She is also a walking miracle. She was leaving a grocery store one day after leaving  Mrs. Wheeler's home and woke up two weeks later in a hospital with just about everything broken in her body. A van hit her and dragged her before they stopped. It was touch and go for a while but she survived and if you did not know it you would not know anything ever happened to her. I hope when I get her age I am as spry as she is.
Well I thought about her and her love of crocheting , tatting and making many beautiful things and I asked her would she be interested in putting the squares together for me. "Oh sure."
Here is my Rosie. I love it and Kate so much for doing it for me. I could make the squares by the truck loads as long as I can get her to put them together! I hope you love Rosie as much as I do.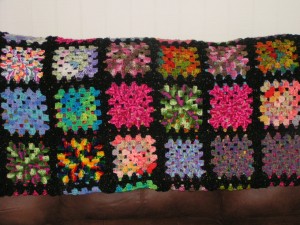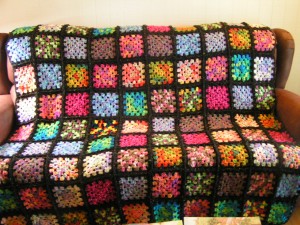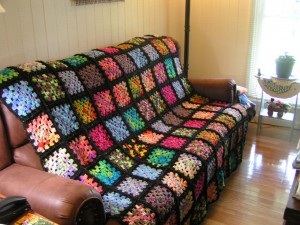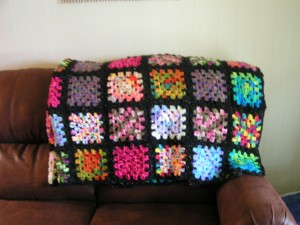 Till winter it will be folded on the end of the couch.
I LOVE IT and Thank you Kate so much. You are truly a sweet talented lady. Our family was blessed when we met you in a lot of ways.