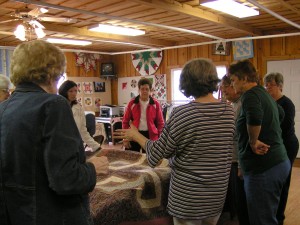 Saturday Linda Wade, our leader decided to teach a Gordian Knot class at quilting. Usually we have 6 to 7 at our Saturday meeting. This week 16 decided to show up. It was nerve wracking and loud but we survived. Catherine Stickland was there and we had a birthday party for her. She was a good sport. She wore her birthday hat most of the afternoon. Here are some pictures to enjoy.
Linda showing some of the women a Gordian Knot.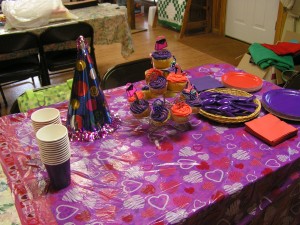 Catherine's birthday table. She is a Red Hat Member so we had her all fixed up!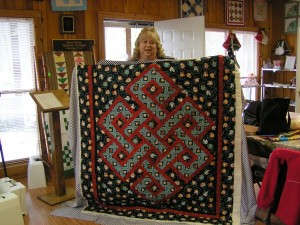 Janice Williams with her Gordian Knot she made last year. We are so proud of her. She finally had it quilted. Her fabric was teapots. Great job Janice!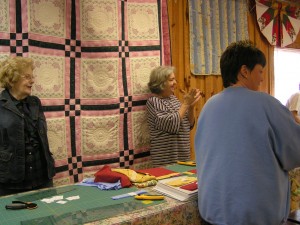 Linda, Catherine and Annette. This was Annette's first time to sew! 
Janice Williams other Gordian Knot she made for her son Jimmy. It is made with Auburn University fabric. Again another great job.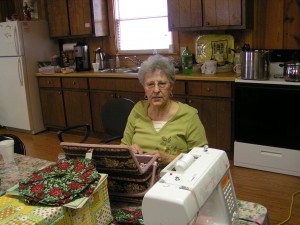 This is my Aunt Jan. She decided to spend the day with us at the guild. She is making yo yo's from the yo yo makers she got off my site! She does a great job and these are very easy to make. She is a great Aunt. My sister Karen and myself fight over her. We love her so much.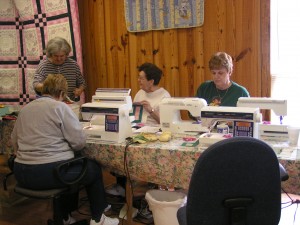 I call this "There was no room in the inn!"  Because there was no room at the sewing machines.  I am glad I brought mine! Linda showing Joyce, Carol and Lynda something about the Gordian Knot. Joyce was paying attention!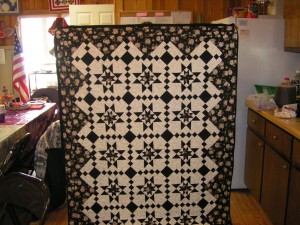 This is Eileen Cundiff's Ohio Star. She bought the pattern at The American Quilter's Society, Quilt Show in Nashville, Tennesee last year. She does the most beautiful work. I am proud of her. I just love anything that she does.
I am also sad that the Gaylord Hotel in Nashville will not host this years quilt show. It will be in Knoxville. It will not be the same. Going to the Gaylord was the highlight of the year for us.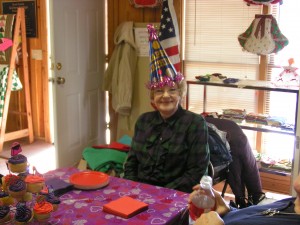 Last but not least. Catherine Strickland aka Birthday Girl. She is such a good sport. She wore the hat the rest of the day!  HAPPY BIRTHDAY!