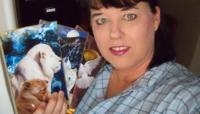 Meet Denise Milledge. Owner of Owl In The Moon Studio and SoulCollage® facilitator. I met Denise through Trading Fabric Postcards. I was so impressed with her work of the houses she paints to hold the cards that I asked for permission to show it them my web site and she gladly gave me her story.
My name is Denise Milledge and I became a SoulCollage® facilitator in January 2011. This  is a creative process of self exploration through the creation of 5×8 collage card one makes for themselves based one the many "parts or voices" inside each person. SoulCollage® was first developed by a Marriage and Family Therapist, named Seena B. Frost. She developed this process to help her clients to explore and better understand themselves.
In the group each person collages a card from images found in books, magazines calendars, stock photos etc, based on one aspect of themselves such as "The Inner Critic" or "The Creator" or "The Mother" or "The Happy Child" or "The One Who Is Afraid"..after creating a card, the next step is to work with the card doing the "I Am the One Who" dialogue by writing it down in a journal or a piece of paper or typing it in an online journal. The idea is the discover more about and give voice to the many aspects of yourself that are always present in your head/heart/body so that they can be brought forth into your conscious awareness .Eventually, each person creates a personal deck of cards based on each voice or personality.
Since the images are often found in published books/magazines etc., these cards are made for personal use only and are never to be bartered, traded or sold. The cards can be shared in SoulCollage® groups but the cards always return to the creator of the card. While the creation of a SoulCollage® card feels very therapeutic, it is not in itself, a therapy.
If you would like more information about the process feel free to go to www.soulcollage.com. There you will find out about the history, the process, examples of cards, and facilitators in your area offering SoulCollage® workshops. The cards LOVE to be "out" and "seen". People who create their SoulCollage® cards are always looking for ways to display them. Very much like those of us that send and receive fabric postcards. In response to that, I paint and design what I call "Soul Houses". They are actually unpainted wooden cd holders. I paint each one individually and no two houses are ever the same. They are all one of a kind. I sell them at my SoulCollage® workshops for 50.00. They would be a great way to hold and display the fabric postcards as well.
If you are interested you can reach me by phone at (951) 534-7966 or through my email at milledgedenise@yahoo.com. They would be 50.00 each plus the cost of shipping/handling. I accept checks or money orders. Here are some examples of the houses.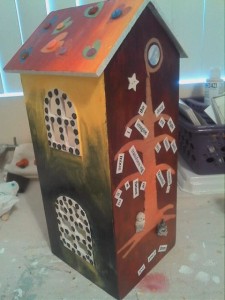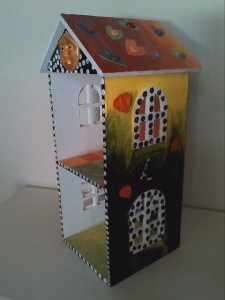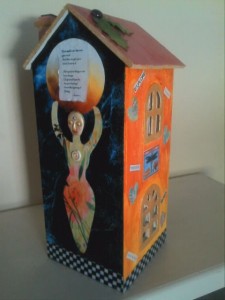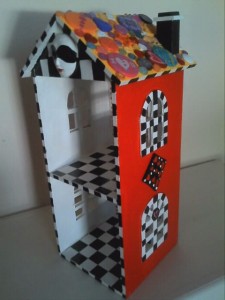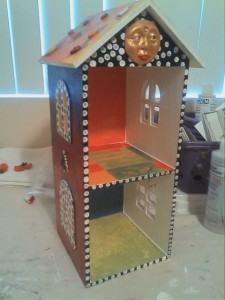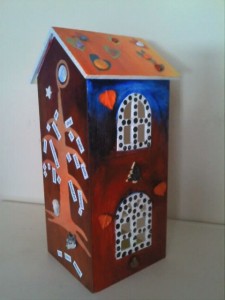 http://owlinthemoonstudio.com/