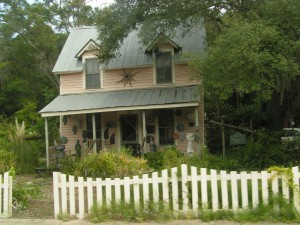 We found a great place to visit and shop.  Shady Oaks located at 3706 W. Highway 98, Panama City , Florida 32401. 850-785-3308
Iris Anderson is the owner. It is open from Tues-Sun 9:00 to 5:00
I found so many goodies here! I wish I had room I would have gotten one of everything. Very unusual gifts.  We loved it even if Iris had her grandmothers quilt laying on the floor for a display!!  We tried to give her a hard time about it but she was such a nice person we just could not.  A gentleman was there also..For the life of me I can not remember his name. Maybe Iris will email me and I will post.  He makes these great birds. I got one! 
When I get home and get my treasures put up I will add more pictures to this post.. As of now they are in the truck!
Here is some of the info on the place. Sits on an acre of land. Once you enter through the old fashioned white picket fence into the beautiful garden setting you truly enter into a time of peaceful days past. The house and small side building which used to be the first Panama City Washateria is full of antiques, unusual gifts and art of local artist.
There is 3/4 acres of pathways with very nice items. Here you will find, statues, fountains, birdbath, CHICKENS and not the statues.. Real ones. The main house I believe she said was from the 1800's.. Well if I got it wrong I know it was very old and nice. This is just a great place to see and shop.. A must when you visit the beach!