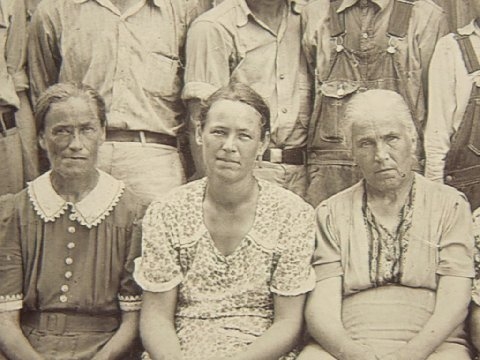 Lately I have not been in the mood to post anything nor sew anything. I think I have spring fever. I am wanting to purge the house and clean out the garage!!
Well I wanted to introduce you today to two ladies that were in my life when I was growing up. Shug and Emmaline Taylor.  Shug who's real name was Lizzie is the thin one on the left. Emmaline which is the heavier one is on the right. They were characters.
The two ladies were my great aunts and Aunt Shug is responsible for me loving to quilt. Aunt Emmaline is responsible for me talking to the cars next to me occupants as I drive which by the way drives my husband nuts. Let me explain.
When I was growing up in a small Mayberry like town, Piedmont, AL I lived with my Granny and Pop. These were Granny's aunts. I would ride my bicycle to their house almost daily. I so loved going visit these two old women. They lived in a shotgun house. For all of you who do not know what a shotgun house is we call it that in the south because you can stand at the front door and shoot straight through the back. In the front room they had two metal twin beds and a small kitchen. The bathroom was an outhouse. Later on I do believe the landlord finally put one tiny toilet and sink in the house.
I would ride down there daily to get my "biled" egg (boiled) neckbones and bisquits that were cooked on a woodburning stove summer and winter. They had no aircondition but the front porch and a funeral home fan. Can you imagine starting a fire in the kitchen in the summer just  to cook!!  I'd take my bisquit and dunk it in the coffee they would put on a saucer. When breakfast was finished and dishes cleaned Aunt Emmaline would take her place on the left corner of the porch. Aunt Shug's place was in a rocking chair next to mine on the right side of the porch. I'd wait anxiously for her to bring out that shoe box. Inside the box was newspaper patterns of quilt blocks. Now nothing like we do today these were just triangles and squares and circles. She would patiently cut out the fabric for me and I'd wrestle with a thimble and needle to try to sew the pieces back. To this day I still wrestle with a thimble!
Oh how we have fun sitting on the porch dipping our snuff. They had Bruton that came in a glass. I wanted to dip just like them, learn to spit way out in the yard, take my hankie out of my pocket wipe the corners of my mouth just like they did so well. I asked could I try. "Lord no honey, Sadie would kill us. You take this glass to her and she will make you some snuff." I guess Granny knew the secret ingredient because the next day I left out with my sewing stuff in my basket and it included my very own jar of Sadie's Snuff and my own hankerchief.  I had Hershey's Cocoa and sugar mixed together.
Never did a car pass by that Aunt Emmaline did not say "what you looking at you old coot." "You enjoy staring up here."  Me and Aunt Shug would look at each other and grin. I will be riding today in the car talking to the occupants next to us. Drives Gary up the wall. He just does not understand it's in my blood.
Then as the day went on they usually had a fuss or two but they were old maid sisters and never left each others side until they left for their heavenly home.
For as long as I can remember I have wanted a picture of them. Back then in the 50's and 60's we did not have camera phones, digital cameras or Ipads. You had to use a Brownie camera with film and then take it to Meadows Drug Store to get it developed.  So taking pictures as we called it you only got to do it on special occassions. I found a cousin on Facebook and mentioned to her that I wanted a picture if she could find it. Well she was not able to and then I found another distant cousin on Facebook and low and behold she had a picture. She sent me this treasure.
I loved those two old maids as ornery and cantakerous as they were they were loveable in their own way.  Aunt Emmaline gave me a hard time and Aunt Shug was a loving kind sweet woman. They were as opposite as day and night. One skinny one chubby, one kind as the day is long and one as mean as a striped snake as we say here in the South. Did not matter what Aunt Em said to me. I'd still be there in the morning for my biled egg, bisquit and coffee in a saucer for a day of working on quilt blocks and listening to the stories of the old days!
I love you Aunt Emmaline and Shug and you gave me a good memory of growing up in the small town I did.
Here is the picture of their house.. Well actually it is the house that was next to theirs. It was torn down but you can see it is an identical replica of the one they had. You know I need to make a wallhanging with this house on it. I would love to look at it daily and think of them!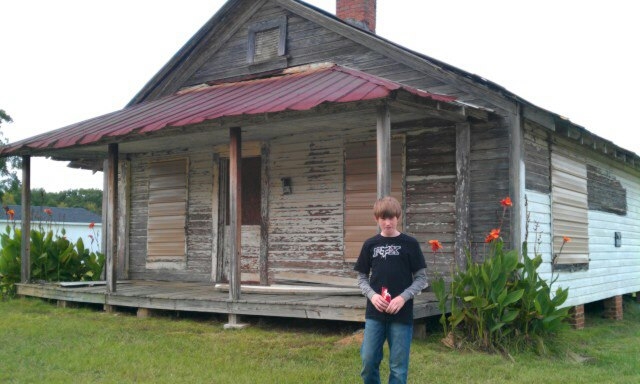 That is Justin. A cousin's grandson. She loved these the old maids just like I did!