Well it is, you see last year I was sick. Not anything terminal or really bad but Diabetes. It is ok now. Very well under control and I do not feel bad at all. I worked around the house last year but I did not really enjoy it . I did not feel good. It is like last spring and summer is a fog memory. NOW I FEEL GOOD. I am doing great with weigh loss and diabetic medicine and I have gone crazy. I am a planting fool! I get up in the morning and go outside and see how everybody (plants) are looking and then if there is anything I need to work on in the yard I do it before breakfast. 
I am just getting started. I have decided to try to find things that will come back year after year. Of course there are some things I just have to have that will not but the majority of the rest of spring and summer I am searching out things that will. Our home will never be Southern Living or Better Home and Gardens nor will Martha Stewart ever live here. It is mine and Gary's home and we love it and we are happy with it so that is all that matters.
Here are a lot of before pictures and in a few months I will have a lot of after pictures.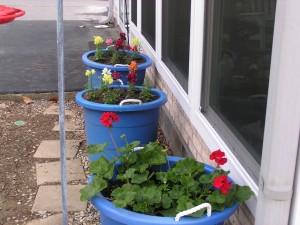 These are laundry tubs. They work wonders for containers to plant in. Drill some holes in the bottom and get to planting. You can even fill them half way full of pine bark nuggest to save on dirt.  This is by the windows looking outside off the sunporch. I like sitting on the porch watching them grow.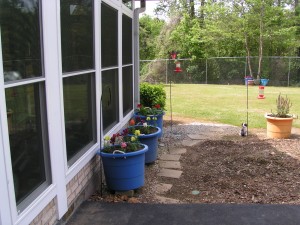 Another view of the flowers off the porch.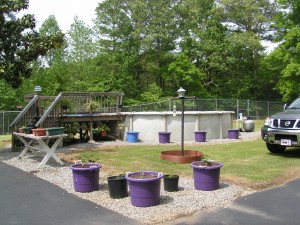 Containers around the pool. Full of okra plants. Last year we had okra 9 foot tall.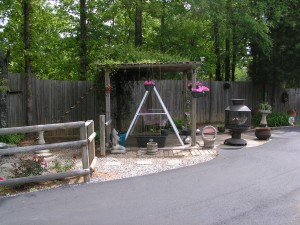 Looking toward the gazebo area.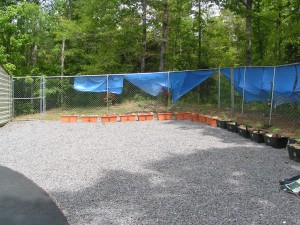 Earthbox area where there are 36 Roma tomato plants doing their thing.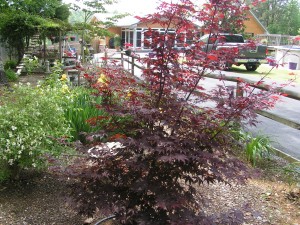 Some of the things I have planted out in my primitive area.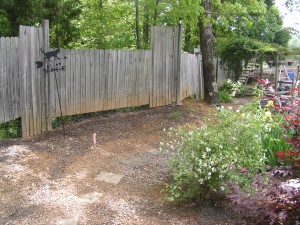 In this bare area I am getting ready to scatter thousands of Zinnia seeds. Aunt Jan give me a grocery sack full. We may have to replace the fence next year and if so when the permanent fence goes in I will plant roses all over.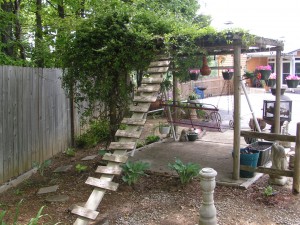 Back of Gazebo. The ladder is what Gary built so that Priscilla would have a way to get to the top. She gets up there and hides in the honeysuckle. She has her own Facebook Page. I am sure she will be posting soon of things she is doing. I will say this. She showed up at our home 1994. The vet said she had to be at least 2 years old. So that makes her 19. She just had her checkup with bloodwork and the doctor said she was better than most young cats. She is in excellent health. I am proud of that little girl!!  Or Old Lady as her Aunt Jan calls her.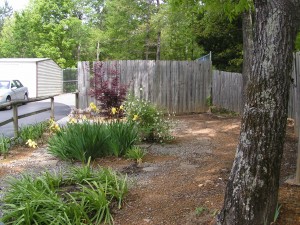 I cant wait to fill up this part with Zinnia's.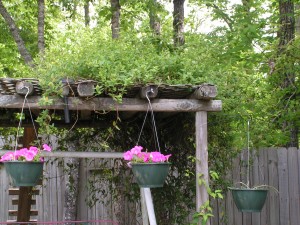 I love the honeysuckles and the pink geraniums. I am in a pink mode this year. Everything I have bought has been pink!! Or close.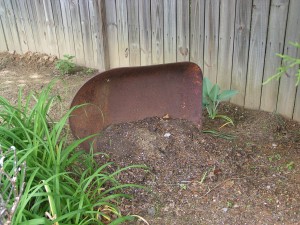 This wheelbarrow has toppled over. Next time you see it, there will be all the flowers it lost doing so.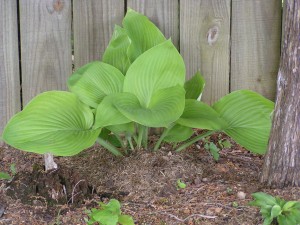 Is this hosta does like it should, it will be 4 foot wide. I am hoping!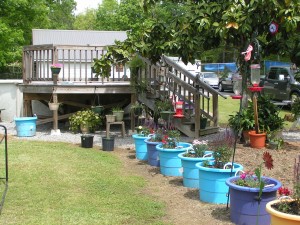 Look at all the pretty containers with flowers that attract butterflies and hummingbirds. Now in the naked spot next to it you will eventually see hundreds of Zinnia's. When I tell you I have enough to fill up a grocery sack I am not teasing.  Millions of seeds. One good thing about it, when they bloom and it is time to pick the heads I will have double more. So I can have Zinnia's from now on out.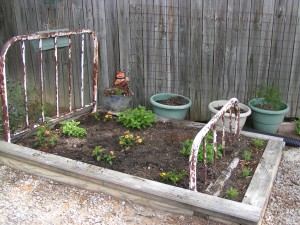 A true FLOWER BED.I have it full of Lantana. I am wondering if I should plant something low growing in between. What you think?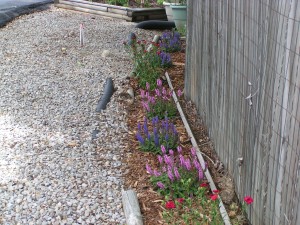 I planted these just as you come through the gate to the back yard. They will come back next year which I like.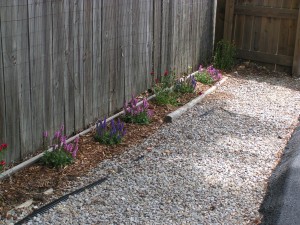 Here is a look at them from a different angle.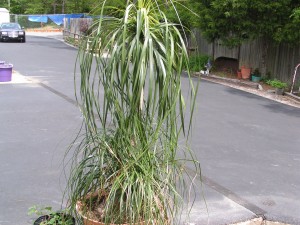 I have had this elephant foot plant since 1983!  When I got it the base was about as big as one of those green onions you get in the grocery store. About as big as a marble.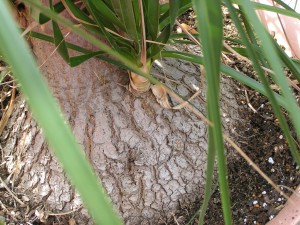 Here is part of the base of the plant.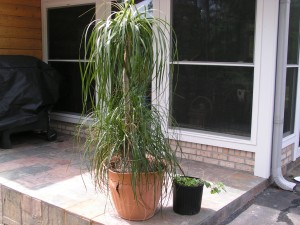 Here is another view of it. Note the split in the planter. I dont know what I am going to do. Much bigger pot and we will not be able to bring it outside. I wish I could get the Botanical Gardens to take it.  I have had it 28 years.  It still is going strong. It started having babies at 25. See the growth at the bottom it is about 10 of the plants coming out of the side of the foot. It is so funny, there is this bump for a couple of months then the tiny leaves start poking out of the bump. They will however cut you like a razor blade if you touch them a certain way.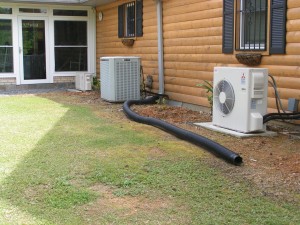 The back of the house. I really do not have anything planted there but 3 aircondition units. I am going to make this a Knock Out Rose bed. We had a unit for the sunporch, house and upstairs in our sewing area. If not it would be so hot there it would melt the thread. The units have dehumidifiers and they suck out one of the laundry tubs full of water a day. It really makes a difference in the house with those units. We stay so comfortable. I use the water to help the plants out. I dont like to waste!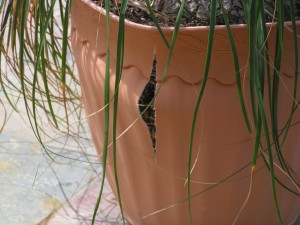 Bursting out at the seams!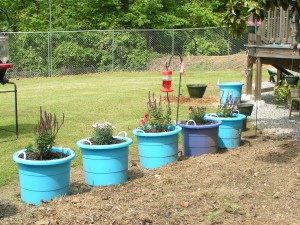 I look at these from the window of my sunporch while sitting in my rocker. Now the clear area will be where I will load it down with Zinnia's. All colors.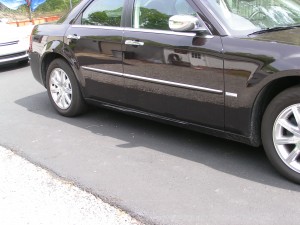 See the big scratch along the bottom of the car, under the door. This is what happens when you run over the curb at the mammogram place and then try to back up and run over it again. Just saying!!!  Oh I am so sick, but it is a car and I can get it painted. It could be worse I could have gotten out to see what happen and the car ran over me!!!!!
LAST BUT NOT LEAST, a picture of me.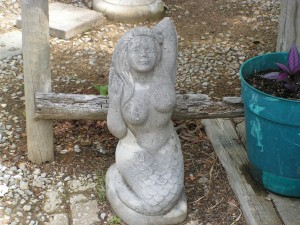 Gotcha!!!!!!