If the Postal lady that delivered a package to the house today would have run off the road if she knew what had been in the box.
Oh by the way it came all the way from Ono, Florida.. Solomon's Castle. Made by a very talented man, Howard Solomon.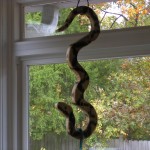 I forgot to tell you it is a plant hanger. You hang it from the tail and the plant goes on the curved part of the neck.
I can see it now.. Go outside again and forget it is there and have to find the mop again!! I do love it.. Beautiful wood and carvings.