Most of you all have heard or seen the movie "Snakes On The Plane" or definately heard the American Idol tryout of Pants On The Ground.  Well this week I have had snakes in the yard or so it seemed. We had some of the worst weather in Locust Fork, in Blount County Alabama . This weekend we had tornadoes dancing all around, yards flooding , trees falling through homes, church struck by lightening and burning to the ground and schools destroyed. But thank God no one was killed. We can replace "things" but we can not replace our loved ones.
Aunt Jan , Gary and I were out on the back porch when I happened to look out and see a "pile of snakes." After I came to my senses of being terrified I realized what it was, roots of my snowball bush!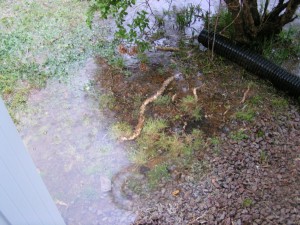 Well I dont have my pants on the ground but I have my plants IN the ground. Watermelons, zucchini, several varieties of squash, red, green, yellow peppers, banana peppers , egglant, tons of tomato plants.  I am growing in Earth Boxes and concrete blocks. Yep you heard me right concrete blocks.
When I want to try something new I say "I am doing a scientific experiment."  Well this definately is an experiment for me.  I am trying to grow my own organic crop out of Earth Boxes and Grow Boxes.  You can read about the grow boxes her http://www.amazon.com/Garden-Patch-Grow-Box-Terra/dp/B001U1GWJ6      and you can read about the Earth Boxes  here http://earthbox.com/.
Last year I grew tomatoes in my Earth Boxes. The plants were taller than I am.  I did not have them in a good location and they were so big and heavy they fell over. If I had fixed them correctly like I should I would have NOT had that problem. This year I have them up against the fence. What I am going to do is when they start growing stake them with knee high panty hose against the fence. I will run the Knee Highs through the fence and gently tie them around the tomato plants. I also planted squash close to the fence , cucumbers also hoping they will grow up the fence. I will keep you posted on the progress.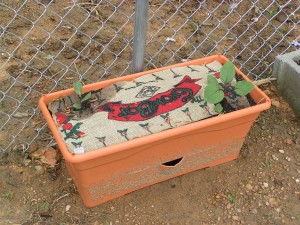 Grow baby grow!
I was in Lowe's a few weeks ago and smelled something so wonderful. It smelled like Key Lime Pie..  I thought I had a stroke for me to be smelling pie. Well I passed these citrus trees and there it was Key Lime! I thought I have to have one of these. They were $79.00 and I hesitated until I received a sign of confirmation to get one.."Citrus Trees Half Price."  Yep a sign from Heaven. One went in the back of the truck and came home to a new location.  We planted it out by the swimming pool.  I already have limes on it and the paper that came with it said they were ready to pick in the fall.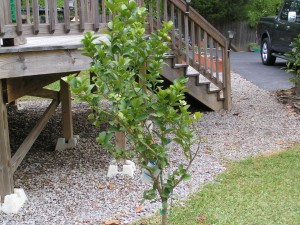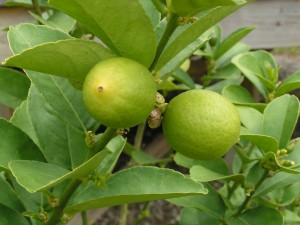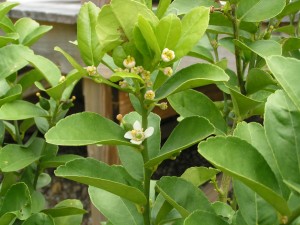 This is the side of the driveway. More of my garden.  It it takes off I am going to be rolling in vegetables!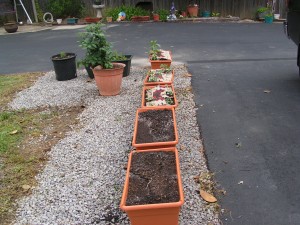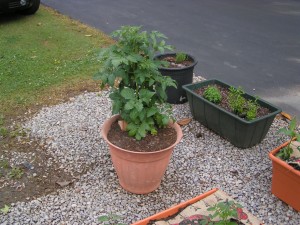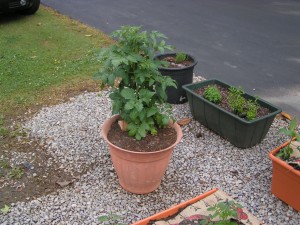 My Flower Bed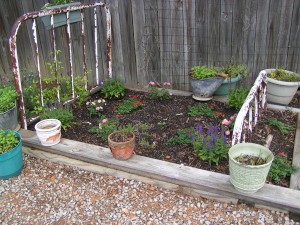 We bought this bed years ago out of an old junk barn. It was packed to the rafters with junk. I was so afraid to walk through the barn because a rat or snake may jump on me. But we did and I found the bed.  We just planted it last week so hopefully in a few months it will be solid flowers.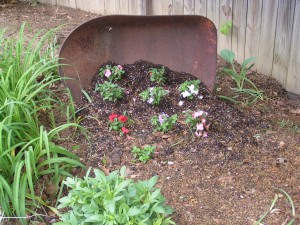 My wheelbarrow toppled over! Well it has been toppled for years. I plant all kinds of flowers in it and by it being on its side it looks like you had it loaded down and it fell over and scattered the plants. This is just one kind. There will be about 20 different kinds all over the place.
I love Hosta's.  My mother loved them also. She gave me about 10 of hers. When we dug them up and split them up we got about 100 off each plant. Everybody I knew got Hosta's.  I had a lot of mine planted out in the wooded area until I discovered the deer ate them. Just as soon as the young shoots come up they are gone.  I still have a few of mothers but I am replacing a lot of them with new ones. This one is called Sum and Substance and it will get about 5 feet wide or so they say!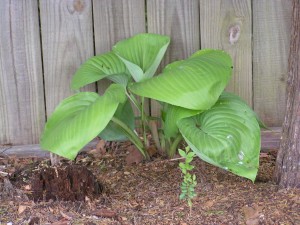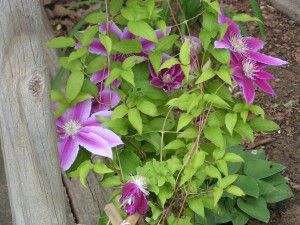 Clematis that is growing up the side of the gazebo we have over the swing. My first Clematis but NOT my last.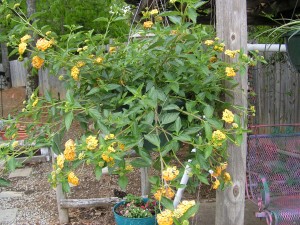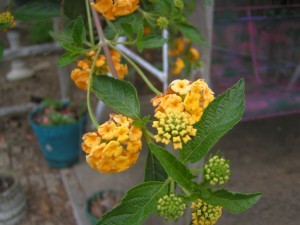 I love Lantana.  It happens to be one of my most favorite plants. It ranks high with the Sunflower which is my favorite.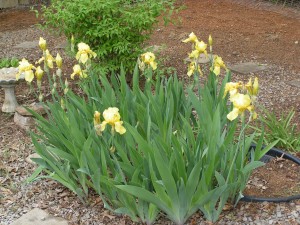 Say hello to Miss King. When Gary and I got married we lived next door to Ezelle King. She was a doll. We bought a house and when we got ready to leave it was so sad but we had to go. Miss King had tears in her eyes and a sack in her hand. In the sack was one yellow iris. I came and planted it and it spread. Miss King died a few years back. I miss her but each year during this time she comes to visit me. I call my Iris, Miss King!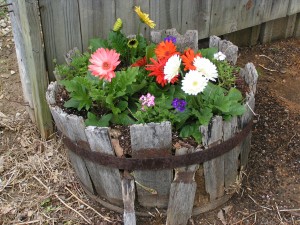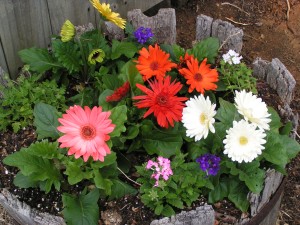 This barrel is on its "last stave."  I have a feeling this is the last year I can use it.  I will be looking for its replacement. It has been with me for 18 years. I thought I would plant a pretty "send off."  I like the flowers. They are Zinnias.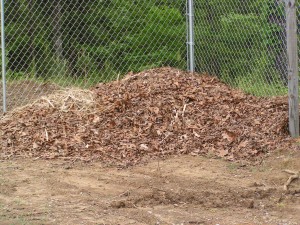 The making of a compost bin.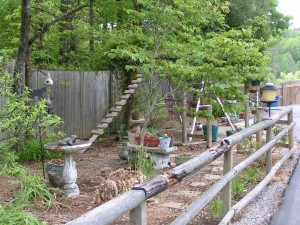 My primitive flower bed that I am working on. The ladder to the top of the gazebo over the swing is for Prissy our cat. She likes to climb up on top and she is over 16 years old so her Daddy built her this ladder to make it easy for her to go up and down. She uses it.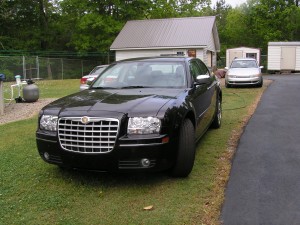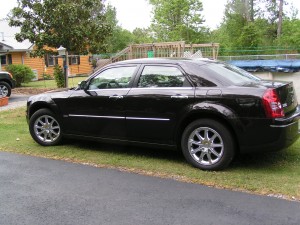 Gary, my sweet and generous husband got me this new car. I have only had it since February.  I love the sunroof and the Sirrus Radio was worth its weight in gold!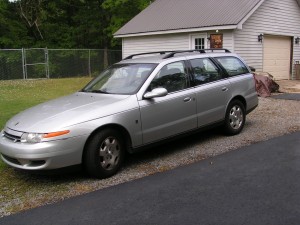 An old friend came to spend the week with me. This was my former "old lady car." Now Aunt Jan has it. I loved this car and still do and can not think of anyone on earth I rather have it than Aunt Jan.
The Old Lady was happy to see me!