Soon I plan on getting back to sewing and on to projects. Right now we have had projects outside. It is that time again.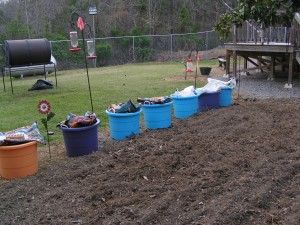 This is by the sunporch. I plan on putting squash plants here.  I love the yellow blossoms and the way the plant is so beautiful and we do eat a lot of squash. The plastic tubs will be for some flowers to attract hummingbirds to the feeders.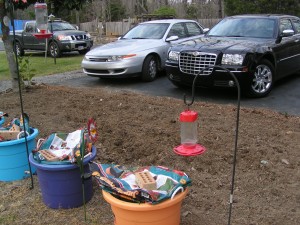 I have the pots filled up to the top with jungle potting soil. I only hope it is not tiger poop or something like that.. But it looked really rich and I think it will be great to use to plant. The bag said you did not have to fertilize for 3 months. I figure end of May or first of June I will start fertilizing.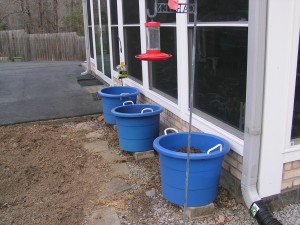 These 3 tubs are right in front of mine and Gary's rocking chair on our sunporch. I am deciding what I want to plant here. I found some beautiful purple flowers and some red flowers at Lowe's.  I want something that will attract hummingbirds. I love sitting in my chair watching them. Last year I covered myself up with a big piece of red fabric.. Went outside and they started swarming all around me. I was eye to eye with a hummer. This year I am going to fix it where I can take my camera and get them to come real close and take some pictures. They were my mother in law Gerry's favorite bird. We called them "Hominy Birds" for fun.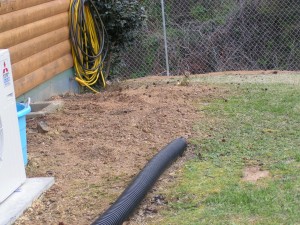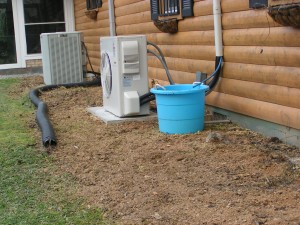 Here is up against the house where the air units are. I need to put something really pretty here to hide those. I think I will do a mixture of herbs and something that will come back year after year.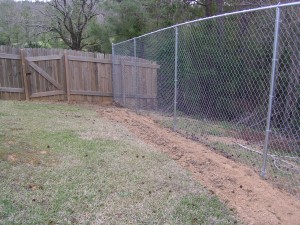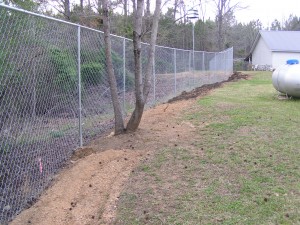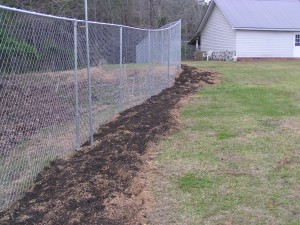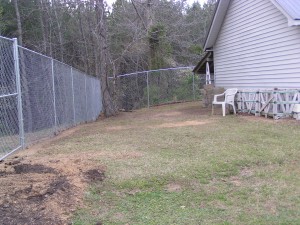 Here is along one side of the "Wheeler Compound" as my sister calls it. I have it tilled up and a friend of ours gave me a big bag of sunflower seeds. I am planting those against the fence and then planting Zinnia's in front of the sunflowers.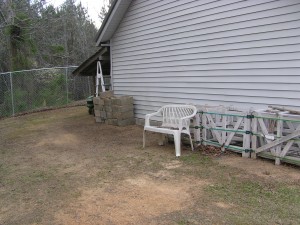 Look how clean Gary has the side of the garage.  I am so proud of him and the young man that has been helping.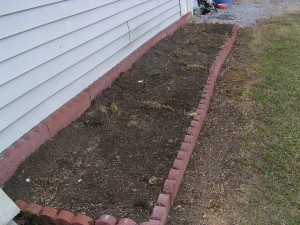 Here is where I am planting my marigolds out by the garage. I love them. Ildika a friend of mine gave me some seeds and boy do I have a bag full. I pull off the dry heads and save them and every year I have more. They are about the easiest things to grow.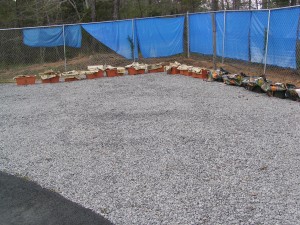 Here are the Earth Boxes. Last year we had okra over 10 foot tall. I put them all in the same area on the back side of our property. Yes I know those covers are crooked. We have them up there to keep deer away from the fence. I will be planting beans that run up the fence.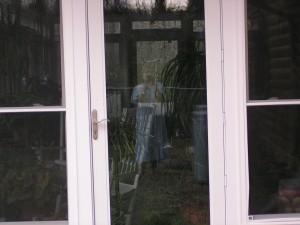 Here is that ghost lady again that was here last year.. She is back ..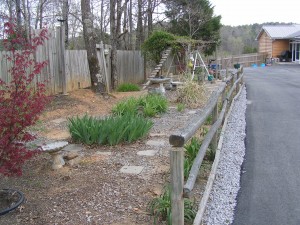 My primitive flower bed. It is all cleaned out. I am debating on planting veggies here. I do have some hosta's that are peeking their heads up in the shady parts. But I do have a lot of seeds I can plant here also. I do not like to spend my money on plants that are annuals. I do some but not a lot.
Last year I did not feel like working in the yard. This year I do.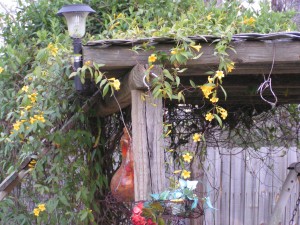 The Jasmine is blooming quite nicely over the gazebo.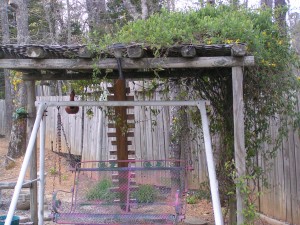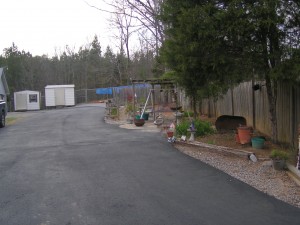 I have my own private walking track.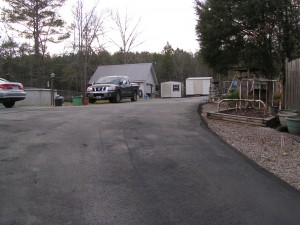 My mother made these ceramic gourds. I am down to three. I love them. They are hanging in my Dogwood tree.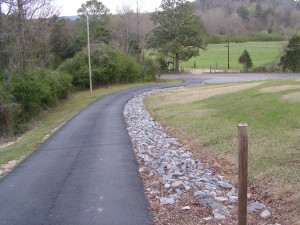 This is the other half of the walking track. ALL DOWN HILL and UPHILL depending on where you are. It is steep..Try walking it pushing the garbage can and you will be huffing and puffing.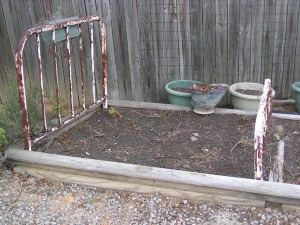 My flower BED!  I will have all  kinds of colorful plants here that will look like a giant quilt. Last year I was watering the bed and reached down to pick up something I thought I dropped and it crawled off. A big old snake.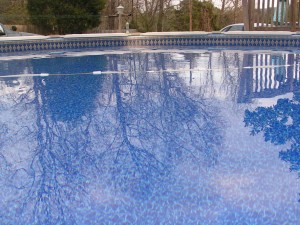 The best thing in the summer to cool off.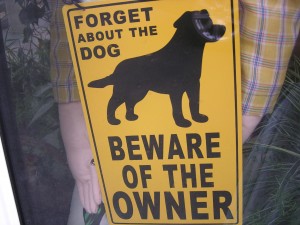 Take heed! You have been warned!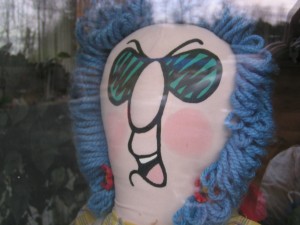 "Nuff Said!"