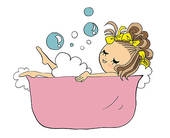 http://americansworking.com/soap.html
Well what better way to make someone happy than to give them some nice scented soap, candles, wine or whatever they enjoy while they are bathing. I love soap that smells heavenly and feels good and MADE IN THE USA..
You could really make someone happy very reasonable. Get a basket, put a bottle of their favorite wine, box of small candy, candles, and good smelling soap along with a couple of loofa sponges . This would be a great gift for any occassion. The above was a site I found with scented soaps made in USA. I just had another idea, you could buy them a pretty bath towel, but all the items in a box, wrap it with the towel instead of wrapping paper tie with a pretty ribbon and bow and that we would be an awesome way to give the gift.
Look here http://www.americansworking.com/candles.html    Candles made in the USA.
Wine made in the USA  http://www.americansworking.com/wine.html  Look in your phone directory for winery's close to you. I know of 4 here in Alabama alone. One great winery that has about the best I have ever tasted is in Panama City Beach FL. Their blueberry wine is so smooth, not bitter and very healthy for you with the blueberries. They also have this awesome cranberry wine that would be great for holiday's. They are very reasonably priced and ship all over.  I have had their chocolate orange, blueberry, key lime and you name it they have it, maybe over 30 different flavors.  Blueberry, blackberry, muscadine and key lime are my favorites. Here is their site and they are very nice people and have great products. I am not a great lover of wines because on the front of my mouth it taste good but when I swallow it is bitter. I asked them why with their wines does it not do this. The type of grapes they use and the blueberries do not have any bitter. I usually get a case when we visit the area once or twice a year. http://panamacitybeachwinery.com/
Candy made in the USA http://www.fancyscandys.com/
Just when you thought it could not get any better http://www.theluffafarm.com/  Lufa Sponges made in the USA.
So ok this year instead of going to the big stores and buying something in a box that you totally gave zero thought to, put your creative minds to work and give something to someone that you know they would like MADE IN USA!
I also personally know a basket weaver in Kentucky. I have not asked her yet if I could post about her but if any of you are interested in getting baskets ANY time of the year let me know at SadieMaesAttic@aol.com with baskets in the subject and I will forward it to her. I have bought several from her and well pleased.
HAPPY SHOPPING!