What's My Line……….Will the real Betty Boop please sign in.
That girl has a serious gambling issue as you can see on this quilt. Not only does she play a lot of Bingo, she rolls dice!!  Betty, Betty, Betty! Shame on you fun girl!
Linda , I mean Agent Wade made this top. It is a Stack and Whack. Now to date I have not made one but I am going to be out looking for the ugliest fabric I can find with repeats to make me one. I want Linda to get me addicted to something else. I only have FOUR quilts started not counting all I am working on the Tin Lizzie putting them together.
From my understanding you find the ugliest fabric you can find with repeats stack it and whack it (cut it with the rotary cutter) and when you put together you get these wonderful kaleidoscopes.
When  Linda showed me this top (she only left about ten here to be quilted) right out of my mouth first statement was "you have to quilt her I can't stand Betty Boop.  Someone one time told me I looked like her."  Well how soon did my words change. Never say never that will be the first thing you do.
Here she is all loaded just making the first stitch.  See the border fabric. That is how it looks before you whack it!
ALL GIRLS LIKE TO SEE THEIR NAME IN PRINT! In this case in quilt.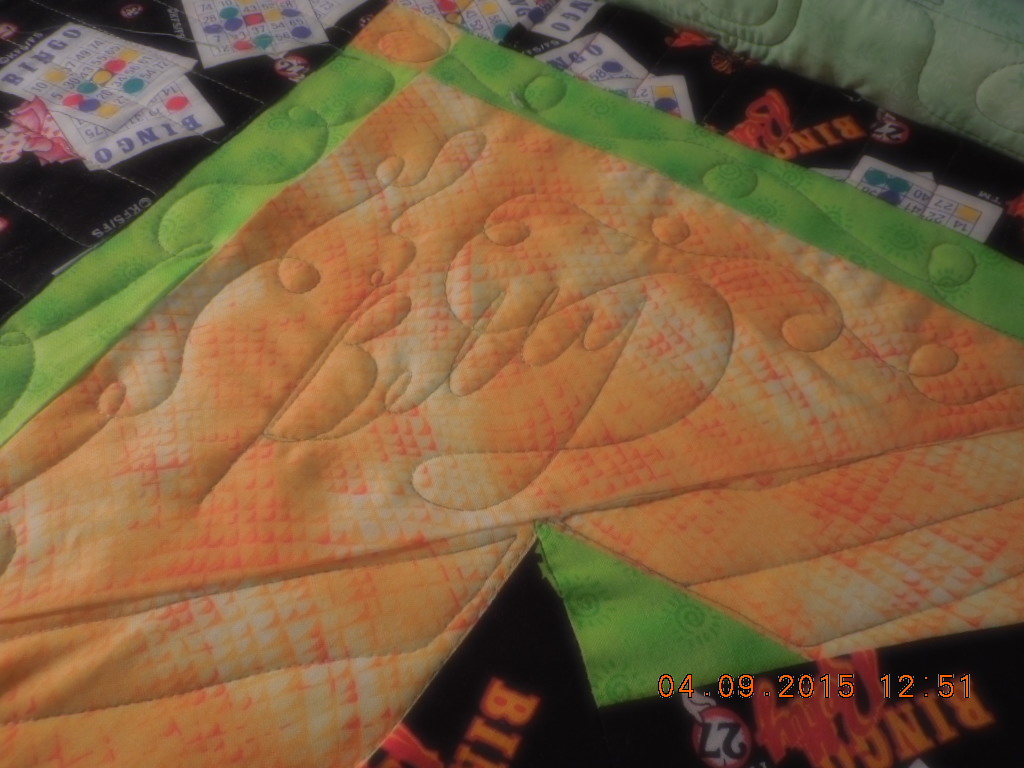 This woman Betty Boop has some gambling issues.  These dice I drew off with washable ink that disappears when wet OH LORD HOW I HOPE!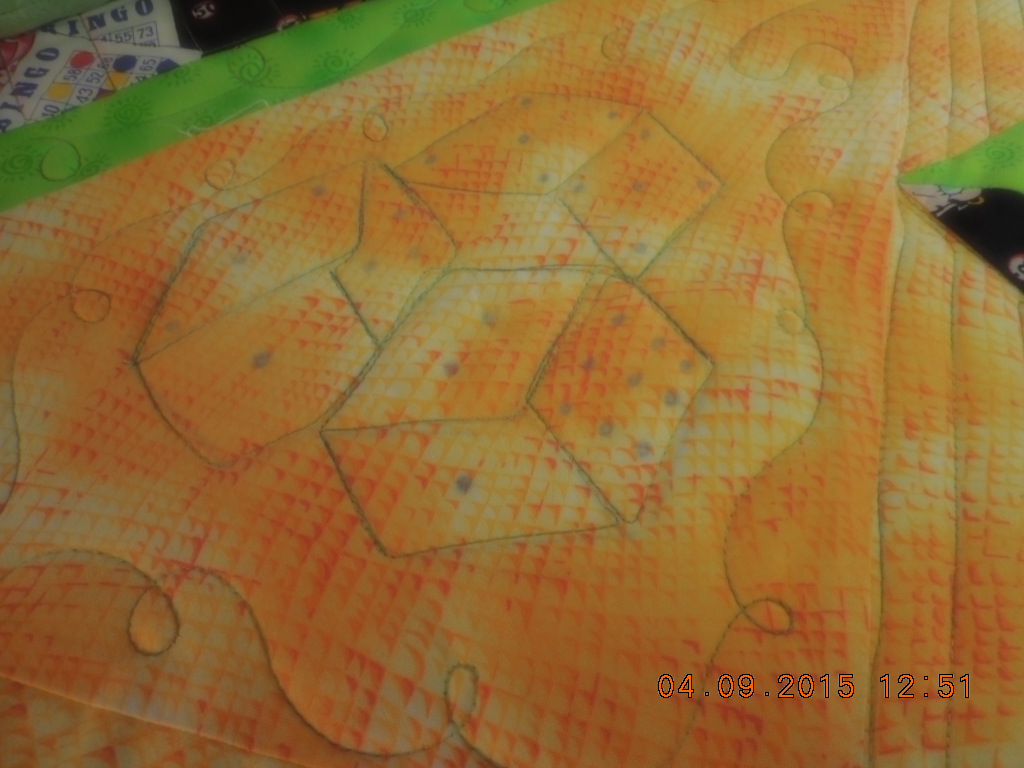 This is the border fabric. See how it turns out just by where you cut it.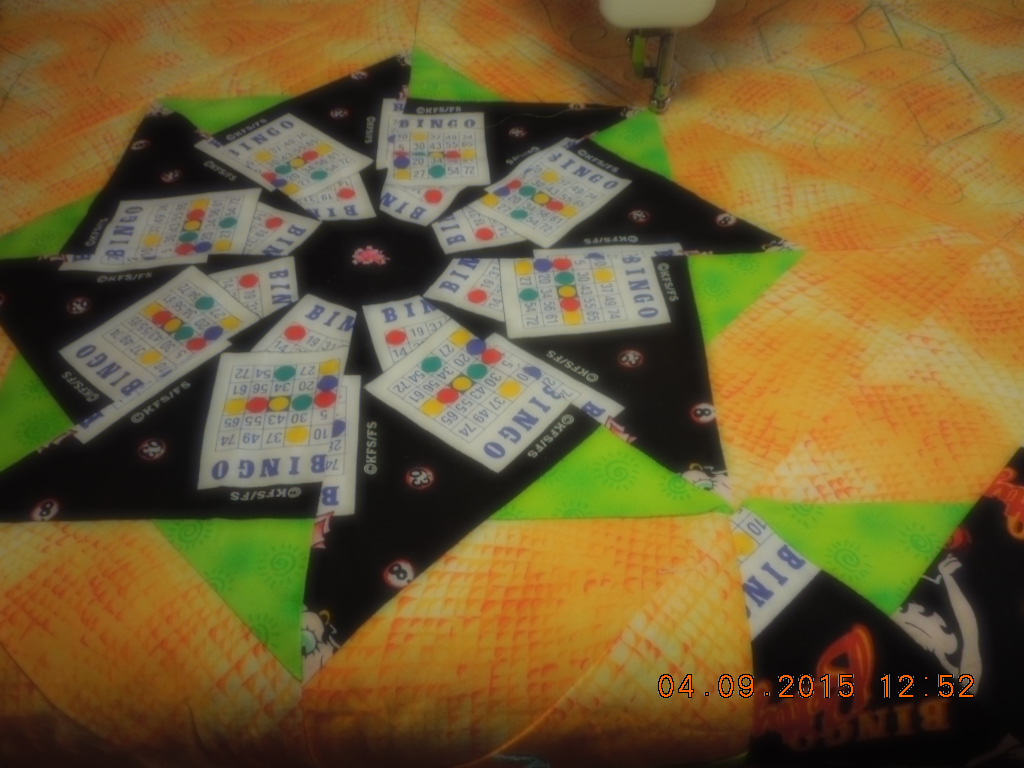 Well she has to know what her last name is!
This girl is a mess!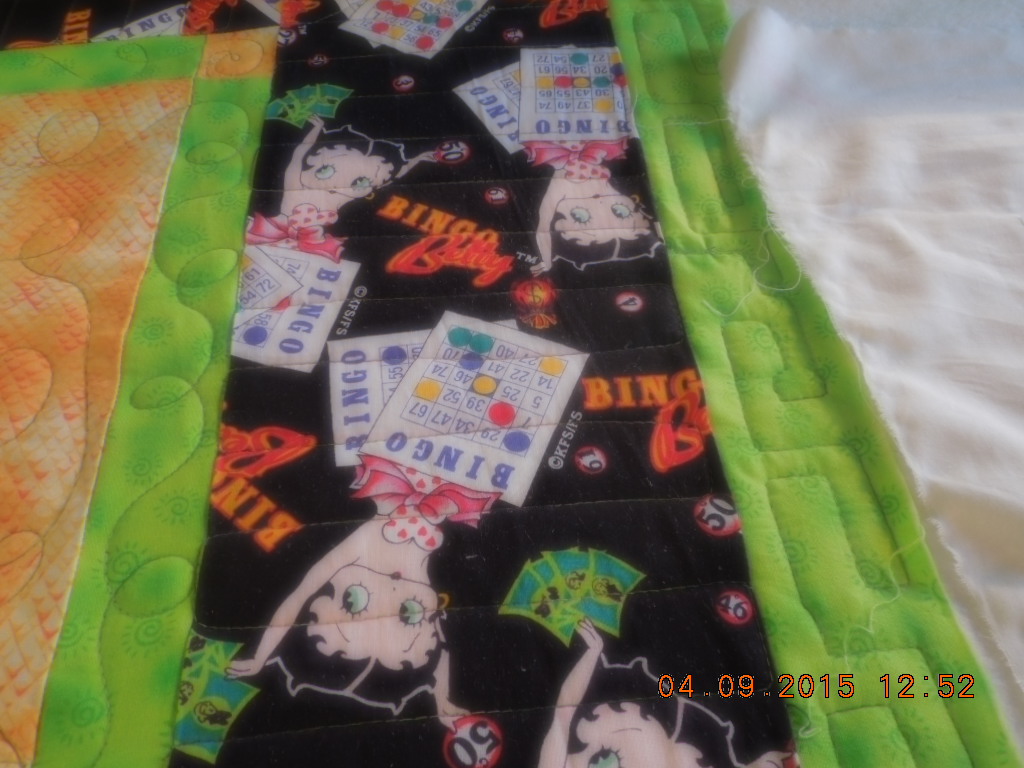 TMI I know.. I live in a gown! If I am inside I have a gown on. I have various colors. I think this one matched up nicely with the top!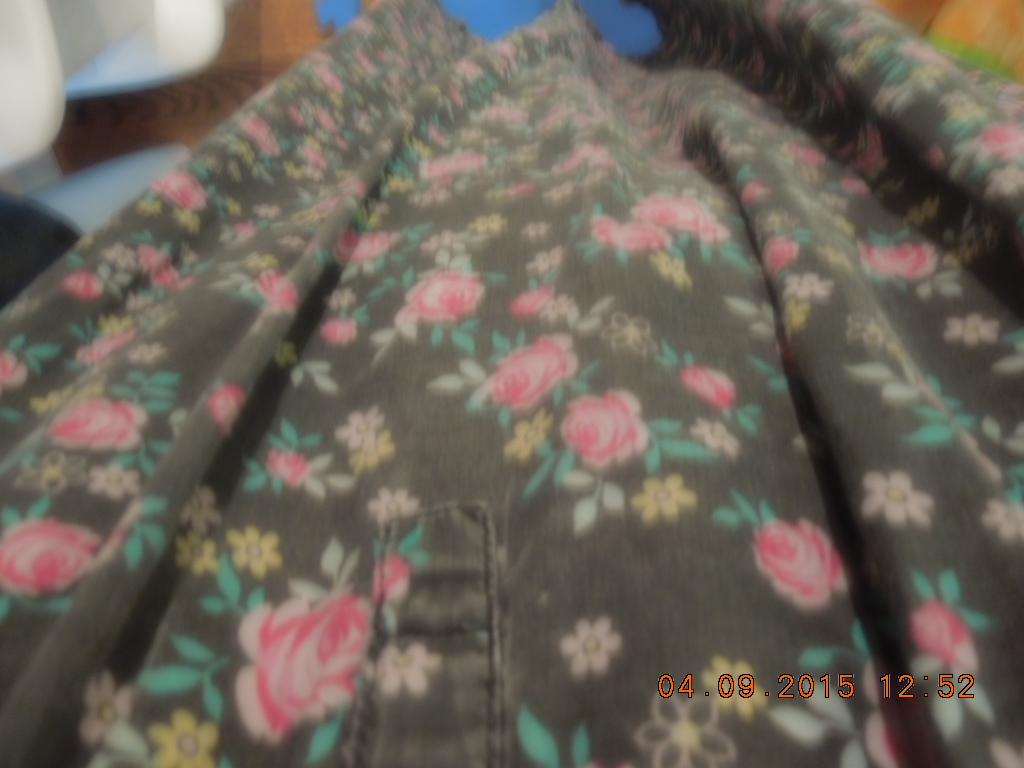 It is really pretty. This is only about two rows I have finished so far.
Another view of how you stack it and whack it!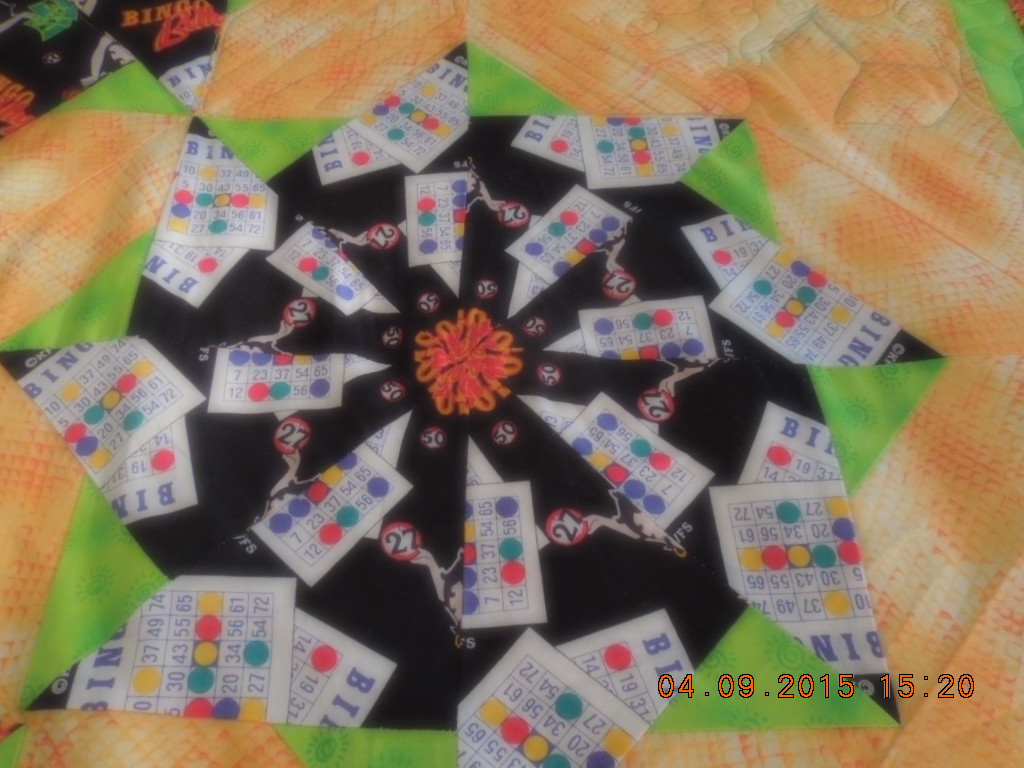 This girl is a mess.. Did I already say that?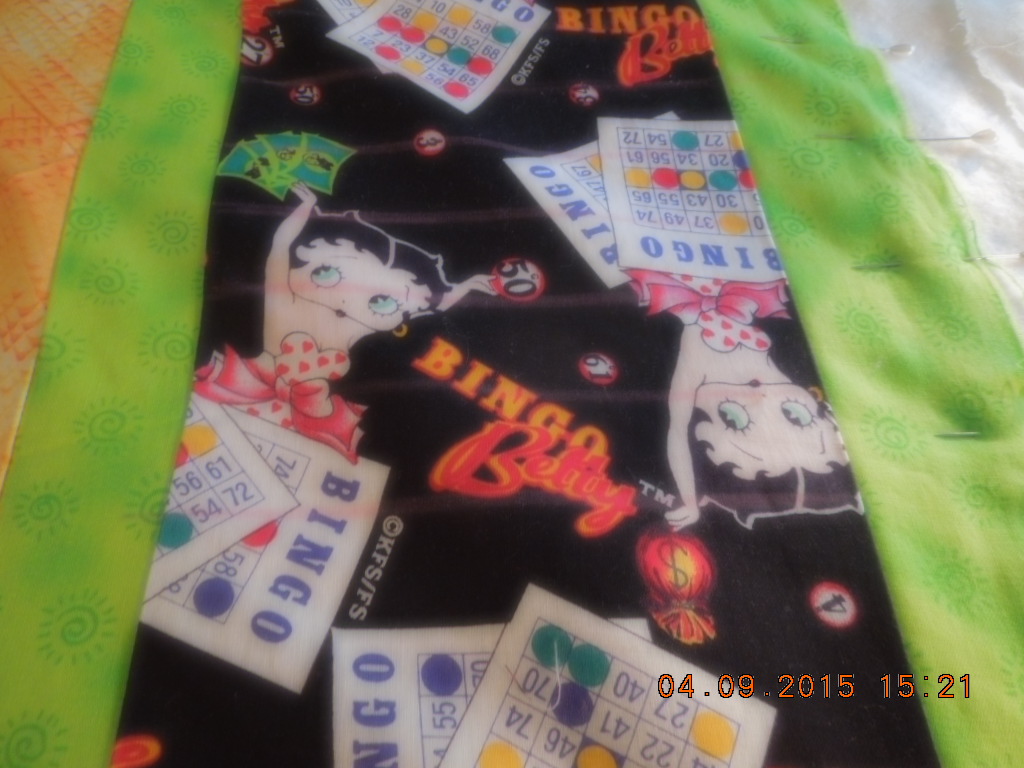 I AM IN LOVE WITH MY TIN LIZZIE 18.  I found this pin today while I was looking for something in my tool box and it says it all.
Well you can see I am about half way through.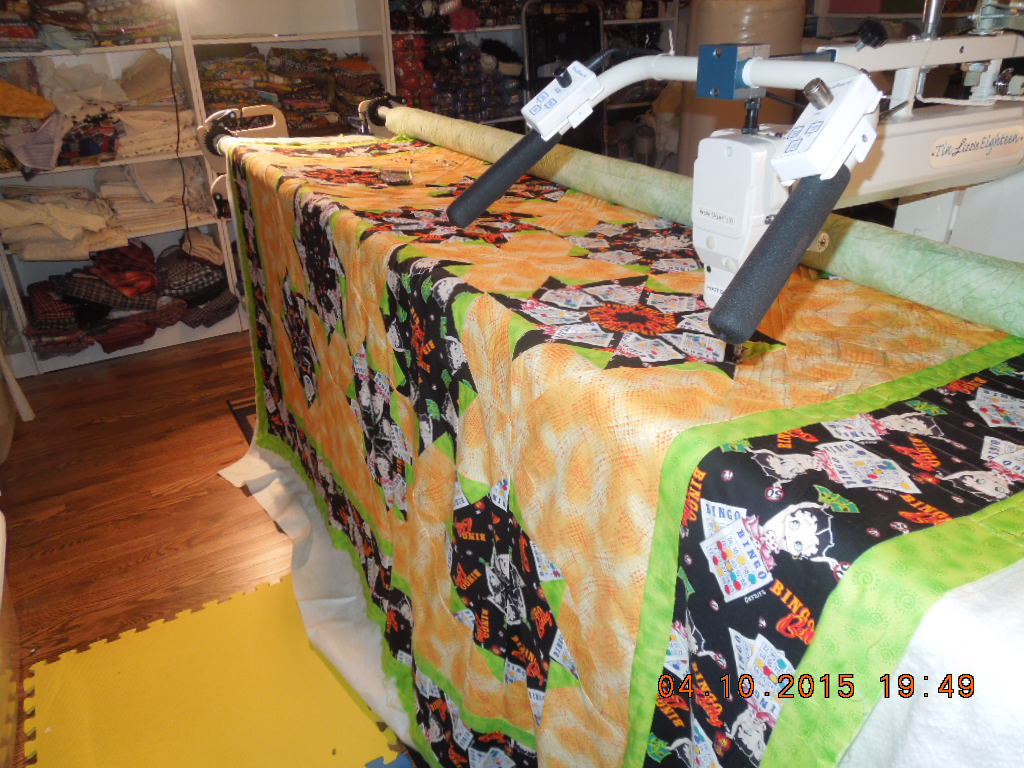 The back looking as good as the front. I did make about a thirty five mile trip for these stones to put on the dice. This was just a test to see how it was going to look.. They are not glued down yet.. Well they are now but not here in the picture.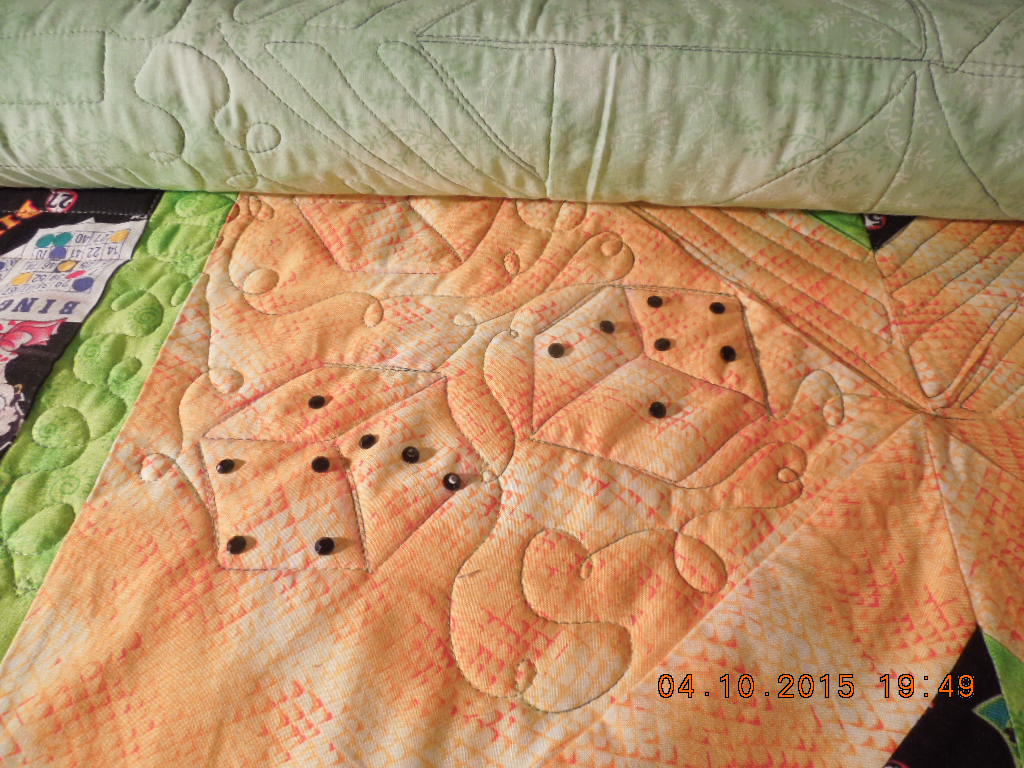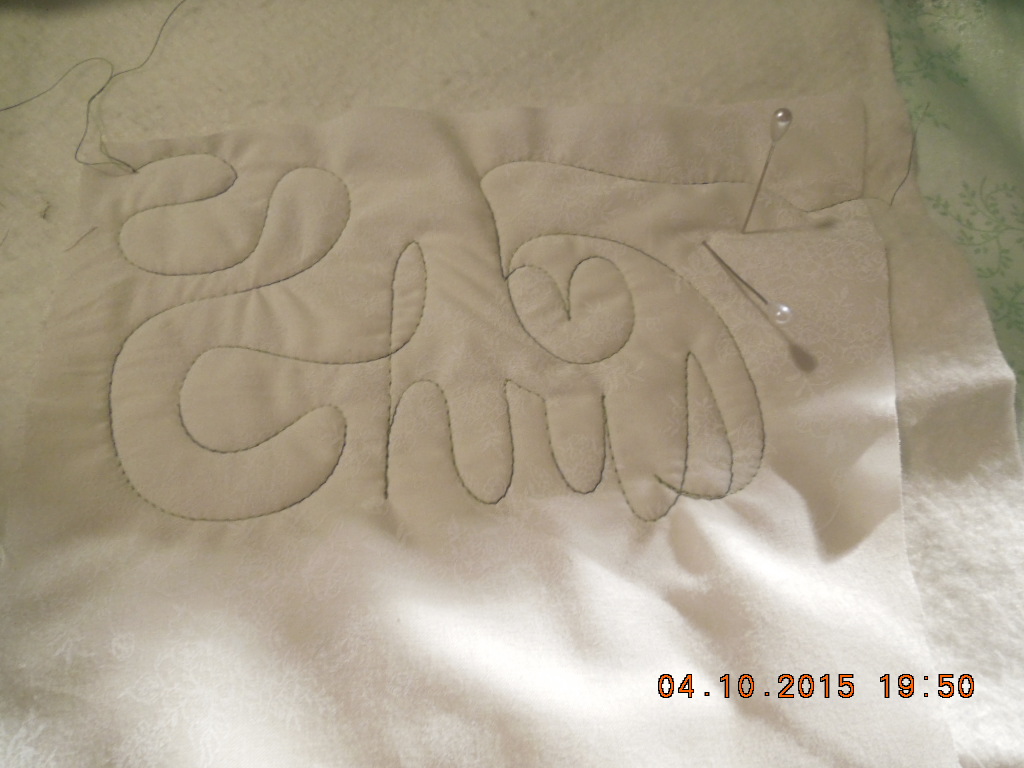 I always keep a test piece on the frame while I am quilting. I make sure I leave some fabric wide enough to put some batting and a top on it so I can check my tensions. I love quilting my name. Tensions looked pretty good also. If now I could have adjusted and not had to start on the quilt row get the mirror bend down and look under the quilt with the mirror only to have to pick out. This way I can adjust any problems before I get started.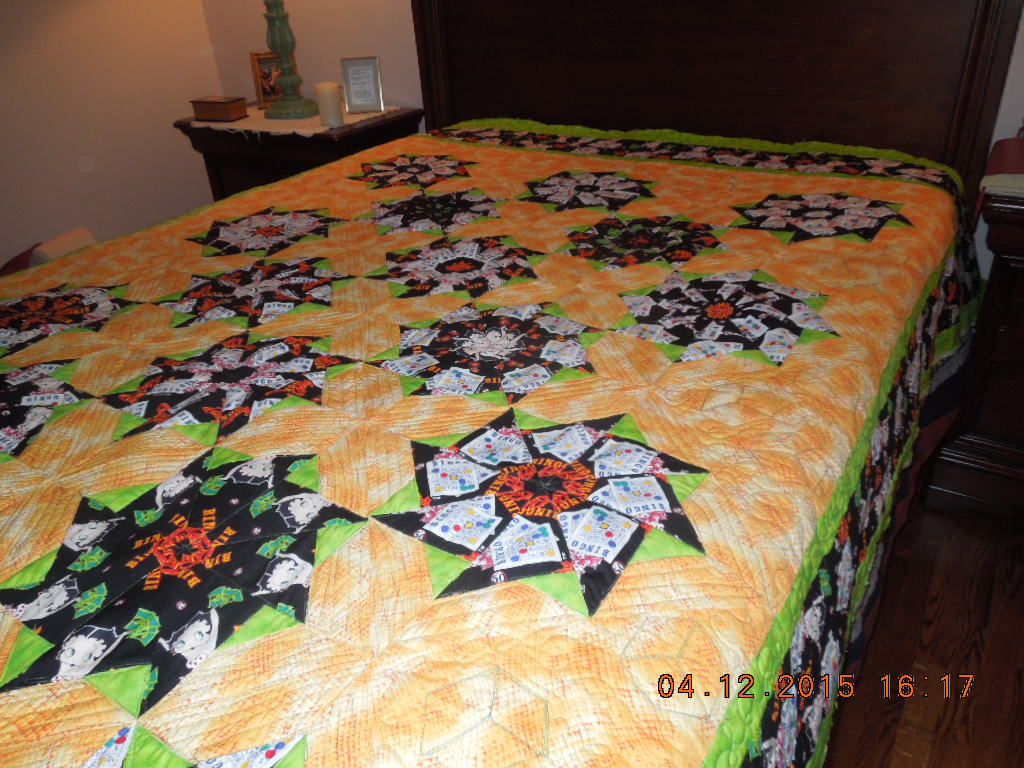 It does looks good. I love it.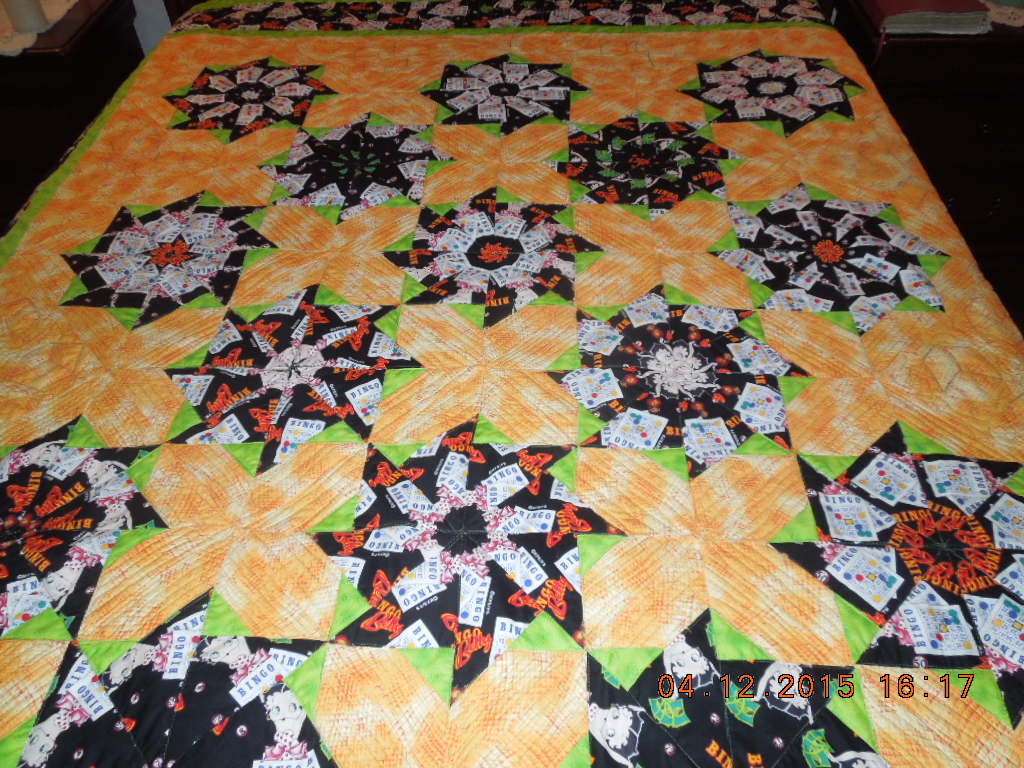 Oh Betty you are something else!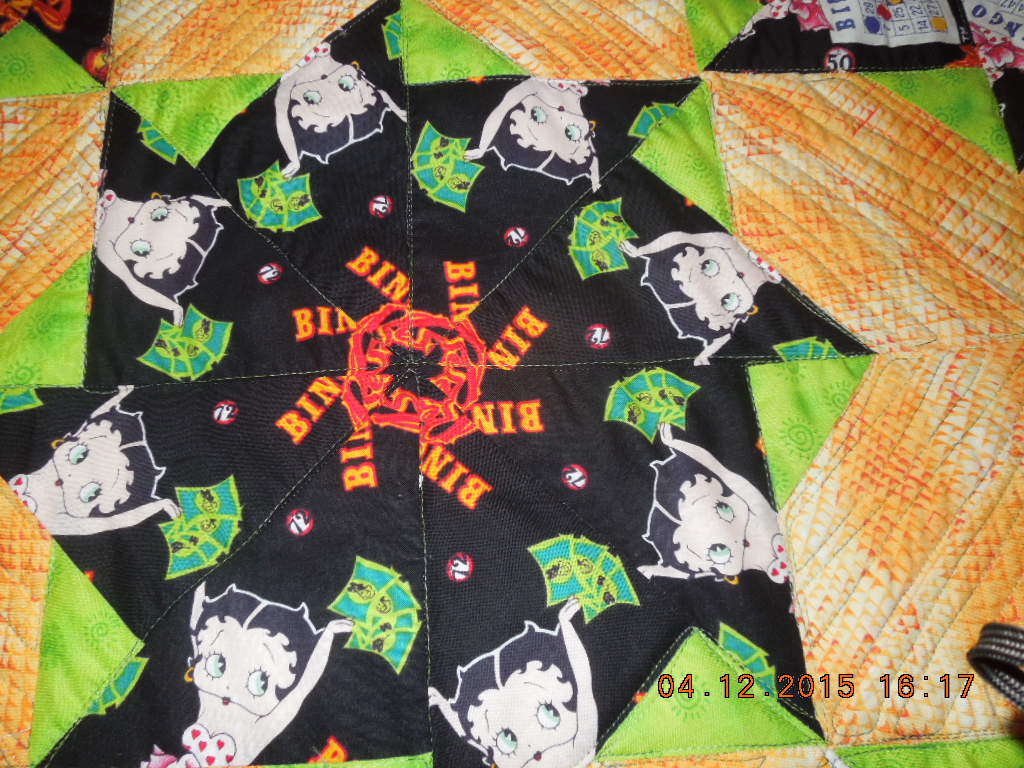 Look at this piece. In the center if you look close it is her arm and one eye. It sure makes an interesting piece just by cutting a different way.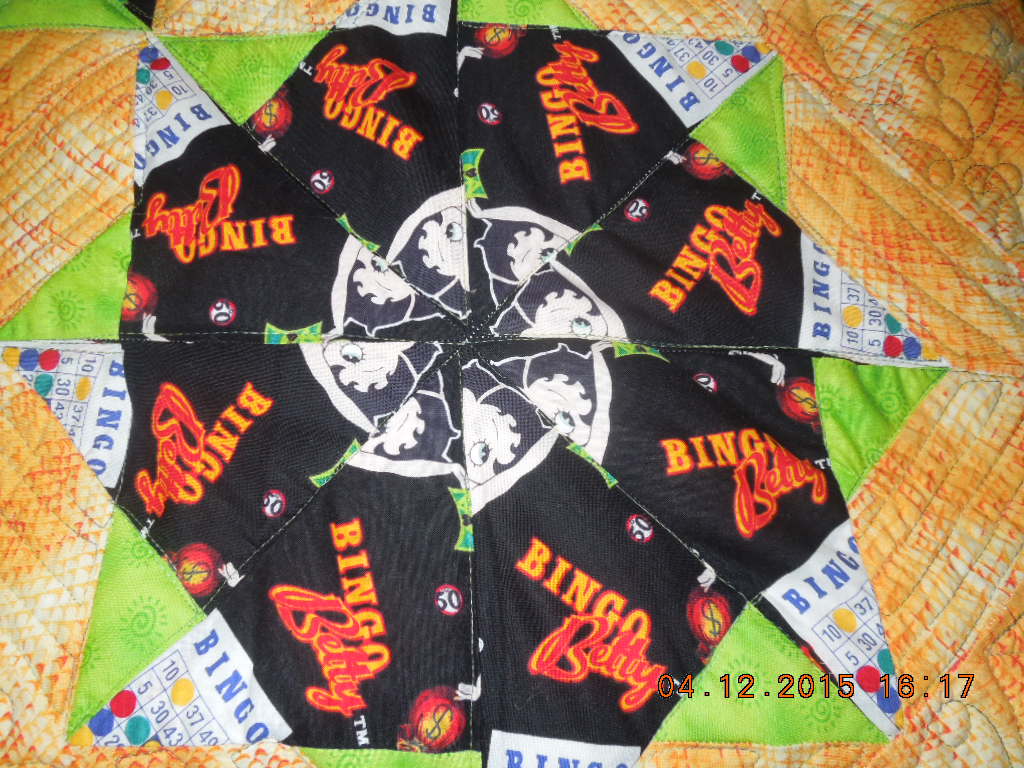 Thank to You Tube and Jamie Wallen I tried some Piano Keys stitching.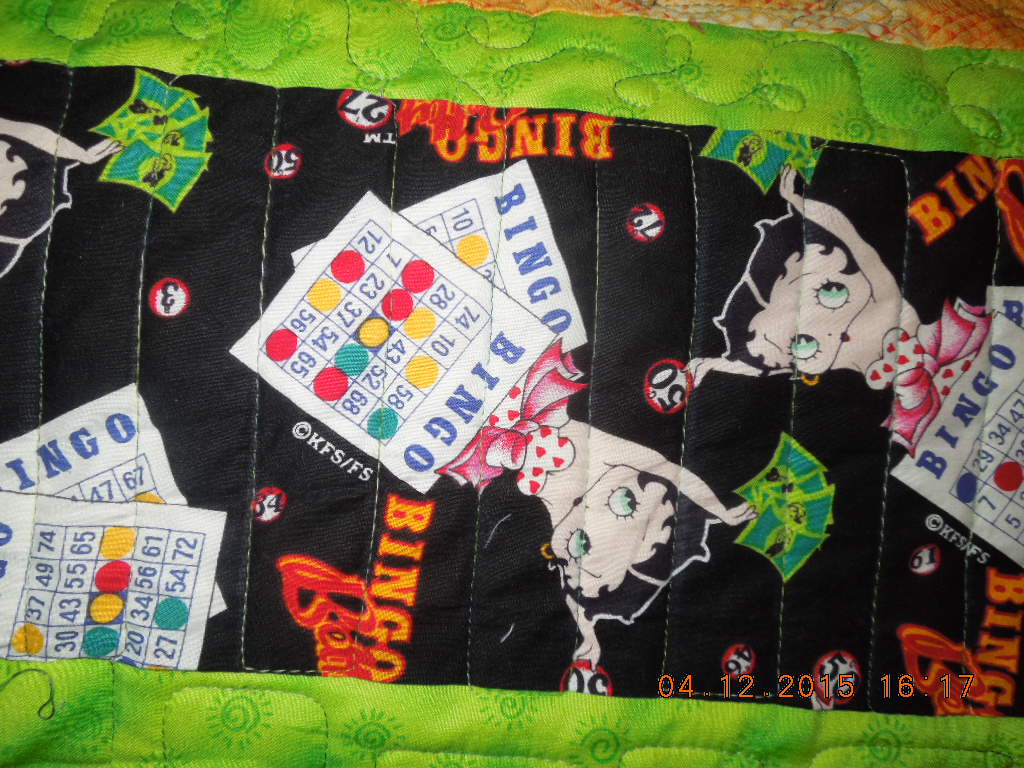 Oh my Linda, I mean Agent Wade really got a good cut out of this.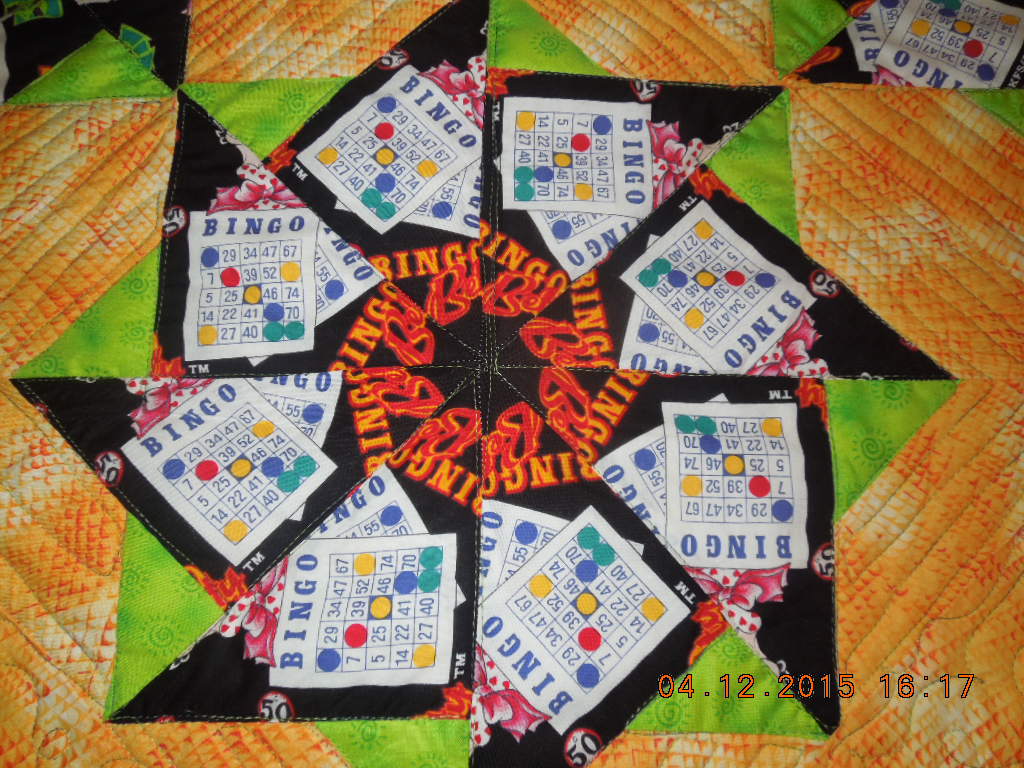 LOOK AT BETTY!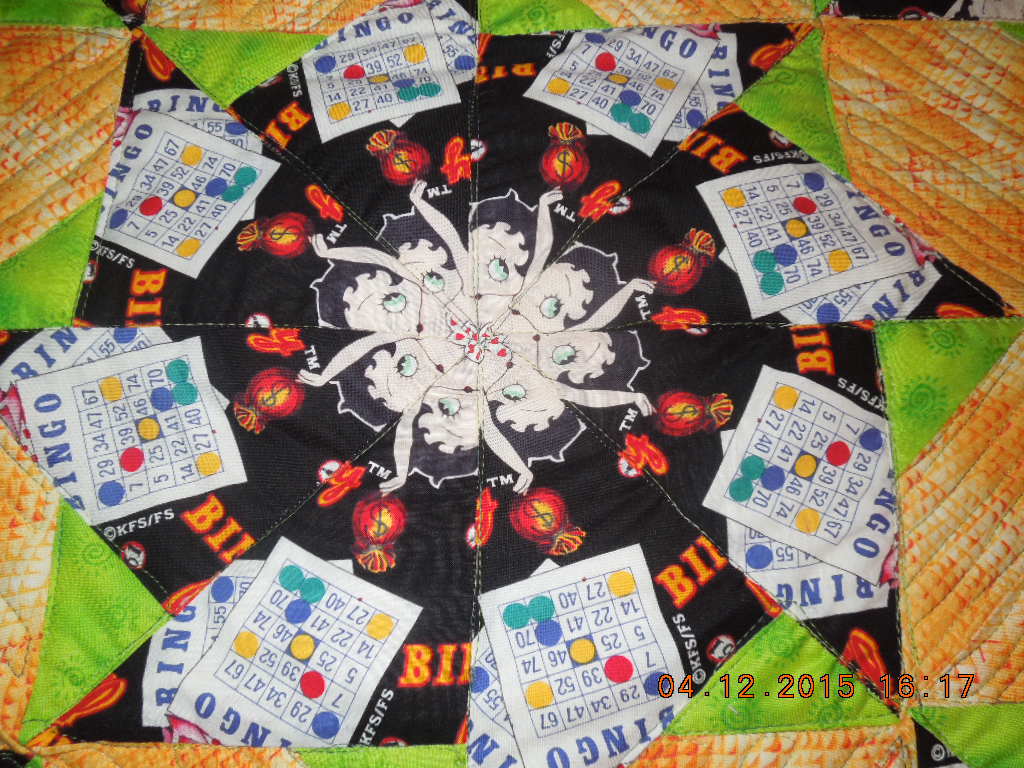 I really liked this one.. Her waving all that money. I tell you this girl has issues.. Needs intervention!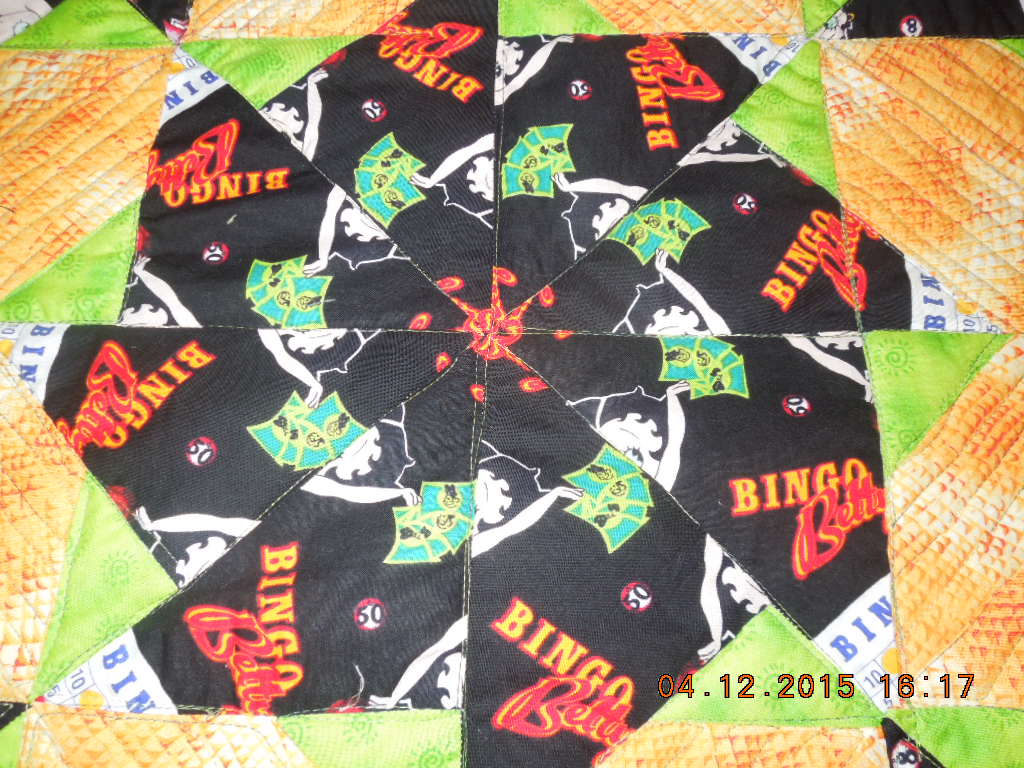 Linda even captured her cute little bows that was around her waist.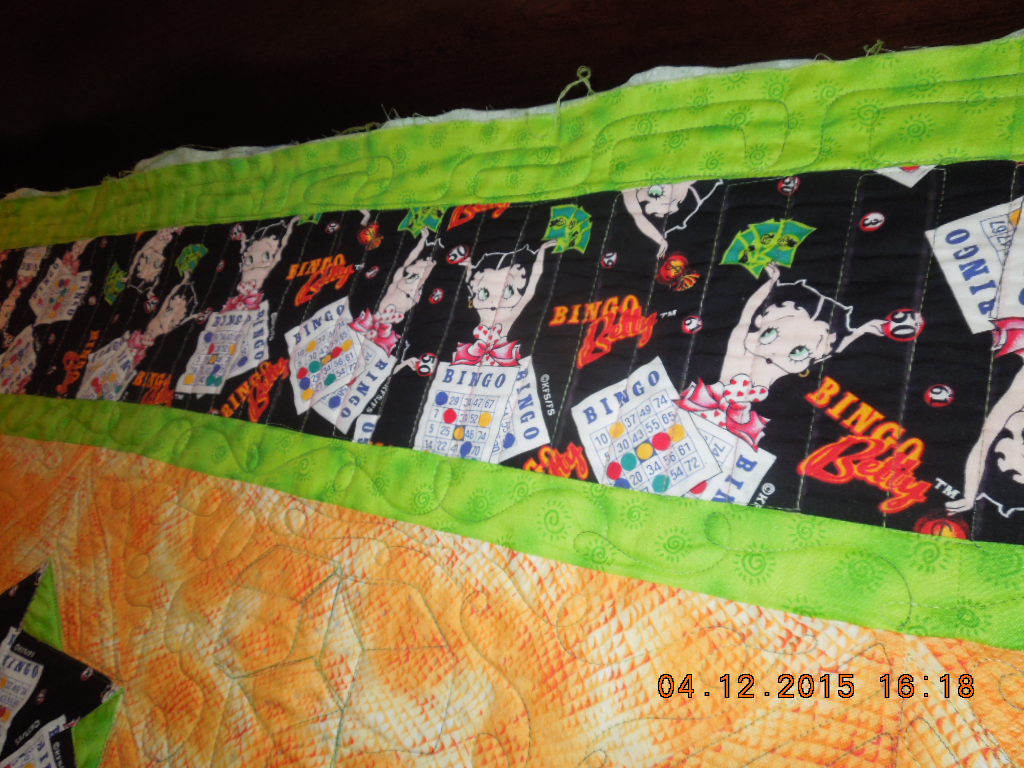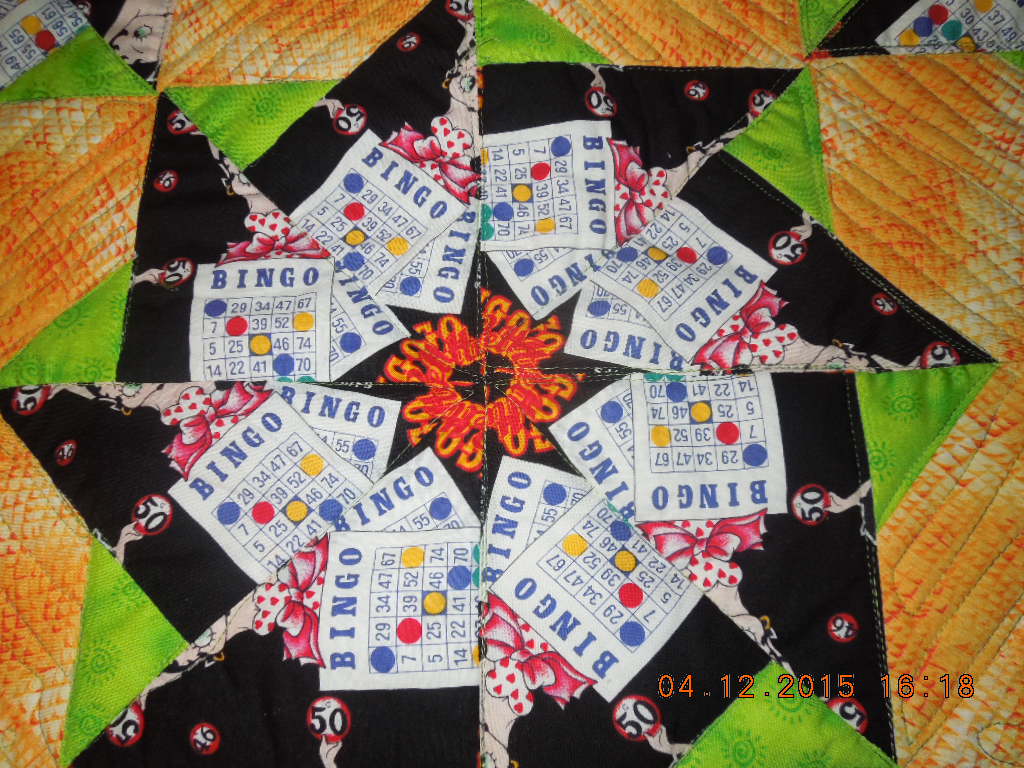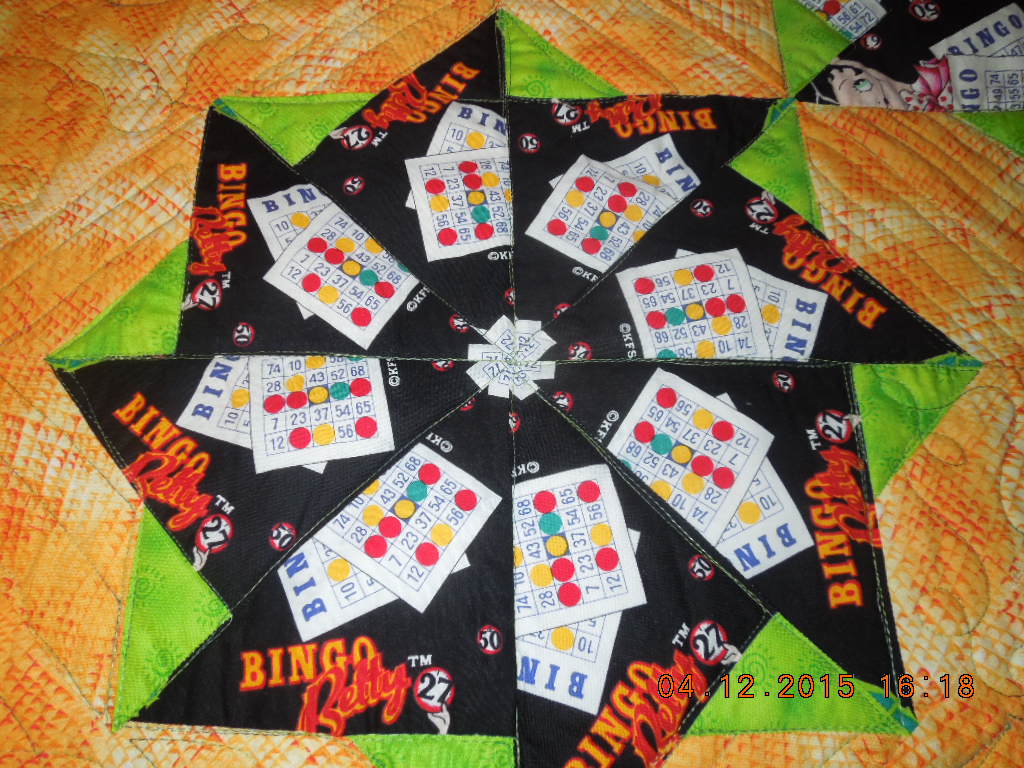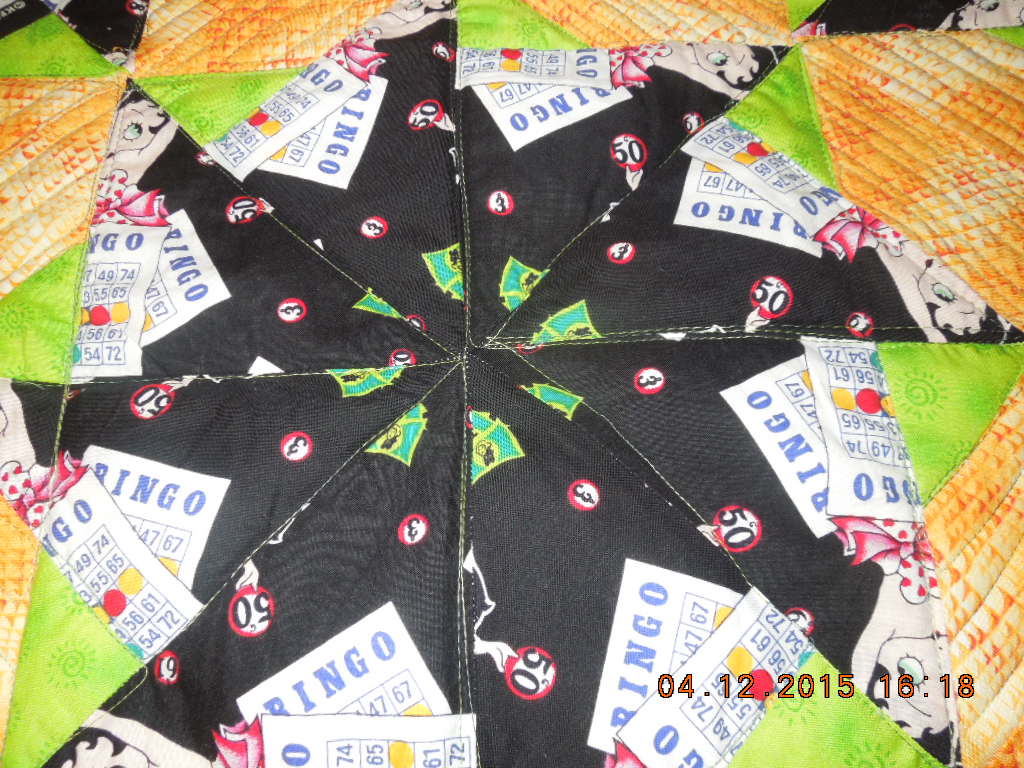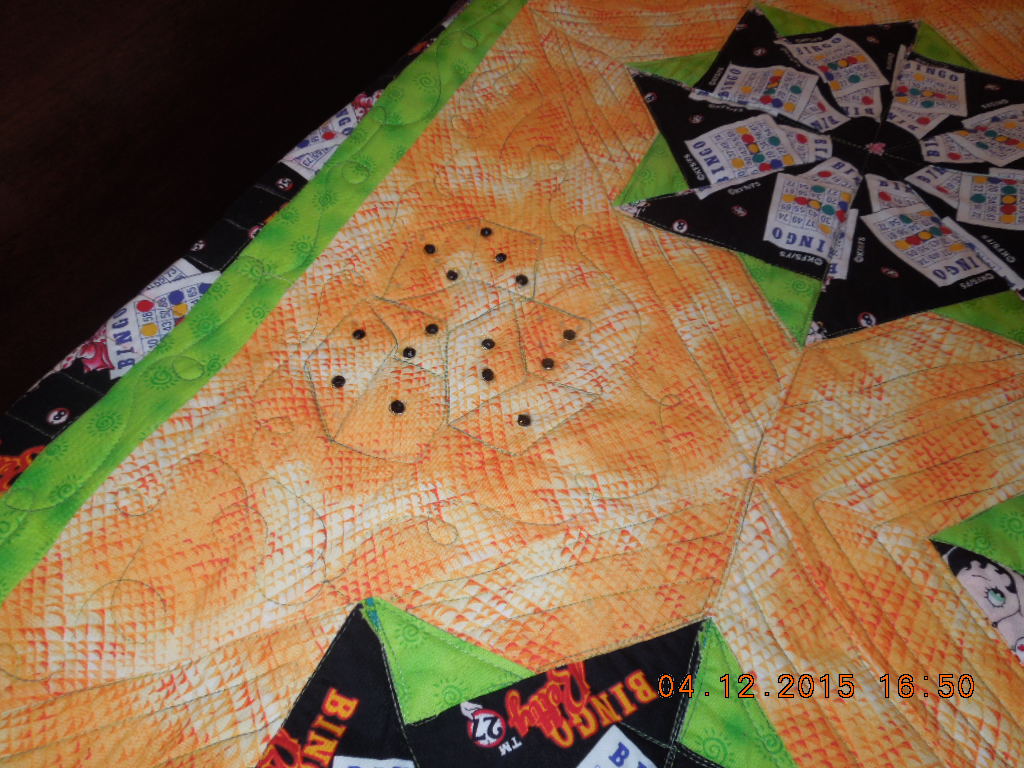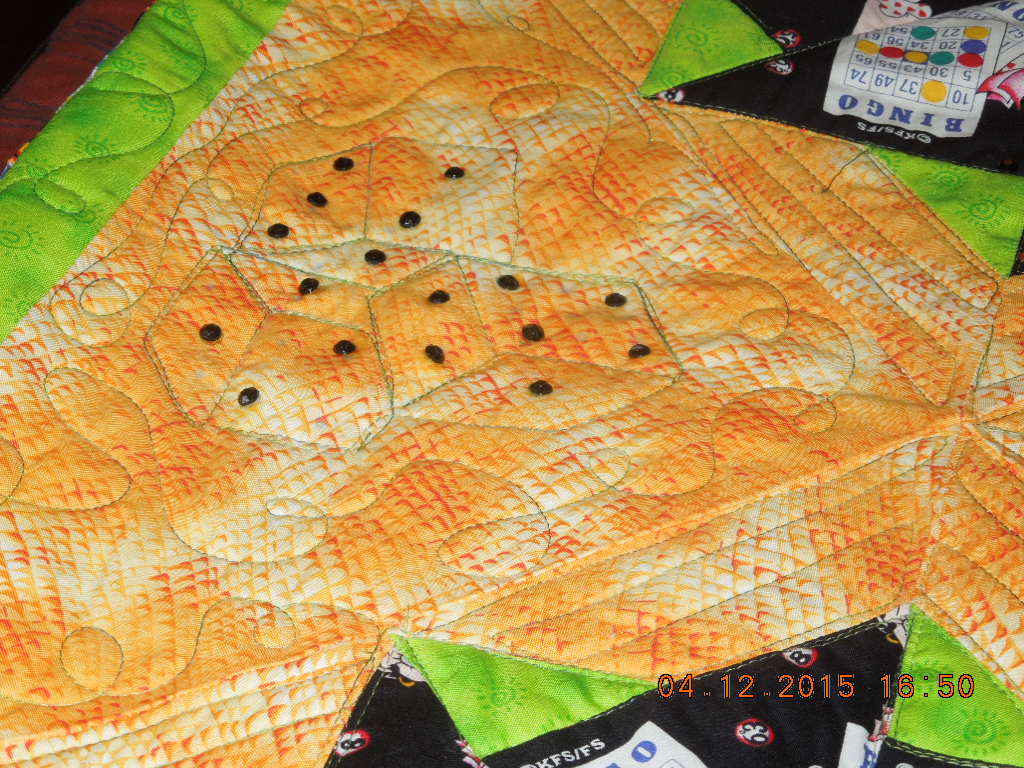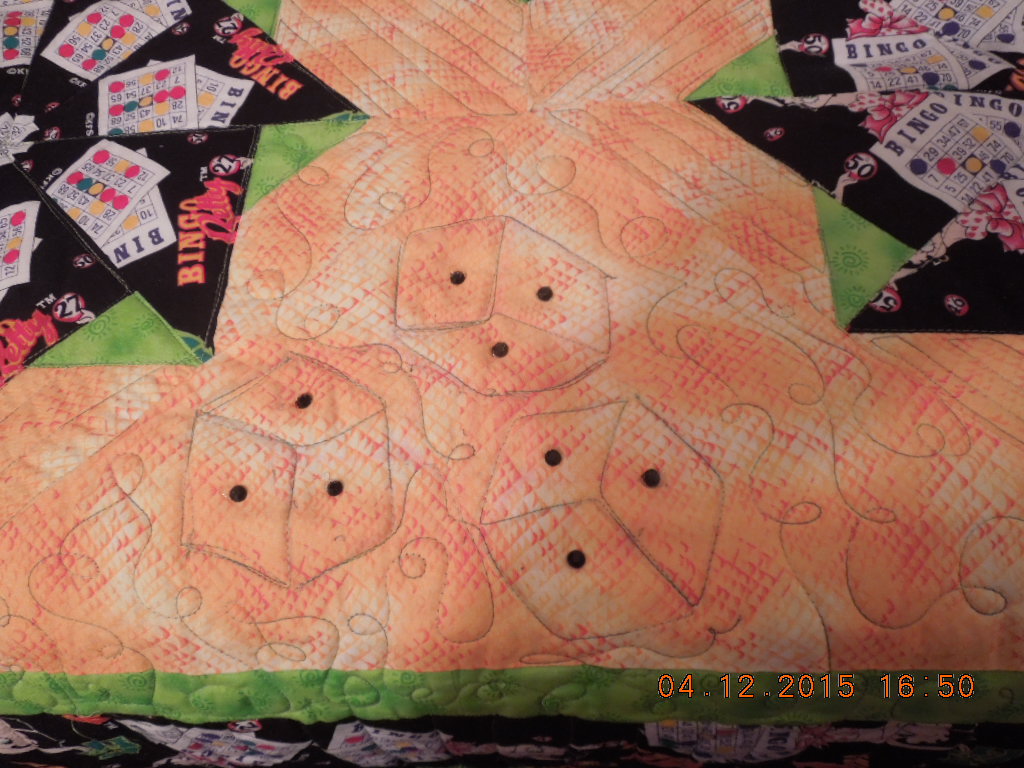 The owner of the quilt also needs to know her name!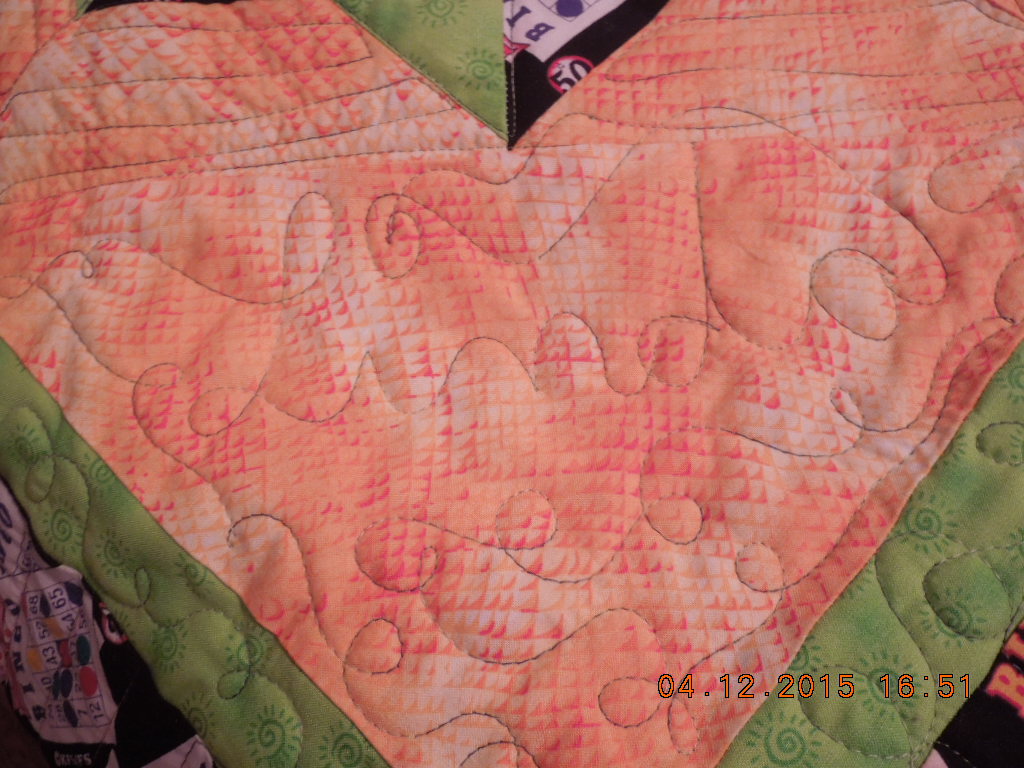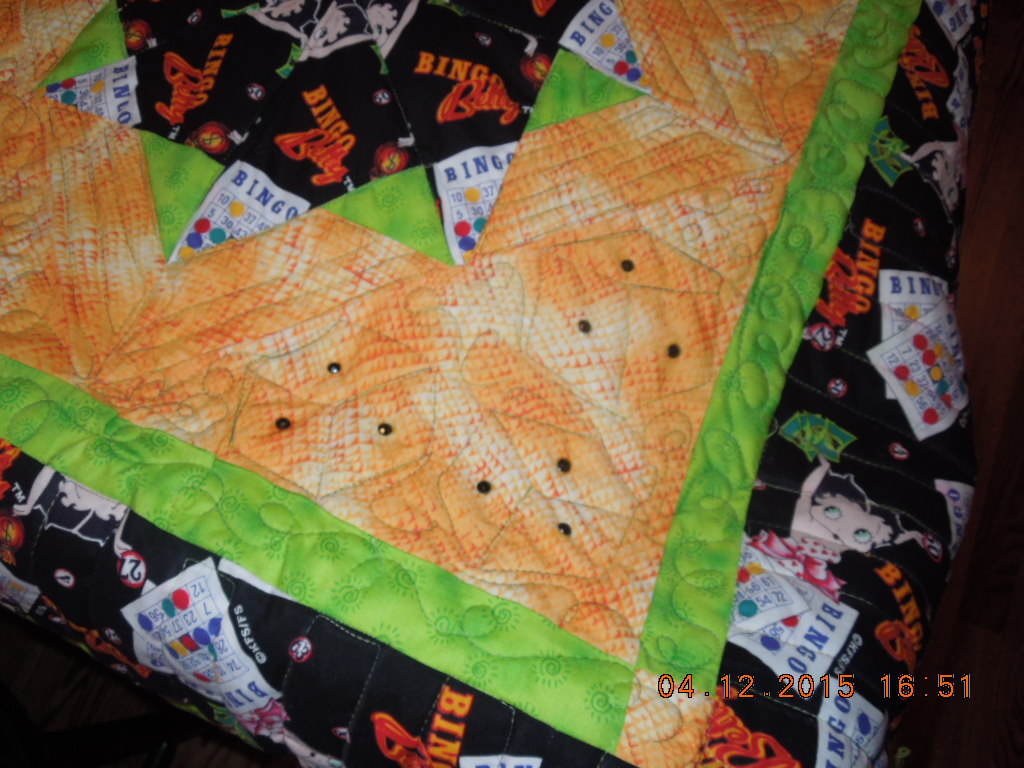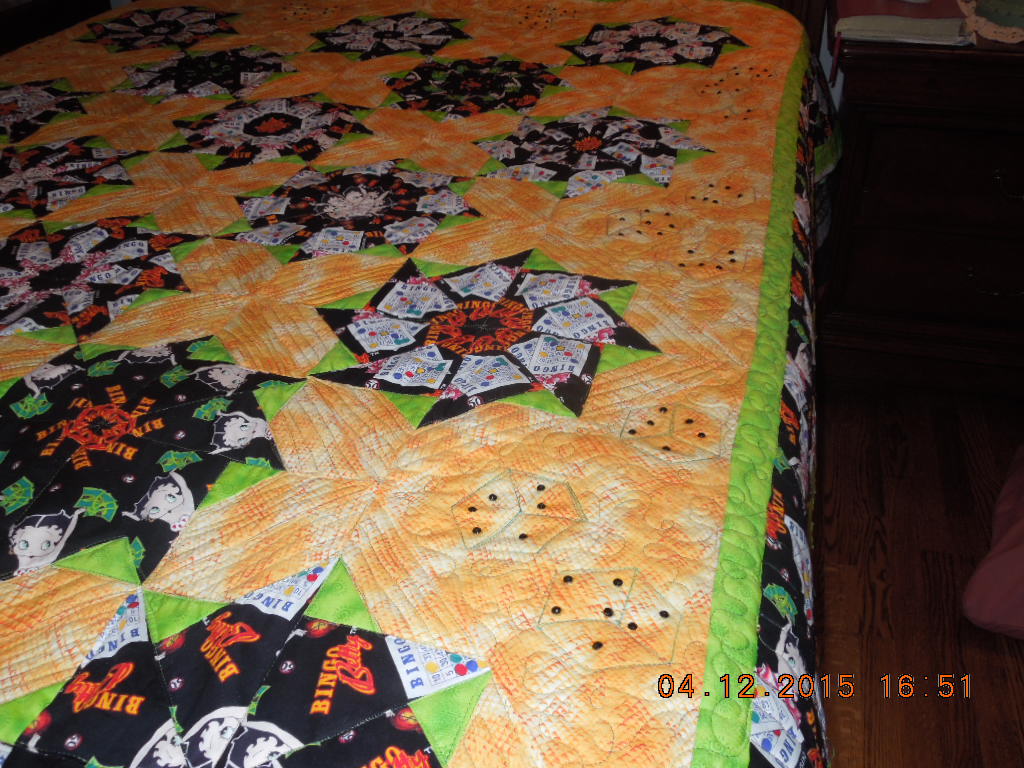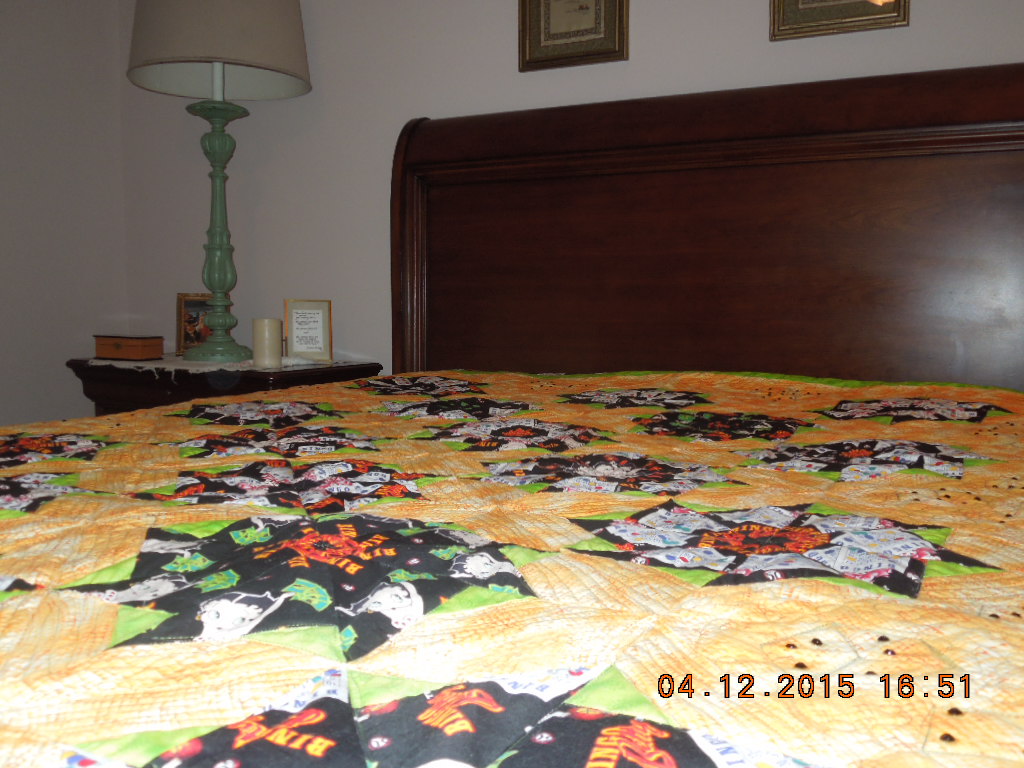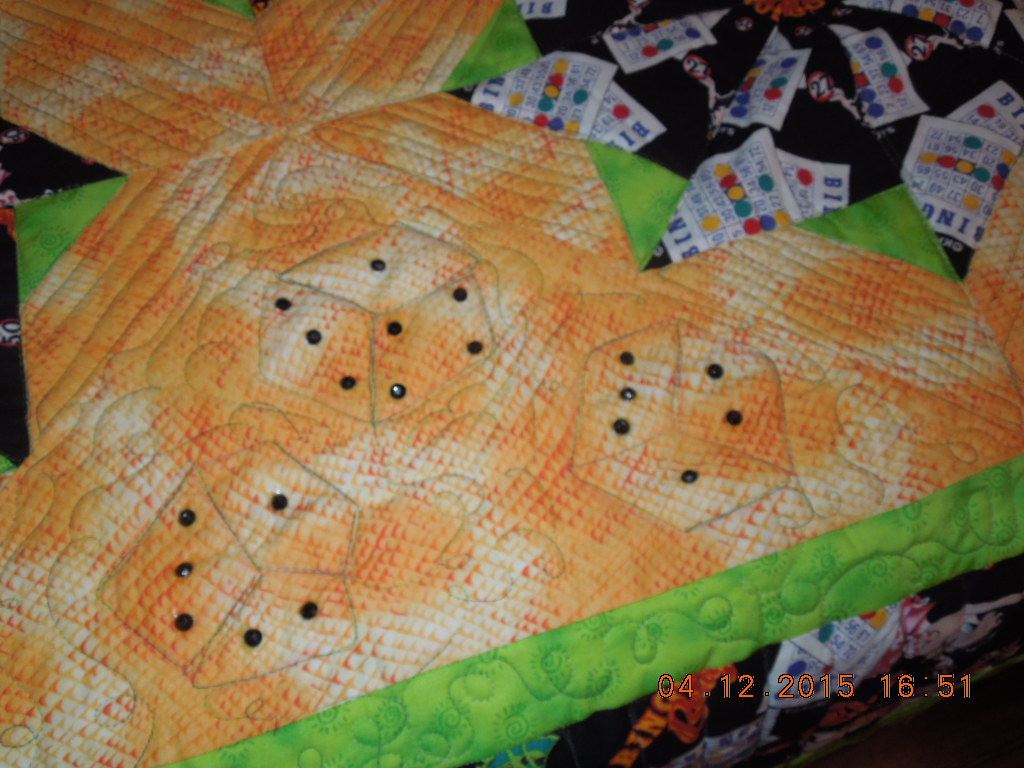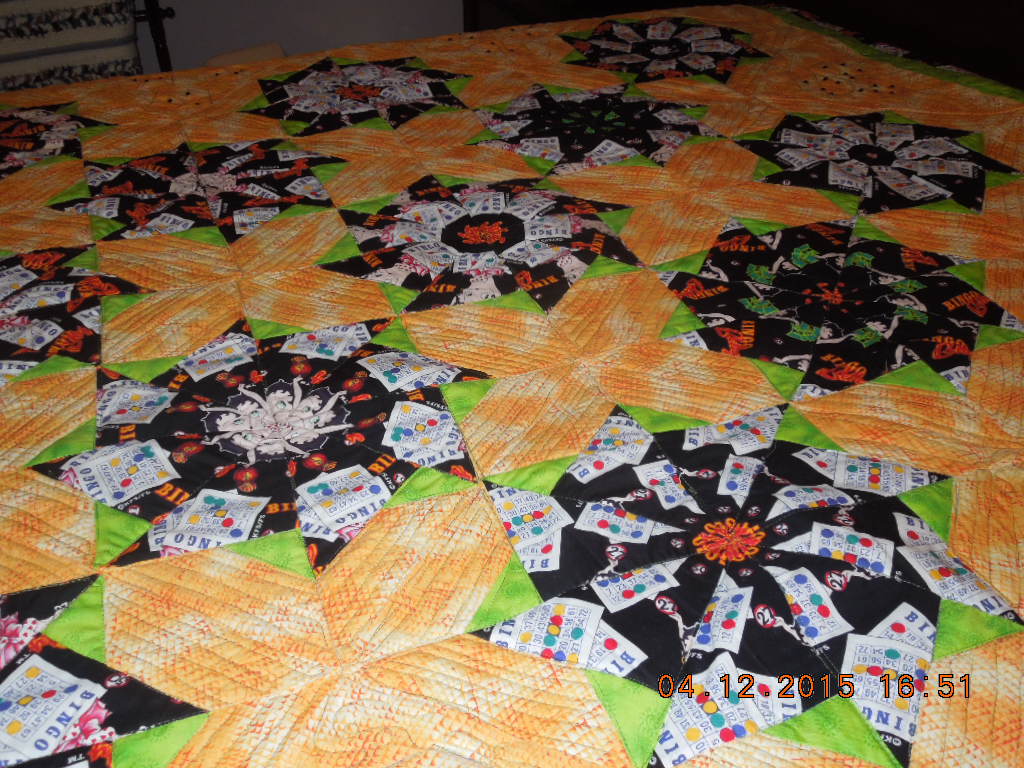 I hope you enjoyed all the pictures as much as I enjoyed quilting this top. I LOVE BETTY BOOP!
OH MY GOSH  IT IS BETTY BOOP!!!!!!