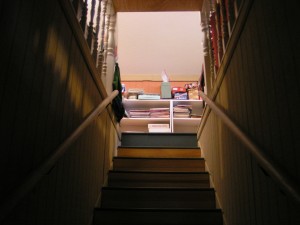 On one end of our home we have a stairway that goes up to what used to be a big attic. We have put down hardwood for the floors and made it our sewing studio. The stairway divides the room. Gary took the top of the stairs and put a board on it  covered it with grid cutting mats and made a great cutting table. Just the right height for him to stand there and cut. I love it up there. You can wreck the heck out of it, close it off at the bottom and no one knows. It is like a treehouse and secret hideaway all in one. 
When this quilt is finished it will be going to a much deserving person in Jackson, Tennessee.  I know she will love it.  I am just crazy about the colors and check out my nails. I realized just now they matched!  This is a grandmothers fan quilt.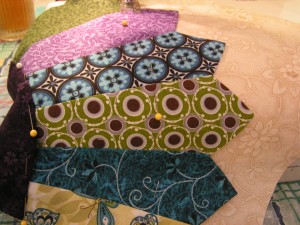 Another view of the beautiful colors. I am going around each fan blade with a blanket stitch.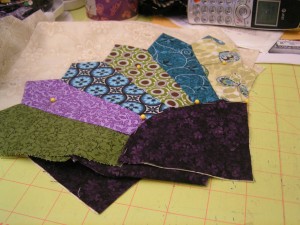 Another view of the blocks. They have not been trimmed yet.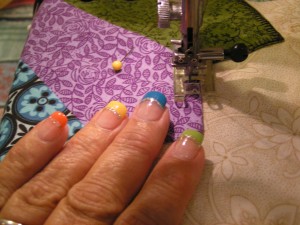 Doing the blanket stitch. It is one of my favorites.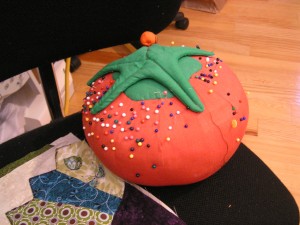 My killer tomato pin cushion. I wish I had about 10 of them. This thing is huge. I have had it for as long as I can remember. It will hold a zillion pins and you dont lose it much.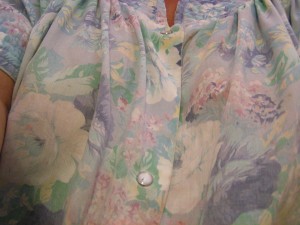 No sewing day would be complete without my old lady duster. Gosh I love those things, especially with a kleenex in one pocket and a mint in the other.