I wake up EVERY morning to the smell of coffee perking on the stove in my CorningWear coffee pot and the dread thought as to what I am going to cook for dinner. I am not lying. The first thought out of my mind is "I have to cook tonight and I do not have a clue." I am serious. I hate it that much. It stresses me to the end of the earth to try to figure out this and that. I am so tired of beans, potatoes, cornbread and country cooking. We have eaten that all our lives and I am ready to step it up a notch and eat something else. Experience new things.
Well I discovered Sun Basket.  There are a lot of the services online where you order food and it is shipped to you. I am not going to name the competition here because in all honestly I have not tried any of them but Sun Basket. I can only tell you about them. I did look over some of the others and even emailed and asked questions and I was more pleased with Sun Basket than any of the others. I can not say I will not try another service some time but right now no. I like the easy cookbook that comes with the meals. You keep it and if you want to purchase outright the items to make the recipes you can. I won't because it would cost me a lot more to buy the items than to receive them delivered to my door.
It is just the two of us here at home. I joined. First week I got in my order. It comes in a very nice insulated box the meat is in the bottom with frozen ice packs and the other items you need to prepare are in the top part in a paper sack labeled what the meal is. I ordered three different meals that week. I was shocked when I prepared the first one. It was enough for the two of us to eat for two nights. I had a total of six nights of meals in my refrigerator to prepare.  I loved it but it was so much food I cancelled. Can you believe someone cancels because a company provides a really nice size servings of food? Most companies charge you a fortune give you a tiny bit.. Not Sun Basket.. You get a lot.  Back to worrying about what to fix for dinner. Something kept tugging on me so I called the company asking them is there any way I could only get two meals a week. Yes. I signed back up. Today our first two meals came. As you will see below it is enough for tonight and tomorrow night and then Thursday night I will make the second meal and it will be for Thursday and Friday. I am pretty sure I'll go back to three meals in the future so I will be covered six nights and we can eat out one day a week. I am really saving a lot of money. This week I believe I probably threw away a big chunk of money in food that has expired or no longer good in the refrigerator. Here I will have zero waste. Make it eat it and very little clean up.
I love Sun Basket because they send you fresh items, organic, and everything you need.  About the only thing you will have to have is salt and pepper and sometimes oil. I noticed in the next meal they sent me enough honey for the dinner. How convenient is that? I will not have to go to the store waste my gas to buy a jar of honey to use one time. I think I am really going to be with this company a long time. I look forward to waking up smelling the coffee knowing what is for dinner and I can go on to something else to entertain my mind. Like my sewing, quilting and machine embroidery!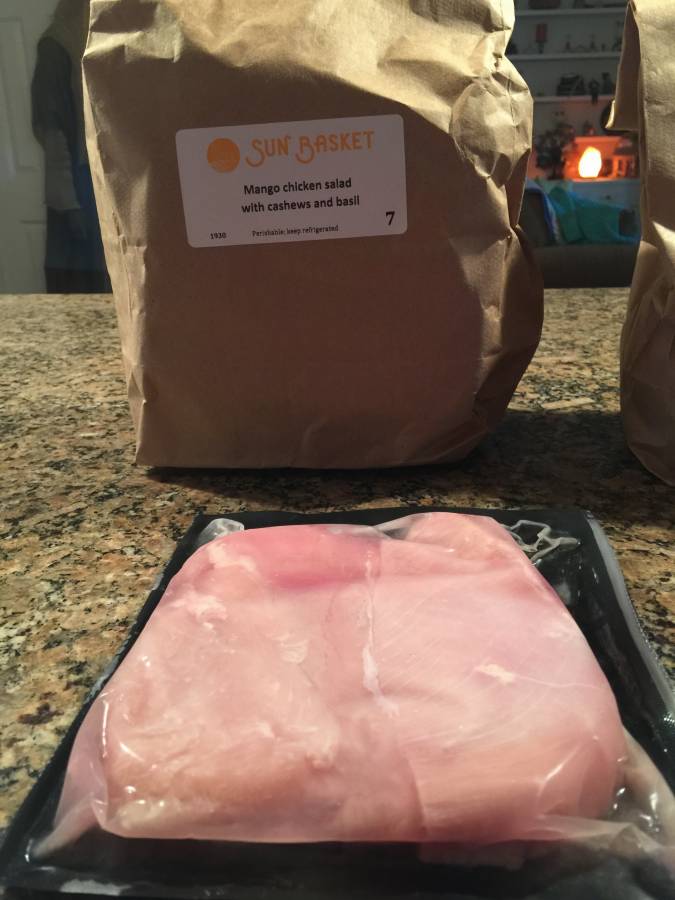 Contents come in the sack above and the meat is frozen in the insulated compartment.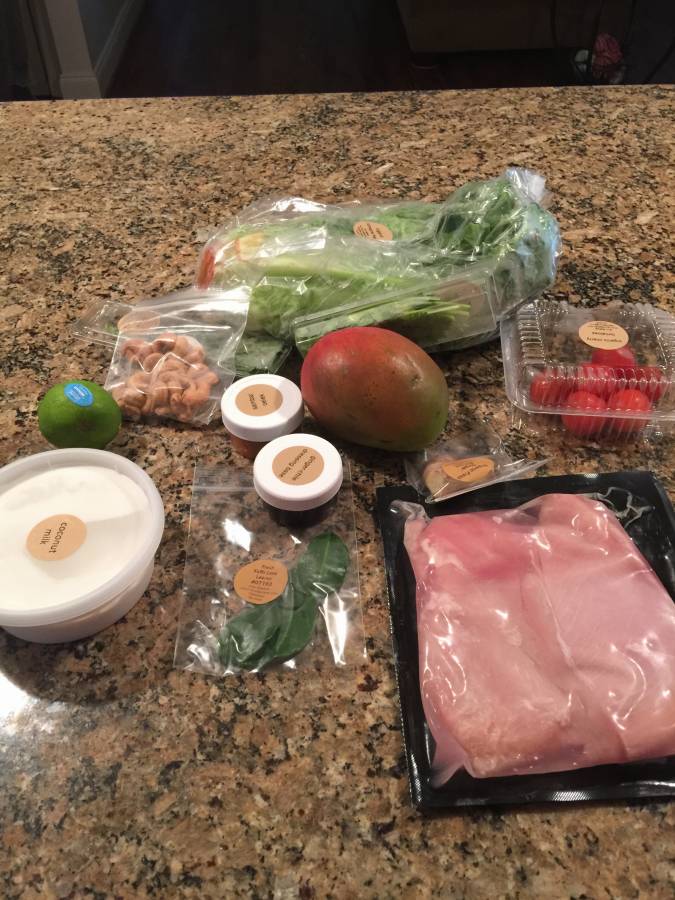 You have it so easy!  This was in tonights sack.  I still have another sack for Thursday night. It has a peach in it!!!!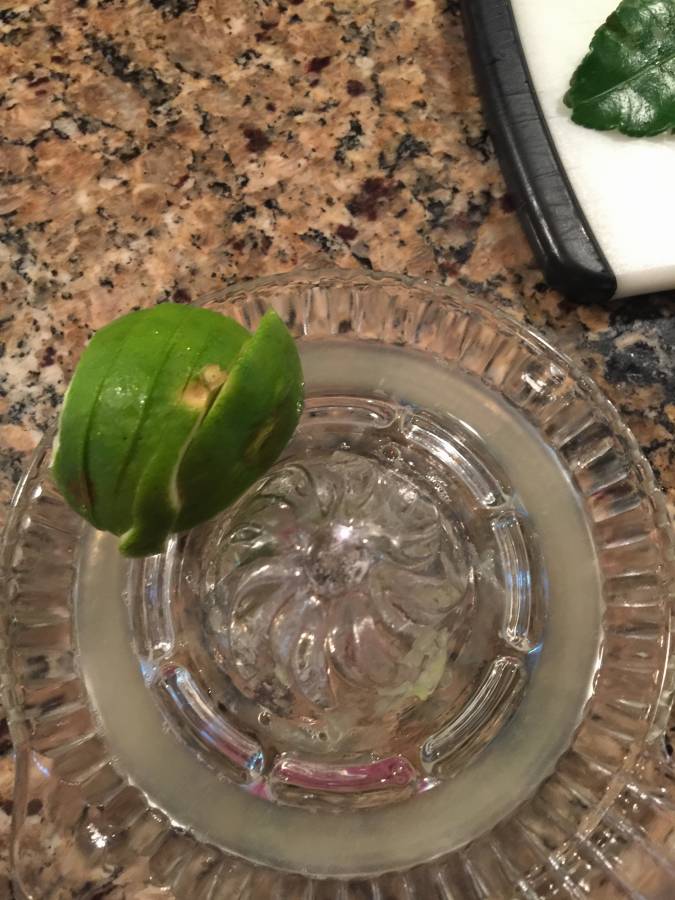 I received a lime and the lime leaves. I had to tear them to mix with the coconut milk, water (I had to provide that) lime juice with a bit of salt , pepper and a pinch of sugar. I love my vintage juicer. It was my Granny's.
They were so pretty and smelled so good.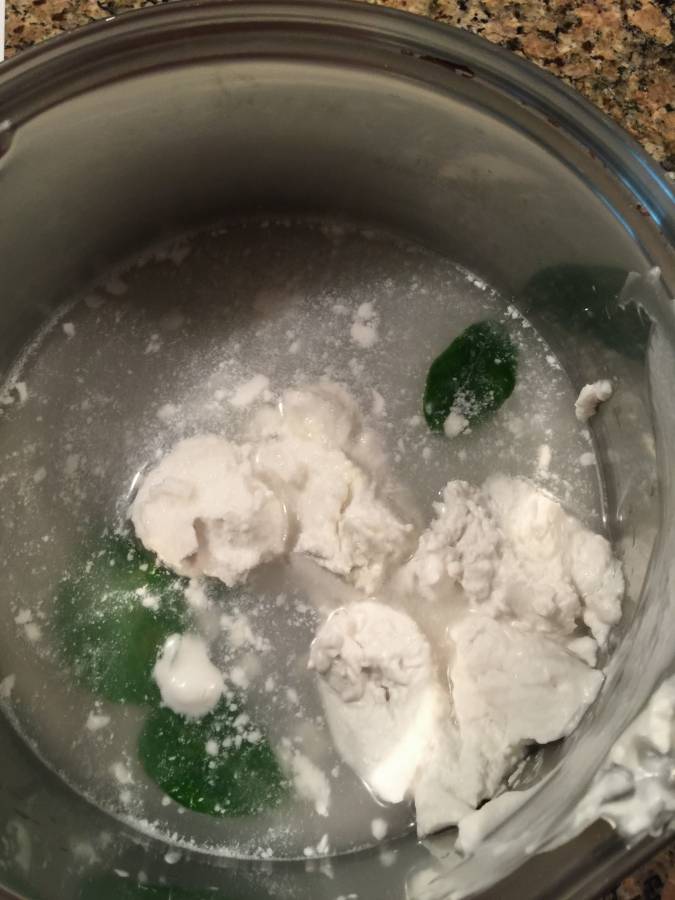 Dumped it all in the pot and stirred. That is thick coconut milk you see.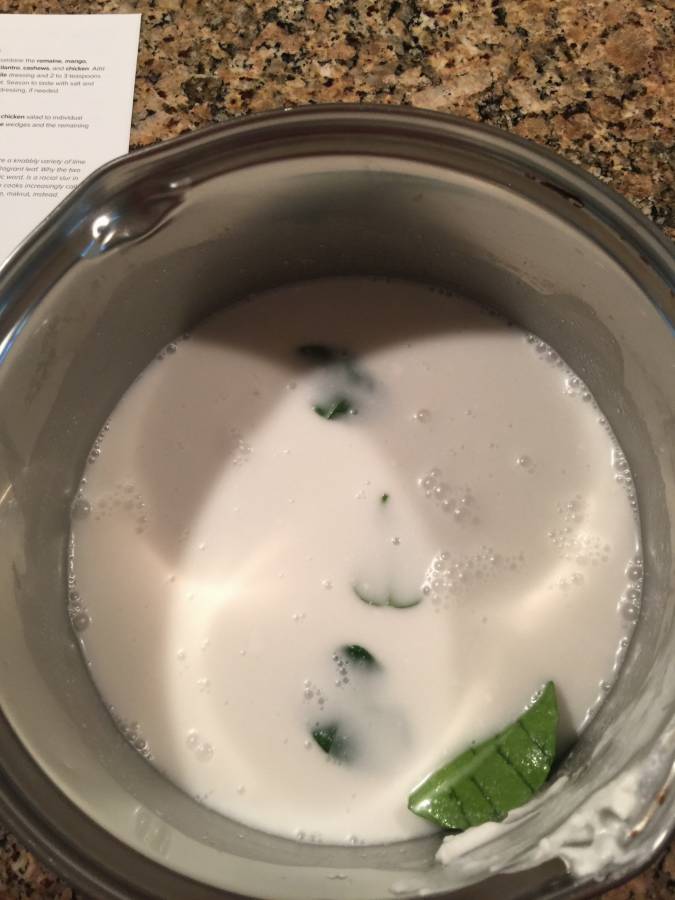 Put it on the stove brought it to a boil.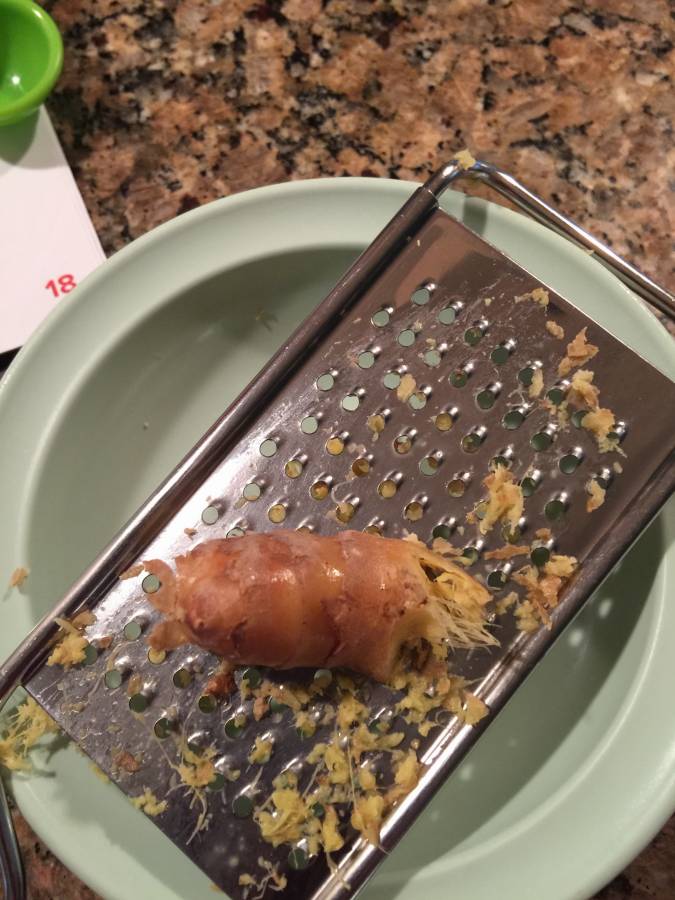 Fresh Ginger. My fingers smelled so good. I bet you did not think I had one of these contraptions (graters) I HAVE TWO!!!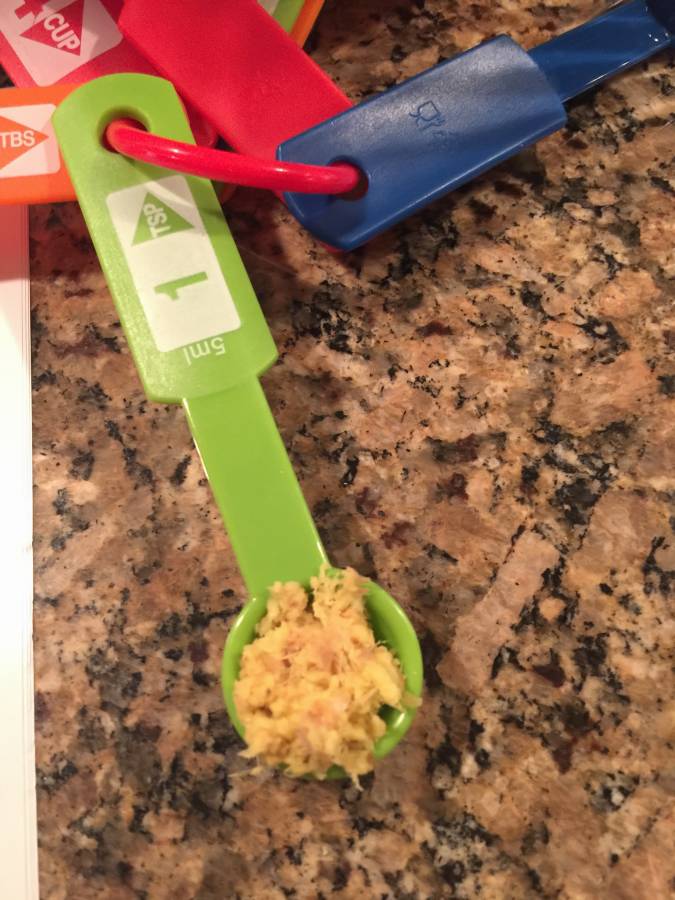 This smelled heavenly. Fresh ginger.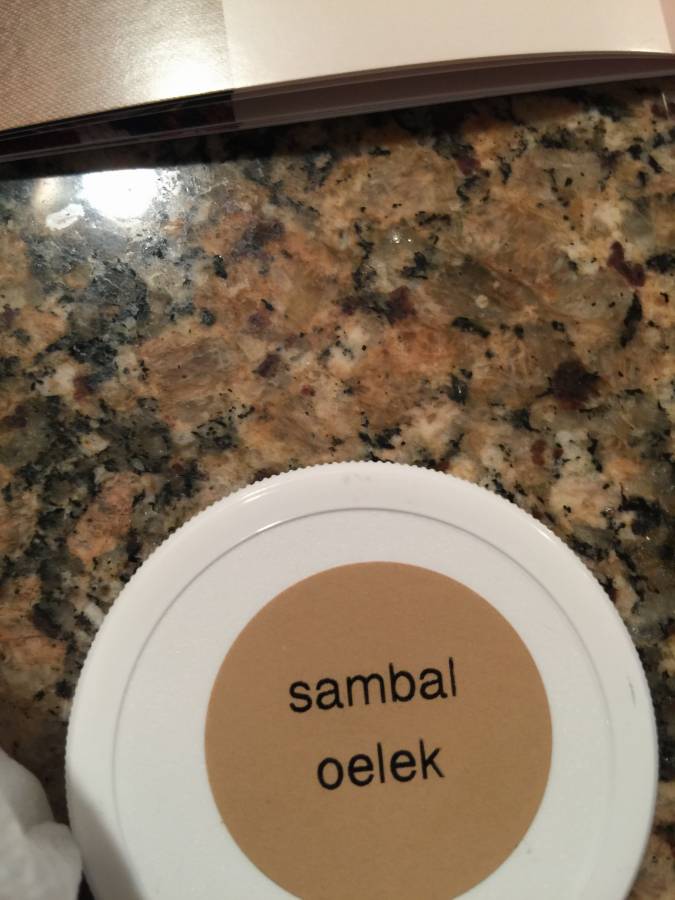 I dont have a clue what Sambal Oelek is.. I did do the taste with my little finger bit and it was good. So I was going to use it. Actually I am making both of us get out of our box and try new things.  No more comfort level.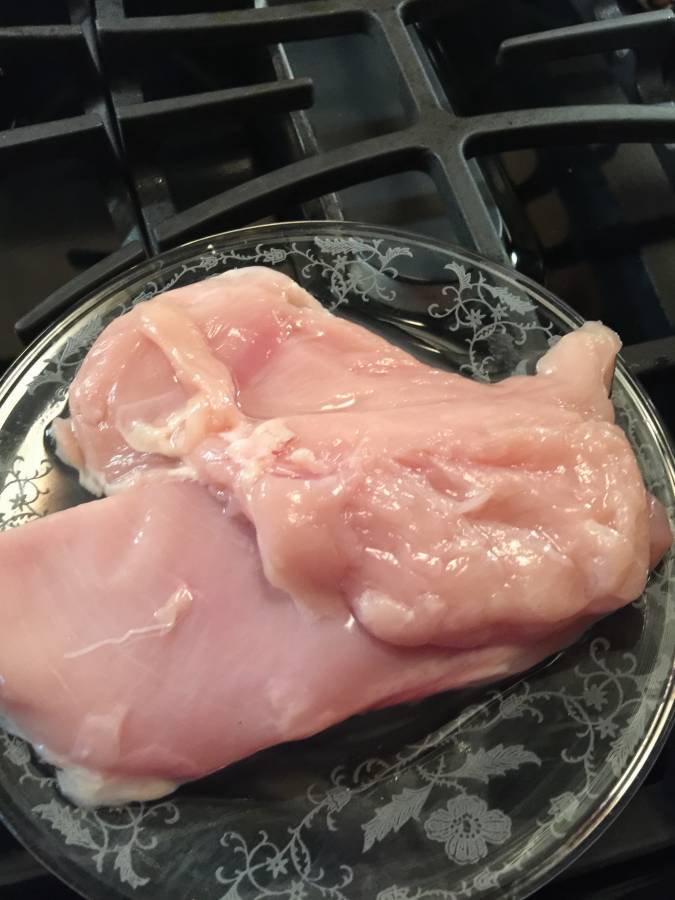 Two nice size pieces of chicken.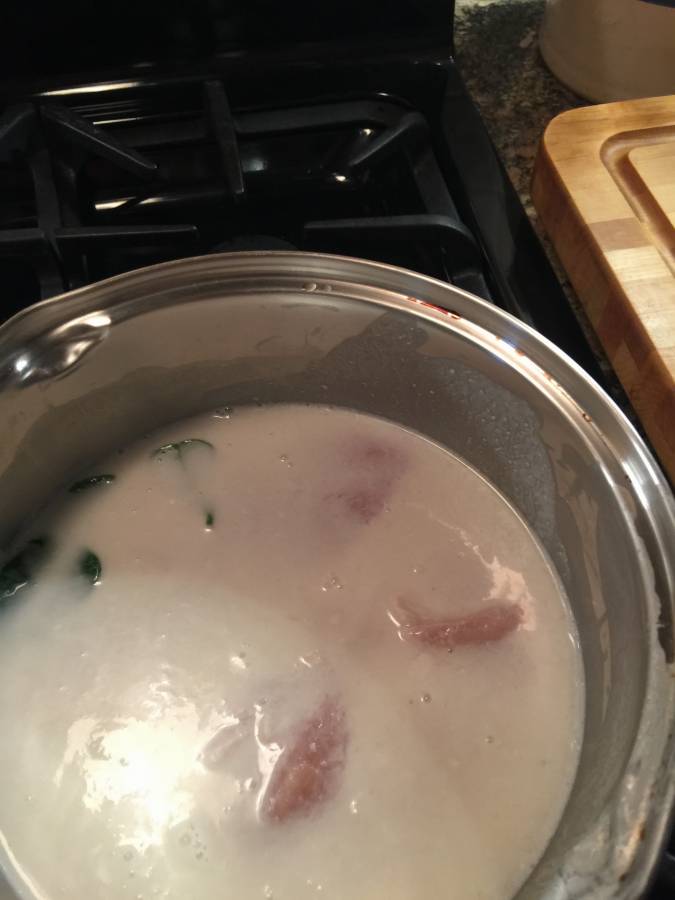 Now they are in the coconut bath with the lime leaves going to boil for maybe 10 minutes.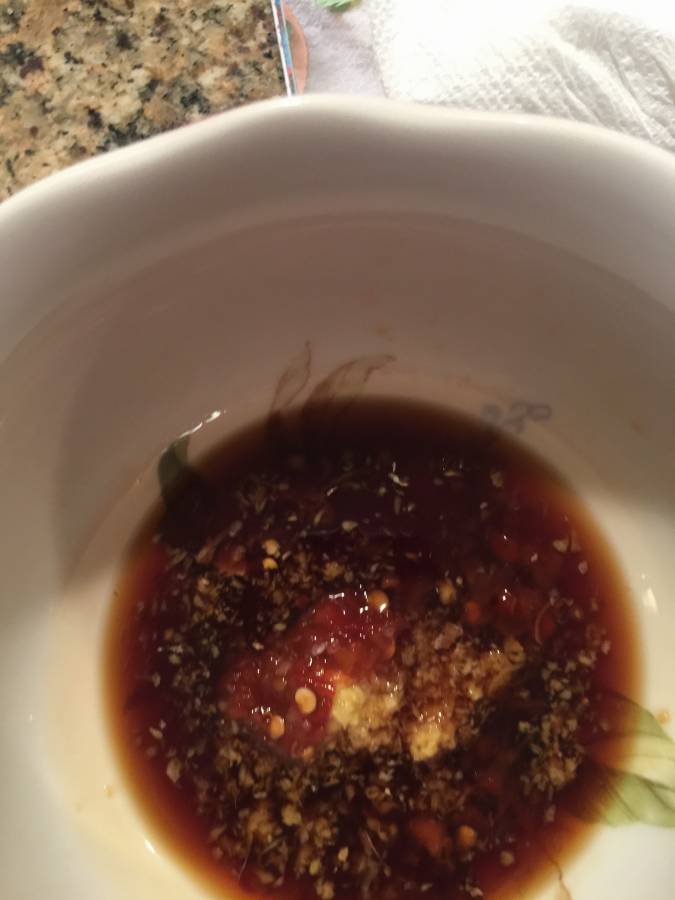 The spices I did not have a clue mixed with a ginger sauce. It was really good. I did add a tiny bit of salt and a tiny pinch of sugar. Really good. I am telling you all I am living on the edge the dangerous side!!!  I eat things I do not have a clue what they are and they are so good!!!!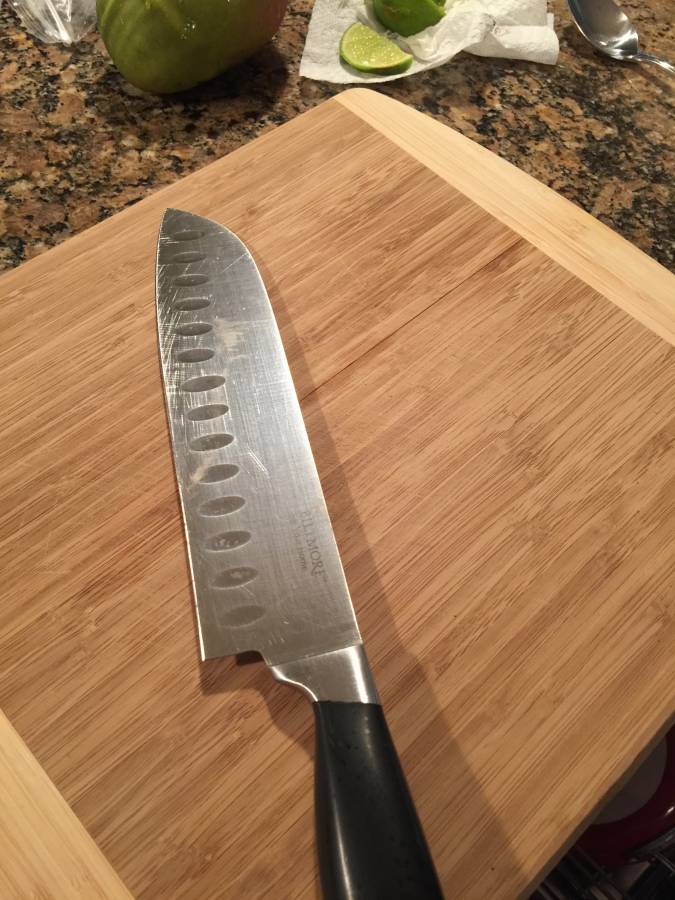 For someone to not really be a cook I invested in these Biltmore House knives years ago. I keep them so sharp they do not cut they just slide through whatever you are doing.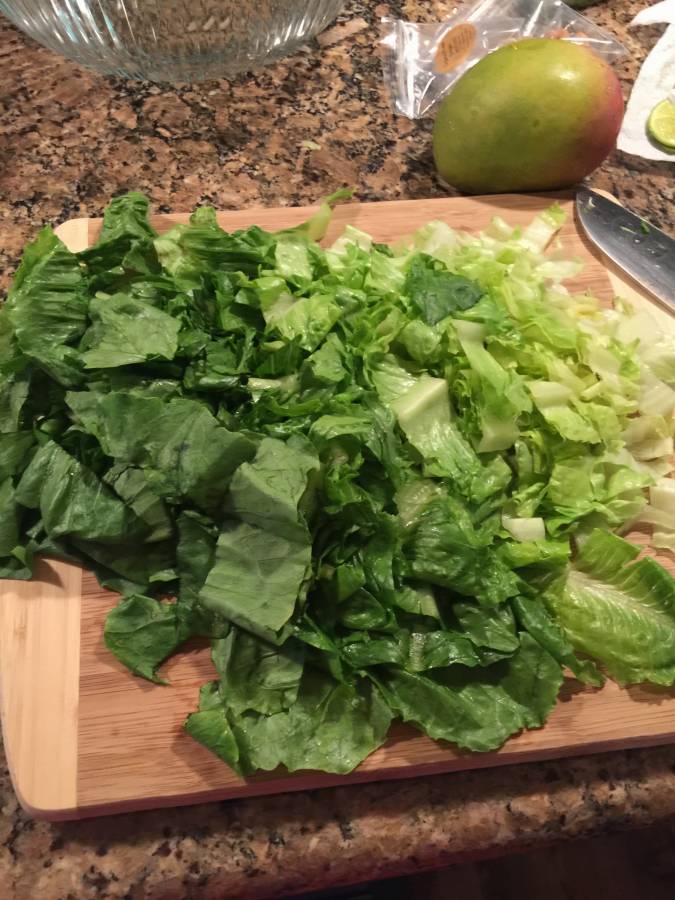 I sure received a lot of lettuce. It was Romaine.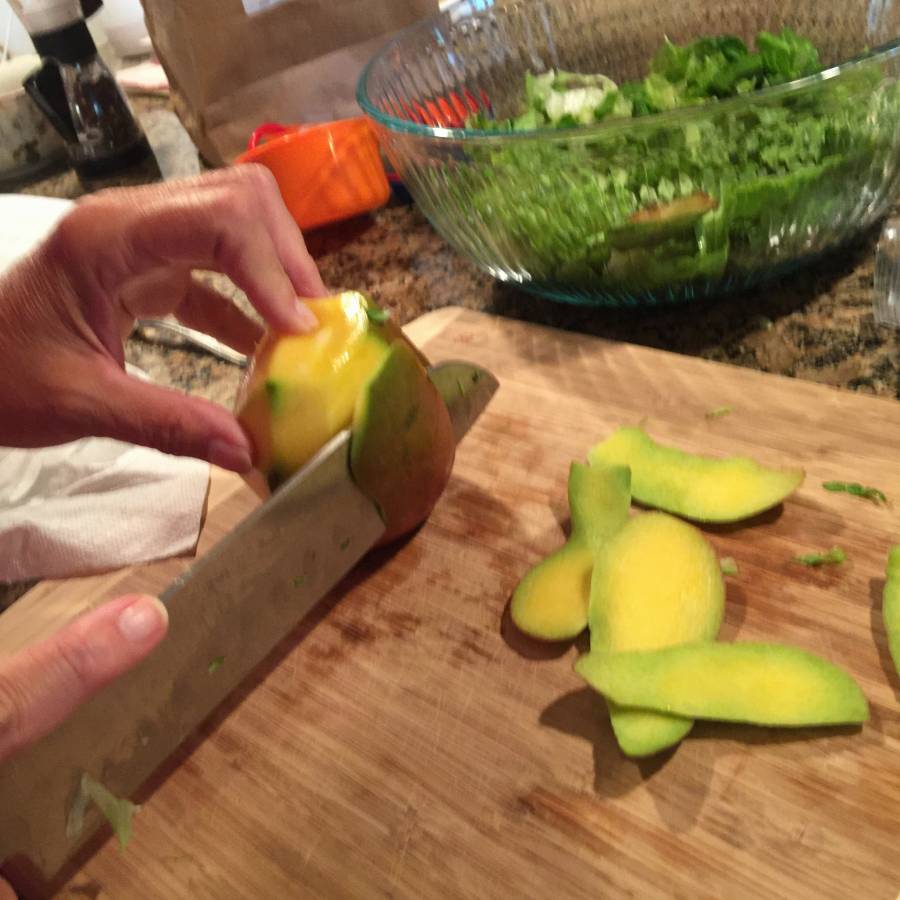 I been watching cooking videos. I know the proper way to peel!! Seriously I saw a lady peel a mango and I took notice in case some day I needed it. Well today it came in handy.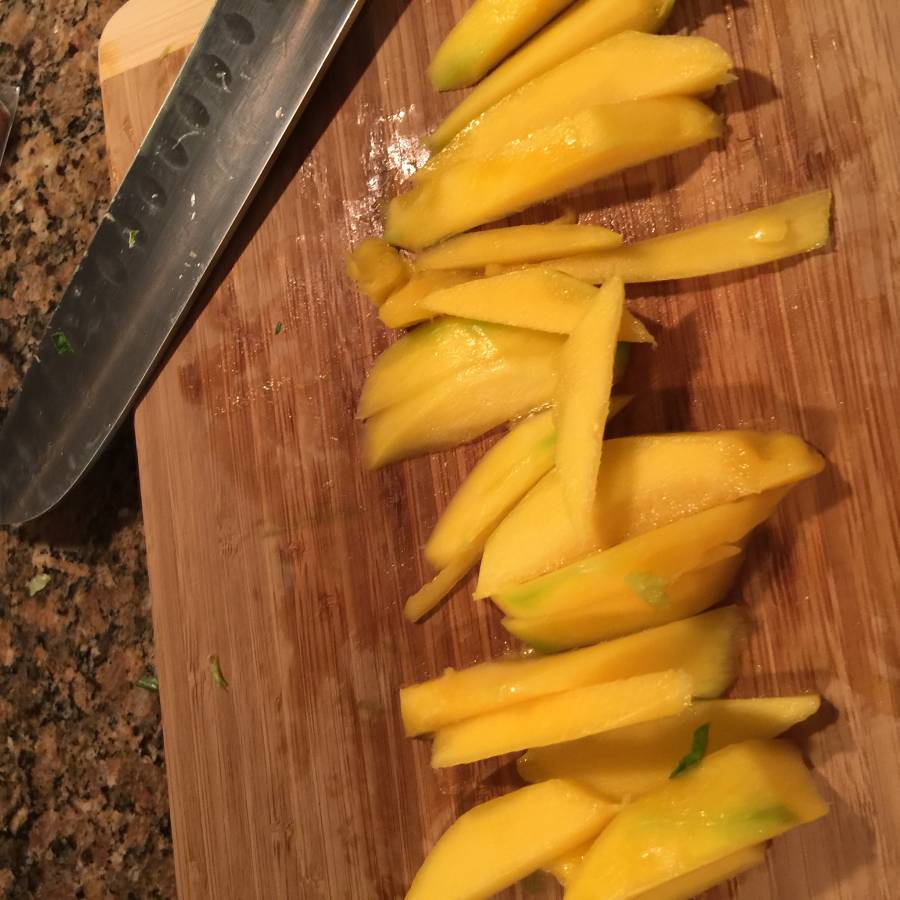 Gary and I love mango's.  We used to eat them with Chocolate Fudge Poptarts. Yes scream… We did.. I admit it is good.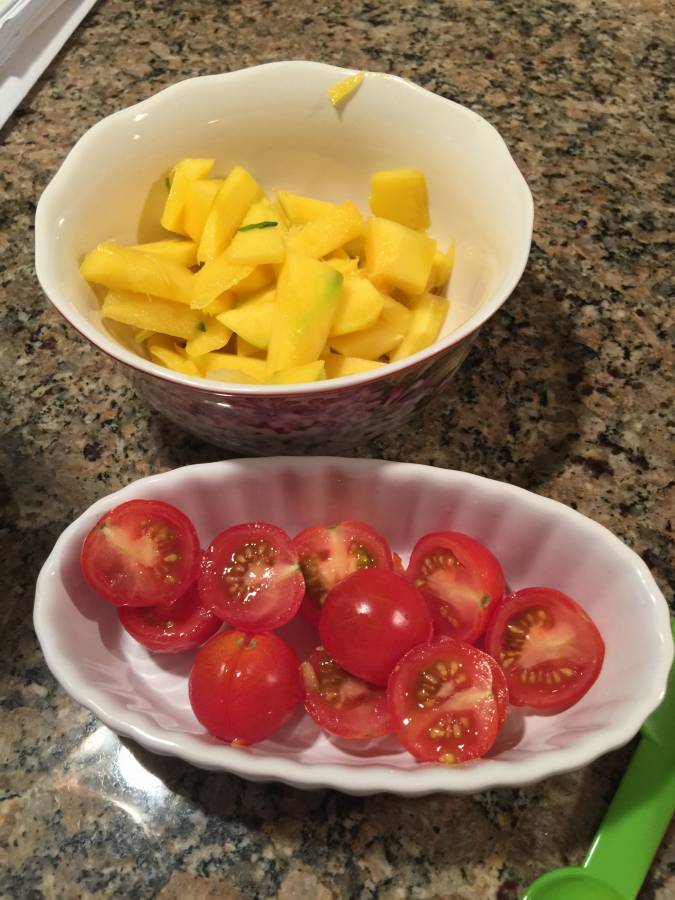 Mango's and tomatoes cut up. The tomatoes we so fresh and beautiful. Organic.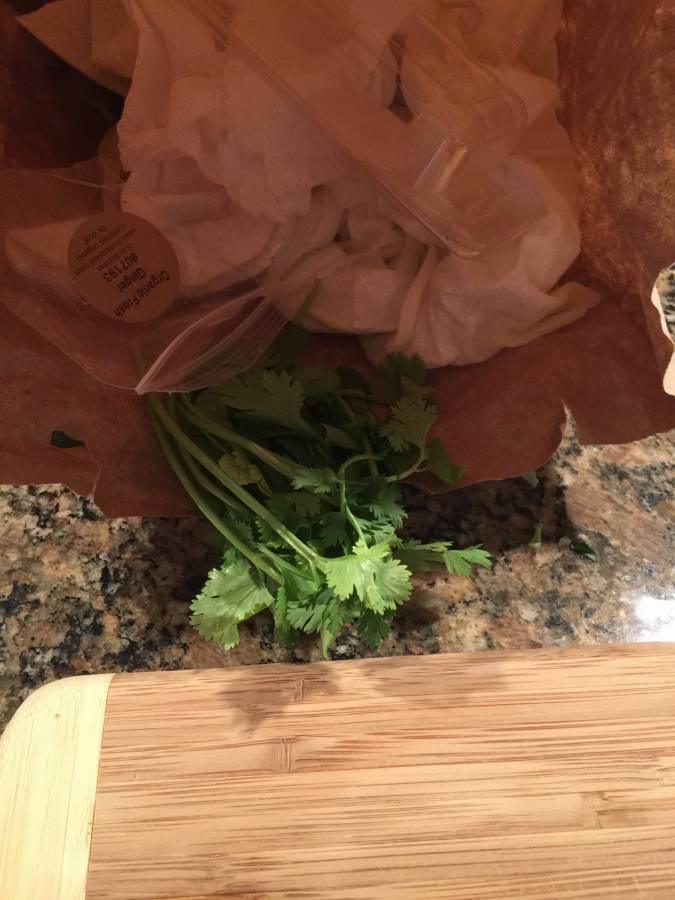 I use the paper sack  for a garbage bag. Yes you see FRESH CILANTRO in the garbage. I am one of the many that hate Cilantro. It tastes so nasty to me that if I go to a restaurant and it is in the food without me knowing it I nearly throw up.  Sales clerk at Penzey's Spices, Homewood, AL challenged me to purchase some of Penzey's. Which by the way is the only spices I allow in my home to be brought from the store. I can not use that other junk in the stores.  She sold me when she said her husband gets sick  if he eats Cilantro and she slips Penzey's in his food and he loves the taste and does not have a clue what it is.. Ok sold me. I bought a small bottle and LOVE IT. It does not taste nasty like the fresh Cilantro. So I am sorry I threw the one that came with the package away. Nothing against the company just my DNA can't tolerate it.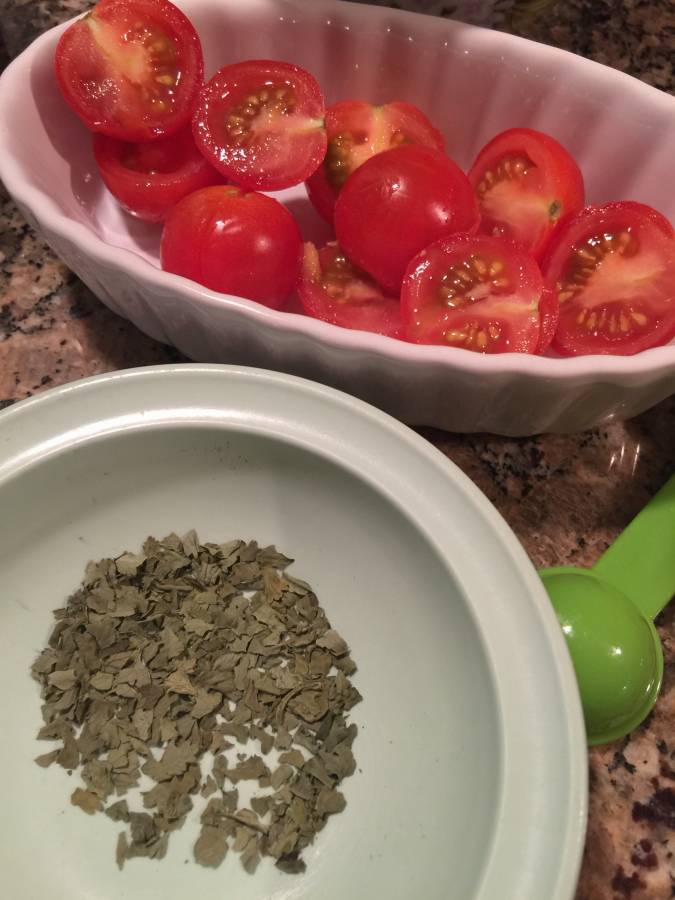 I used the dehydrated Penzey's Cilantro. OH MY WAS IT GOOD.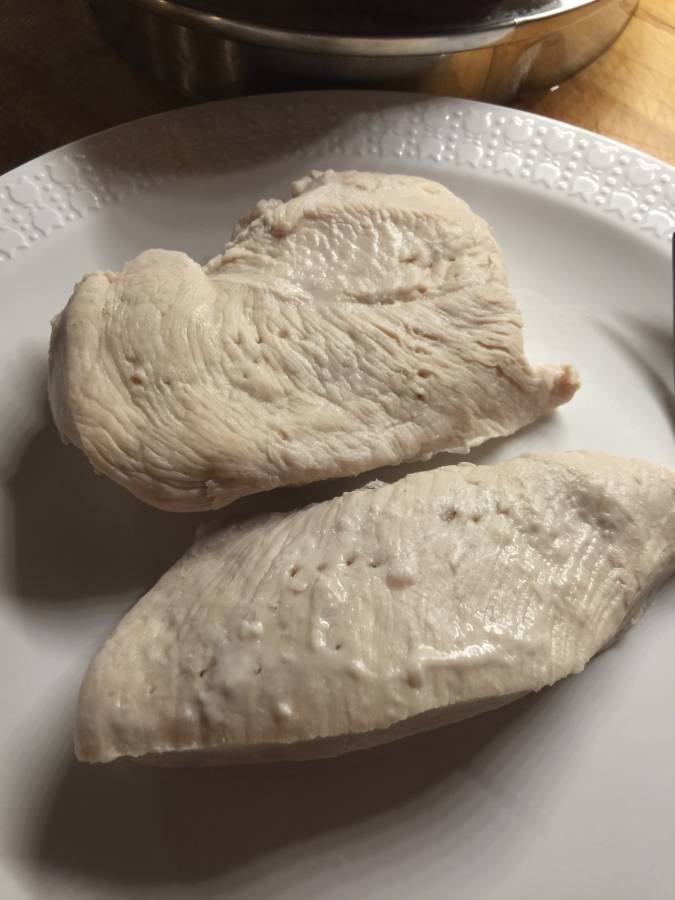 Chicken resting nicely after being in the coconut bath.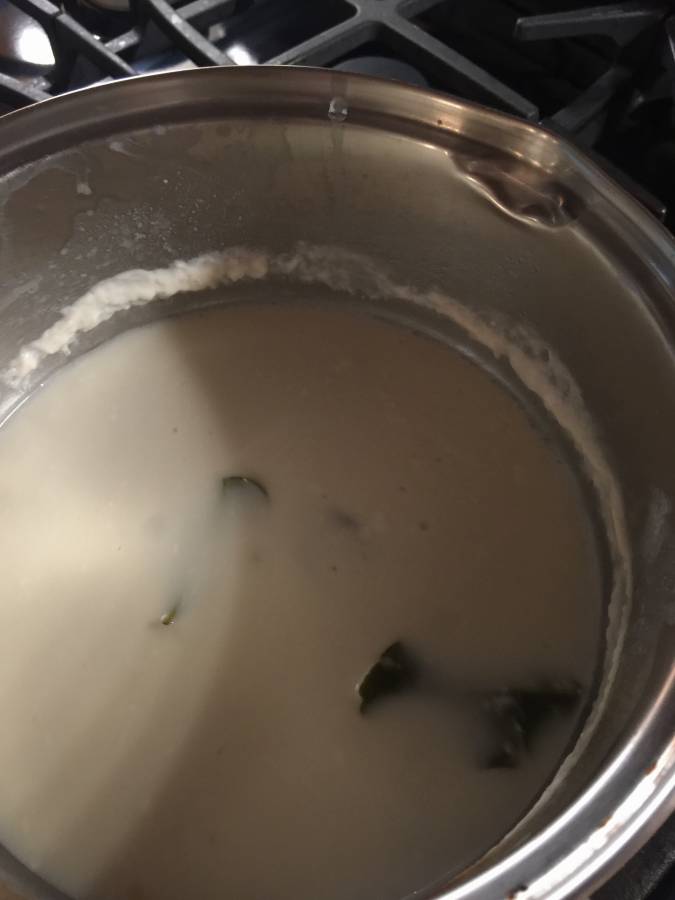 I saved this. Put the left over chicken it in to marinate and to heat up in tomorrow. See I do not even have to worry about tomorrow's dinner. It is already ready and I am looking forward to cooking Thursday's package.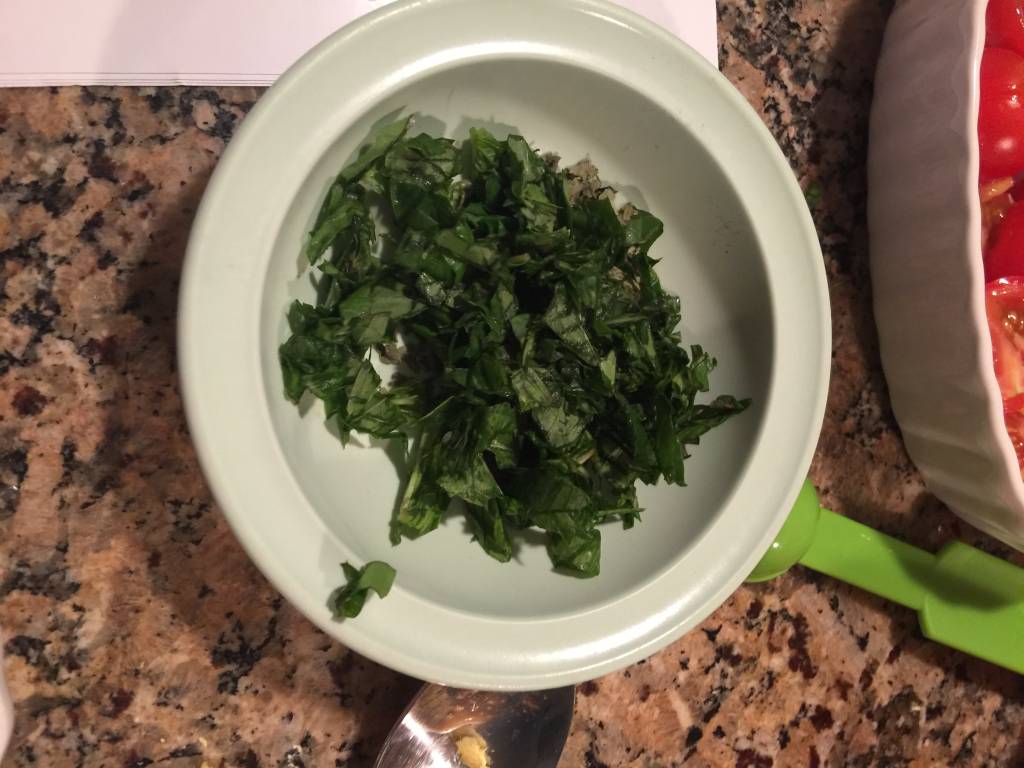 Fresh Basil I chopped up.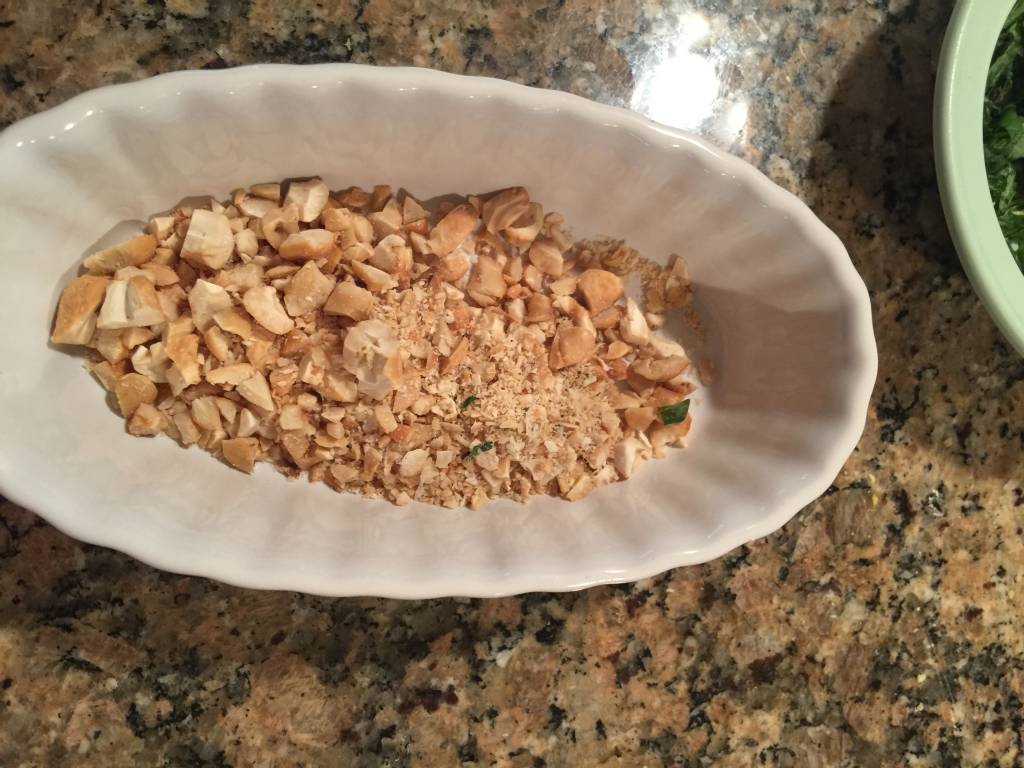 Never in my life would I dream I'd chop up cashews and put in anything but candy. I did.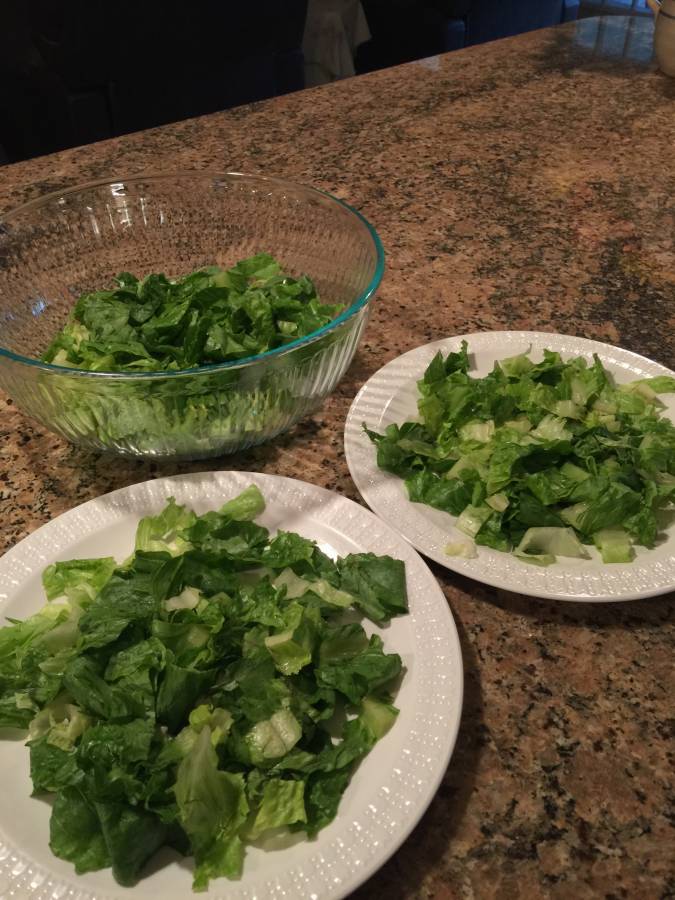 I put the salad on the two plates and look how much I have left over.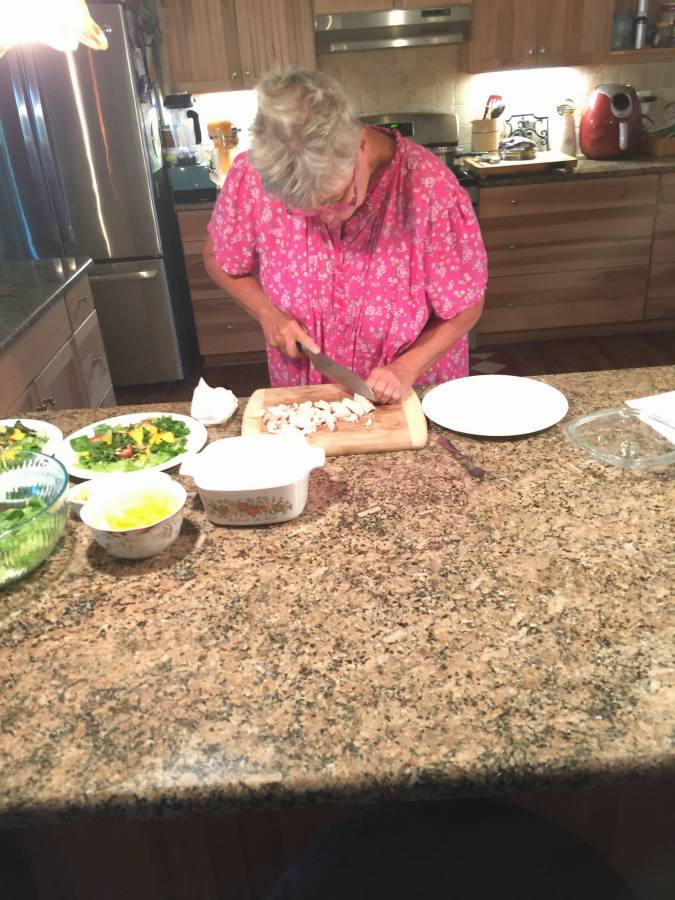 Hello you all may as well get introduced to me cooking in my gown.. Everyone in the neighborhood, workers that come work on the house, people that just show up, even a sewing group I have had in the past have seen me in a gown.  AND YES I DID NOT COMB MY HAIR BUT ONCE TODAY.  It is wild and has a mind of its own. I really was concentrating not wanting to lose any fingers.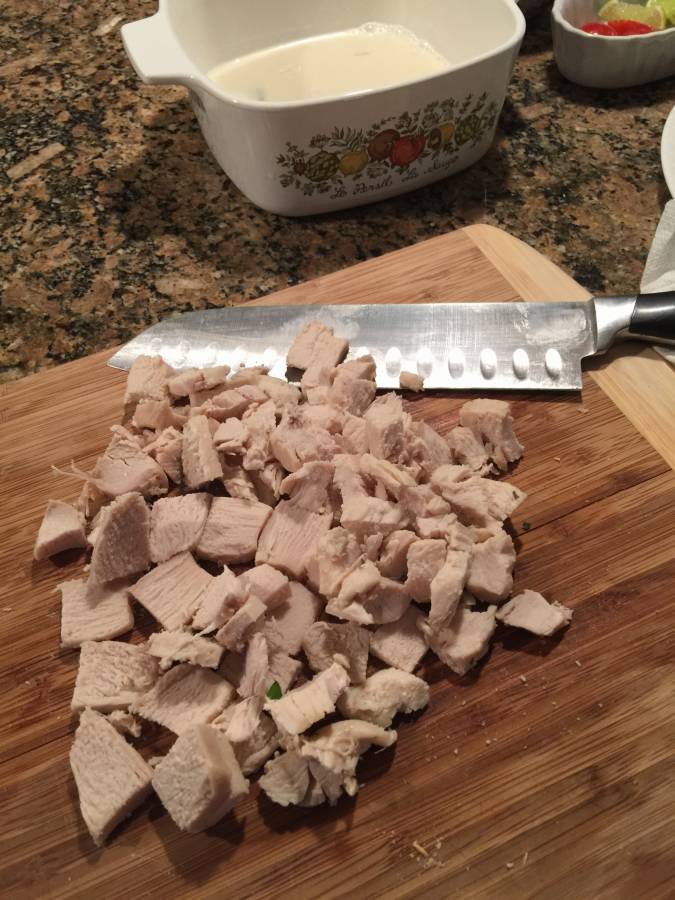 This chicken is really good.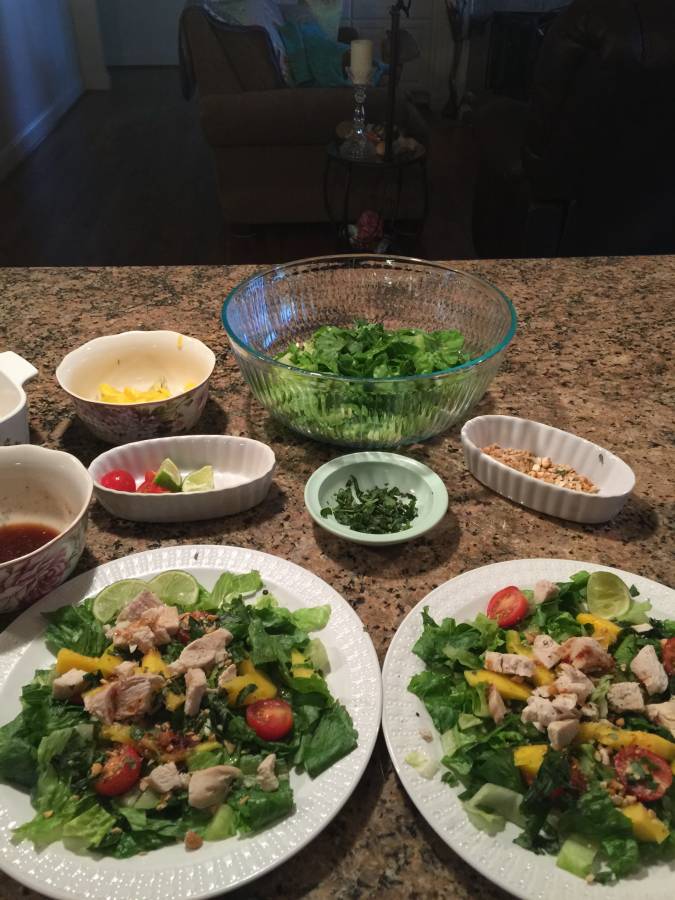 Well whatcha think?  It think they look pretty good if you ask me.
I ate EVERY BITE and so did Gary.  We did not leave a crumb.   We are very happy customers of Sun Basket.
If you want to try it no obligations. You can order one time and stop like I did then you can turn right back around and join back up like I did. If you are going out of town and do not want to receive an order you can skip. You can skip for any reason.  You can pick your order and before it ships go back and change it if you change your mind. No hassle. You can stop anytime you like. No contracts or obligations.
If you use this link you can get $35.00 off your first shipment. It is worth every penny.  No waste no throwing out any food no trip to the store, no overbuying. Very easy instructions. Even a dummy like me can follow them!  I truly am very happy with the service.  Your first order will hardly cost anything with this coupon.
https://sunbasket.com/invite/Chris793706