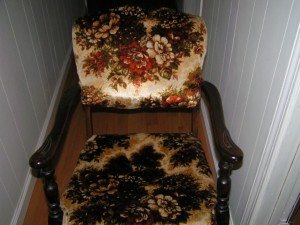 I do not care much for country music. I do like George Straight and especially his song "The Chair."
"Well, excuse me, but I think you've got my chair. No, that one's not taken, I don't mind If you sit here, I'll be glad to share."   That was the first three lines of the song. Well I have a chair that everytime I pass by it I think about Mrs. Estelle Bryant, whom I called "Miss Bryant."
Back in the late 70's I had a wandering spirit. I quit my very boring job of filing insurance at a hospital in Birmingham. I despised it so badly. It was all I could do to make myself get up and look in the mirror. One day I thought I am young, I have time to find what I want to do when I grow up. You know that question you have always been asked. "Honey what are you going to be when you grow up?" I did not know then and I still do not know.
Well I quit my job and took a few weeks off to help a friend paint houses. We painted in some of the worst areas in town. I never was afraid. Today I would not even ride through the area much less paint a house on the outside. Those few weeks lasted four months.
I was hot and tired one afternoon and decided to sit down on the porch where this lady lived that we were painting her house. She did not say too much until I started talking with her and we both found each other very interesting. I could not wait to get to work each day. We had seven of these houses to paint that here in the south we call "Shotgun Houses." They say if you stand at the front door and fire a shotgun it will go straight out to the back door.
Well we would paint and I would go to Miss Bryant's during lunch or breaks. I always loved sitting there listening to her tell me things that were going on in the neighborhood or what her sister Odie Bell had been up to and I loved seeing her flowers growing in metal coffee cans that she had punched holes in the cans with her ice pick.  Mrs. Bryant had an old ugly chair chained to the porch post with this huge chain like you would put to keep a motorcycle from being stolen. I do not know how this tiny frail little woman picked the chain up. She chained up her most prized possession, that old ugly chair. The back came off the chair and the seat. Each night she would take the seat in as she would say "too keep these hoodlums from getting my chair." I would tease her everyday that I was going to steal her chair. I was not but it was fun back and forth with her. Well the houses were almost finished and I knew without a doubt I was NOT going to let my Miss Bryant as I called her leave my life. We talked everyday.
Summer was over, painting was over and now time to find a job. I did. It was not but a few miles from her little house. I would swing by there on the way home to see if she needed anything or sometimes she would call me to go by the drugstore to pick up a prescription for her or the grocery store for her cantelope that she just had to have. I always had to get by her house as she called it "before sundown on Friday evening." I would leave work early to make sure I got there in time to braid her black and mostly gray hair so she could go to Church on Saturday. She did not dare do anything after sundown Friday until Sunday morning. I am assuming she was Seventh Day Adventist.
I can crochet one thing ,a Granny Square and I decided to make her an afghan. I finished it and called her and asked her if I came over and got her would she come to my home and I would take her out to get a steak. "Yes of course!" When I went to pick her up I do not believe Queen Elizabeth had ever been dressed any finer! She was dressed from head to toe with a wig on!  We had the best time. She said it was the first time she had been to a restaurant in her life and had a steak.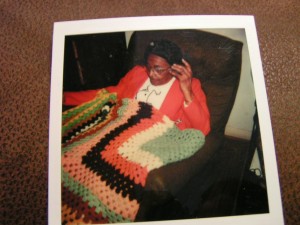 A few weeks later Miss Bryant got real sick and had to be admitted to the hospital. I called her everyday that week and was planning on going to stay with  her on the weekend. The last night I talked to her I said "tomorrow is the day I will be there and you know I love you." She told me she would not be there and she loved me. She did not have any children, just her sister and some nieces and nephews and me. By this time we had formed a real close relationship. We both burst out crying on the phone and I thought she was just being scared because she was sick, I KNEW I WAS SCARED because she really was sick with pneumonia and she was an elderly woman and I thought the worse. The next morning the hospital called me. She had died. I was heart broken. I did not get to hug her bye like I always did when I went to her house.
A few days later after the funeral, I went to her home to see her sister Odie Bell. She had called me and asked me to come by. She knew my relationship with her sister and she asked me was there anything I wanted. Now this little woman barely got by on her pension. She had nothing of great importance. Then she asked could she have the things that I had given Miss Bryant especially the afghan and a ceramic pumpkin I had made for her. Of course I did not mind.  Wait there was one thing I wanted. That old beat up broken down chair. I had noticed it was not on the porch when I pulled up but I figured they had it in the house.  I said" I would like that old chair that she kept on the front porch." Miss Odie Bell told me it must have been stolen during the night because it was gone when they arrived. Twice that week my heart was broken. First losing her and then someone stealing "The Chair."  I helped them pack up the house and told them where she had some secret things hidden like her gun between the cushion and the arm of the couch and some "stash" money that she had in a jar and we laughed because they said I knew more about her than they did. We had a good time talking about her and how her house always smelled like turnip greens and she had one of those fuzzy covers on her toilet seat for those old cold days. Just a great woman.
I started to get in my car and heard "PSST, PSST." I turned to see who was hissing at me. Miss Bryant's neighbor. "Come here I have a message from Estelle for you." I had seen him many times look out the door to see what I was up to with her. I felt safe going to his home. He told me Estelle left this card with him for me when I came by as she told him "That white lady that comes here!" She was a character.  It was a business card of a man that upholstered furniture in Ensley, AL.  I called him and here is what he told me. "Mrs. Bryant called me last week before she went to the hospital to come get that chair, I was to refinish it and cover it and I asked when I should deliver it to her and she said for me not to deliver it that she would not be here anymore and the lady that it belonged to would come get it." I could not believe my ears. She had a feeling that she was going to die a week before she went to the hospital, called someone to come get the chair and fix it. He had put it back together, sanded , refinished and covered in a fabric that matched a couch that I had just bought that my Miss Bryant knew nothing of so there is no way she could have matched the couch.  I still have that chair and everyday when I walk by I think of her. You sit in it and rock and it squeaks just like it did when she had it.  I have said I was going to give it to a good home, or let it go but I can not. Tonight on Facebook a friend of mine Pamela had a picture of a quilted chair that she put the quilt together and someone upholstered the chair. I am thinking of doing something like this on "The Chair" but I am going to insist that the original fabric be left intact. I must be getting to be a sentimental old fool in my more mature years. I felt a lump in my throat just thinking about Miss Bryant and "The Chair." Isn't it strange that sometimes in your life the ones you love the most you only knew for a short while and were no relation to you. Just someone who crossed your path for a tiny bit of time for whatever reason.
Here is a picture of Pamela's chair and her website.