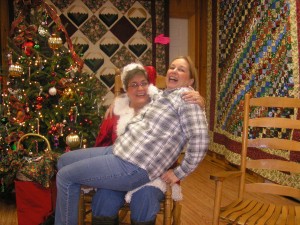 HO HO HO….MERRY CHRISTMAS!  Today at our guild we had our Christmas Party.  There are two different groups of guild members. I go to the 2nd and 4th Saturday of the month meeting. We have so much fun and learn so much.. During the month of December we decorate the lodge and Santa pays a visit there two weekends in a row.
 Today we all were in a happy mood. I think we had overdosed on fudge, birthday cake and other goodies. I was in the bathroom washing my hands and turned around and laying on the bench was Santa's suit.   I could not help it..THE DEVIL MADE ME DO IT….I put on Santa's suit came out and the girls hollered and hooted and the more they laughed the more I had fun. Then it came over me full force. I lost control. I had to do it. I had them to sit in my lap and we snapped pictures. I must say this was the most fun I have had in many years. They all seemed to enjoy it so much. THANKS SANTA for leaving your suit… I do hope it was not to cold when you got to the North Pole today and you did not get in trouble with Mrs Santa!    But you sure made a bunch of women happy today!
Tonight when I got home and was working on my blog I had two of my Dove Chocolate pieces. Inside one of the wrappers was the Promise Message, "Embrace life."  My second one said "Forget the rules and follow your instinct."  That is exactly what we did today and look at the faces of some very happy women!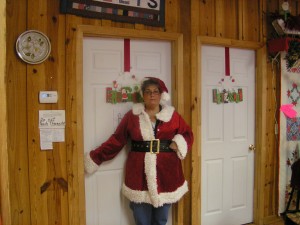 Top Left:   Santa and EIleen
Bottom Left:  Santa             Bottom Middle": Savannah, Santa and Susan . Savannah was the Elf.     Bottom right: Kay, Susan, Eileen, Janice, Linda and Santa