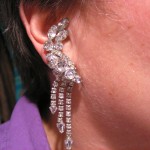 Oh I bet you thought Queen Elizabeth again. Nope Queen Christianna.
I love these earrings!  I don't wear them but I have them if I need them!
I think I will save them until I get an invitation for Tea with Elizabeth at Buckingham Palace. Oh the things us Royal's must endure!