Never in my wildest dreams would I believe I was in the presence of Soap Stars. I never have been one to watch the soaps well except Desperate Housewives and Aunt Jan loves The Young and Restless.  She told me a dream of hers would be to meet them. We found out where they were and headed out.
The cast members that here were so nice. We had a great time and you know something..Come Monday I will be seeing what Mrs. Chancellor is up to!!  I think I will become a fan.  Hey I am young and sometimes myself I am restless!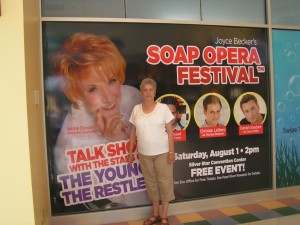 Look out Mrs. Chancellor you have met your match!
Aunt Jan was one happy woman.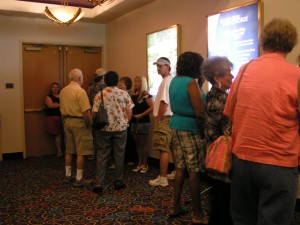 The line started early. One lady had been in line for several hours. She got front row with us. We stood in line about 30 minutes.  But we ran like we were in training for the Olympics to get front row.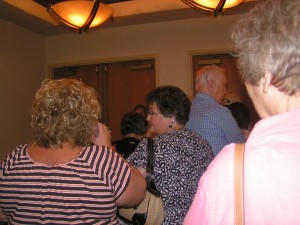 These two old heifers in black broke in line. We had better choice words for them but I won't post it here. Witches was more like it..  They thought they owned the place. Some people are so ignorant. We gave them the evil eye! And told security.  They did not get front row. They were to ancient to hurry down.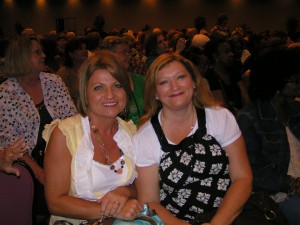 These were the sweetest sisters, Tammy and Renee.. Lord I hope I got that right. I am horrible with names unless they have a name tag on.
They were from Mississippi and so nice.  Pretty also.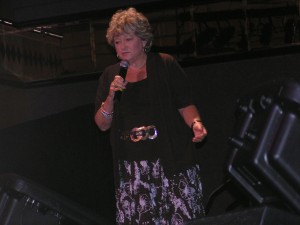 The lady MC.. She was funny..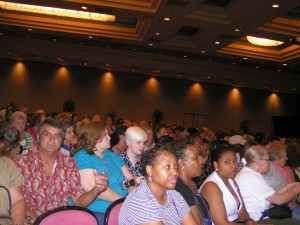 The crowd behind us..We were on front row. 
 Christian Le Blanc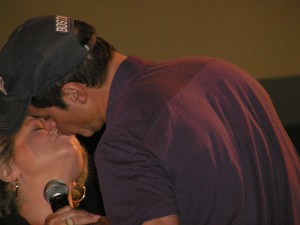 Aunt Jan broke out in a sweat. Wanted it to be her! I am married but I almost "forgot" for a minute!! LOL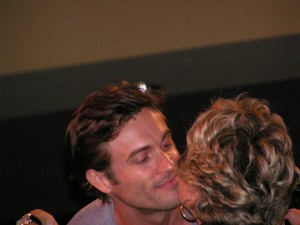 By this time I was screaming PICK ME, PICK ME!!   "Cane" was hot and most of the women were fanning!  
Daniel Goddard.
  "Mrs. Chancellor"
Jeanne Cooper.. She was to funny!  And all the women asked her for a night with Murph her husband on Young and Restless. She agreed to let this lady that was 83 "borrow" him for 2 nights! She cracked us up!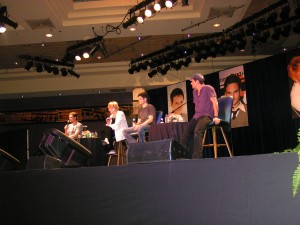 A nice view.. We were on front row…  Almost close enough to "reach out and touch." It was tempting.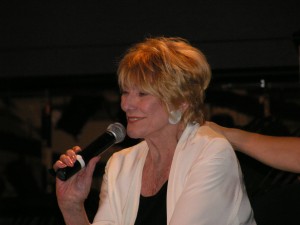 Jeanne told us she was 80 years old. Now is that not wonderful? She is still going strong and happy and said to live life as full as we could. She also asked us to donate to St. Jude's Hospital if we could that it was a great organization.  It is.. Those children are precious! They need our money and our prayers.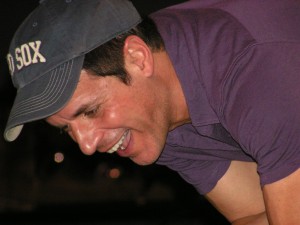 Christian bending down talking to us after the program. I don't know how I got a picture this good.  I was giving him the "hairy eyeball."  He was just to nice and kind. It did not hurt he was pretty to look at! Eye Candy!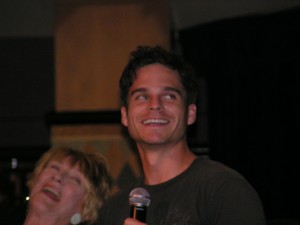 Kidnapping came to my mind! Then I was blinded by my wedding ring and came back to reality! Lawd Forgive me!  
Greg Rikaart.
I believe "Mrs. Chancellor" was thinking the same thing as I was!! You Go Girl!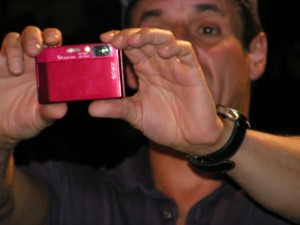 Taking a picture of us to put on his Facebook. Goodness I hope the drool was off mine and Aunt Jan's face.   
Spanky, if you are reading this you know you are the only man for me. I took my vows seriously!!  However I am not blind and I still like to look!! 
I love you Spanky!