Today started out early this morning I decided to go out and clean out the garage where we park our lawnmowers. Precious ( Gary) back has been hurting and we are trying to get it well so he did help some but I would not let him do the real heavy work. I was worn out. He did help me a lot.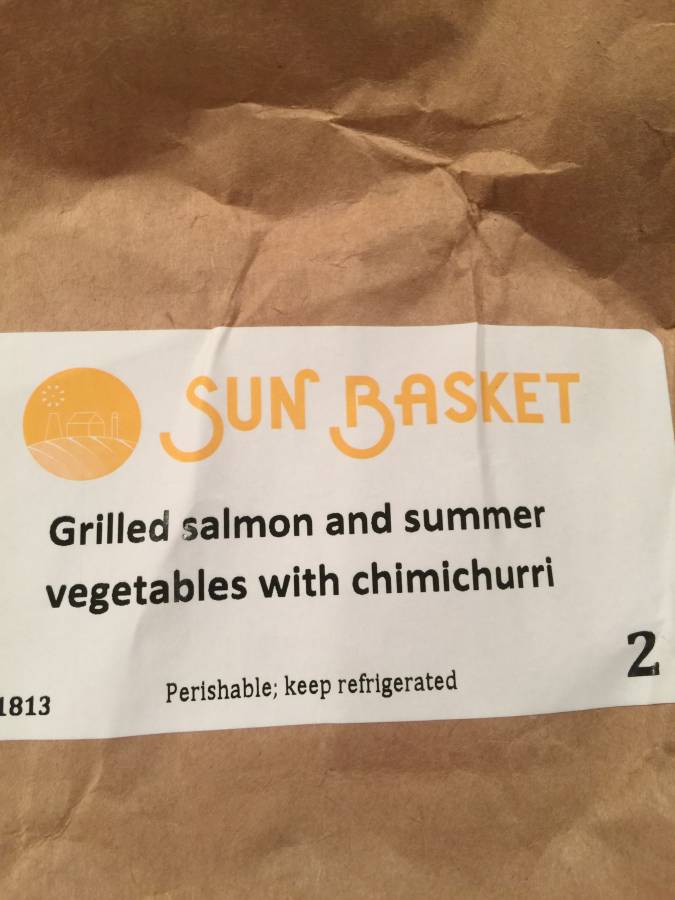 Tonights dinner. I see a pair of lips in the wrinkles above the word Sun Basket. When we get a shipment in the sun really shines! Great food. Organic food.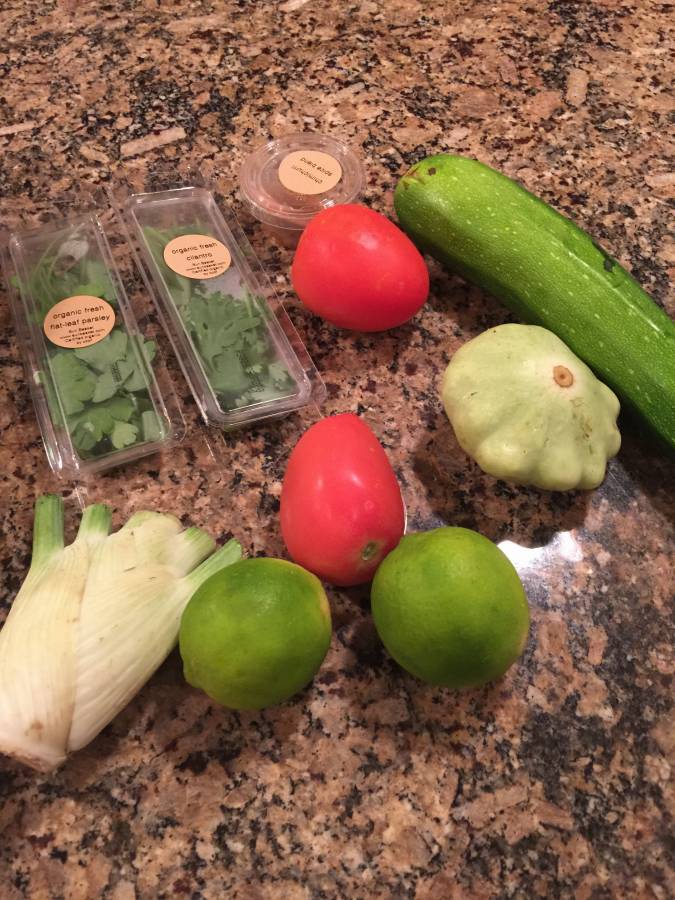 I was like WTH?  What is that thing on the left side of my pictures? A hand ? A heart? Fennel.  Never heard of it. I eat with my eyes. Not literally but I am like a real picky kid. If it looks weird or something I dont think I will like I dont eat it.  So far I have eaten everything we have received. I am trying to get out of the box and try new things.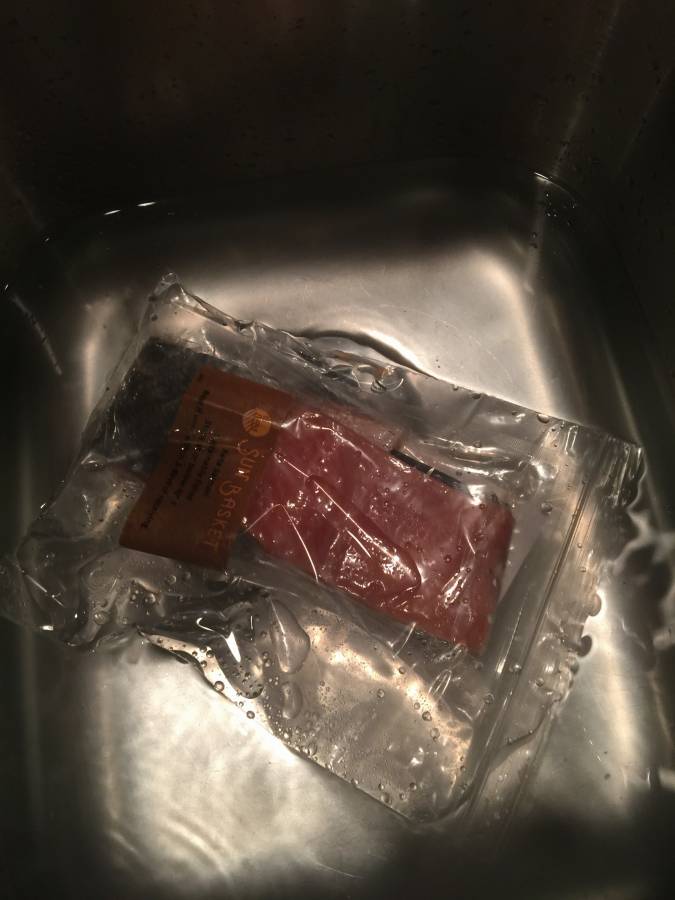 I usually use my Biltmore knife but I decided to use the ones I bought at Costco two years ago! YES TWO YEARS AGO.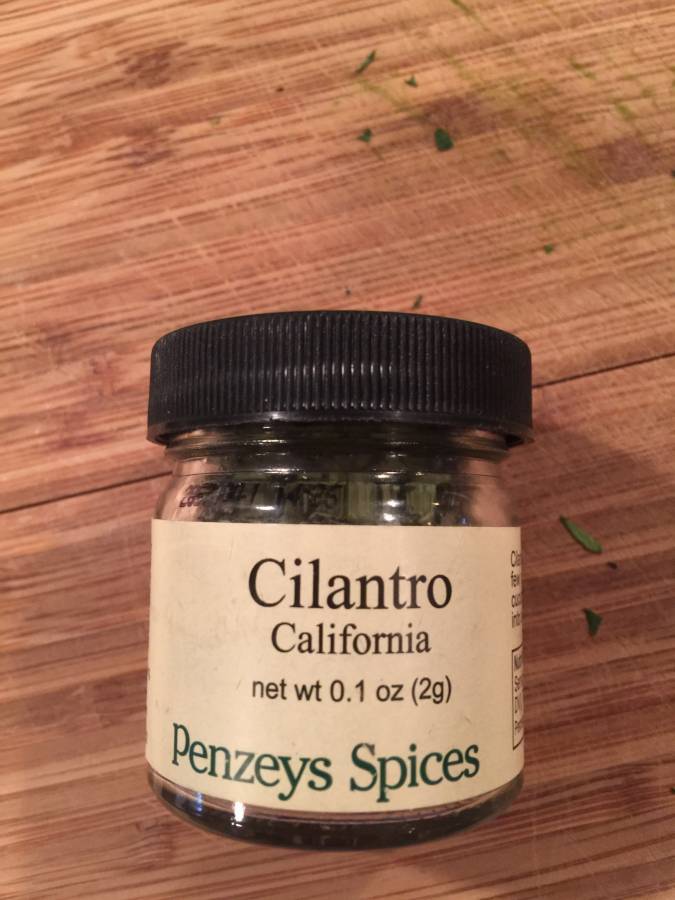 Ok fresh Cilantro came with the meal. I can not tolerate anything but Penzeys Cilantro. I am sorry it has nothing to do with any company or any restaurant. It has to do with my DNA.  Seriously that is one thing I found out when I took a 23 and Me DNA test  along with a DNA from Ancestry.I just knew they mixed up my results with someone else so I took two. Nope got it right first time.  One of the things I learned is my DNA does not like Cilantro.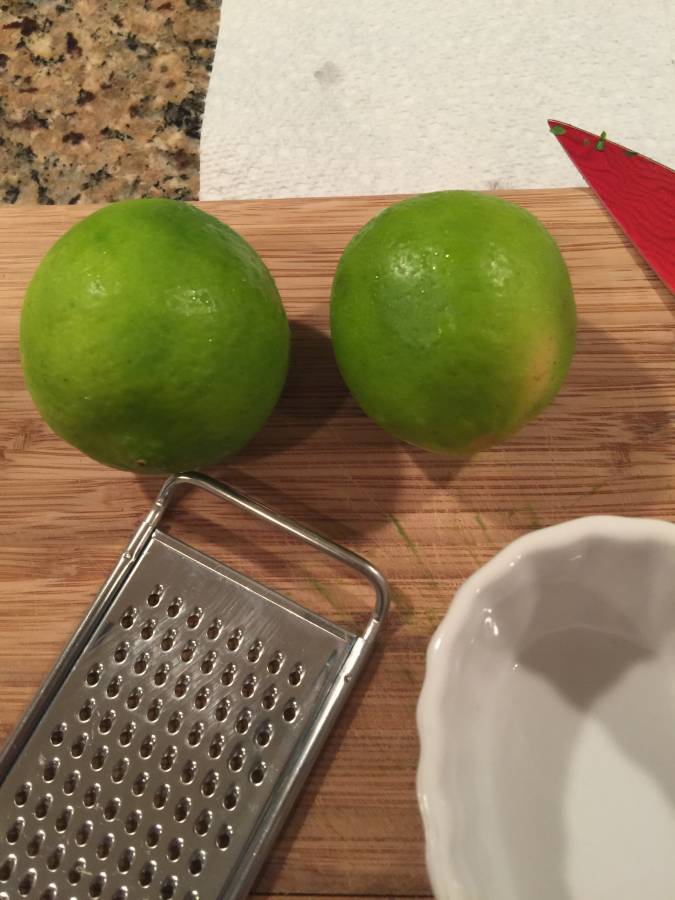 Hallellujah, I LOVE LIMES!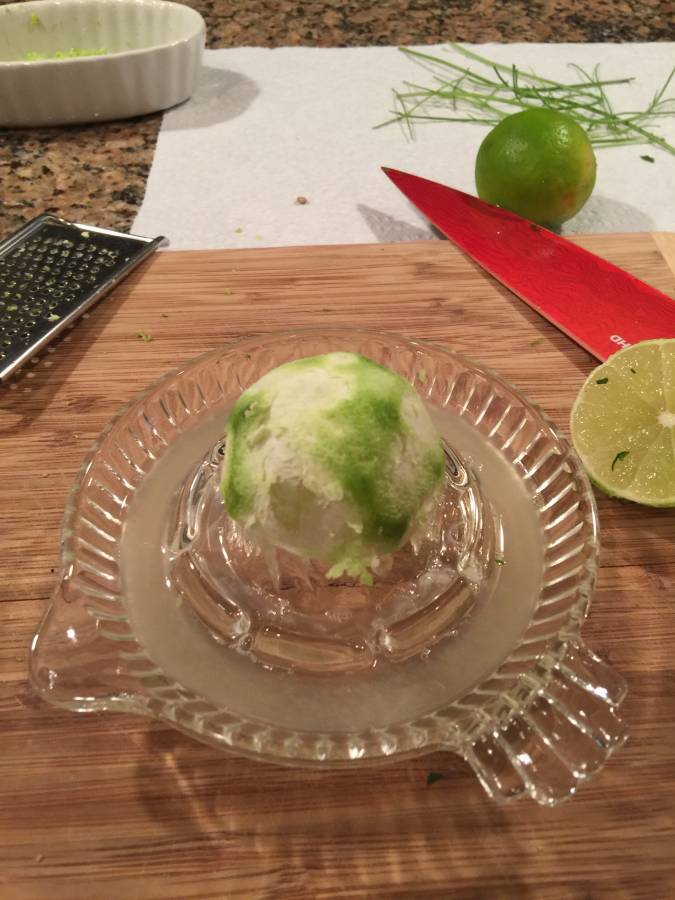 I had to zest one and juice both. So far no zesting knuckles. Granny is smiling down at me. Her baby is using her juicer. I love you Sadie Mae and miss you. I dont want to see you for at least 60 more years!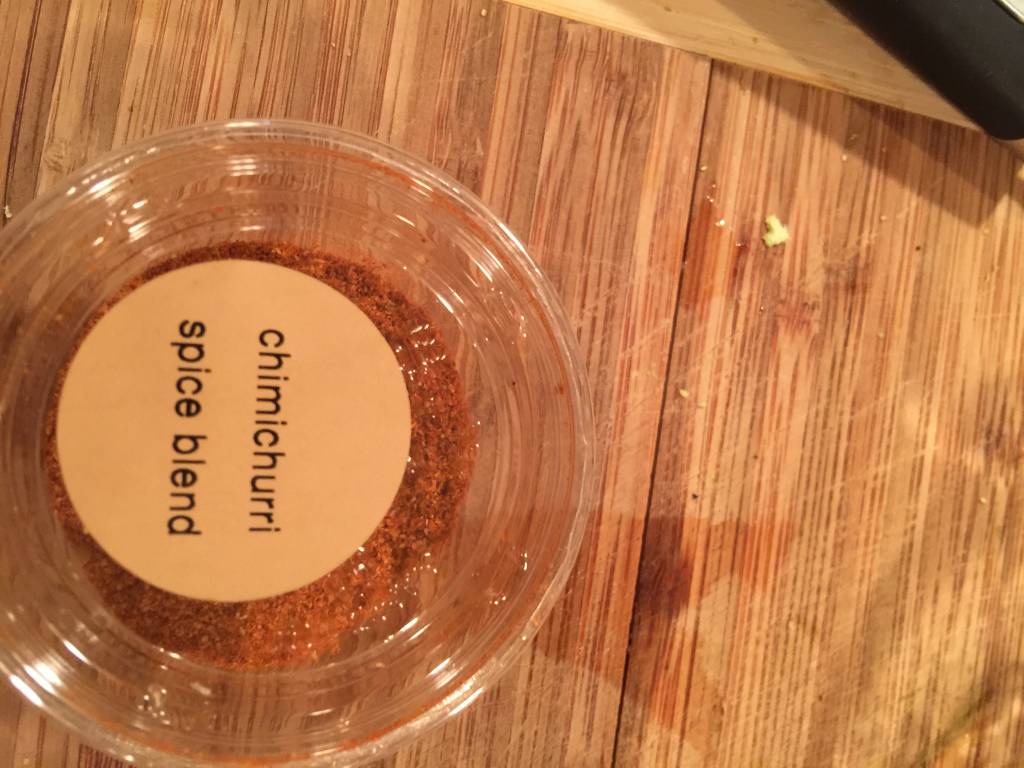 Never heard of Chimichurri. I was ok let me do the little finger test. You know where you dampen your little finger put it in the spice and taste. Ok I liked it.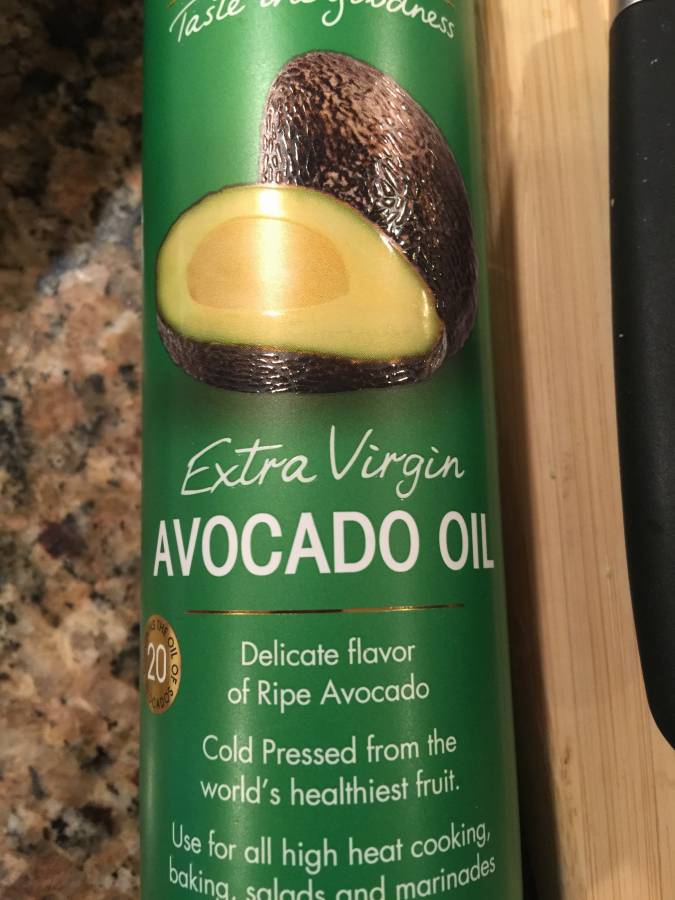 I ran out of Grape Seed Oil from Whole Foods, so I brought out the Avocado Oil. It is good.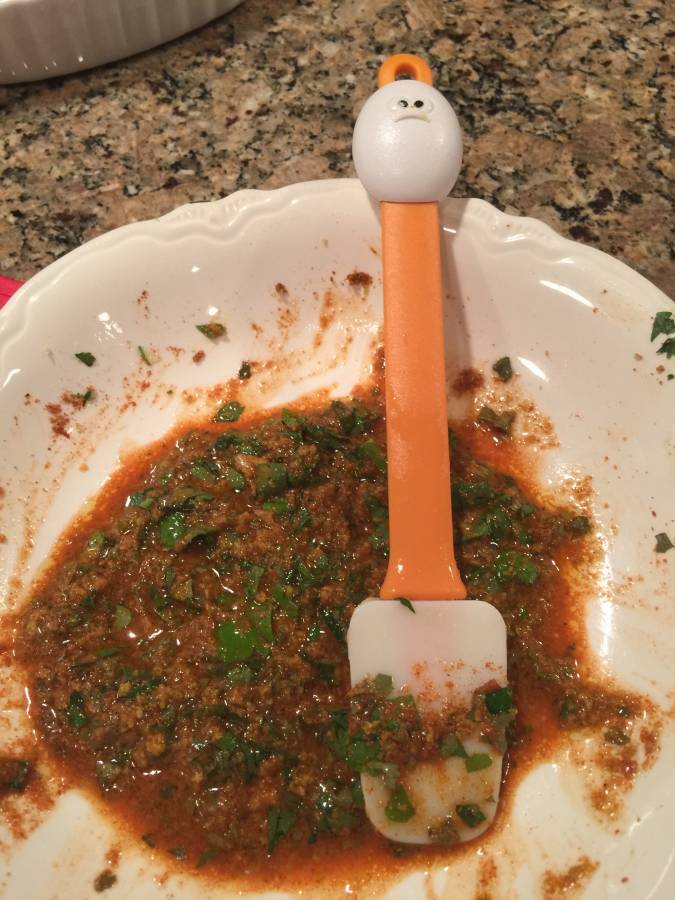 Mix resting quite nicely.  I think I may put a tiny bit too much lime juice in it but it did taste good.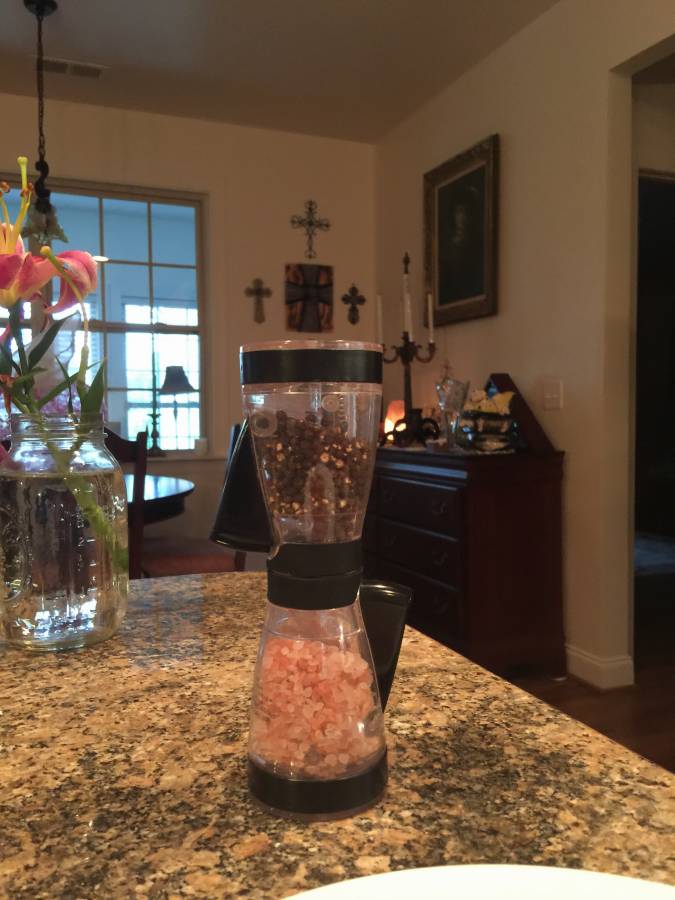 My beautiful neighbor Ali who loves to eat and does not gain an ounce told me about this salt and pepper shaker and I bought it .. I am sure glad. She was with me the day we picked it out. It really works wonderful. Thank you sweetie.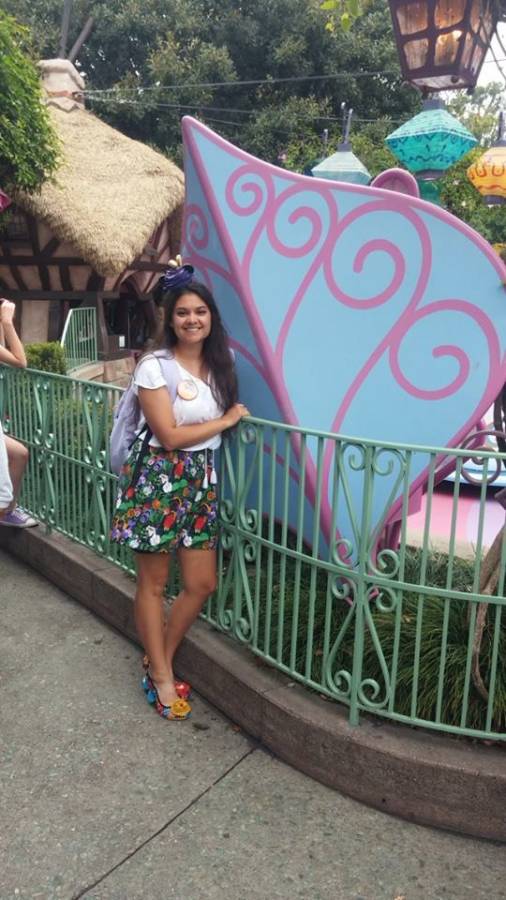 She is a beautiful, smart, sweet young lady. I just adore her! Her mother and I share custody!!  Her brother Luke is my helper around the house. I was so glad to see him this week working around the pond. Very good young people. She is beautiful inside and out and very talented. She paints my Apple Watch bands. I have one of a kind. I have about 20 more to give her!!!  Don't fuss. You know I love ya little girl.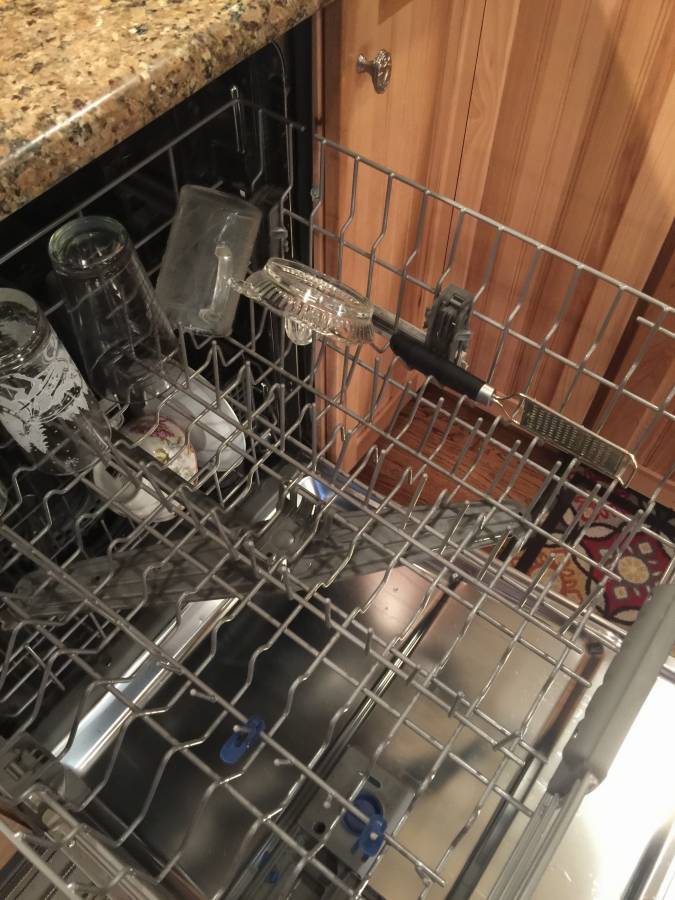 Clean up a breeze.
Prec overseeing everything I chopped up.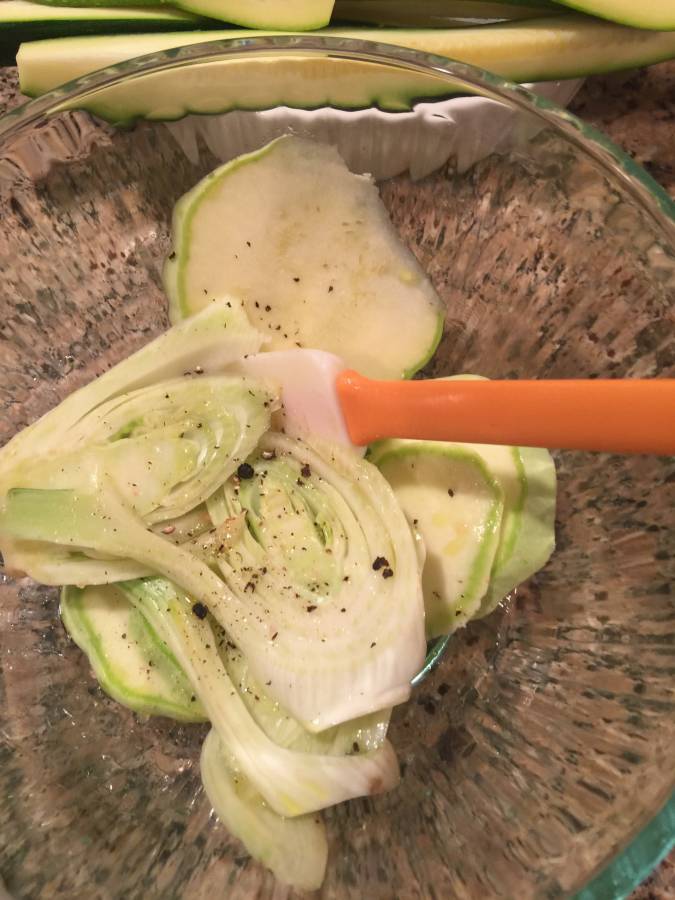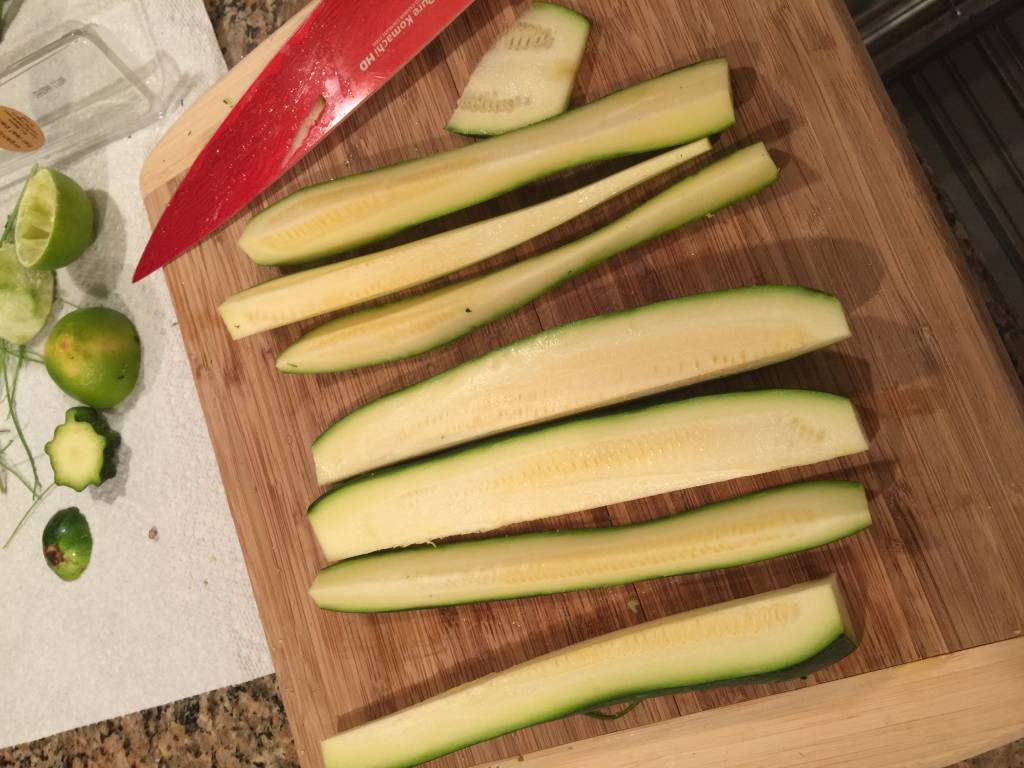 Fennel and squash.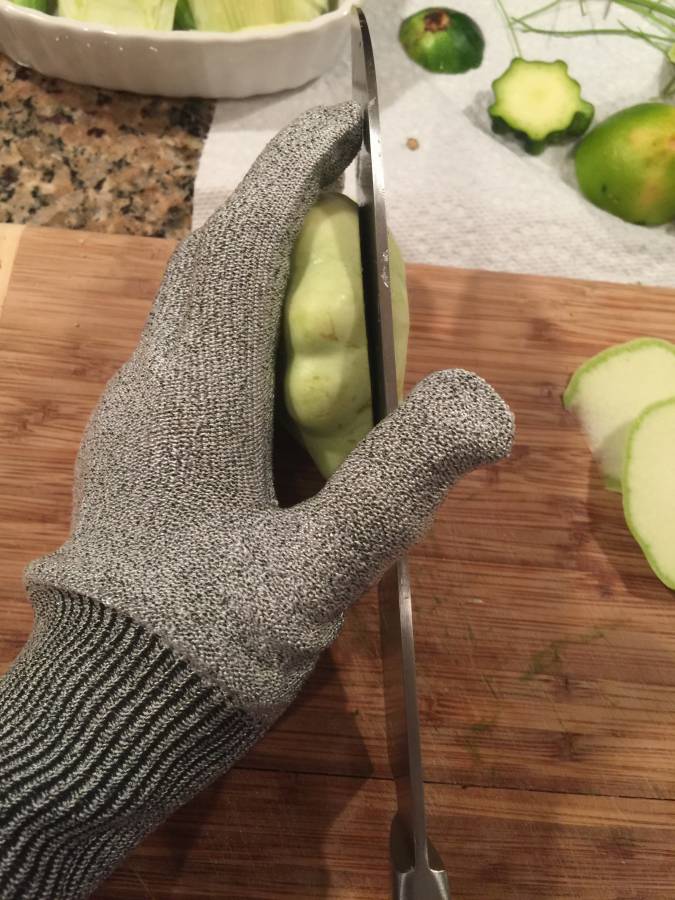 Ok you can't cut yourself with these gloves.The are to use with my mandolin. (Slicer) which I never have used but I have it if I need it.  After fighting yesterday with the weedeater and the weedeater won I decided not to hurt my sewing hands. Which I do not get much sewing done in the summer. Between yard work, cleaning out things that need to be cleaned and now cooking I am one busy chick!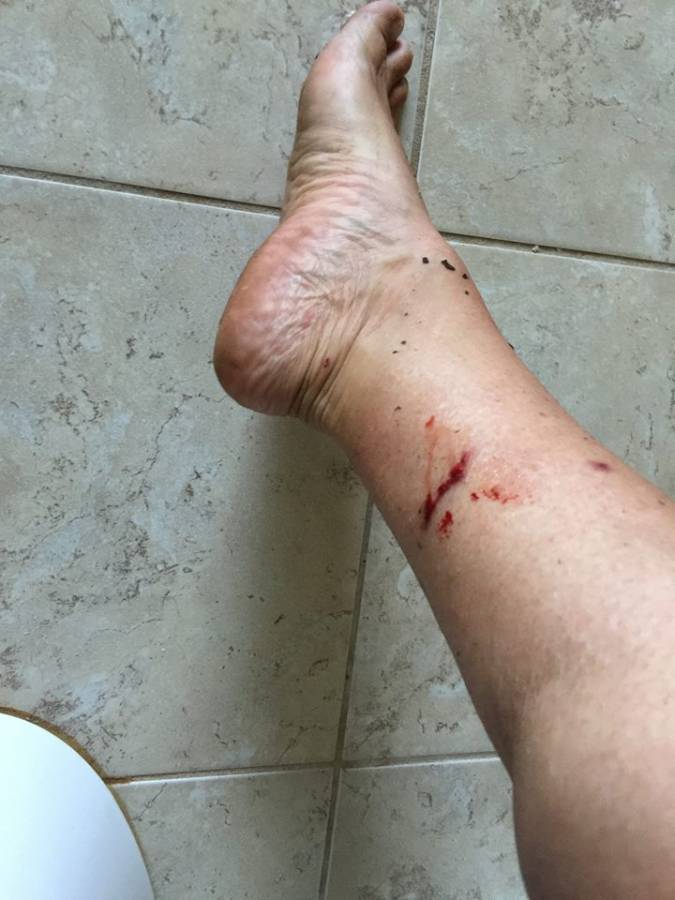 I used some of my Oregano oil mixed with coconut oil. The Oregano oil was from Young Living. Today my leg already looks better. I will put some more on before I go to bed.  It is really some good stuff.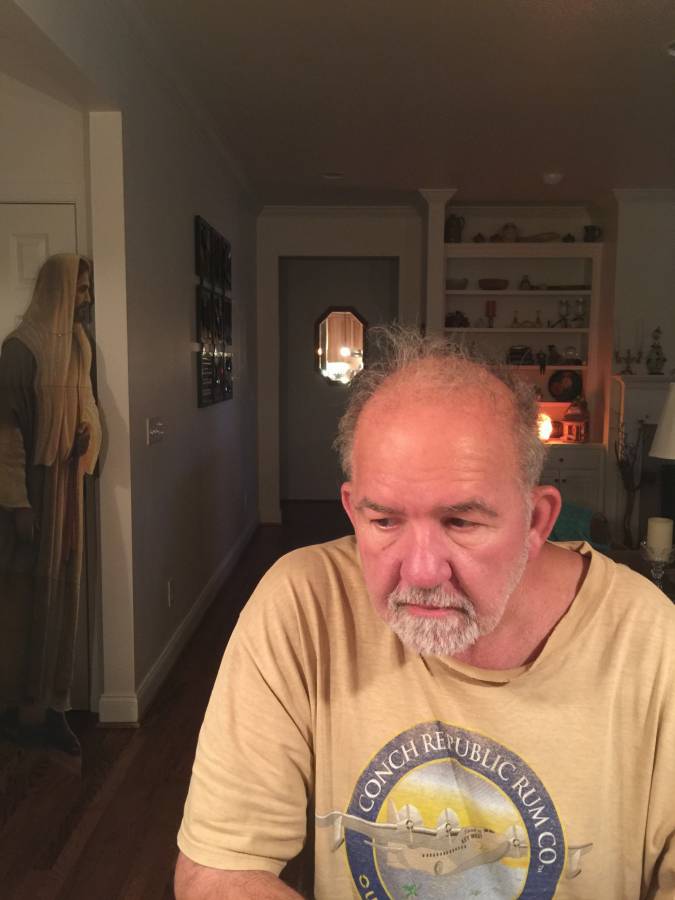 My Precious just woke up from a tiny nap. Note the hair style. He has on my favorite T-shirt. We got it in Key West years ago. I think it was at the Conch Restaurant. I wonder if that place is still there. Precious and I have been married 30 years this past June.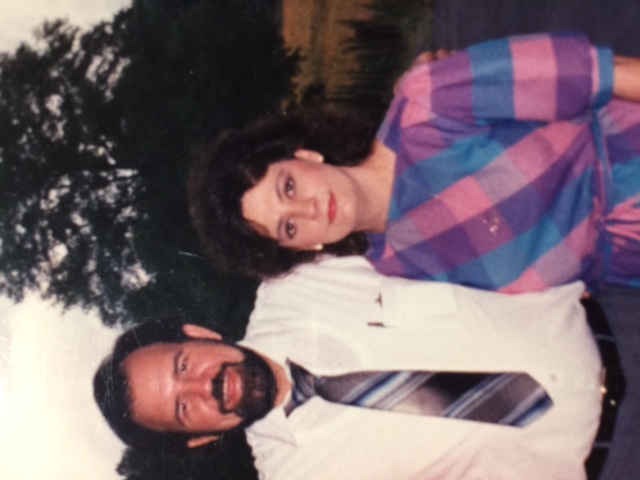 I dont have a clue why we are sideways.  Just turn your head. We had been married two months. My gosh what time does to you!!!!  Dang it I hate it I can not figure out how to flip!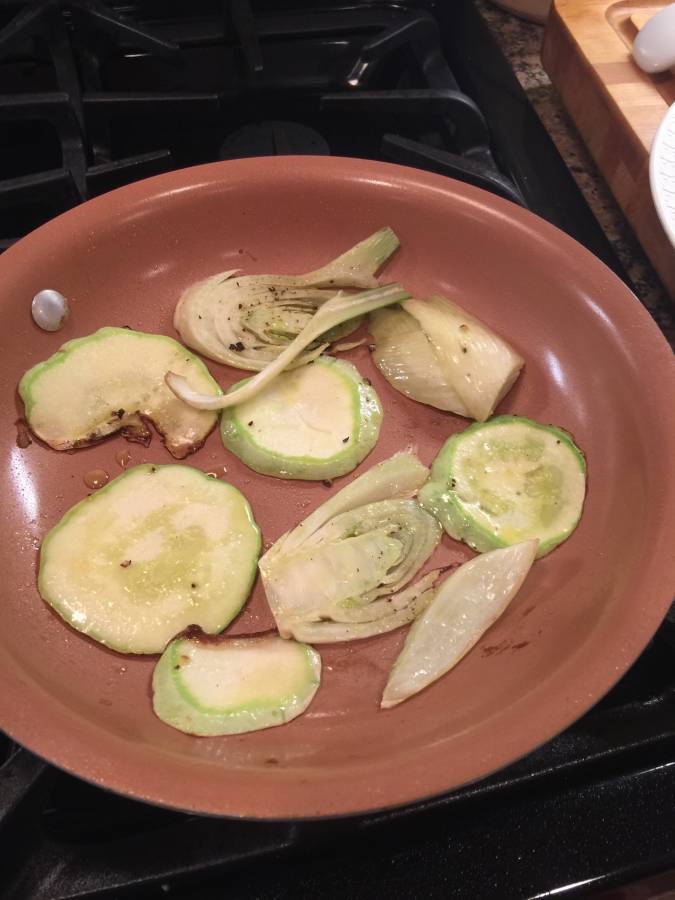 I could not get everything in one pan.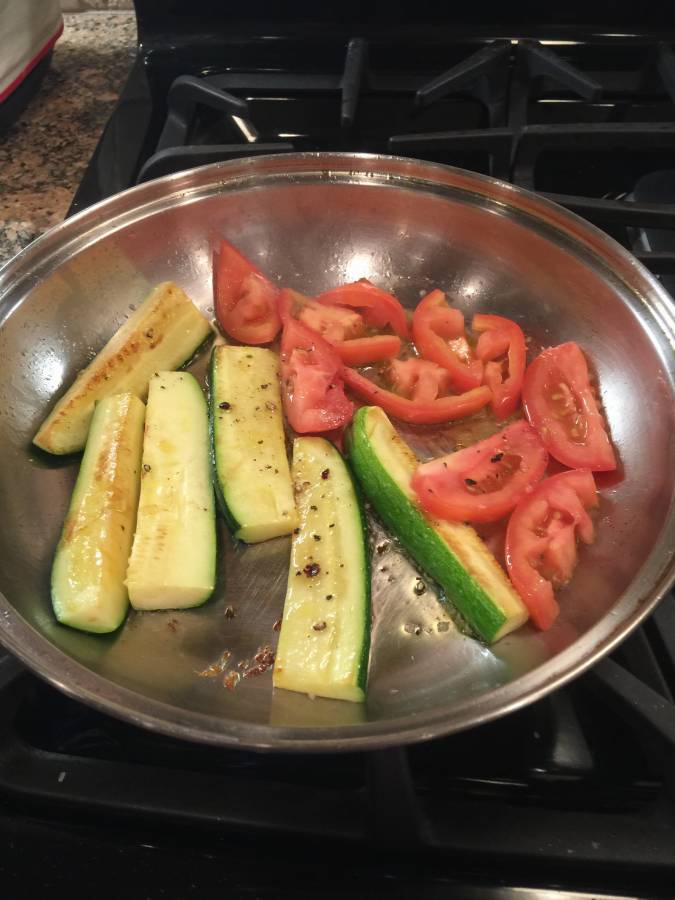 Luckily I had another one.
My mother in laws plates. We ate off them at her home all the time. I got them when she went to Heaven.  I have a yard full of Zinnia's and until tonight I did not realize the plates were Zinnia pattern.
I am not a fan of salmon. I will eat it but I am a fan of Precious. He loves it. It was really good.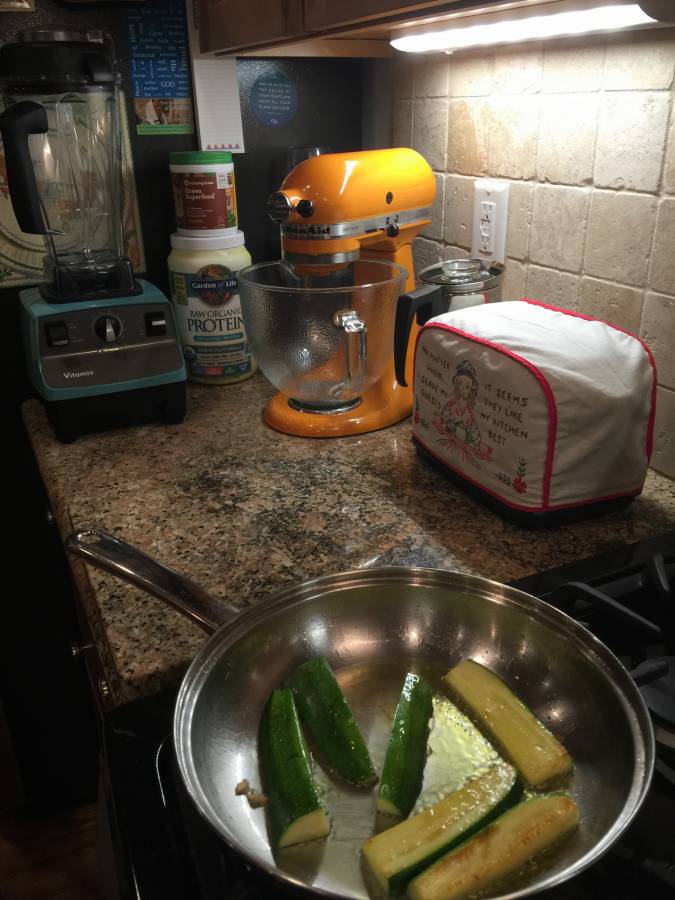 The squash smelled so good.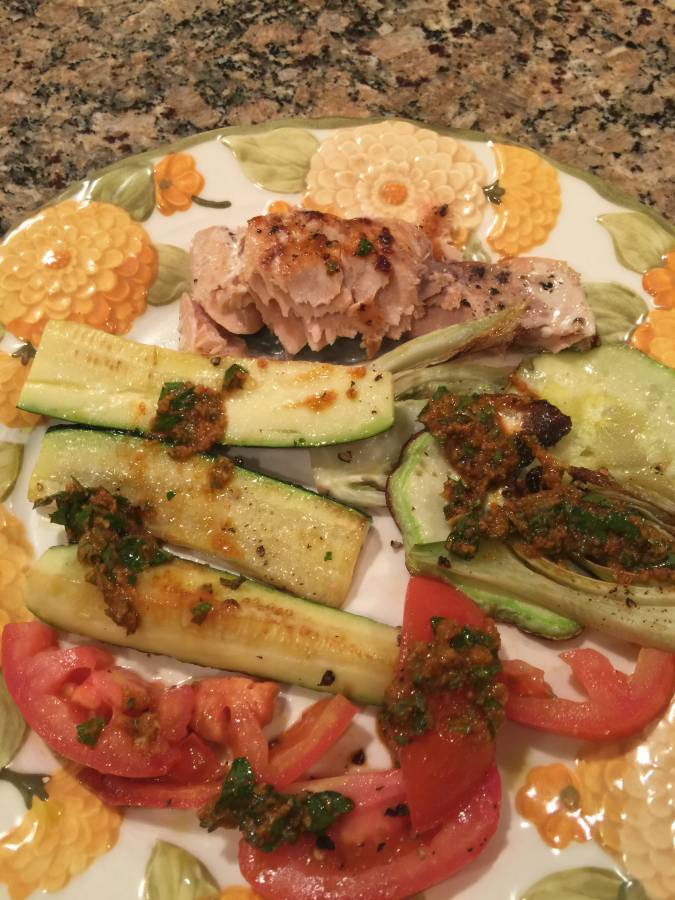 It looked really pretty on the plate. It was easy to fix and fast.
We have enough for tomorrow night.  I will just warm up the Salmon that is left which is one whole piece and cook the veggies. It won't take 10 minutes total and dinner will be ready. Then our next shipment will be next Tuesday. It can't come fast enough.
Use the  special link below and you get $35.00 off your first order. Also you can quit anytime which I doubt you will and if anything is wrong you can let the company know and they will fix it. The food is organic and so very good. I am a dummy on cooking.  I would wake up in the morning and before my eyes opened I started stressing what I am going to cook that evening.  Well I dont have to worry about that but for three days. I got a system worked out.  One of those days eat out, then hamburger on the grill and some type of sandwich unless I can figure out two nights eating out.. However I will say it is less expensive to just order one more meal from Sunbasket. I am getting two now and that is 4 meals.  There is so much with one meal you can make it last two nights.  This winter when we hate to get outside in the cold I think I will go to three.
We will order this again but first we are going to eat our way through everything Sun Basket has to offer so that will take a long time!  I'll keep you posted. Maybe tomorrow I'll be back sewing and using my Brother Dream Machine.  I am going to be at a Blount County Quilters Quild Show in October. I have to get busy!
https://sunbasket.com/invite/Chris793706