Jerri Wood of Dry Creek Antiques had a junking party. It was really fun. It was my first part. I guess you could say I was a virgin junker. Here is the invitation
JUNK SWAP
June 25th
Ladies,
As you know we love our "JUNK".
So let me tell me What this swap is all about?
We all have stuff and we, as women tend to change our mind,
some of us quite often.
So we will bring our stuff and put it in a big pile ….. And then we get to go shopping for treasures from the pile!
If you bring 10 items, then you get 10 clothes pins to go shopping with.
If you bring 7 items you get 7 clothes pins, ( got it?)
This started from a blog we stalk that does this semi annually.
But we are going to have a little twist .
We are asking for a $5.00 donation from each of you to
Be given to a family that home was destroyed in the resent tornados.
This will be a fun way to shop with out spending any money, enjoy some yummy food, and send your loved – used treasures to a new happy home, while meeting new friends and helping out people who need it!!!!
The most important rules are as follows:
Up to 10 items can be brought per person. Items can be used, old or new,
You get the idea, right?
Items need to be loved but cared for.
All items will be placed together then we will shop by placing clothes pins on the items we hope to take home. If items get more than one pin, there will be a drawing….this will be exciting!
You have to be present and you have to take the unwanted items home.
If you would like to join us please let Tonya or Jerri know, so we will have enough food.
Well I got ready to head off to the Dollar General in Cleveland, to pick up Joyce.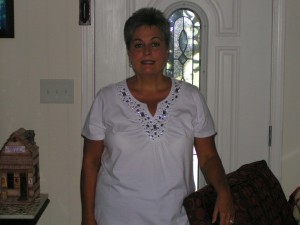 I decided on this shirt that Aunt Jan gave me last year and I could not wear it. Thank you weight loss!!
My items were in the car, I had the sunroof open and I was happily headed to the party.  Now remember I am the person that does not like functions, get togethers, but for some reason I wanted to go. I guess to see if I could.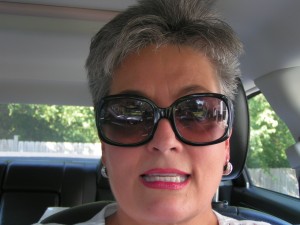 I look happy as I can be riding along with my little boy haircut.
Got Joyce and we arrived at the party.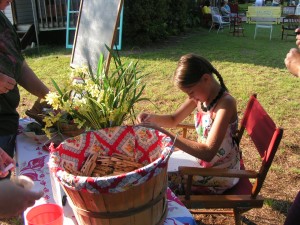 There was a sweet little girl working the entrance. Here is where you told her how many items your brought and she gave you the pins and you had to take a marker and write your name on the marker for later.
Here are some of the tables full of items.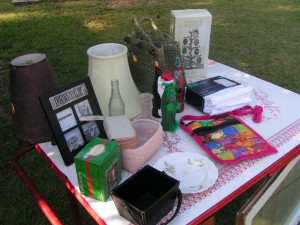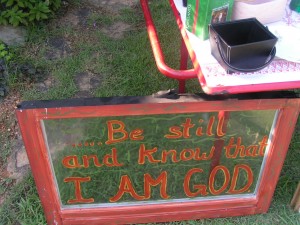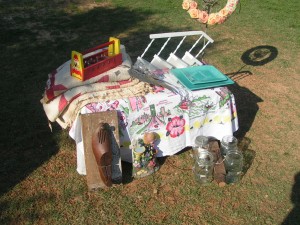 I wanted this Key West table cloth but Jerri said it was not up for picking! Durn it! I like vintage things like this.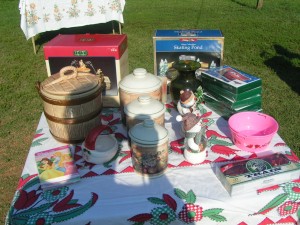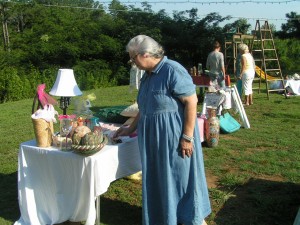 Joyce looking over what she may put her clothes pins on.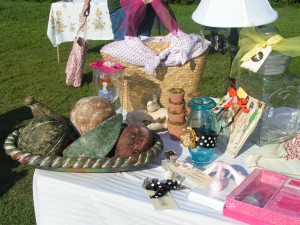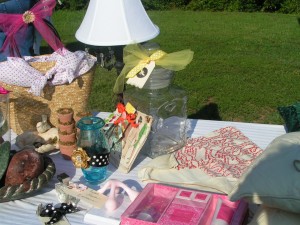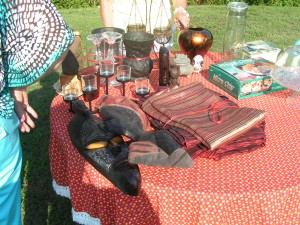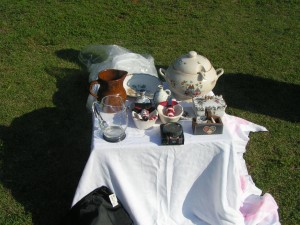 This was the items I brought.
Jerri had her home so pretty and decorative.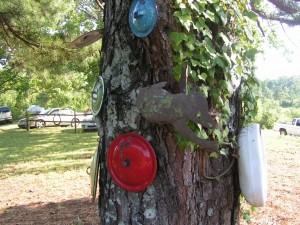 I love this tree with lids all over it. Gary will go looking for a lid to have in the kitchen to cook with and there wont be one anywhere..Just saying!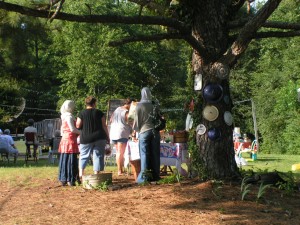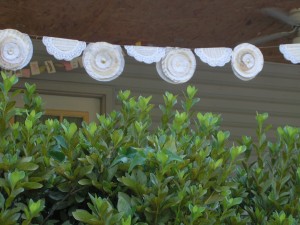 These looked like paper plates and doilies on clothes line string.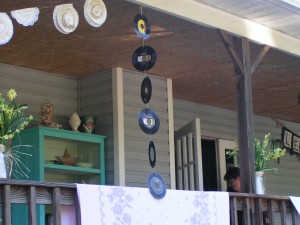 I love the old records. One thing you can say about Jerri..she has that knack of decorating and making things look good.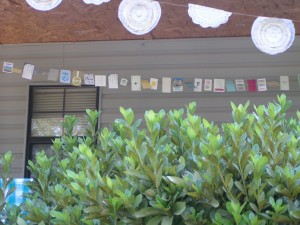 See the things hanging in the background? Those are Monolopoly card game pieces, cards, and grocery cards, all kinds of stuff. I dont how she comes up with these ideas.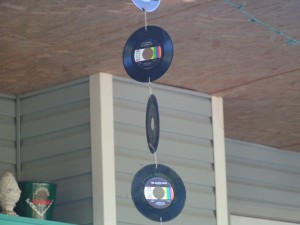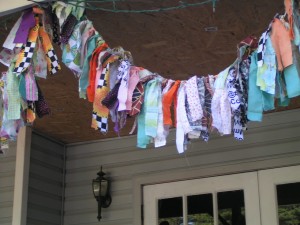 This was fabric strips. I am thinking about this for my sunporch.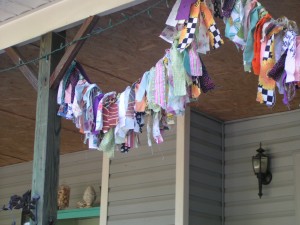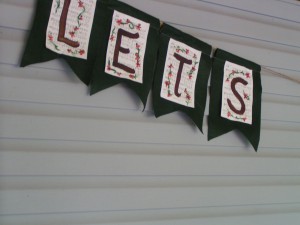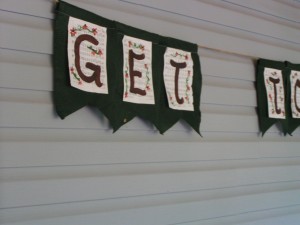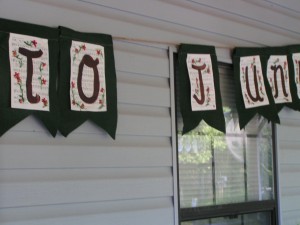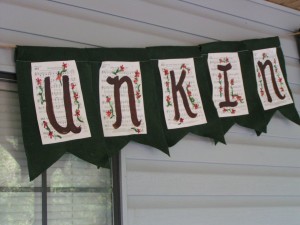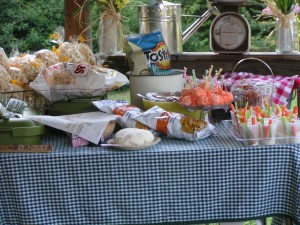 Invite them, THEY WILL COME! There were more women here this afternoon than I know total. One man and he was stiff competition. He won this big burlap bag. I saw he got the evil eye from several of us who wanted it!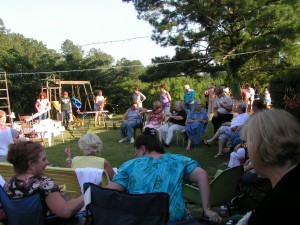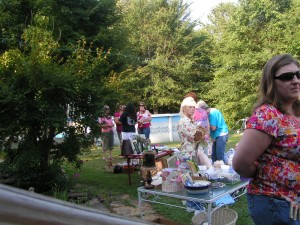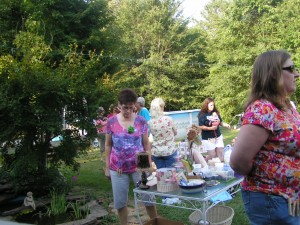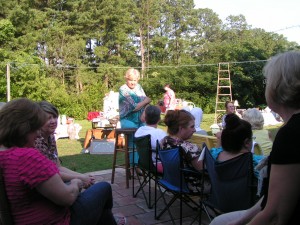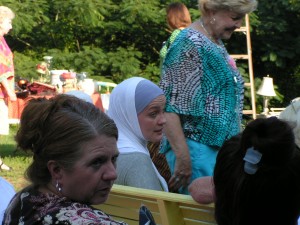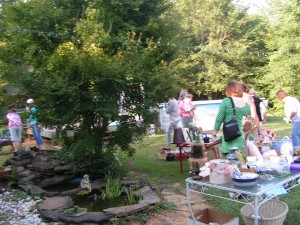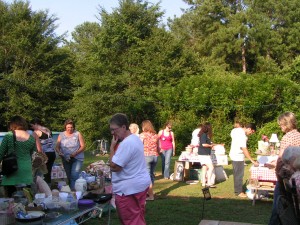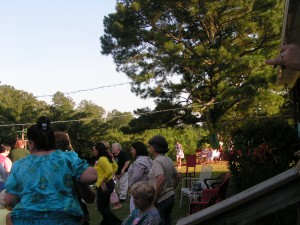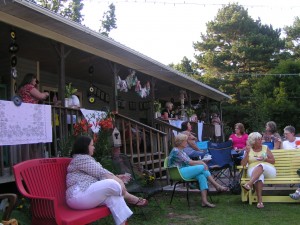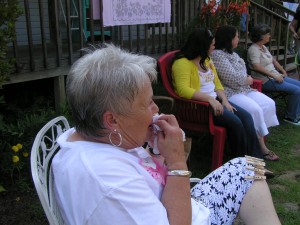 Barbara and I wish we had brought some of those funeral home fans, the cardboard ones on a stick. I love the way she has her pins on her shorts bottom.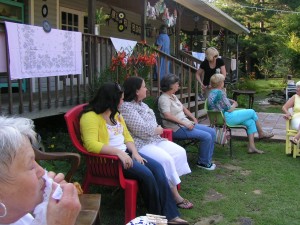 By now we were praying for a breeze!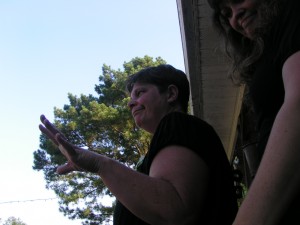 Then we got "Welcome to my home and here are the rules!"  Now it was the rules on how to use your clothes pins.
It would have been a perfect evening if it were not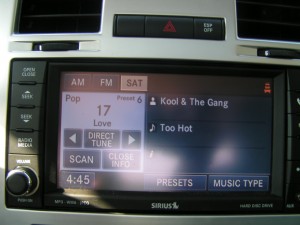 Yep too hot… We all were soaking wet but we had fun.
Thank you Jerri and Tonya for hosting this. My first and I enjoyed it.
I came home with an elephant planter, two clocks , a painted piece of wood to go either on our back porch or over our bed, a red bottle for my bottle tree, a purse and memories.