If we are in a drought there is a cure for it.  Homestead Hollow. It never fails it ALWAYS almost rains during the three day show, well at least one of the days and today was no exception.
I checked Weather Bug and it said it was not going to rain until around 2pm. Deara and I decided to get up early and be there at 10 . We were.  Got inside went down one row, got a few things we came for and then headed to the food court for our potatoes and this time taco's.   ALL HELL BROKE LOOSE while we were eating. It started raining buckets. Monsoon time.
We finally got under the porch of a shed with a metal roof. I was doing a lot of praying. Lightening striking all over the place right in front of us. It was hitting the ground so hard I was shaking.  Finally one of the park people came rescused me. Took me to our vehicle and I got in came in the gate and picked up Deara.  Riding with the lady was like riding one of those duck things. She hit the water full force. At one time I swear it was up to the bottom of my shorts.
All in all it was a great day. Never mind we missed about six rows of crafters but we got our fried peach and sweet potato pies. I picked up two rings with mine and my husbands name on it for us and there was this Chinese lady selling her wares and if you purchased anything from her she would write your name in English on the front and Chinese on the back. I bought me a snake medallion and my husband a rooster. I was born in the year of the snake and he was born in the year of the rooster.  All is all it was not a wash out. We did have a good time. I guess the rain saved me from spending money so I can use it somewhere else!!!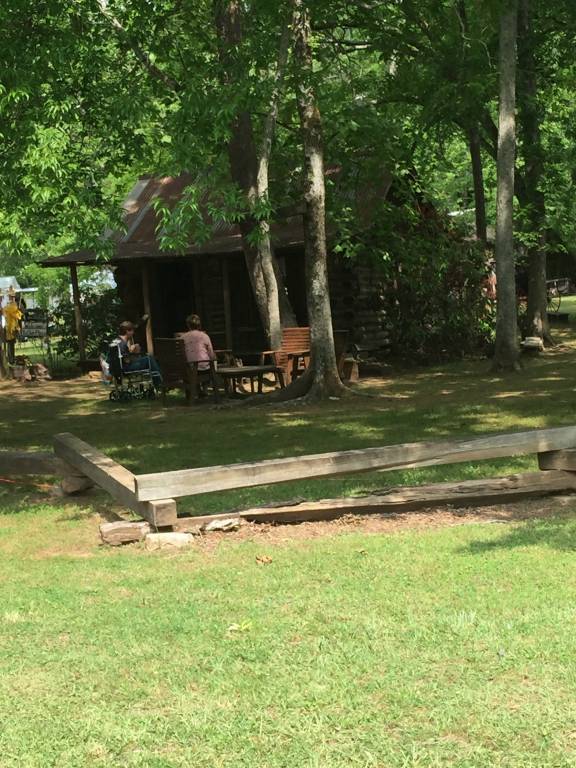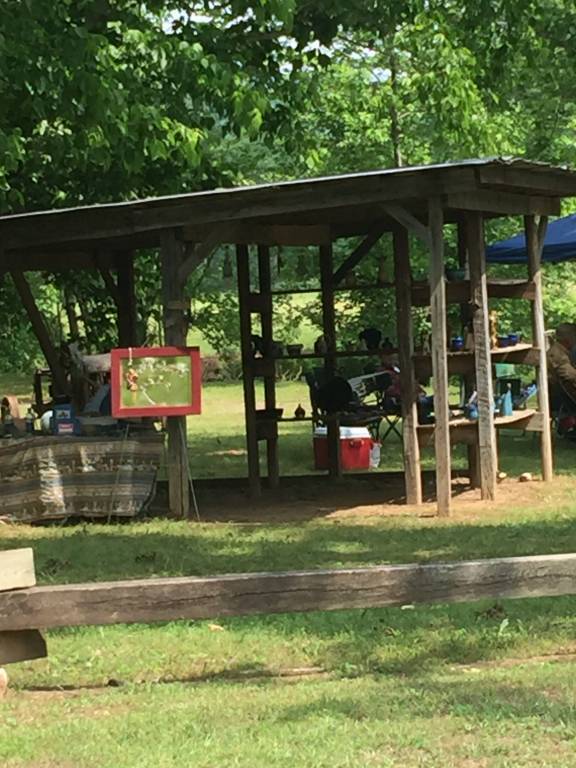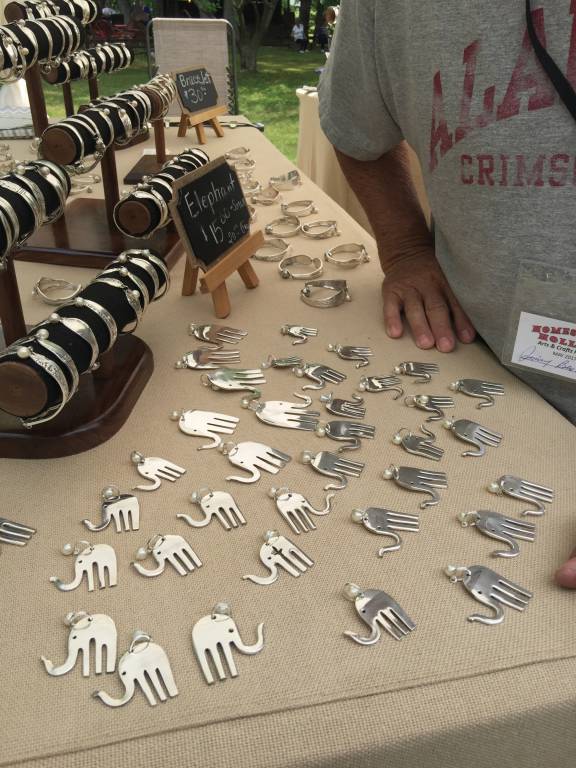 I am not an Alabama fan but I do love Elephants. These were made out of forks.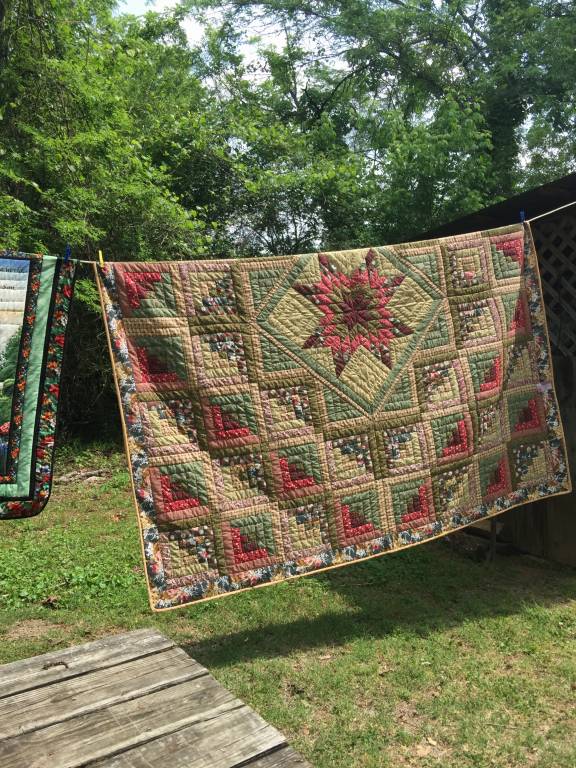 Quilts by Loretta Morgan. She has been at Homestead Hollow same place as far as I can remember.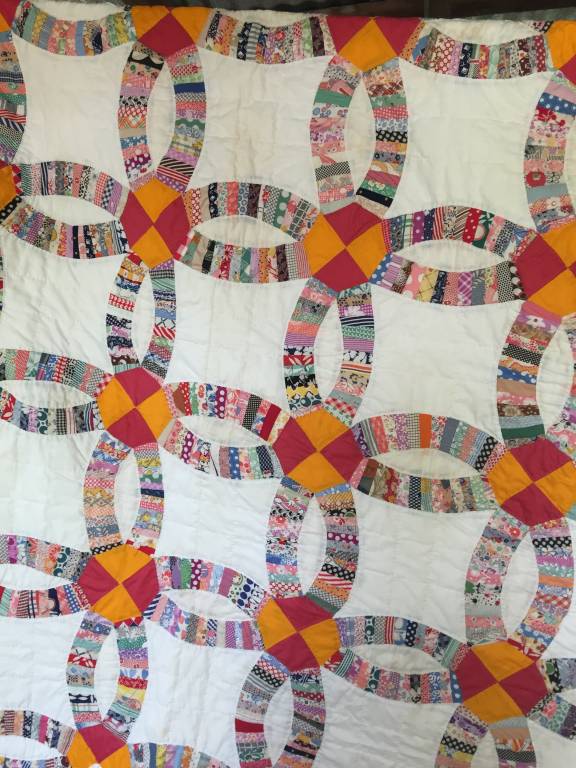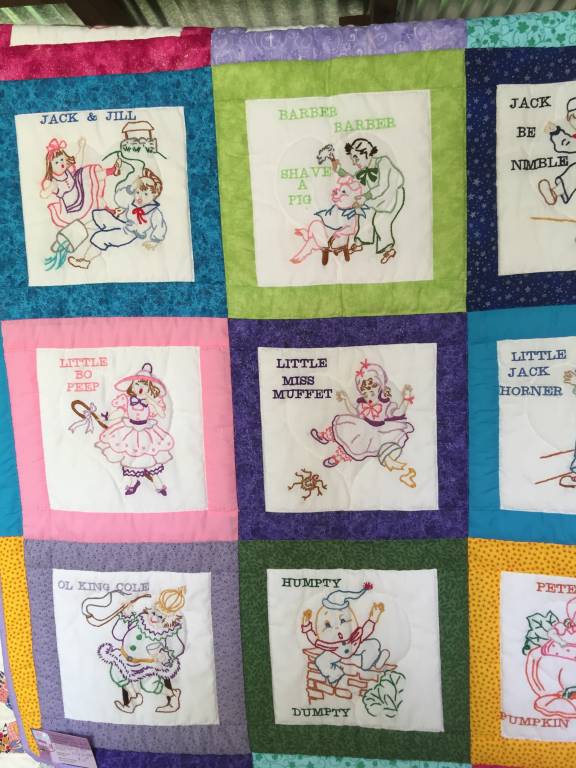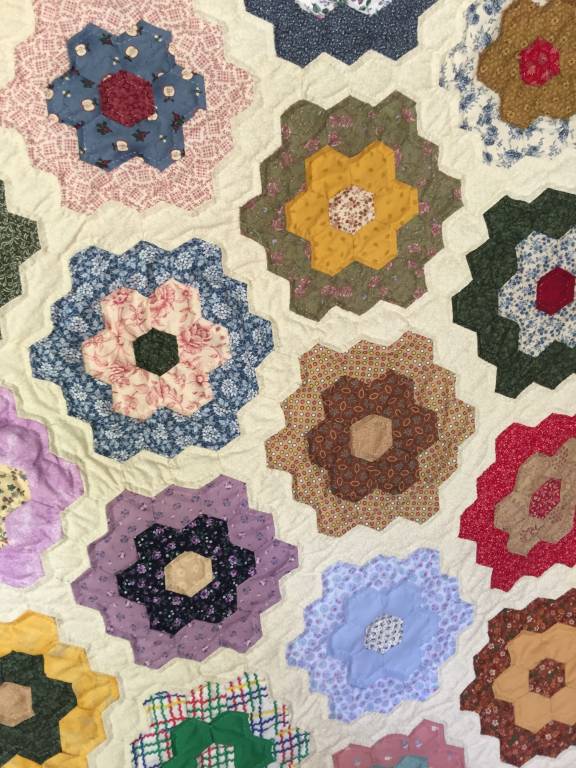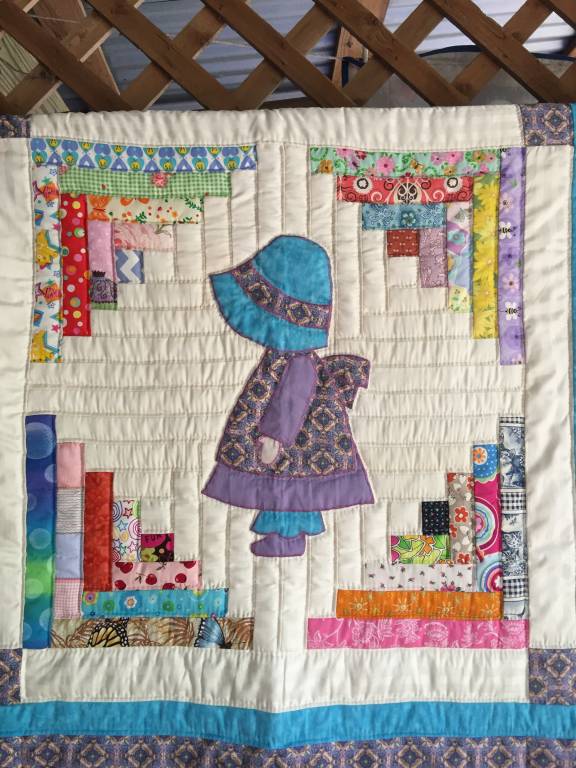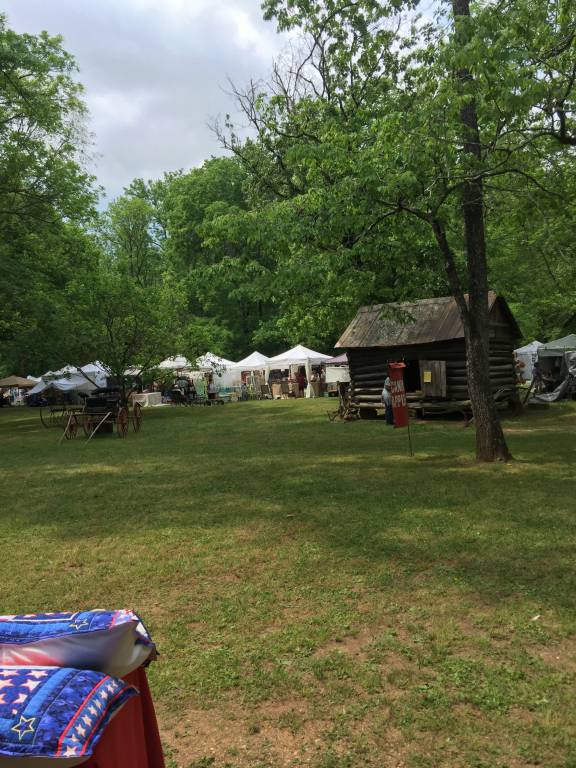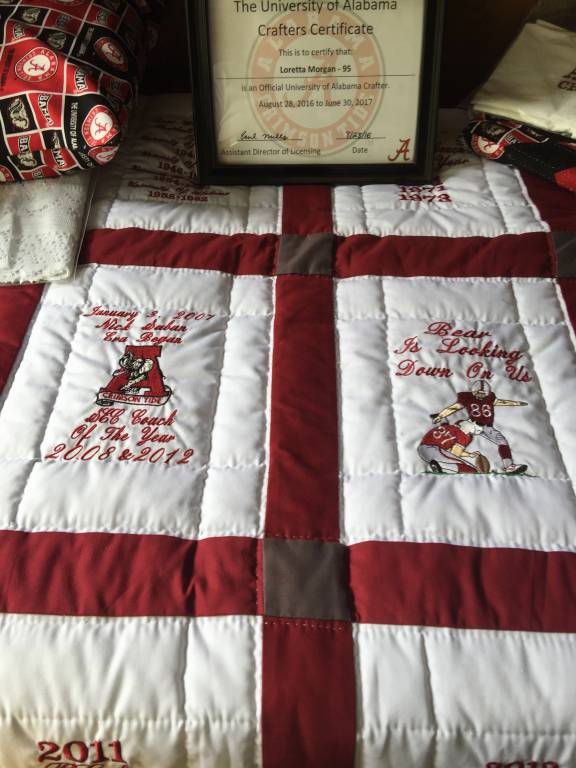 I would like to know how much it cost to get that certificate.  Colleges are so strict on crafters. They to me are so GREEDY they want every penny.
This was a hand embroidered bibilical quilt. I am looking for the pattern. It was beautiful. I want to make one on my Brother Dream Machine.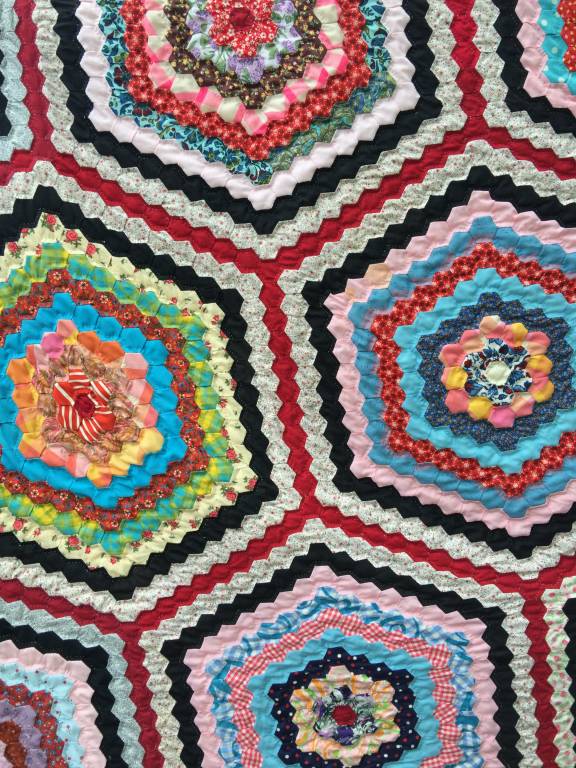 Thousands of tiny hexagons sewn together to make a quilt. BY HAND. I dont have the time or desire to do a quilt by hand. I love them but not for me.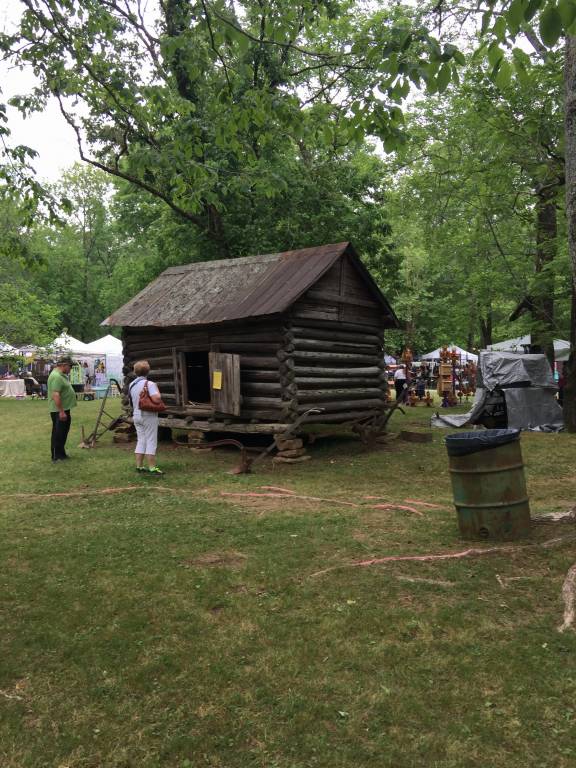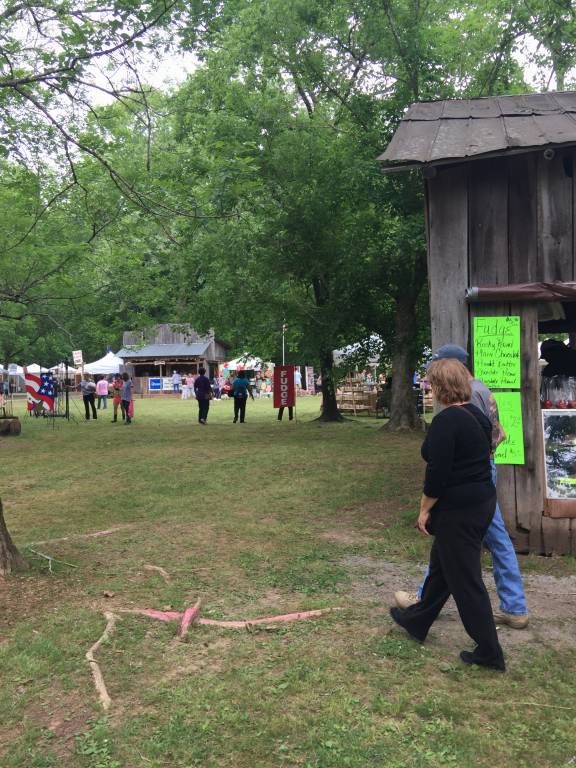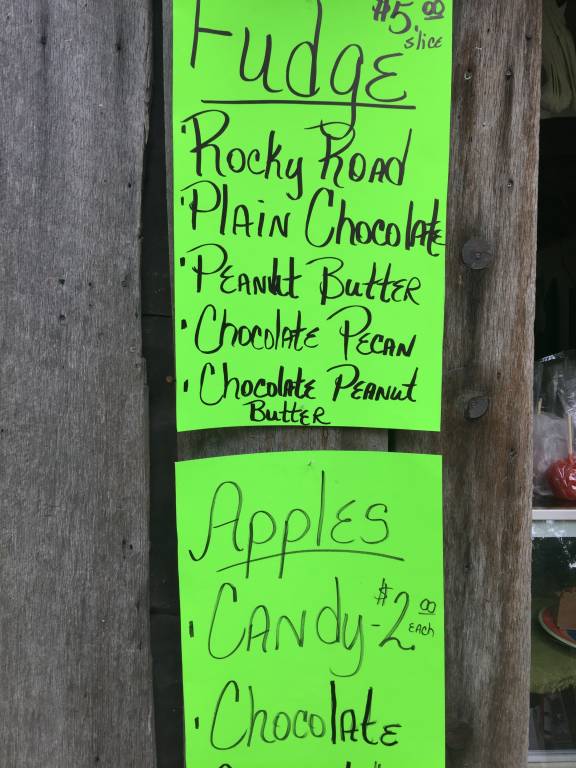 I sent two candied apples home to someone special who helps me cut the grass!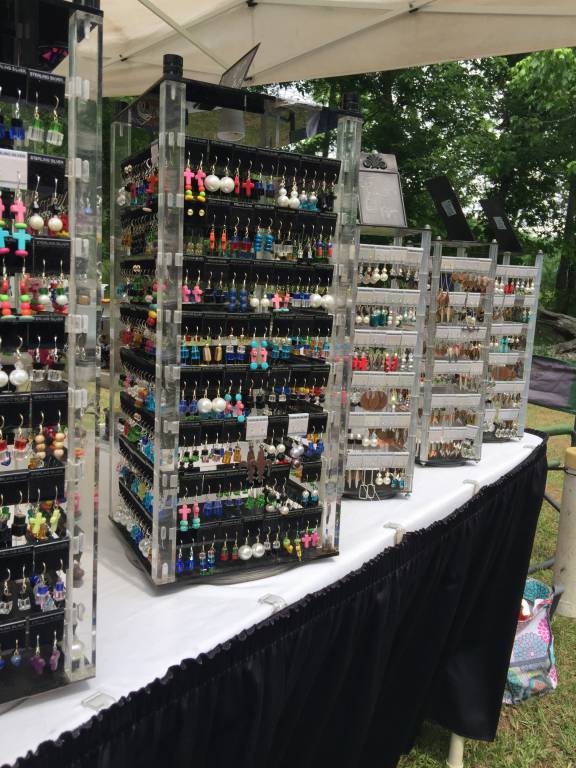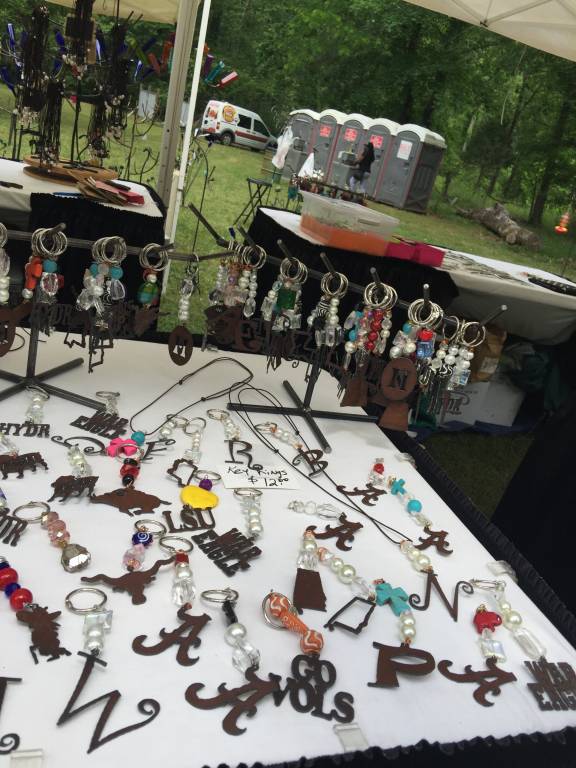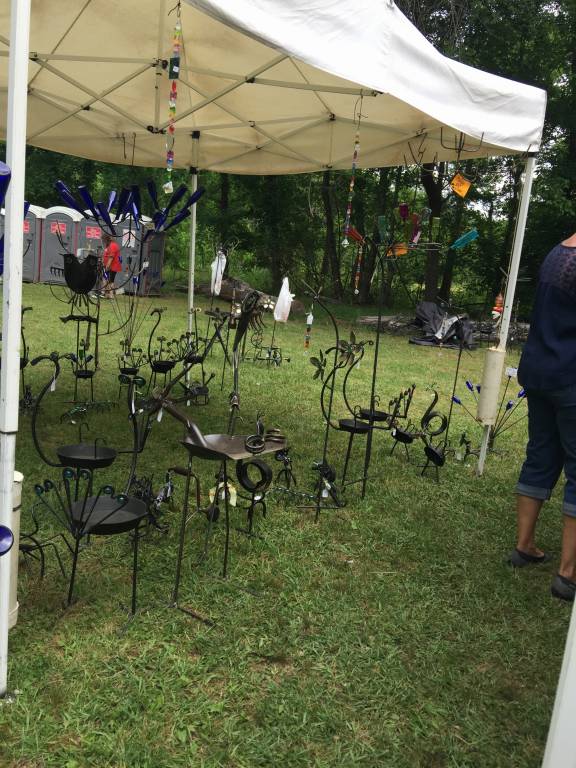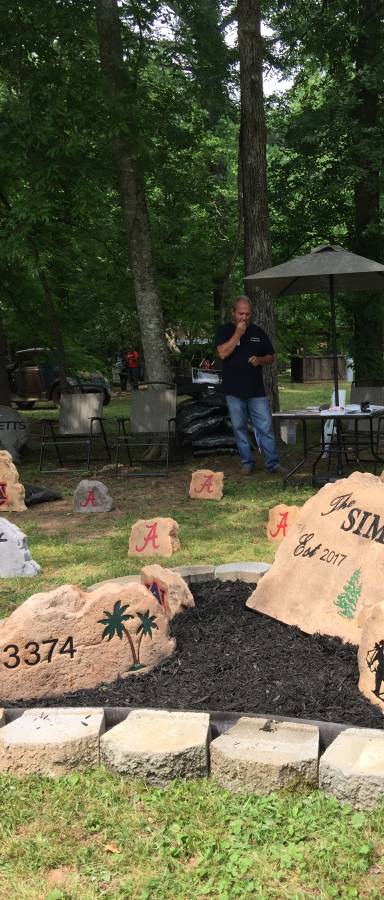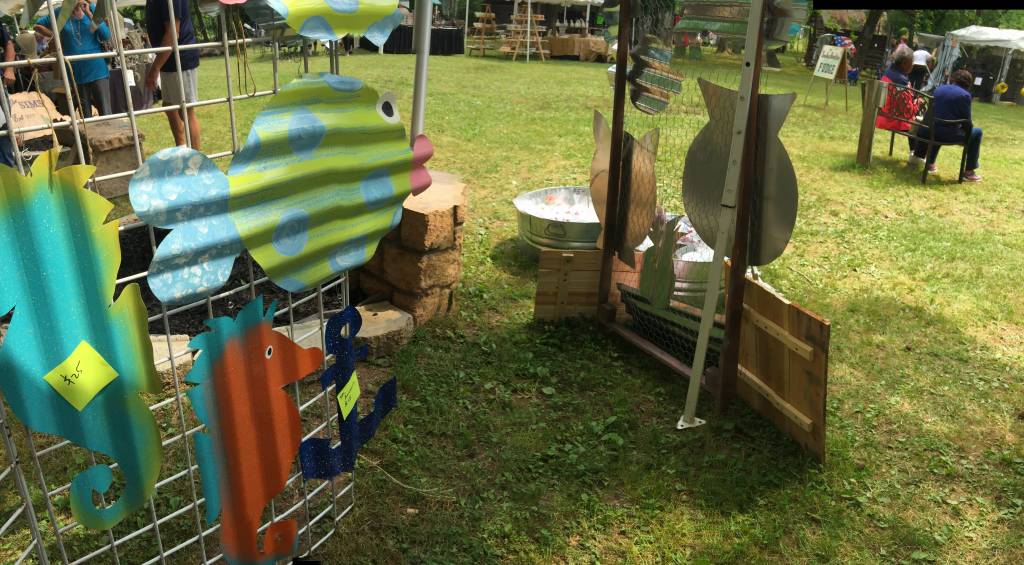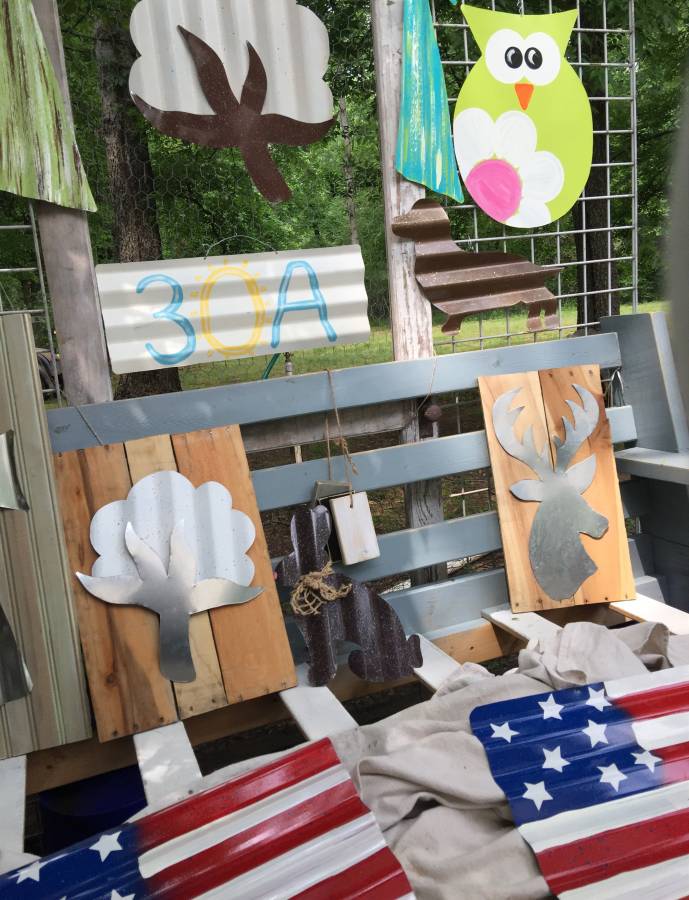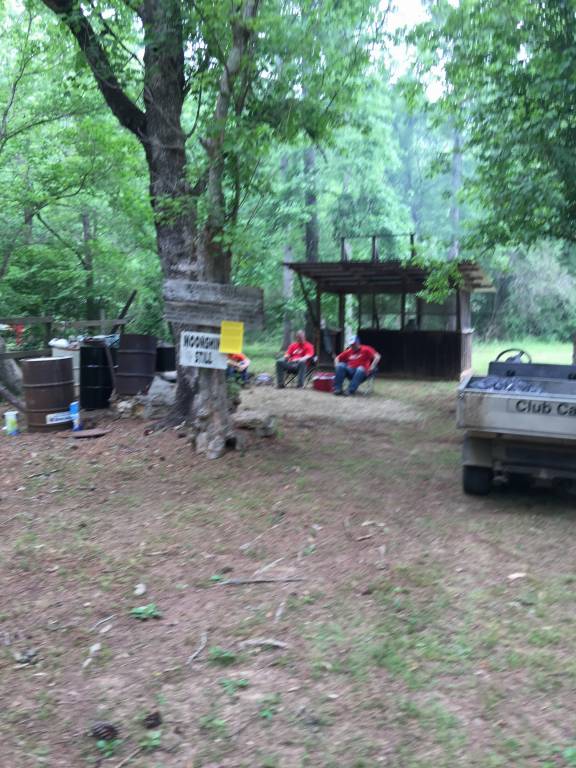 These two would NOT let you sample the moonshine. Oh you could smell it I'll give them that much they held a jar up to your nose. I said "that is ok.. I'll get mine from home or Deara's out of her copper still."   NEVER MIND THAT WAS A LIE OF THE DEVIL AS MY GRANNY WOULD SAY. I am not deliberate doing anything illegal and no I do not have a still nor do I even have a desire to make moonshine. I would however like to have a jar of the authentic kind. Just for medicinal purposes of course.. Of course!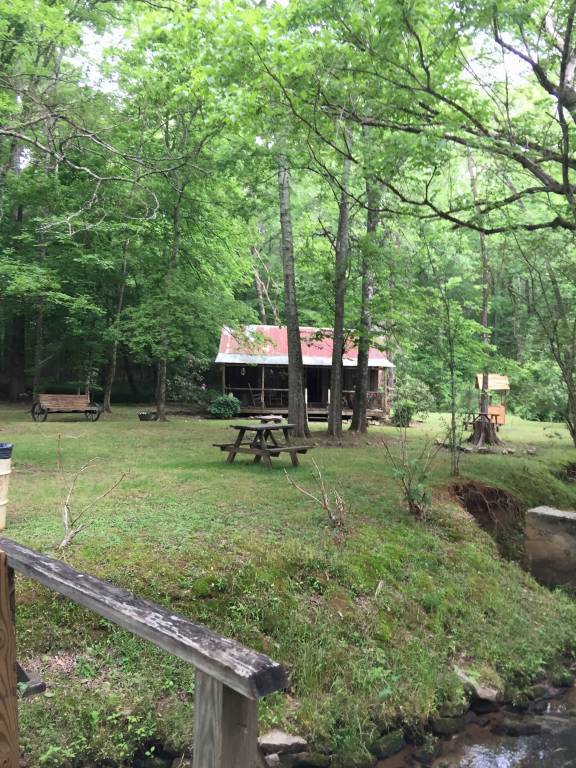 I need one of these down by the pond. I think it would be so fun to have one decorate it up like years ago and no electricity. Just rough it. On second thought electricity. I need to be able to watch TV or computer.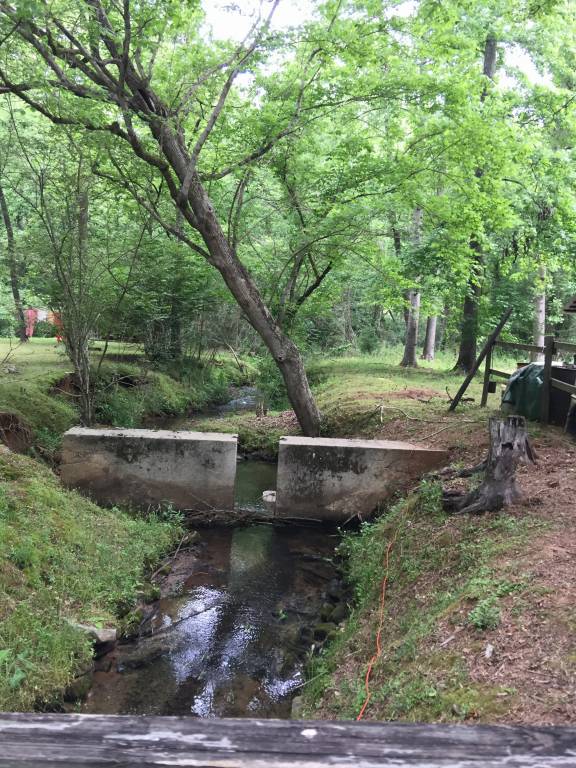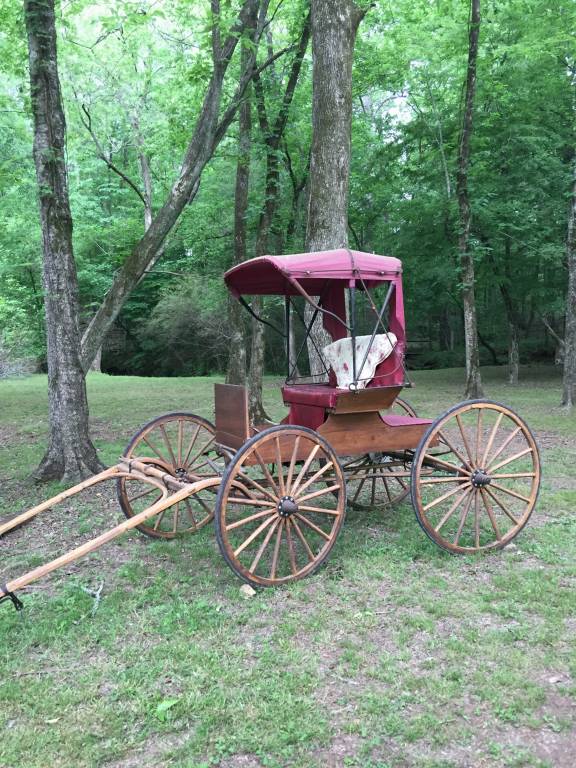 My neighbor has horses she may let me borrow one to get around town.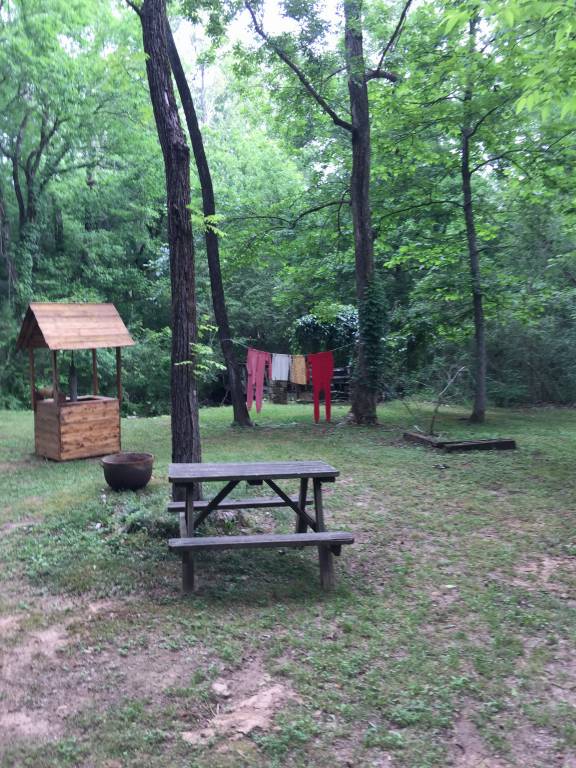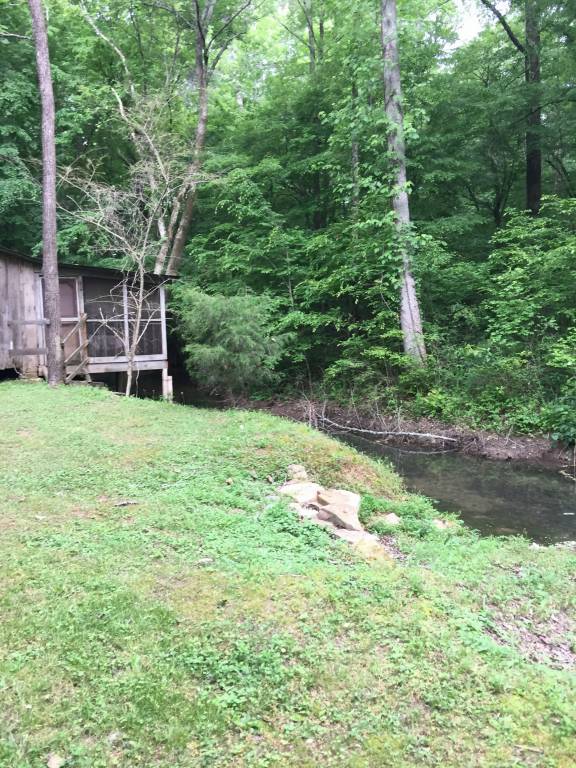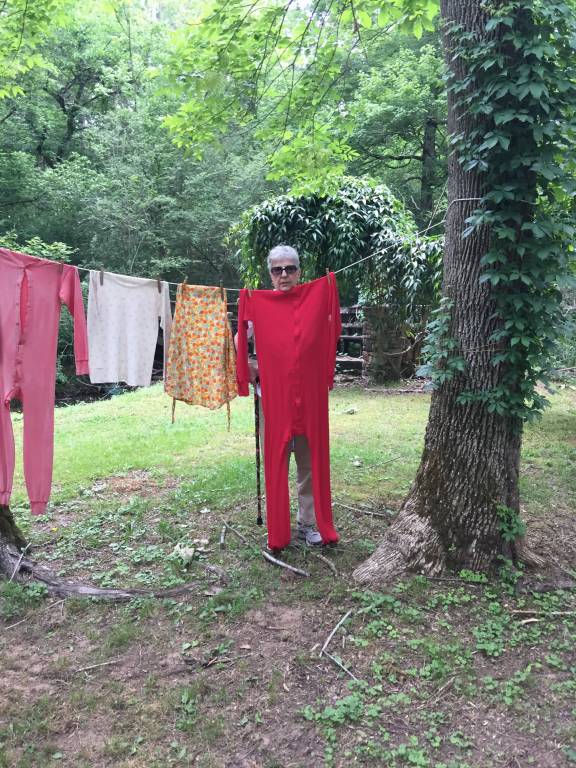 YOU CAN NOT TAKE HER ANYWHERE THAT SHE DOES NOT ACT UP.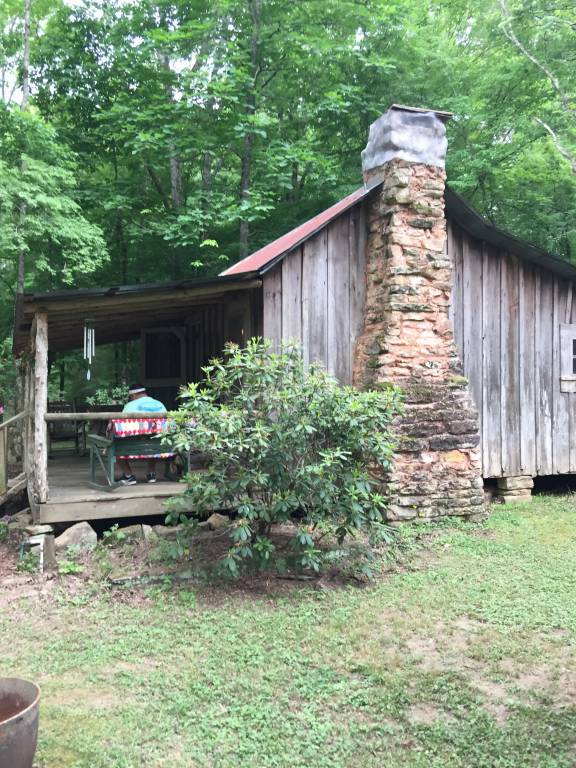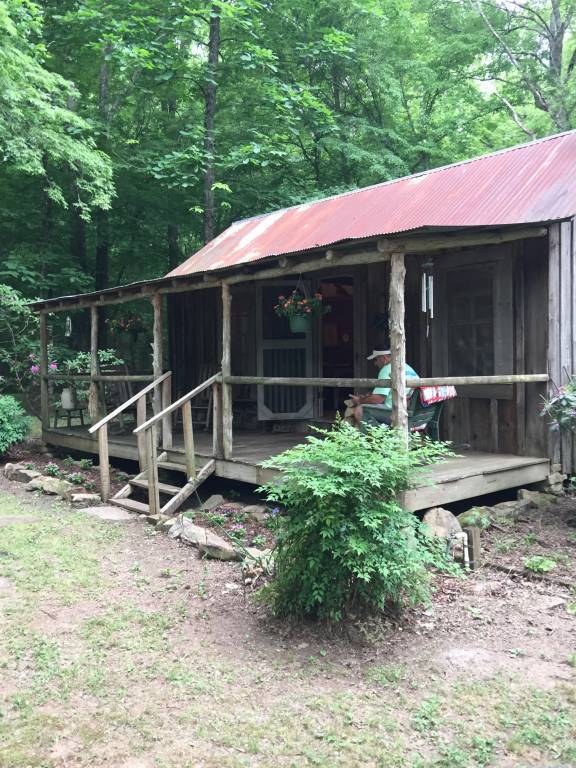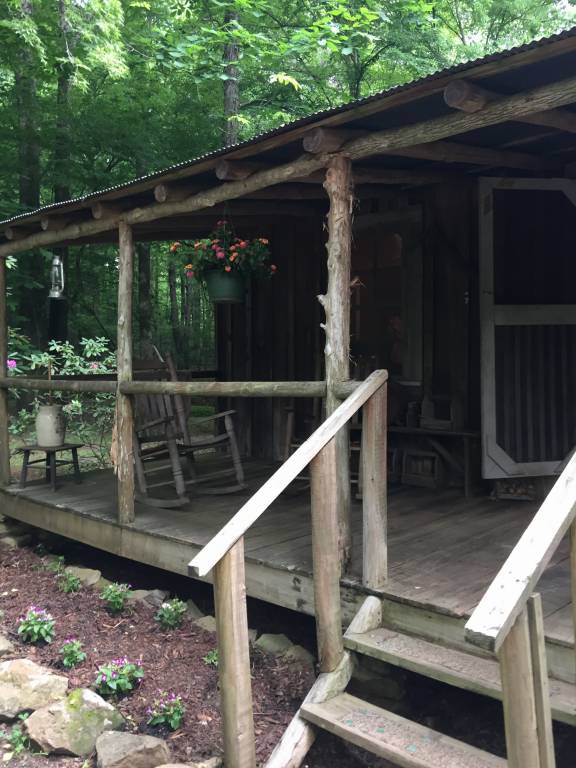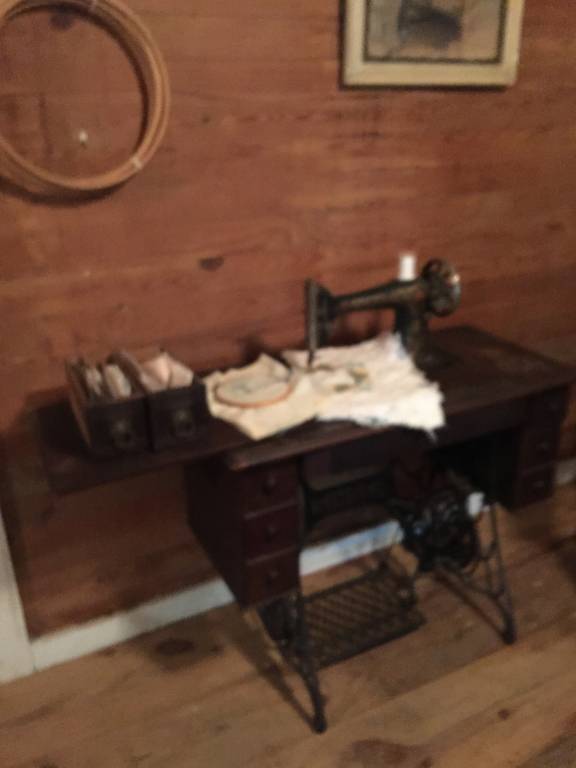 Not a good picture but I have one of these vintage treadle machines I am about to bring over here and restore. It is at Deara's.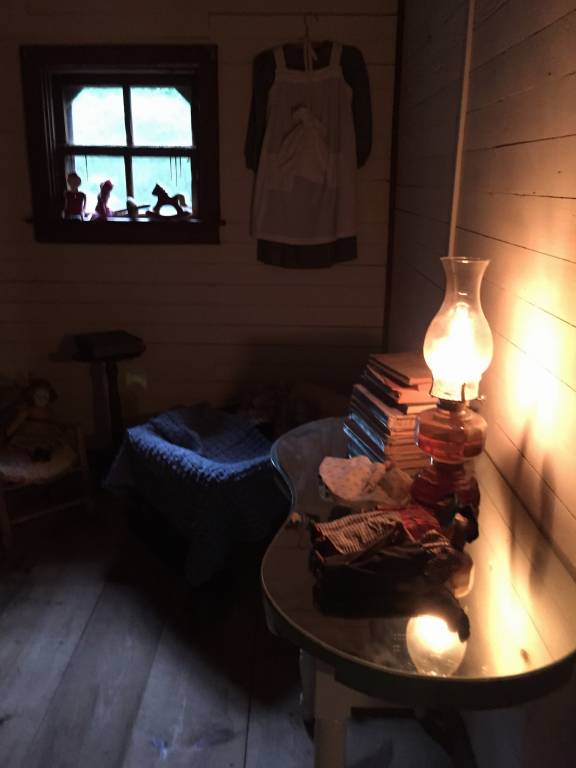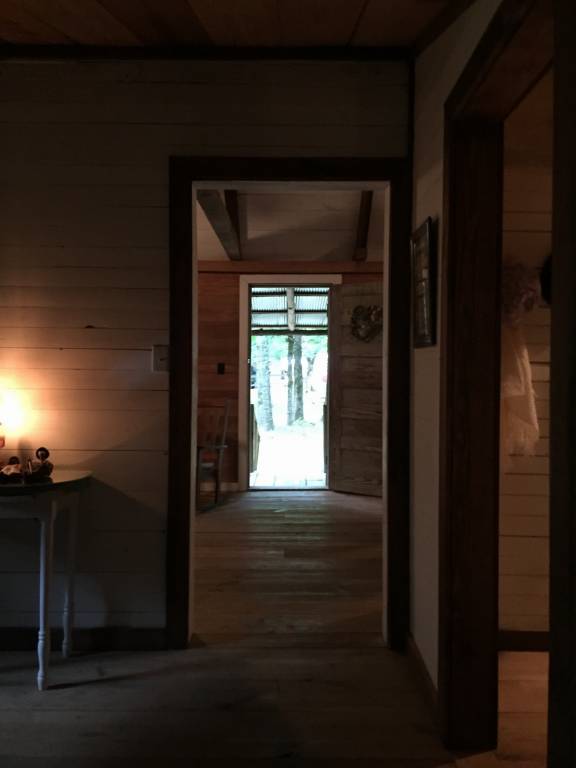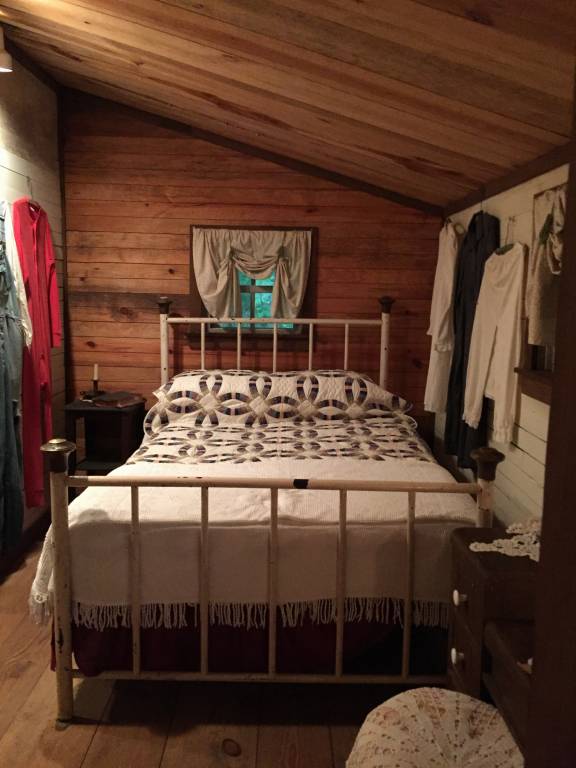 I wanted to get in that bed so badly but I was afraid it would squeak or fall and I'd get in trouble.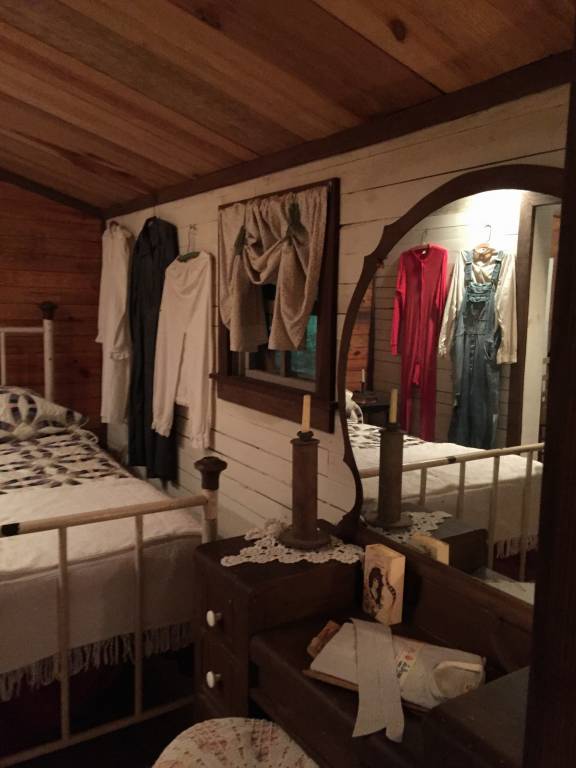 They hung their clothes, well what little they had on the wall.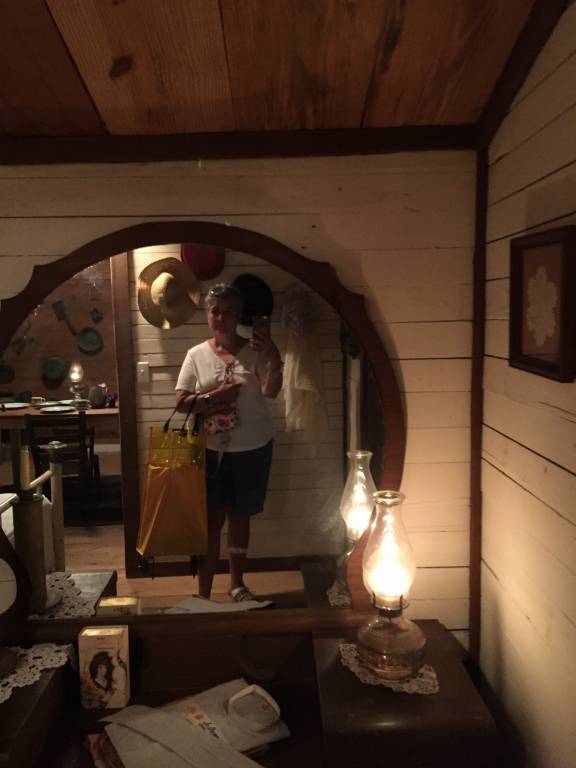 Haunted by this old woman ghost and I believe she followed me home.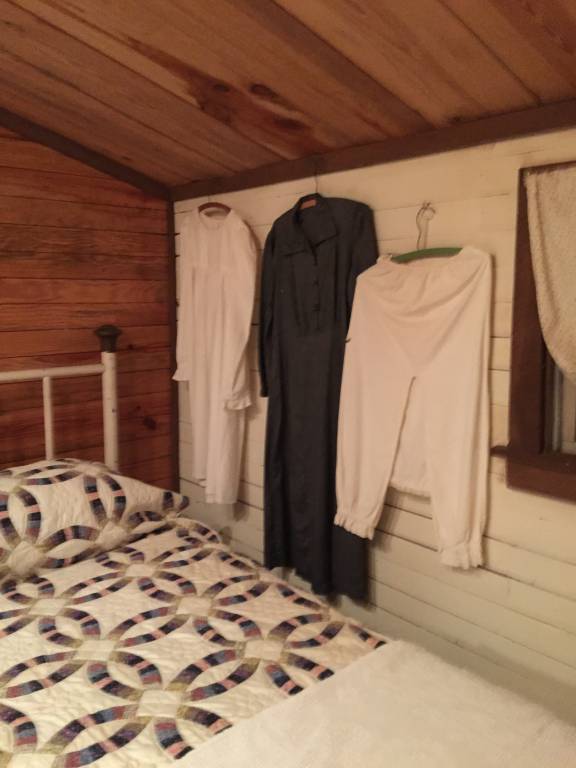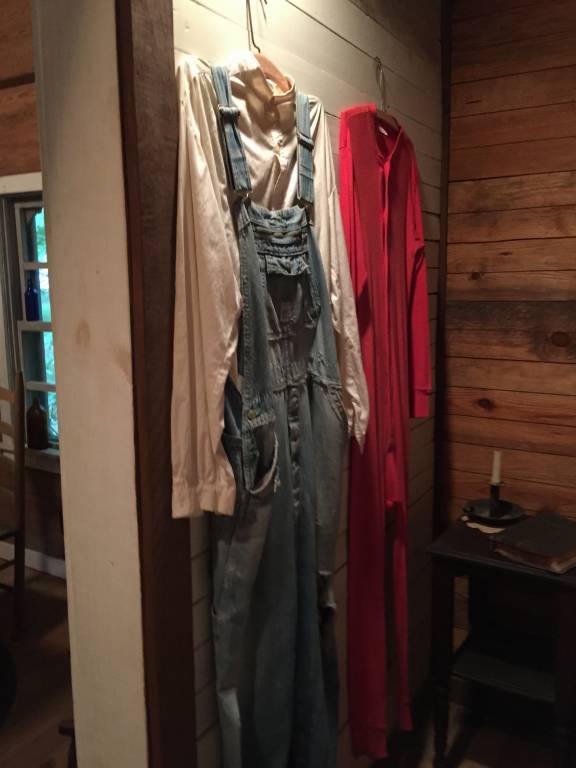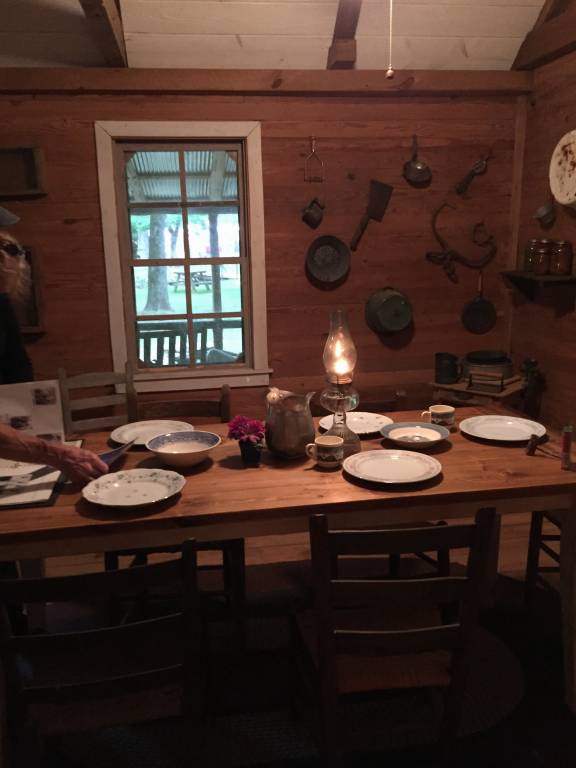 I bet there was some mighty fine meals served on this table. I can smell chicken and dumplings!
Now you know this would be hot as three hundred hadees in the summer. But I still like these clothes.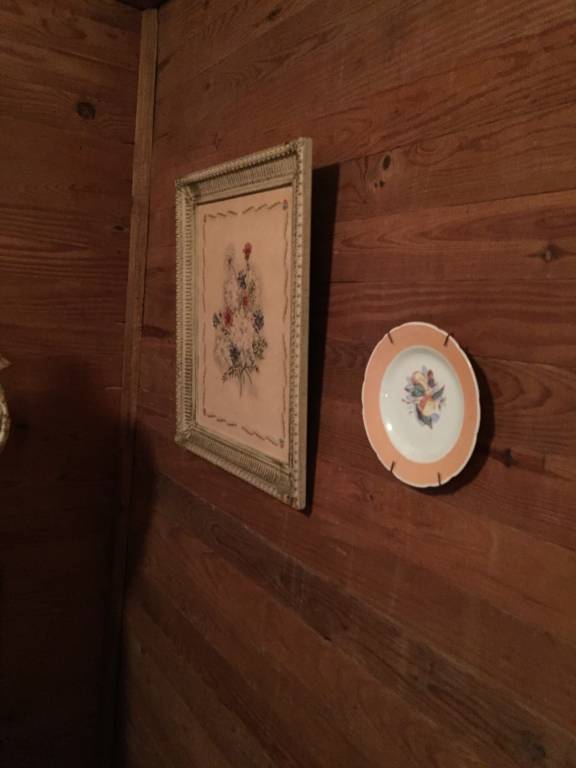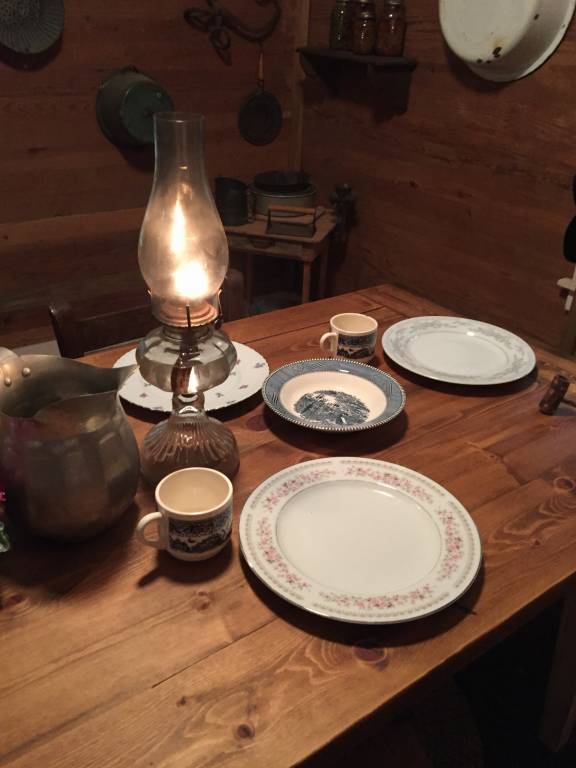 Nothing like kerosene light romantic dinners on china that no two pieces match!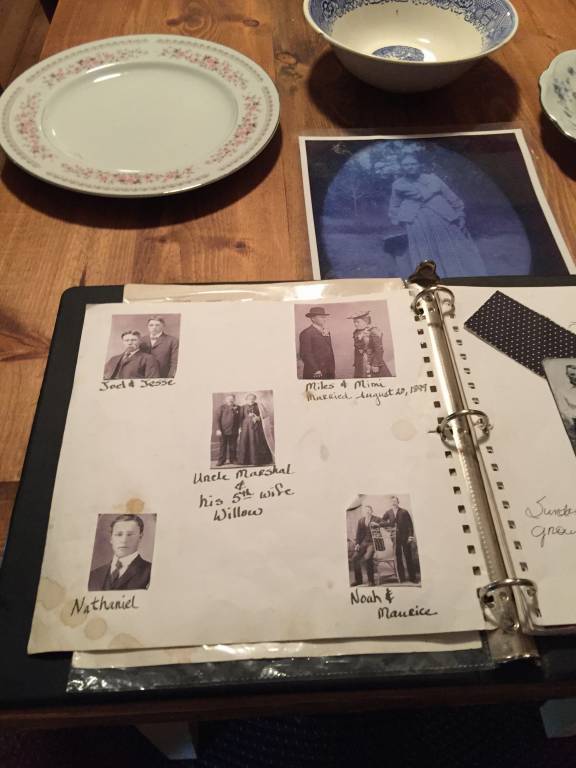 Uncle Marshall and his 5th wife, Willow. I wonder what happened to the other four!
They did not have much but they had what they needed.
Deara was having a blast! I love her so much and I thank God I still have her. Life would not be the same without this old bat!
I would like to know how that toilet paper got under the bridge but on second thought I probably dont want to know.
I can't imagine.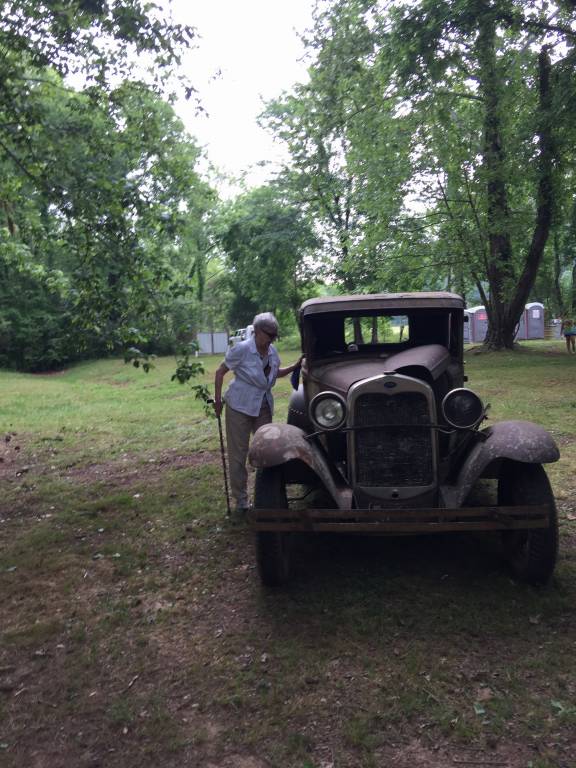 Grandma Parker!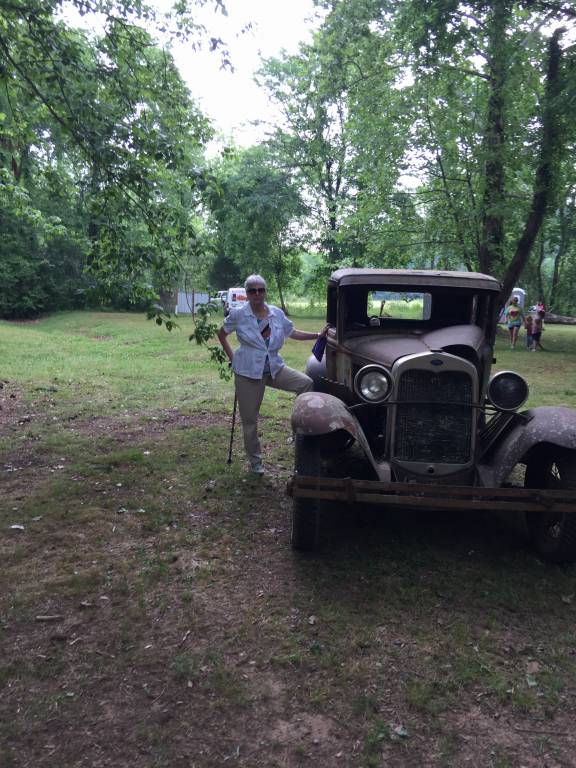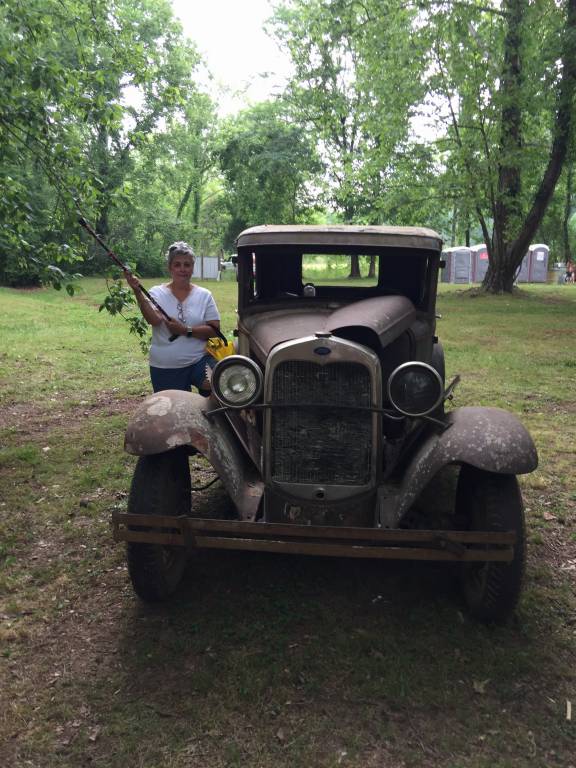 Armed and dangerous. Bonnie Parker.  That is one mean woman! Clyde was home watching TV.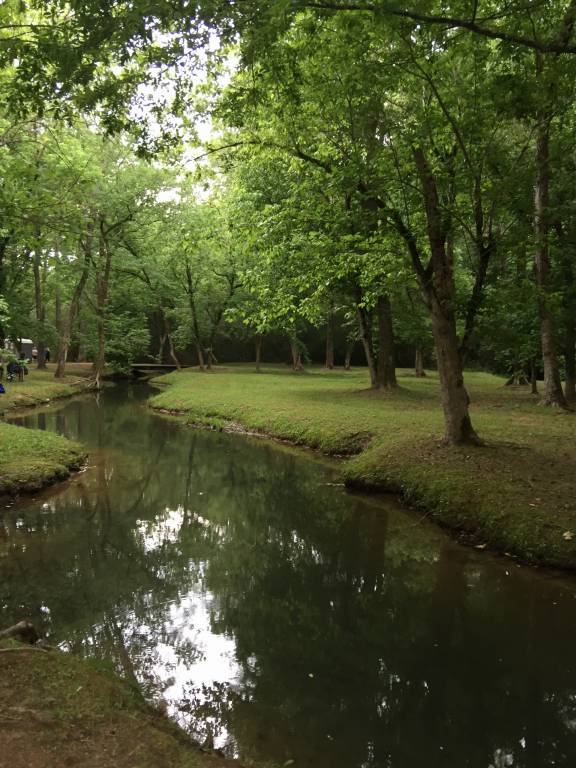 I truly think I will make this a postcard or a note card. It is gorgeous. I am practicing with my Iphone taking pictures. I think they are getting better!
Fried apple pies and peach. I am going to learn how to make those. HOWEVER my backside does not need them I just want to know how to make them. PROJECT!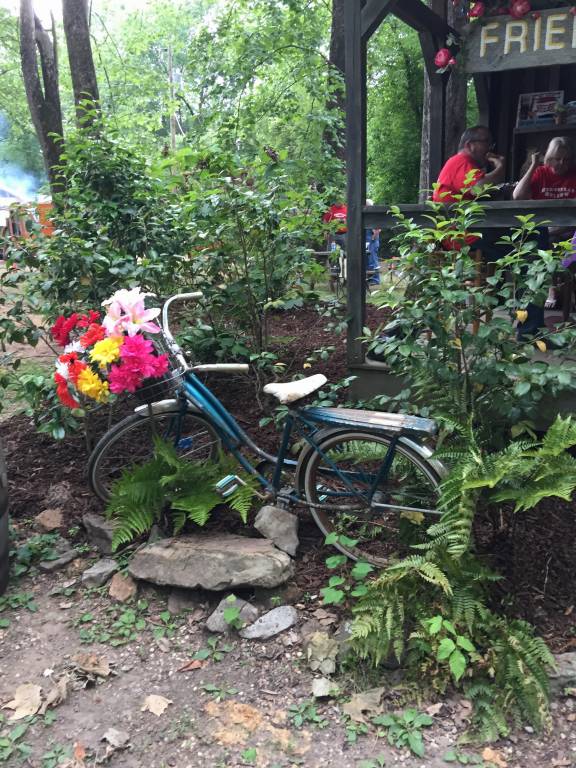 I wish I had not taken the peoples picture. This would make a great notecard. Montie I need you to work your magic with the photo editing program.
This is one of the main reasons we went. Our potatoes. Never mind I have an attachment for my Kitchen Aid mixer to do this and I very well may try tomorrow. We only got 1/2 of the plate down the bottom fell out with rain and saturated our potatoes. It was sad standing under a shed watching them drown.. RIP.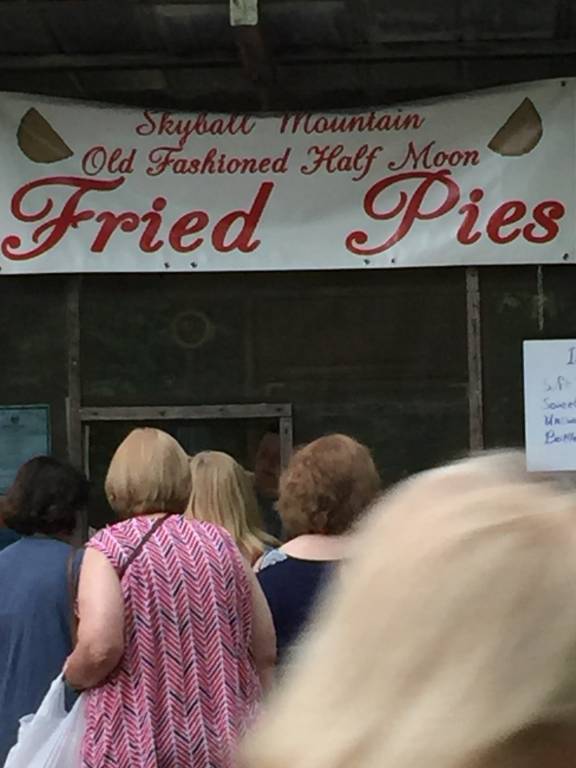 As my neighbor Ali says 'YAAAAAAAAS"   Two sweet potato pies came home with me. Two with Deara. I am going to learn how to make these. You want to place an order???? I dont know these folks in the picture so I have no stores about them except they were in line to get fried pies.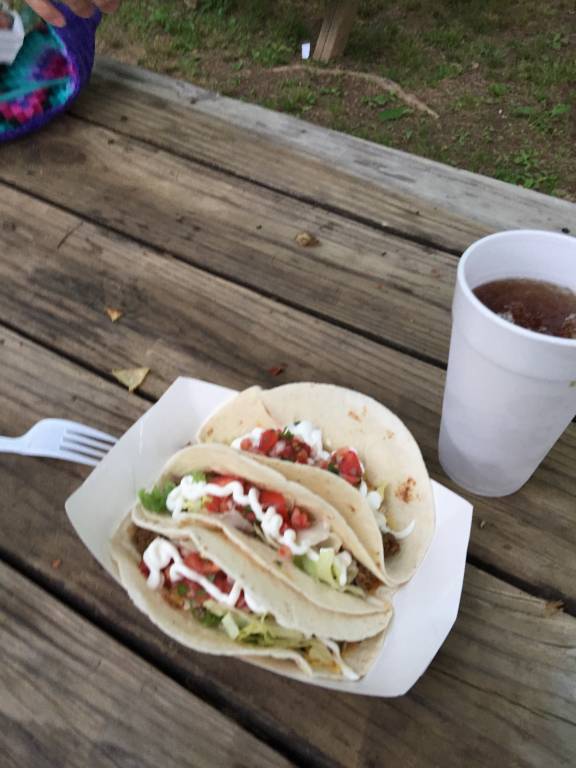 One and a half for me and one and a half for Deara. Soft taco.. They were so good and I hardly ever get excited about food.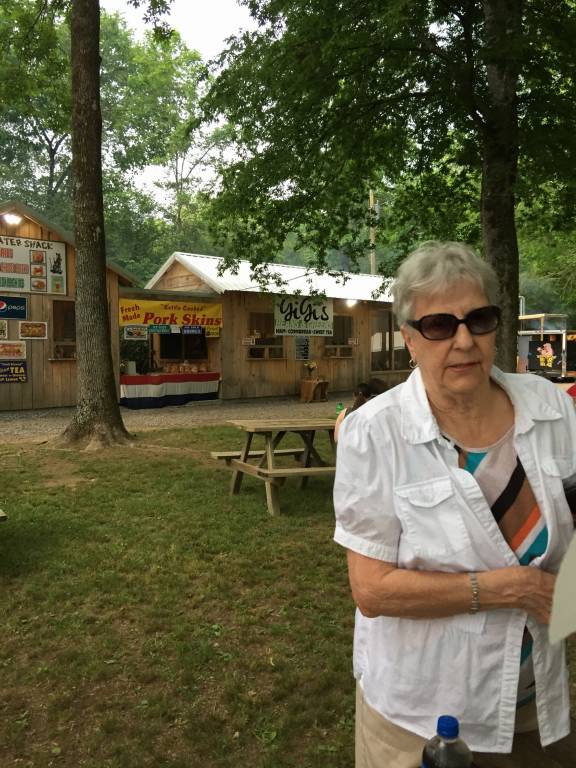 The best bud on earth to ride shotgun with you.  You could just about get her to do anything.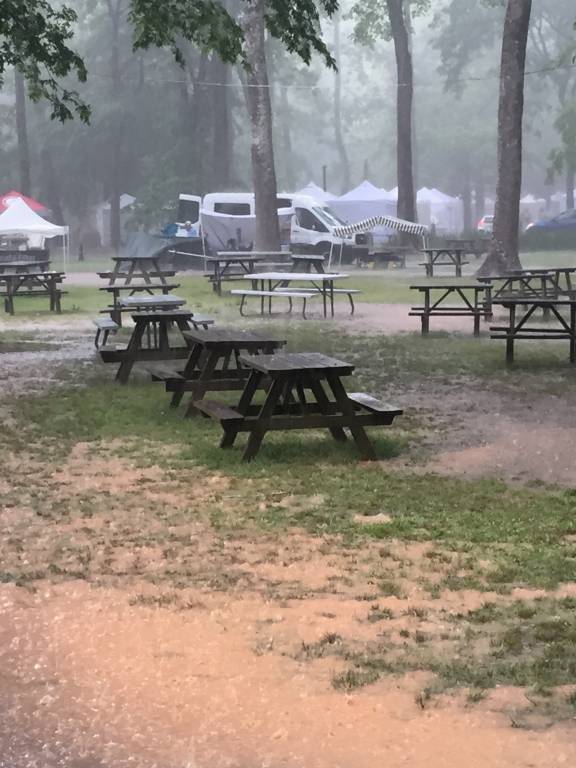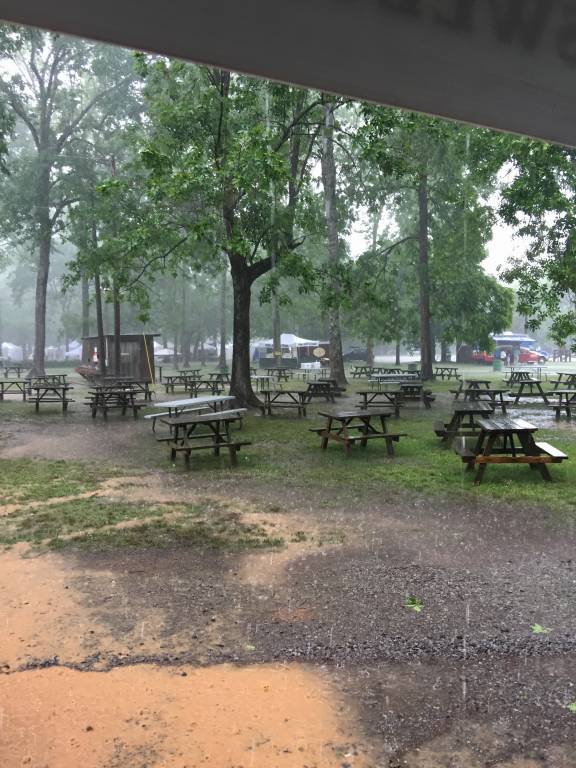 All hell broke loose including HAIL.  It was not enough to do any damage but it was so scary us standing under a shed with a metal roof on it and lightening dancing hitting the ground. I was doing some serious praying.
The pies were worth standing out in the rain for .. This was not us.
All in all I give today an A+++++  FIVE *****