Yesterday we cleaned half our home and today we finished the other half. It was not dirty but just needed a good cleaning.. I guess like spring cleaning but this is fall cleaning. It does feel like fall in the air to me.
Well after we got our home clean we went upstairs to sew. I have two Turning 20 quilt patterns  to put together. I got one top finished today. It is for someone for their birthday. They are University of Alabama fans so you know what fabric I used.
 Tomorrow we will put the other top together and it will be ready to be quilted.
Gary and I are Auburn University fans but I admit I do think this is pretty fabric and I am enjoying making it because I know where they are going when  finished! The ones receiving it will love it and that will make us feel good. I hope you like it as well.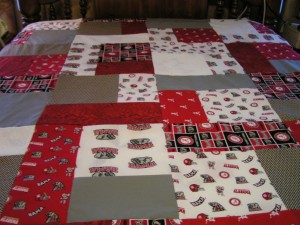 You can go here and learn all about Tricia's Turning 20 pattern. http://www.friendfolks.com/index.php