I have had such a blessed weekend it is not even real.
Friday Gary and I went to Madison, AL to PAWS and to meet a friend of mine who is a stained glass artist and her sweet husband Billy who was babysitting their "baby" Nikki.  Montie is her name. I will not put her full name on here but if anyone wants to contact her to purchase her work they can ask me and I can forward their information to her to get in contact with you.
I have two of her awesome pieces. I just heard from Montie.. here is her web site http://heartsaboundglass.wordpress.com
It was really funny. I kept hitting the quilt piece with my shoulder. She would tack it back up and I'd walk buy and almost knock it off again. It took three times of that for me to realize it was a stain glass quilt piece and the Universe wanted me to have it. It was like "am I going to have to knock you in the head to get your attention? Take me home with you." The rest is history.
I love the cats piece. That was a housewarming gift from Montie.  Over the last 27 years I have had three cats. She did not know that and the strange thing, they all looked like these three. So this piece was definitely for me. I love both very much.
I have always wanted to go to the Blooming Arts and Craft Festival in Cullman, AL at St. Bernards. It is such a beautiful place and so peaceful. That is where the Ave Maria Grotto is located. If any of you have never been there you need to go and also read about the history of the place. It is something to behold.   Below some pictures of today with explanations underneath the pictures.  Here is some history of the Grotto http://www.stbernardabbey.com/default.asp?iId=LHGJD  I did not go to the Grotto today. That will be in a few weeks when everything is in bloom and you can see the full beauty of the place. I will take pictures.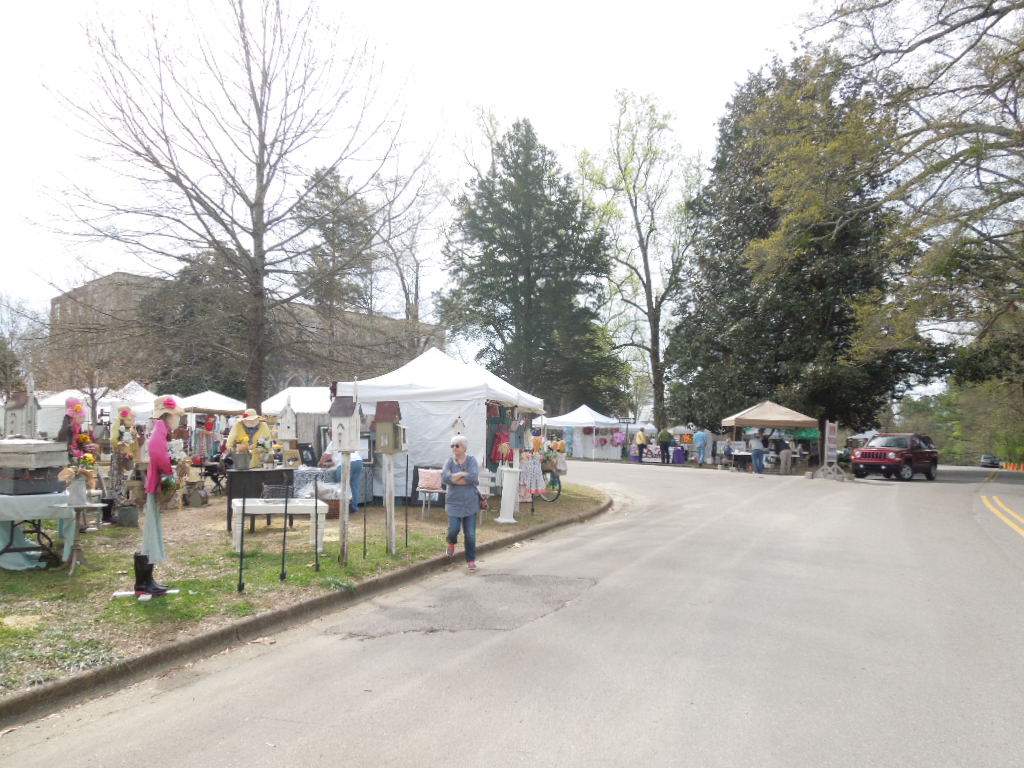 The entrance to the art show.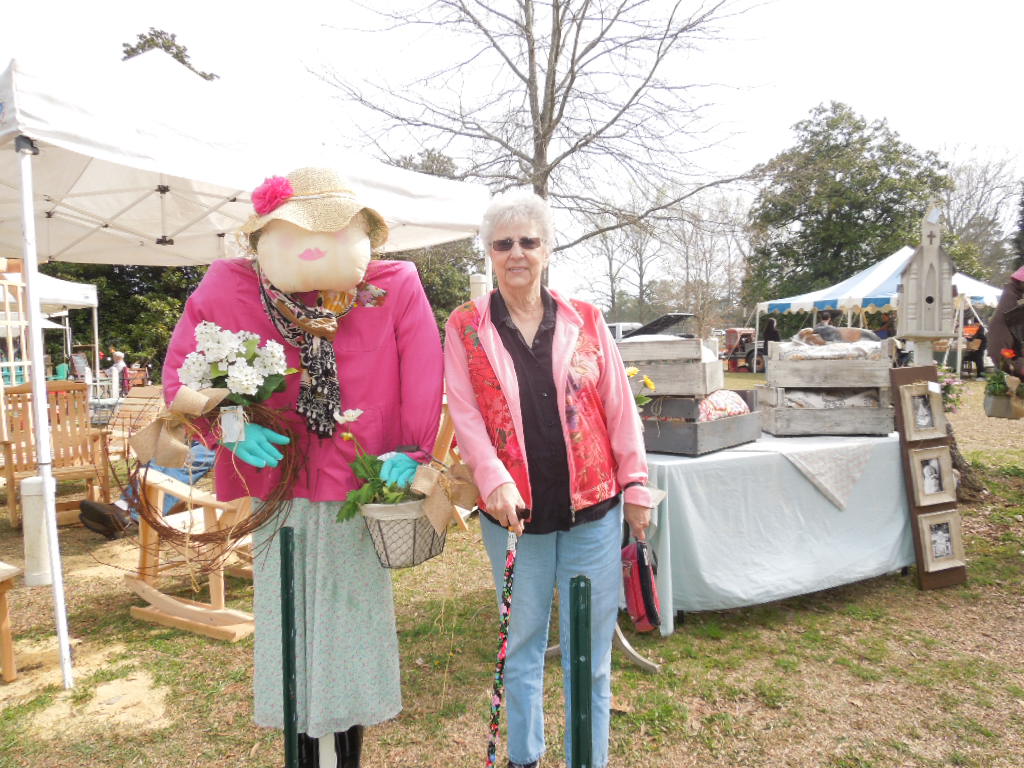 Aunt Janice had to make a friend. She never meets a stranger! There were four of the ladies at the show.  I purchased one, you will see her in a few photo's down. We thought we were going to have to leave Deara(Aunt Jan) at the festival so I could get "Bernice" home. I have had my car for four years and learned about it today from the man at the festival trying to get Bern loaded up. The backseat folds down and you can put things in the trunk up to the front seats. Well what do you expect. I have had this car four years and just hit thirty thousand. Truly an "old lady" car!  I just get in crank, turn on the radio, put on seat belts and take off I never have read the manual and always wondered what those straps were for. Oh well.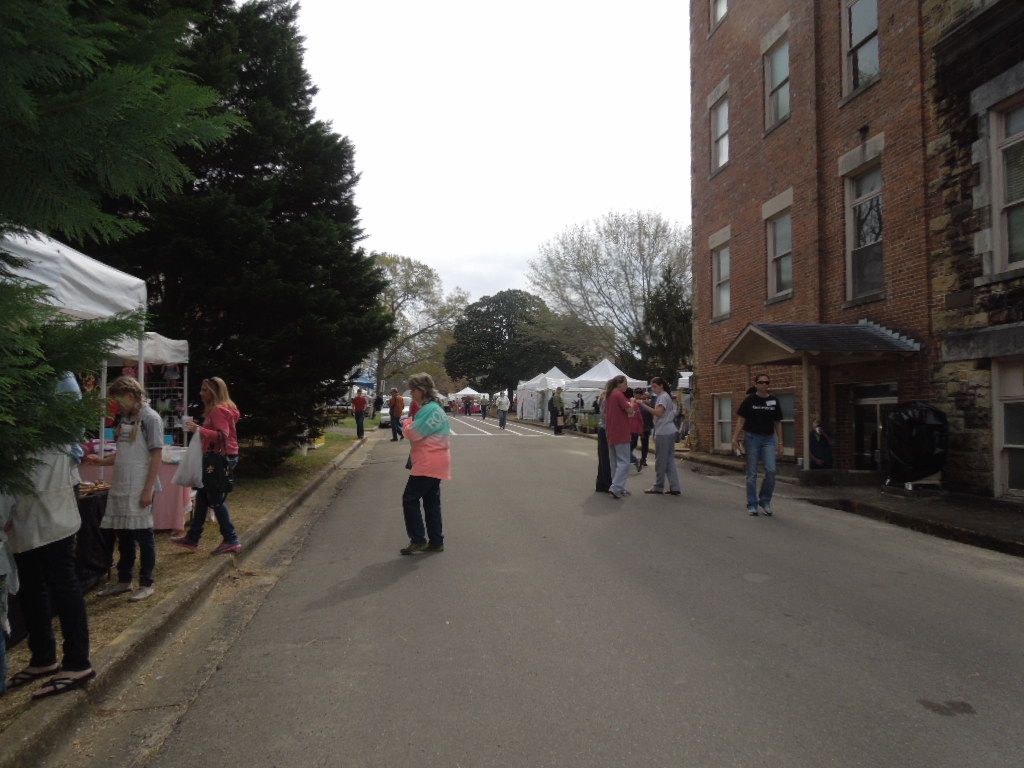 I just snapped the above. I was not sure what I took.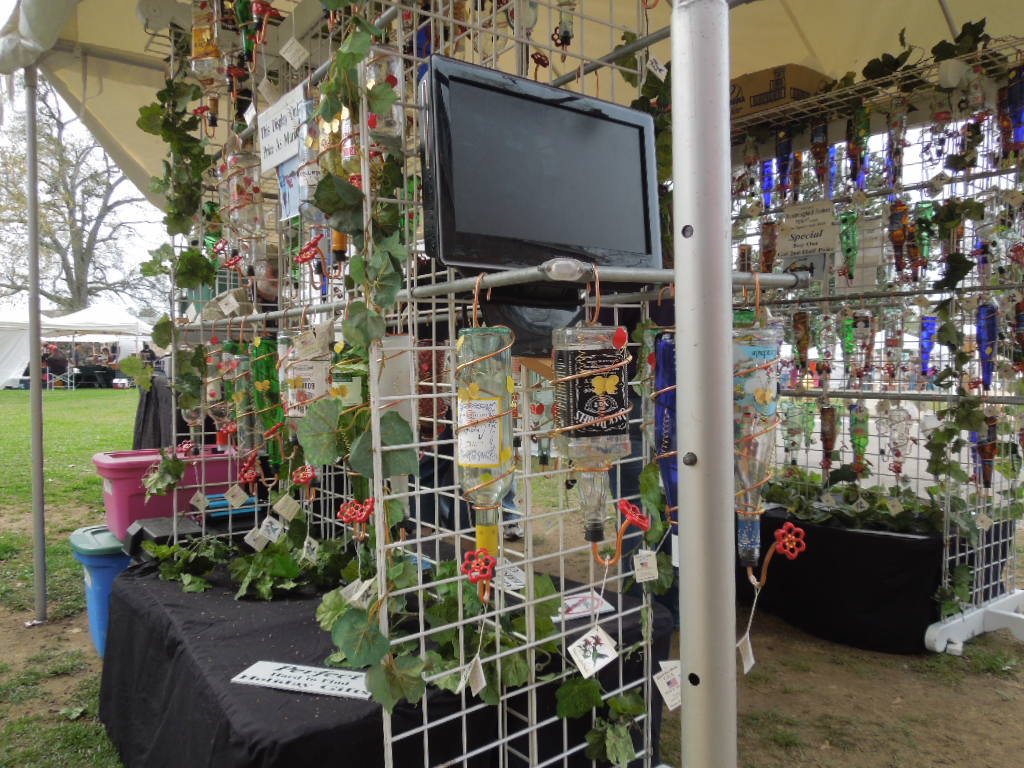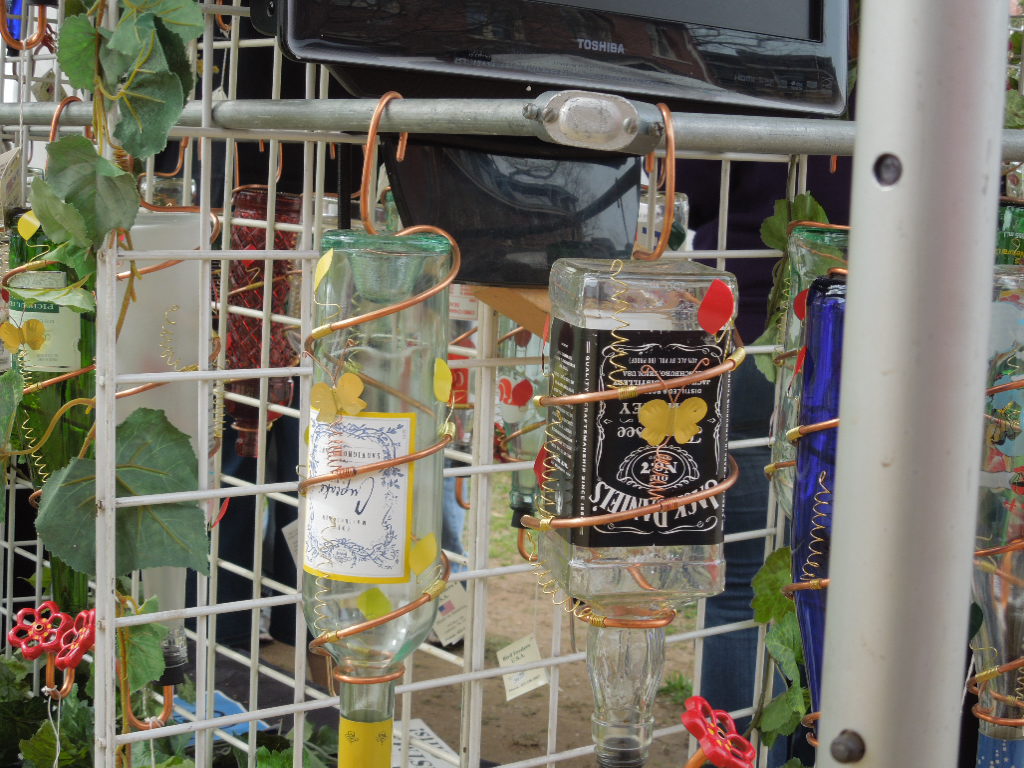 I absolutely loved these hummingbird feeders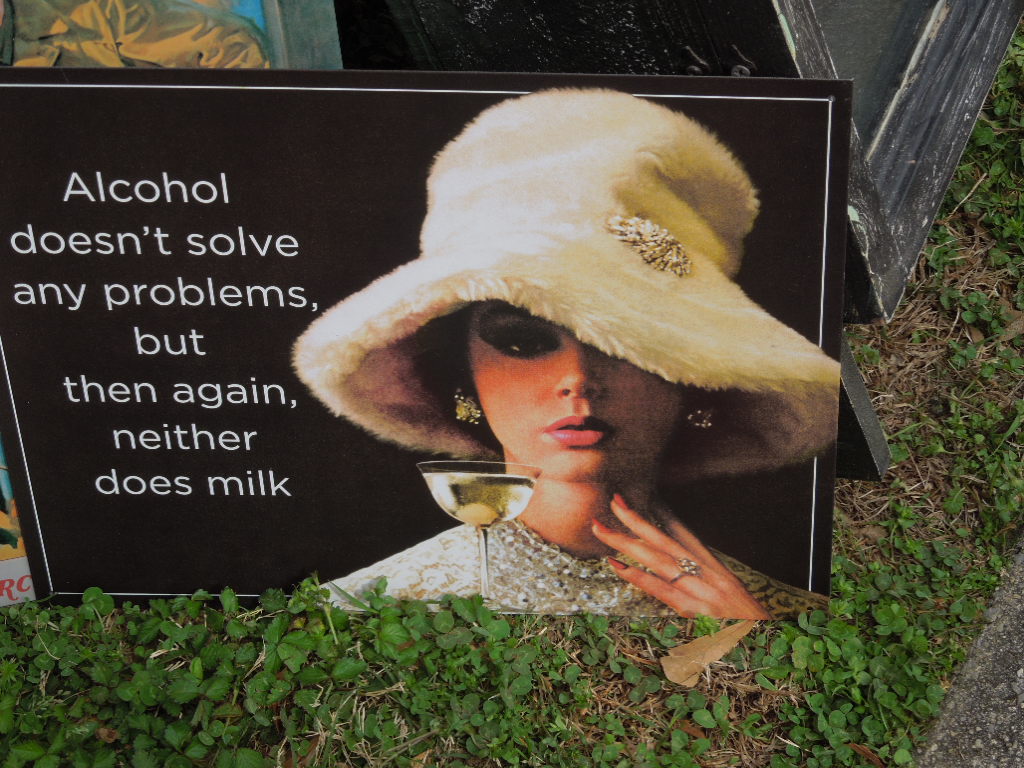 This lady has some really cool signs. I laughed and acted so silly today.  I just had to get a picture of this one.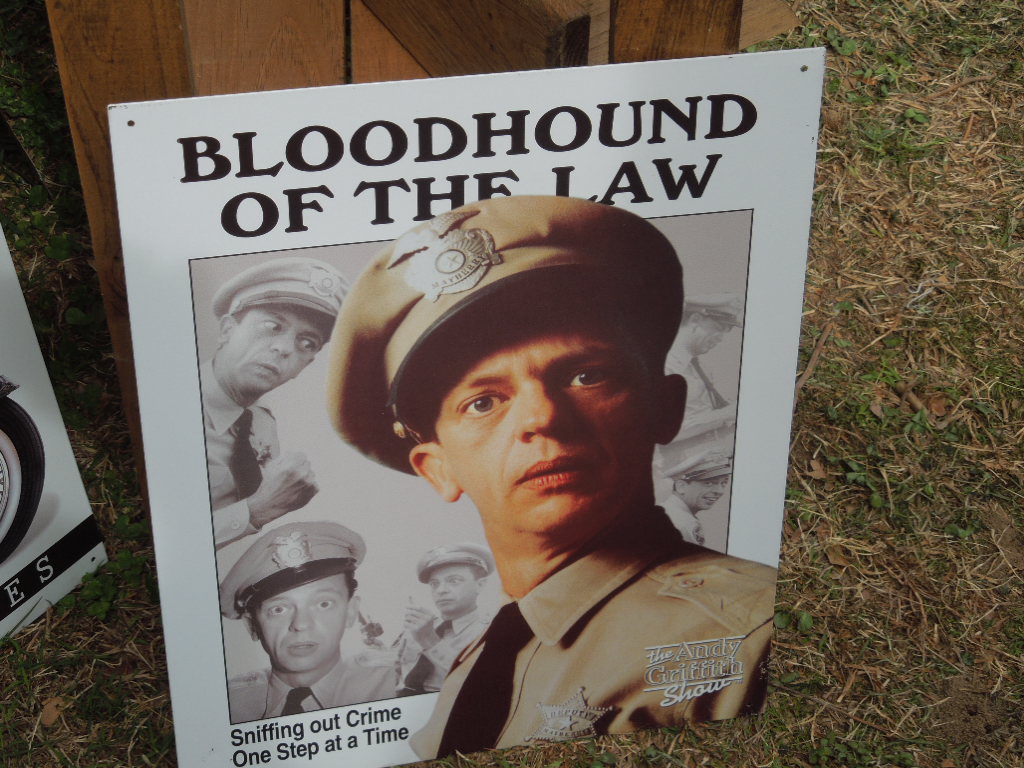 God love Barney Fife. Was he not the best in Mayberry? Well besides Andy, Goober, Floyd, Opie, Gomer, Howard…do I need to go on? We all need to live a Mayberry life. Great lessons there.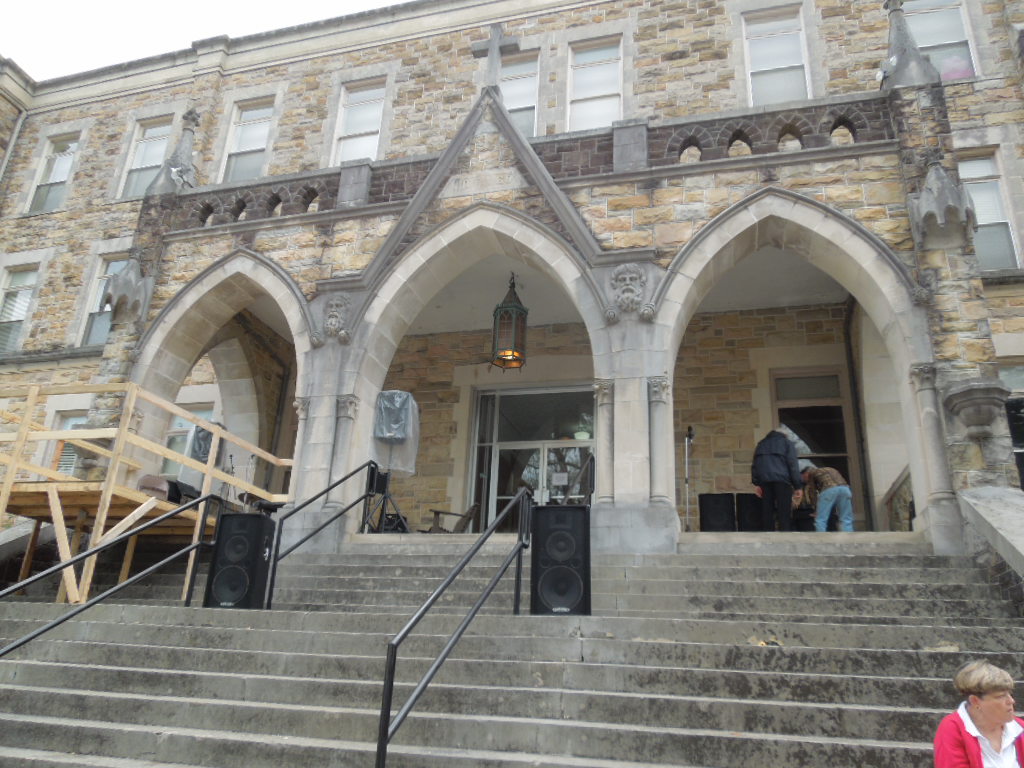 I am not sure what this building was but to the left on the stage was a great musical group.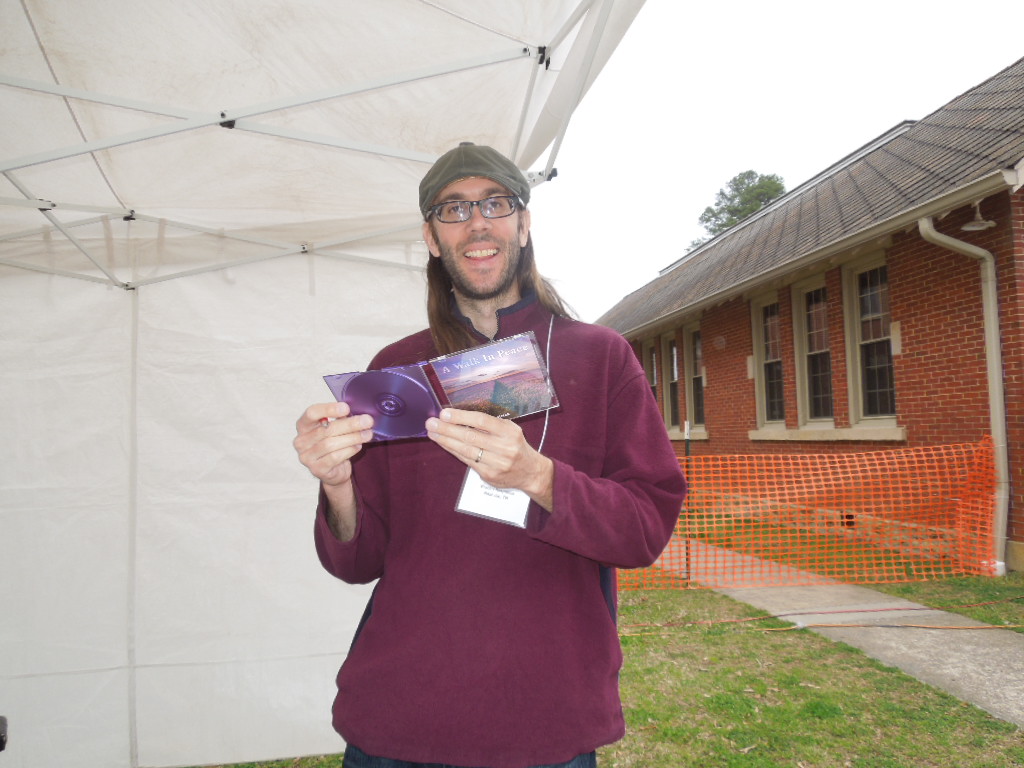 Meet Bradley Kirkpatrick. One awesome young man. BEAUTIFUL piano musician, composer and just an all and all nice man. I bought three of his CD's. We talked with him and found out his grandmother was a well known quilter in Texas in her time. Annie Kirkpatrick. I told Bradley he needed to make us a quilting CD with pictures of his grandmother on the front cover with her quilts. I tell you one thing. I can listen to his music and just sew away and be so relaxed and happy. He is an excellent musician-composer and you can go here  and read all about him and as he said "listen to a gazillion" of his songs no charge. http://www.bradleykirkpatrickmusic.com  You know young people today are so much more blessed than we were growing up. You should thank God or whomever you believe in for all the good opportunities you have and take advantage of every one of them. He trained in London, lived and played his beautiful music all over the world. Is that not a blessing? Go listen and you can purchase his work on his site.. VERY AFFORDABLE.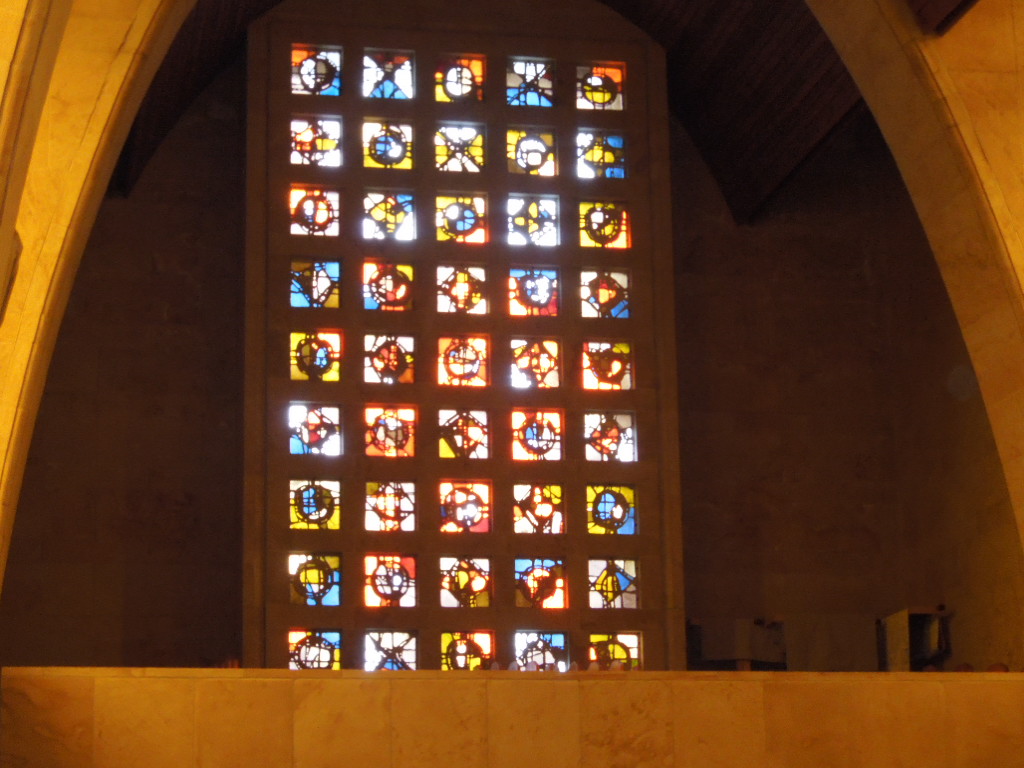 Inside the church. Aunt Jan and I were standing there at 10:30 and we saw people going in and she said "I would like to go in" and I don't remember what I said and we kept on keeping on and now we are kicking ourselves on our backside for not going to mass.   I could see in they were in line taking sacrament or Holy Communion whichever you call it and we went in stood inside the vestibule and looked in for them to finish and when it was all over we got to meet the Abbott.  He shook Aunt Jan's harm and I put my hand on his arm I wanted all of His Holiness blessings to rub off on me. He was a nice man. The purple robe he had on was simply magnificent.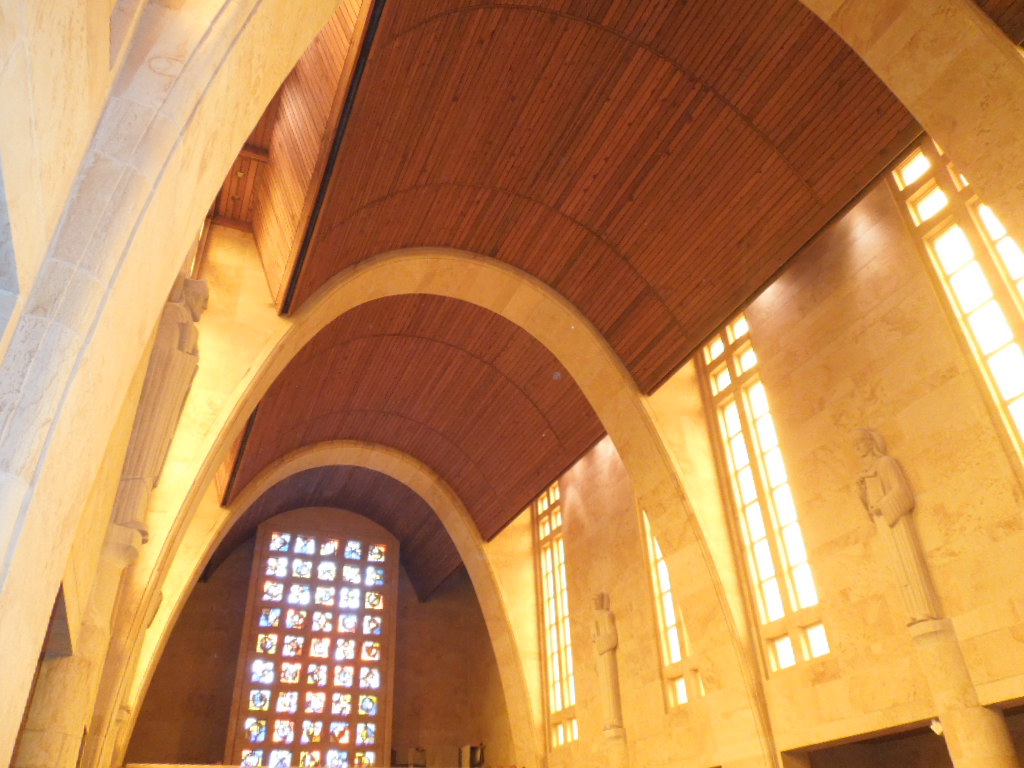 This was the stained glass over the front door. This picture does not do it justice.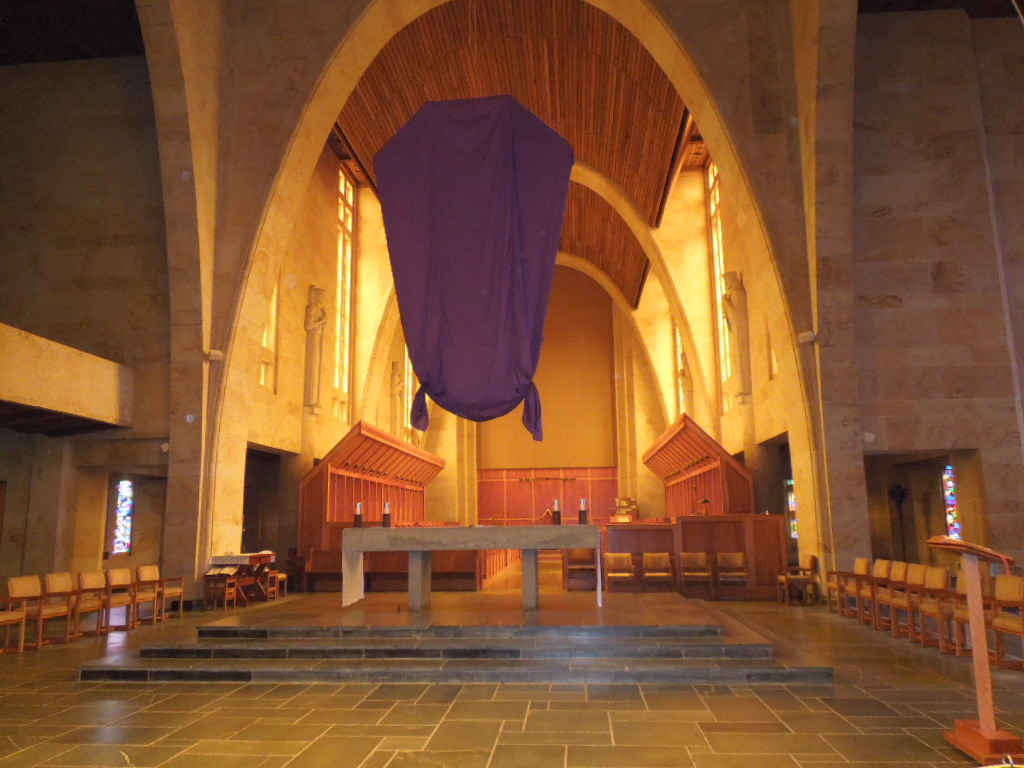 The statues and cross are covered with purple robes until Easter. My second man BFF told me. You will see him later!
So beautiful.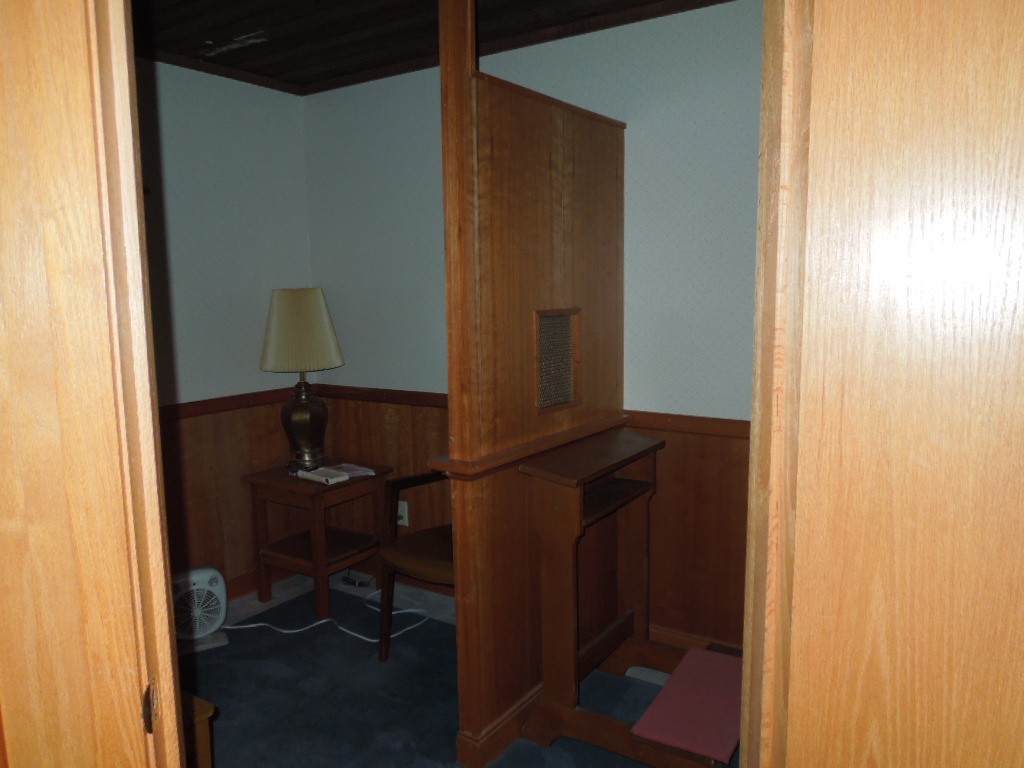 I am not making fun. I need to sit in here for a week and confess 60 years of mess.  It would take me 60 years to talk about everything I needed forgiven for. Thank goodness all we have to do is know we have done wrong and ask forgiveness and then try not to do it again! I am thankful for that. I would hate to receive punishment for my whatever.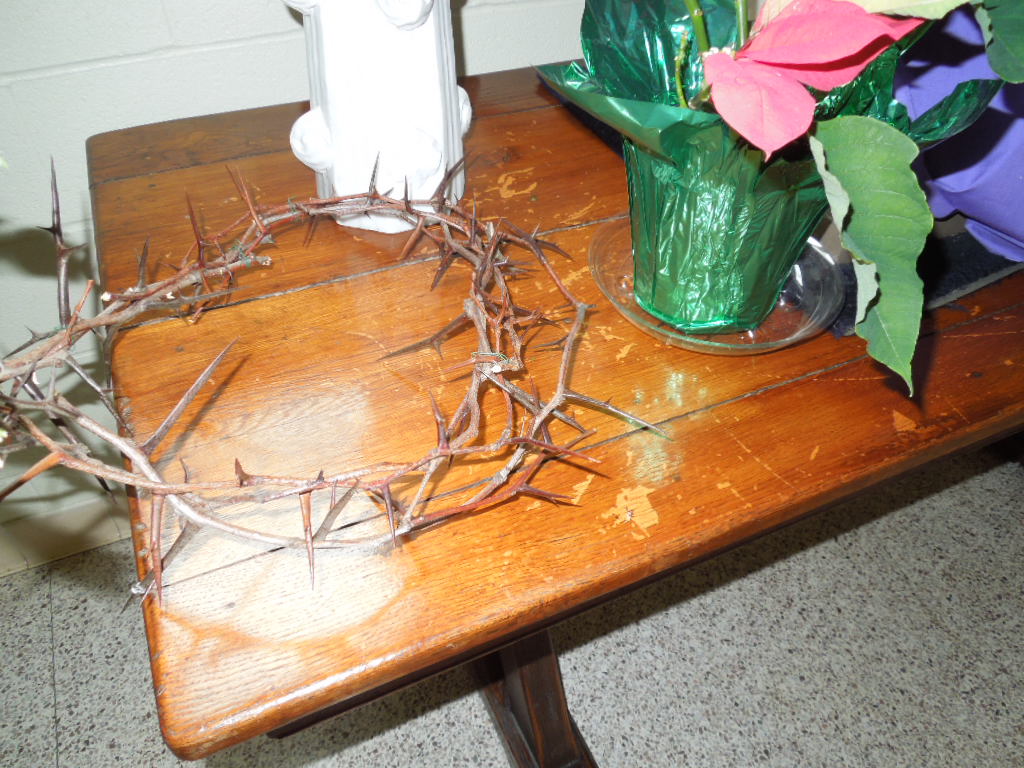 This was so touching. Everything in this entire place was absolutely gorgeous and so spiritual. You could feel the Lord's presence here. It was a wonderful place.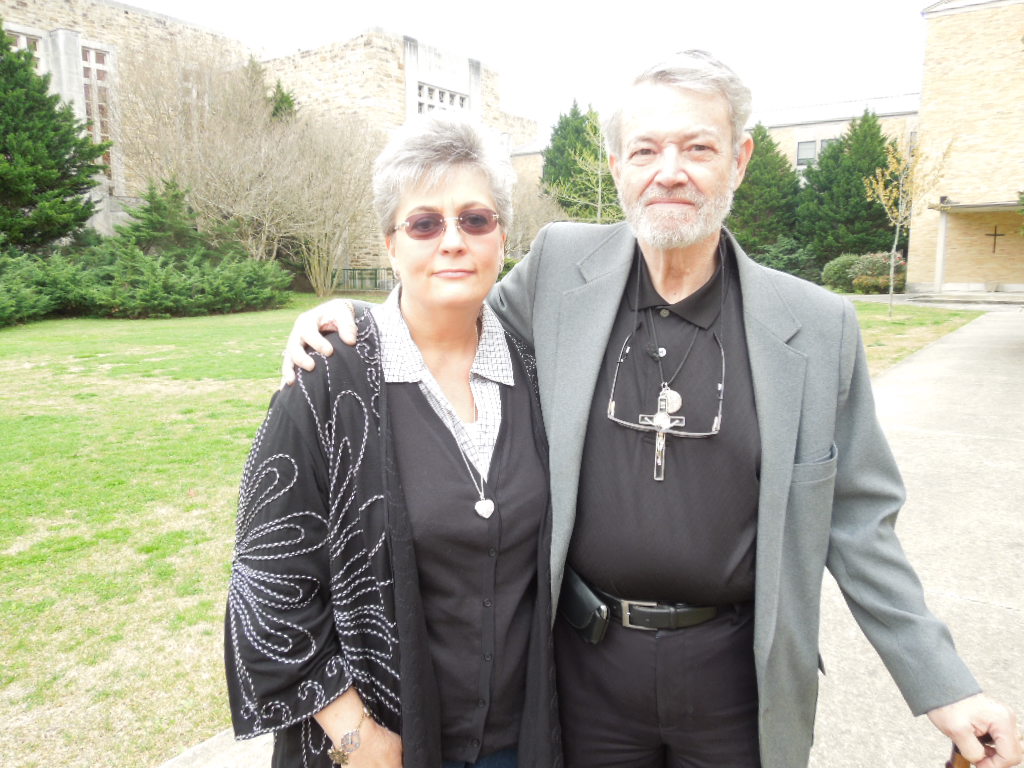 Well here is Eddie. Besides my husband Gary, this is the second man in my life and by that I mean we call each other "Big Brother, Little Sister." We have been friends for many years. He and his wife Shirley by the way looked awesome in her beautiful purple outfit, they were here today. He is a Counselor for the St. James in Gadsden, AL. I know he has counseled me a ton online over the years before he started at the church.  We have had a very close friend relationship for a really long time. We are like brother and  sister from different mothers. I was so glad to see both of them. We visited about an hour.  I treasure the Blackwelders!  Yes I don't like my picture made. I am very uncomfortable in front of the camera so I always look like I am smirking but I was smiling from ear to ear in my heart! For all my post office friends. YES I AM GRAY HEADED NOW!!!!! Must have been those years of the PO.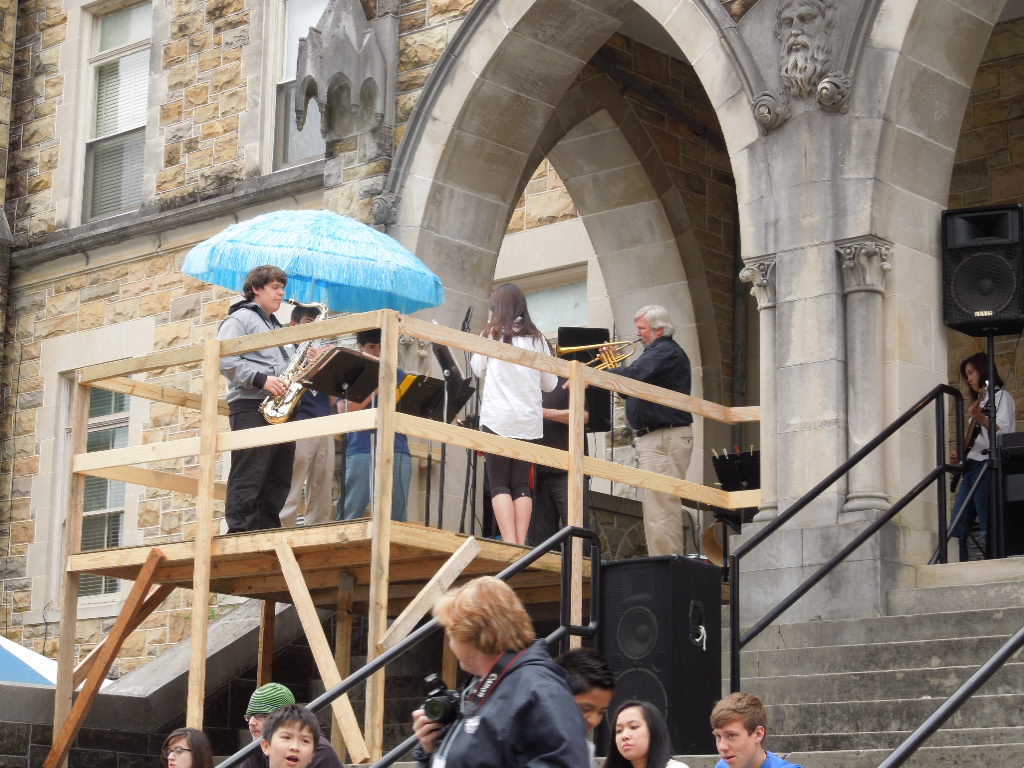 This group was OFF THE CHARTS AWESOME.  Best music.
Look who is living at the house. First I named her Laura Agnes after a grandmother, then I decided my sister Karen already had a doll Laura Agnes, so then I was going to name her Hannah Carroll after my Dad's mother Hannah Carroll Vanzant Epps but that just was not right for her. So I called her Bernice after we got home after my dear sweet friend that died and it was just perfect and when I told Gary he said that was wonderful because it reminded him of Bernice.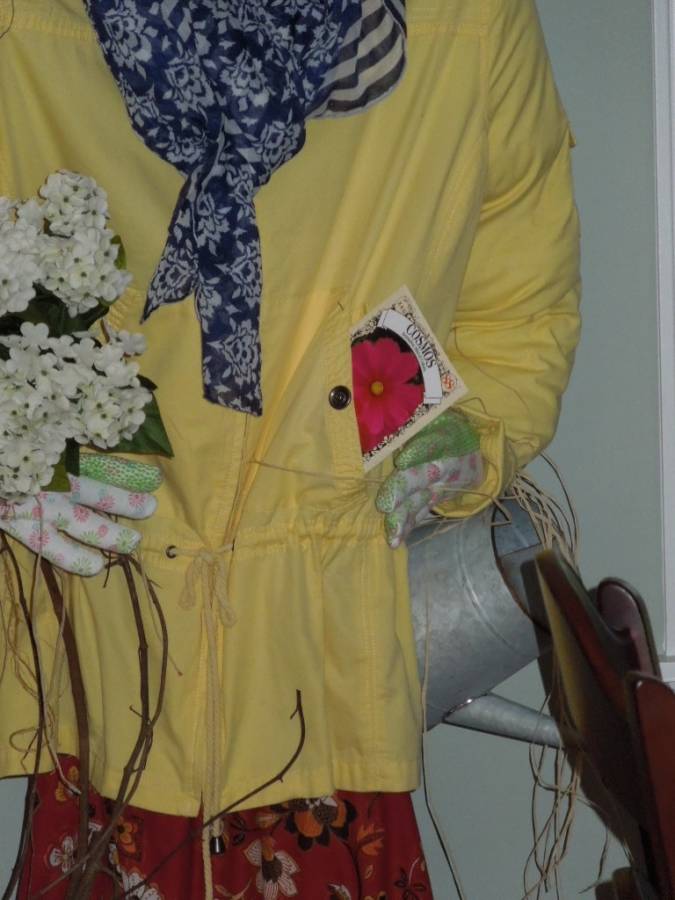 She came with everything! Dressed to the nines, her own watering can, seeds, wreath, flowers and even rubber boots!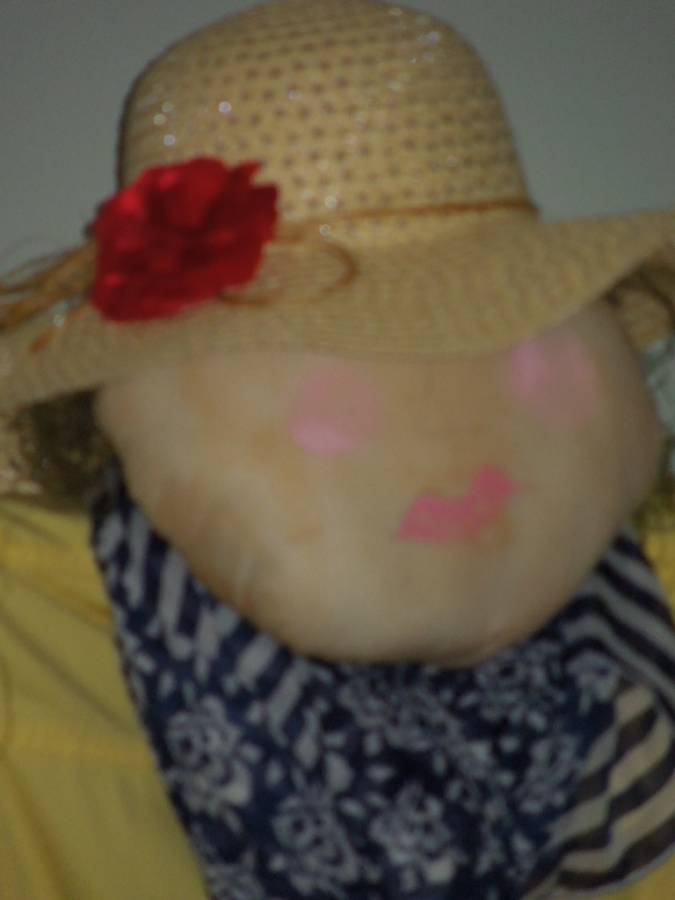 Up close and personal but it did not show her "ear bobs"  earrings…  She is one cool chick after her namesake Bernice!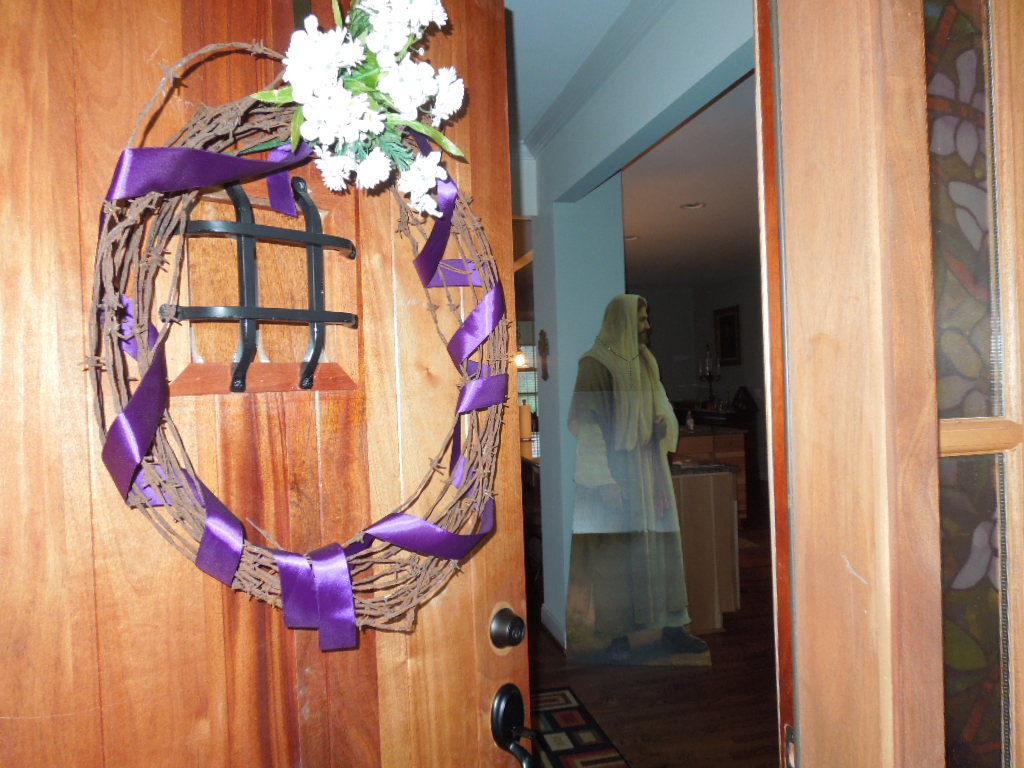 I went outside after we got home to show you a surprise turned around and the door was open and someone was peeking out at me and I just the wreath I made and this was just the perfect picture for the perfect day!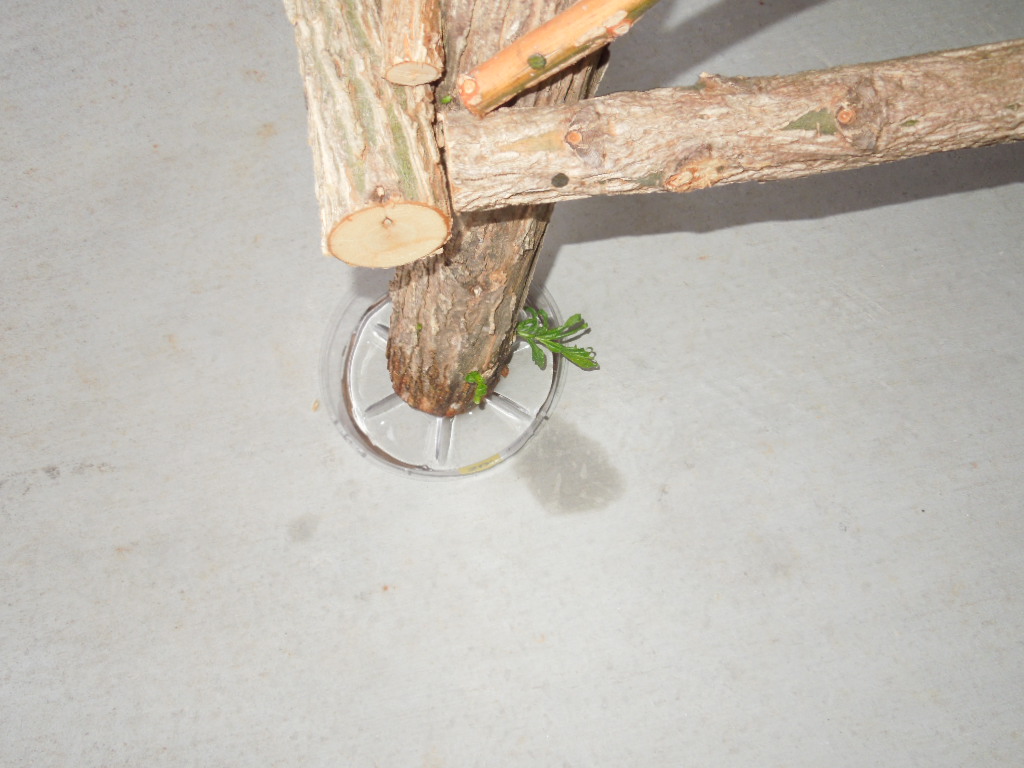 You all thought I was kidding when I told you  my table was sprouting. I finally put a plastic pot watering thing down to see how big the thing will get.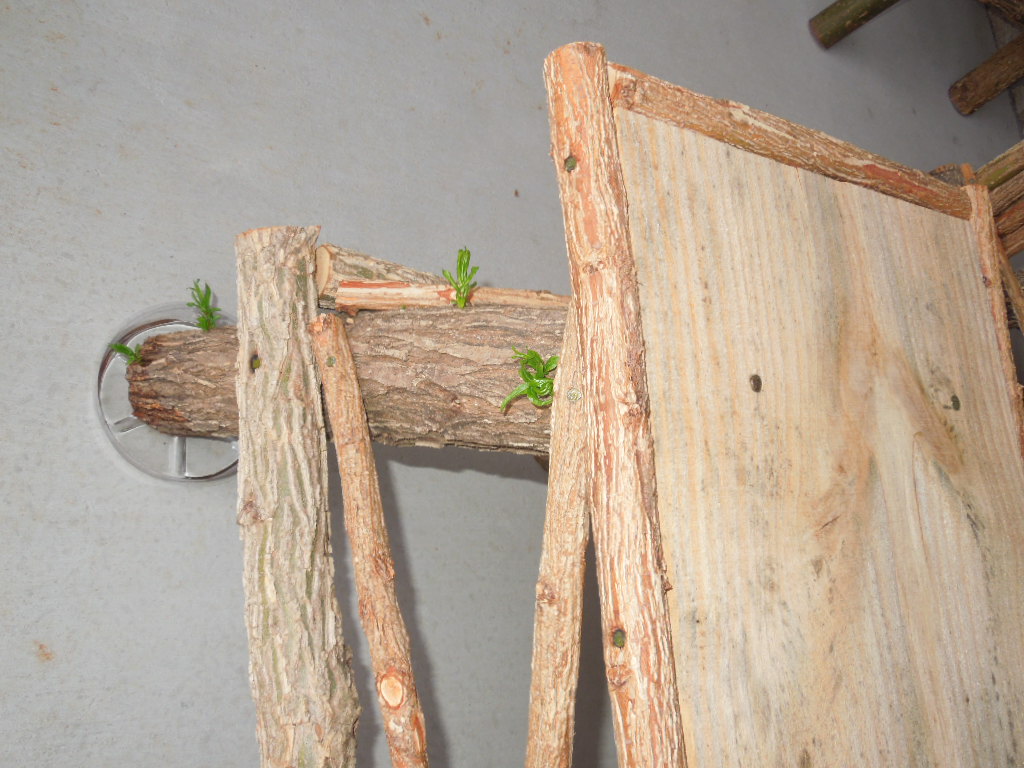 I forgot to edit this picture and rotate it but you can see the other side of the leg of the coffee table is sprouting also. It is so fertile here.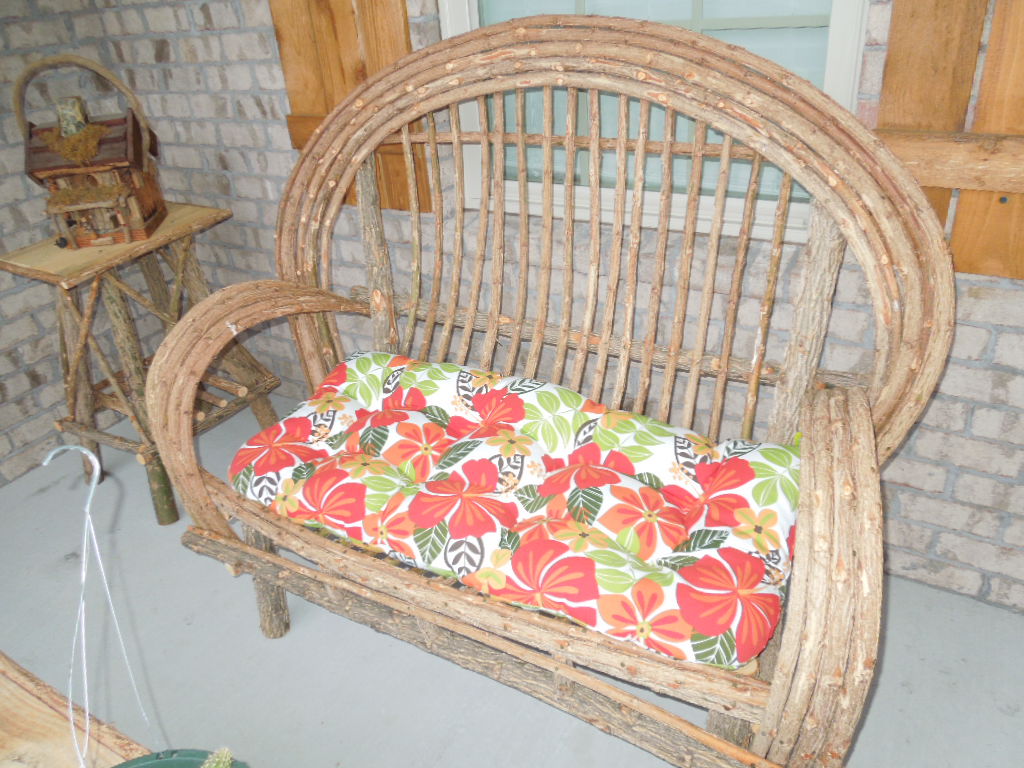 Our beautiful love seat! Sometimes we cozy up at night outside and listen to music and burn incense. I hope the neighbors do not see us and talk about us …"Look at them kissing over there. Those old folks!"