I tried to get busy sewing this weekend. I have some postcard groups that I need to get the cards finished and off in the mail. Between sleeping and cleaning house I did manage to get some of the groups finished. Here are 3 cards of those groups.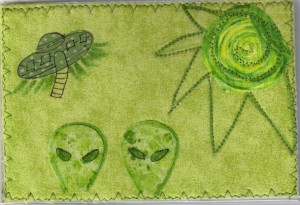 Everything on this swap had to be green. I call it "How Many  UFO's Do You Have?"
(UnFinished Objects.)
Lovers Knot.
Chris's Scrappy Crazy Quilt PostCard. I said I love scrappy and I am crzy.. So that does well for this card!